Community website by MBC/Ernest Abrams. Call 808-739-9797 for advertising/sponsorship.
Ongoing Events
First Friday Hawaii
Event Calendar Item

Chinatown Courtyard - One Night Stand in The Chinatown Courtyard

Type:

Exhibit


Date:

Friday - 10/2/2009


Time:

5pm - 9pm


Location:


Mendonca Building Courtyard
1126 Smith Street
#11 on the Gallery
Walk Guide
(Other Venues)
For More info:
JoDee Hunt, 262-5930


View Map


Cost:

Free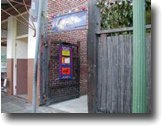 The Mendonca Building's unique Courtyard is open again for a First Friday celebration! Because construction is in progress for artist studios on the second floor, space has been limited by construction materials. October is also the time of the Moon Festival and food is being collected for Meals on Wheels. Please drop your contribution of non-perishable foods into a box at the Gate or at any other participating venue.
Robert Cabbat
is new to the Courtyard but even from his earliest memories, he loved to draw. Drawing and sketching was a natural skill, which was refined and polished over the years. Though he has no formal training in fine art, he has taken a number art classes in the past as he pursued other career paths. Art remained a constant fixture and endeavor in his life. In 2005, he received an AS Degree in Graphic Design and BA Degree in Video and Film Production from Collin's College in Tempe, Arizona. He works as a freelance graphic designer and has recently decided to pursue painting at a more serious level.
A love of the ocean inspires his paintings where he has tried to capture and convey an essence of power yet peacefulness of waves in a tropical setting. He will be showing original oils: "Surge at Sunrise" (18"x 24"), "Tropical Moon Glow" (20"x 24"), and "Tropic Daybreak" (18"x 24"). All are seascapes with this idea in mind. "Sailboats in Lahaina" (16"x 20") original acrylic is his rendition of a calm and serene afternoon in the Harbor.
Nick Black
has been a part of the art community in Hawaii for over 20 years. His work captures the Hawaiian lifestyle both in the commercial and fine art worlds. He is mostly known for creating t-shirt & textile art for the Hawaii clothing market. His unique approach offered an entirely new look that leveraged the Hawaiian Style brand into one of the biggest success stories in the history of the Hawaii based surf apparel industry. His portfolio continues to grow as he explores and creates new ways to blend art and Hawaiian culture. In all of his projects, the ideas reflect the artist's mission: to create compelling and authentic art that celebrates the unique beauty of Hawaiian nature, people and cultural heritage. Nick is presently an art teacher with the State of Hawaii. See www.nickblackart.com for samples of his work.
Shayne Turner, will be displaying her "Grand Strands" again, with many new pieces. Crafted individually by hand in beautiful Temple Valley, each unique jewelry piece celebrates many of nature's own creations, reflecting places and colors of our Islands.
Paul Staub
, another returnee to the Courtyard, has lived in Hawai'i for over twenty years. In 1999, he decided to pursue an art career and began that year to experiment with oil paints. He has immersed himself in the art world, especially here in Hawai'i. For the last four years, he has been busy carving both stone and wood, although he has always enjoyed and practiced photography. He currently works as the assistant curator at the exhibition space at 1132 Bishop Street and for the Association of Hawaii Artists. He spends a good amount of time in Europe, where he has pieces in collections in both Germany and France. He says: "Good art speaks to us....But we don't have to agree with it to appreciate it."
Kate Wagner
will be providing her Box dinners from the Starpoint Café. She always has some interesting pieces inside to view while you eat.
Fred Gayagas
will be on stage with his familiar music and audience interaction. He welcomes your participation with music or hula.
Enter into the Chinatown Courtyard on Smith Street through the stand of bamboo at the Blue Dragon Gate. This event is free and open to the public.
Ongoing Events
---
Please send questions about this website to