Community website by MBC/Ernest Abrams. Call 808-739-9797 for advertising/sponsorship.
Ongoing Events
First Friday Hawaii
Event Calendar Item

Hawaii State Art Museum First Friday - Contemporary Art - Calligraphy - Dance

Type:

Exhibit / Entertainment


Date:

Friday - 4/4/2014


Time:

6:00pm - 9:00pm


Location:


250 South Hotel Street, 2nd Floor
Honolulu, HI 96813
Phone: (808) 586-0307 or
586-0900


View Map


Cost:

Free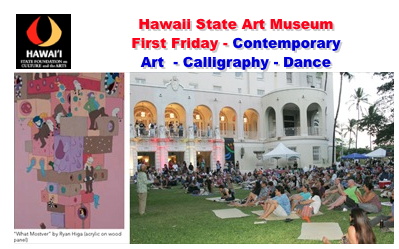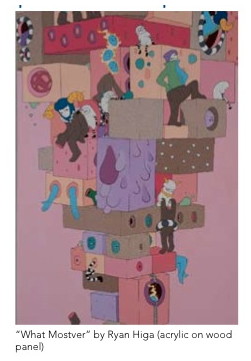 <!#43START>
First Friday at the Hawai'i State Art Museum
Friday, April 4, 2014 6 -- 9 p.m., Contemporary Art - Calligraphy - Dance
Make sure to come over to the Hawai'i State Art Museum after the Art at the Capitol festivities. First Friday in April offers an array of art forms from contemporary art to calligraphy and dance.
Under the evening sky in HiSAM's second floor courtyard, the talented Honolulu-based dance company Monkey Waterfall will perform two shows, scheduled for 7 and 8 p.m. Combining Asian and Western dance traditions, theatre, storytelling, masks and puppets, Monkey Waterfall en- chants children and adults alike.
In the Diamond Head Gallery, the brand-new exhibition accession 2014 showcases new acquisitions to the Art in Public Places collection. Come see your art in person!
Also joining us on April 4th is Shisui Hashimoto, Performance Caligrapher. A resident of Japan, Ms. Hashimoto regularly visits Hawai'i and performs at schools throughoutthe state sharing her impressive inter-pretations of Japanese calligraphy as a cultural art expression.
The Hawai'i State Art Museum, and the Hawai'i State Foundation on Culture and the Arts would like to thank the Hawai'i Opera Theatre for a beautiful First Friday in March. Members of the Mae Z. Orvis Opera Studio of Hawai'i Opera Theatre, pianist Eric Schank, and Erik Haines delighted the crowd who braved the showers on March 7 to enjoy a won- derful night of opera.
Please join us in May when we cool down First Friday with music by the Black Reds. This small jazz group will turn the museum into the "Blue Note Club" of the Pacific.
<!#43END>
DOWNLOAD LATEST NEWSLETTER TO LEARN MORE ABOUT NEW EXHIBITIONS


Hawaii State Foundation On Culture and The Arts APRIL 2014 Newsletter


There is an article on Hawai'i Artists Being Awarded NACF Artist Fellowships; features on the "First Friday" event "The Return of PACKids" on Friday, February 7th; the "Second Saturday" event "Come Paint with Us!" on Saturday, February 8th; and the "Art Lunch" lecture featuring Reiko Brandon entitled "My Textile Journey" on Tuesday, February 25th.

ABOUT THE HAWAII STATE MUSEUM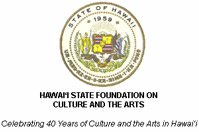 The Hawai'i State Art Museum is located in No. 1 Capitol Distric Building at 250 South Hotel Street. The building is situated in the historic Hawaii Capital Cultural District, across from 'Iolani Palace and the State Capitol. The museum is open Tuesday to Saturday from 10 a.m. to 4 p.m. Admission is free. For more information on the Hawai'i State Art Museum call (808) 586-0900 or visit
http://www.hawaii.gov/sfca
.
For more information, contact:
Phone: (808) 586-0307,Website:
www.hawaii.gov/sfca
Ongoing Events
---
Please send questions about this website to