Community website by MBC/Ernest Abrams. Call 808-739-9797 for advertising/sponsorship.
Ongoing Events
First Friday Hawaii
Event Calendar Item

Hawaii State Art Museum First Friday Featuring He Makana - The Gertrude Mary Joan Damon Haig Collection Of Hawaiian Art

Type:

Exhibit / Entertainment


Date:

Friday - 12/6/2013


Time:

6:00pm - 9:00pm


Location:


250 South Hotel Street, 2nd Floor
Honolulu, HI 96813
Phone: (808) 586-0307 or
586-0900


View Map


Cost:

Free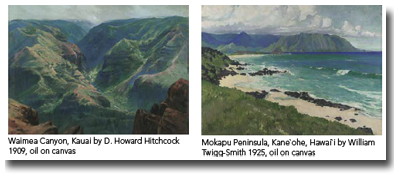 <!#43START>
Join us on First Friday on December 6, 2013 from 6 -- 9 p.m. at the Hawai'i State Art Museum
The Gertrude Mary Joan Damon Haig Collection of Hawaiian Art, Paintings, and Prints is a distinguished collection of traditional arts of Hawai'i, paintings of Hawai'i, and prints of Hawai'i presented to the state of Hawaii in honor of the life of Gertrude Mary Joan Damon Haig.
In the Hawaiian language, He Makana means A Gift, referring to the generous gifting of the collection to the state of Hawai'i in honor of Gertrude Mary Joan Haig, born Gertrude Mary Joan Damon in Moanalua valley on July 23, 1920. She was the daughter of Henry Fowler and Gertrude McKinnon Damon, and a granddaughter of Honolulu banker Samuel Mills Damon, developer of the large Moanalua agricultural and horticultural estate. Joan's mother Gertrude had a keen interest in the history and legends of Moanalua and its surrounding lands, an interest her children inherited.
Forty-three works of art-small objects, paintings, and prints collected over thirty years by a keen-eyed single donor comprise this important exhibition that opens to the public at the Hawai'i State Art Museum on First Friday, December 6, 2013 from 6:00 to 9:00 p.m.
Perceptive and knowledgeable, the donor focused the core of the collection on the three 'giants' of early 20th century painting: Lionel Walden, D. Howard Hitchcock and Madge Tennent. All three were academically trained in Paris -- Hitchcock and Tennent in the same atelier -- and all three have left the firm imprint of their influence on subsequent artists in Hawai'i.
Included in the collection are a group of small objects found under the designation of "Traditional Arts of Hawai'i"; these rare pieces are virtually
<!#43END>
DOWNLOAD LATEST NEWSLETTER TO LEARN MORE ABOUT NEW EXHIBITIONS


Hawaii State Foundation On Culture and The Arts DECEMBER 2013 Newsletter


There is an article on the opening of He Makana–The Gertrude Mary Joan Damon Haig Collection Of Hawaiian Art, Paintings and Prints; features on the "First Friday" event with Ruth Freedman on Friday, December 6th; the "Second Saturday" event "Mele Kalikimaka" on Saturday, December 14th; and the "Art Lunch" lecture films from the "Artists of Hawai'i" on Tuesday, December 31st.

ABOUT THE HAWAII STATE MUSEUM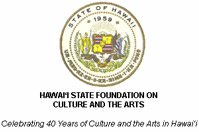 The Hawai'i State Art Museum is located in No. 1 Capitol Distric Building at 250 South Hotel Street. The building is situated in the historic Hawaii Capital Cultural District, across from 'Iolani Palace and the State Capitol. The museum is open Tuesday to Saturday from 10 a.m. to 4 p.m. Admission is free. For more information on the Hawai'i State Art Museum call (808) 586-0900 or visit
http://www.hawaii.gov/sfca
.
For more information, contact:
Phone: (808) 586-0307,Website:
www.hawaii.gov/sfca
Ongoing Events
---
Please send questions about this website to