Community website by MBC/Ernest Abrams. Call 808-739-9797 for advertising/sponsorship.
Ongoing Events
First Friday Hawaii
Event Calendar Item

Sustainable Art at Hooser Campaign Headquarters

Date:

Friday - 7/2/2010


Time:

5:00 PM - 9:00pm


Location:


Gary Hooser Campaign Headquarters
Lieutenant Governor - 2010
One N. King St
Honolulu, HI 96817


View Map


Cost:

Free
Come see artists Rodrigo Villarroel and Sande Robert articulate Senator Hooser's position on Energy Independence through art. Art showing display's between 6-10PM at #1 King Street in downtown Honolulu (on the corner of King/Nuuanu). Blue Planet Foundation will be hosting a light bulb exchange, so bring your old-school light bulbs

Artist Bios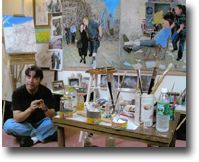 Rodrigo E. Villarroel
Born January 7, 1960 in
Santiago of Chile
Rodrigo love of art started at an early age. As a child, Rodrigo Villarroel grew up surrounded by art in his native country of Chile. He was only four years old when he discovered his own passion for art. Rodrigo drew inspiration from the artistic talents of his grandfather, father, older brother, and famous uncle, Rubén Villarroel, who was a widely acclaimed painter throughout South America in the 1940's to mid-1960's.
Since then, Rodrigo immersed himself in painting, sculpture, canvas, clay, pigments, and brushes and set out to create. He arrived to New Jersey in 1981, where he continued his artistic career.
After the tragic events of September 11, 2001, Rodrigo created a series of four paintings named Red, White, Blue and Fond Embrace that were unveiled at the New Jersey State House by Governor James McGreevey.

Ongoing Events
---
Please send questions about this website to