Community website by MBC/Ernest Abrams. Call 808-739-9797 for advertising/sponsorship.
Ongoing Events
First Friday Hawaii
Event Calendar Item

Sustainable Art at Hooser Campaign Headquarters

Date:

Friday - 5/7/2010


Time:

5:00 PM - 9:00pm


Location:


Gary Hooser Campaign Headquarters
Lieutenant Governor - 2010
One N. King St
Honolulu, HI 96817


View Map


Cost:

Free
Artists Mark Jacobsen (
http://www.markjacobsen.org/Home.html
), Van James (
http://www.vanjames.smugmug.com/
), Bernie Moriaz(
http://www.berniemoriaz.com/Aloha.html
) and Rodrigo Villarroel (
http://www.smartkeiki.com/index.html
) who will share the evening with Kimberley Clark, Ph.D from Just Add Water (
http://www.just-add-water.biz
/)
Join us for a night of art, music, and local agriculture.
Hawaii provided most of its own food during World War II? Greater self-sufficiency is possible.
Artist Bios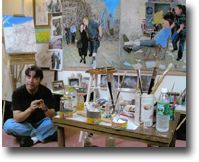 Rodrigo E. Villarroel
Born January 7, 1960 in
Santiago of Chile
Rodrigo love of art started at an early age. As a child, Rodrigo Villarroel grew up surrounded by art in his native country of Chile. He was only four years old when he discovered his own passion for art. Rodrigo drew inspiration from the artistic talents of his grandfather, father, older brother, and famous uncle, Rubén Villarroel, who was a widely acclaimed painter throughout South America in the 1940's to mid-1960's.
Since then, Rodrigo immersed himself in painting, sculpture, canvas, clay, pigments, and brushes and set out to create. He arrived to New Jersey in 1981, where he continued his artistic career.
After the tragic events of September 11, 2001, Rodrigo created a series of four paintings named Red, White, Blue and Fond Embrace that were unveiled at the New Jersey State House by Governor James McGreevey.

Bernard Moriaz - Art from the North Shore of Oahu
http://www.berniemoriaz.com/Aloha.html
For the last 25 years Bernard Moriaz has been exploring the towns, beaches, valleys, and dumpsters of the North shore of Oahu and beyond to find the materials and inspiration for his art. His beautiful and whimsical, but sometimes very political, artwork has gained recognition all over America and parts of the world. Bernard has explored many forums, including landscape and set design, and continually involves himself in creating sculpture from found or recycled objects, also Bernard paints in multiple mediums. All of his art is available for viewing or purchase through this website as well as in galleries across Oahu.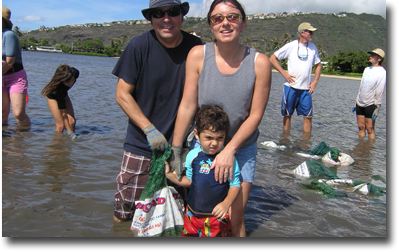 Families helping clean up Maunalua Bay in Hawaii Kai. Malama Maunalua, an environmental group in charge of the project. Source:Karina Villarroel Photo by:Malama Maunalua photographers

Ongoing Events
---
Please send questions about this website to