Community website by MBC/Ernest Abrams. Call 808-739-9797 for advertising/sponsorship.
First Friday Hawaii
News Item

Downtown Art Center - EXHIBITION "HOʻOPUKA: TO EMERGE -- THE LOVE OF HULA" With A First Friday Opening Reception August 6 , 2021
<!#43START>

DOWNTOWN ART CENTER'S NEW EXHIBITION "HOʻOPUKA: TO EMERGE—THE LOVE OF HULA" KICKS OFF WITH A FIRST FRIDAY OPENING RECEPTION AUGUST 6, 2021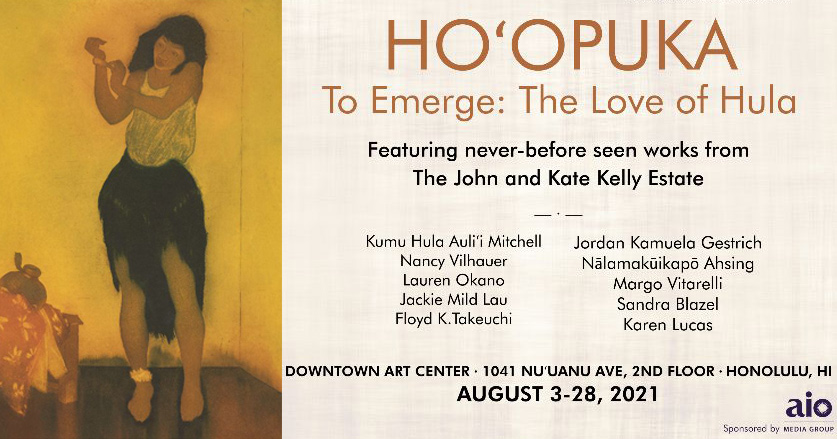 Honolulu (July 27, 2021) – Downtown Art Center at 1041 Nuʻuanu Ave., Second Floor, in Chinatown Gateway Plaza, is honored to host "Hoʻopuka: To Emerge—The Love of Hula," a showcase of art that has been inspired by Hawaiʻi's native dance. The exhibition will feature never-before-seen works by iconic Hawaiʻi artist 
John Kelly
 (1878-1962), as well as previously unreleased photographs by his wife, Kate Kelly (1882-1964). "Hoʻopuka" will be available for public viewing from August 3-28, Tuesday through Sunday, from 11 a.m. to 6 p.m., with an opening reception on Friday, August 6 from 5-8 p.m.

The First Friday reception will kick off at 5 p.m. with a rare "hula kiʻi" dance presentation and talk by Kumu Hula Auliʻi Mitchell, one of three Native Hawaiians who has been selected for a First Nations Luce Indigenous Knowledge Fellowship for 2021. Hula kiʻi, or Hawaiian puppetry, is an ancient style of hula that incorporates hand-carved puppets to tell stories. This performance is free and open to the public.

In addition to the opening reception, there will be special events happening throughout the month of August. On Saturday, August 14 and Sunday, August 22 at 12 p.m., Cha Smith, the Manager of the John and Kate Kelly Estate, will give a free informational talk in the Downtown Art Center Second Floor Exhibition Space, discussing the lives and artwork of noted painter and printmaker John Kelly and his wife, Kate Kelly, a sculptor and photographer. Both artists were active in Hawaiʻi during the ʻ20s, ʻ30s and ʻ40s.

In addition to the Kellys, this art exhibition includes several well-known Hawaiʻi artists, like Nancy Vilhauer, Lauren Okano and Jackie Mild-Lau, as well as Native Hawaiian artists Kumu Hula Auliʻi Mitchell, Jordan Kamuela Gestrich and Nālamakūikapō Ahsing. The full artist lineup is as follows:


Kumu Hula Auliʻi Mitchell (Multimedia)

Kumu Auliʻi is the kumu hula of Hālau o Kahiwahiwa and Hālau o Moana-nui-a-Kiwa. He perpetuates the hula legacy of his grandfather Charles Kahiwahiwa Cash and his mother Harriet Aana Cash Mitchell. He is well known for his family's tradition and research in the hula genre of Hawaiian puppetry or "hula ki'i". In 2019, he formed the Hula Ki'i Collaborative, and today works closely with the other hula ki'i traditions in Hawaiʻi. Kumu Auliʻi Mitchell is currently a recipient of the Luce Indigenous Knowledge Fellowship 2021, focusing on creating, preserving, perpetuating, and disseminating the hula ki'i within the indigenous communities, the hālau hula, where it originated.

instagram.com/auliimitchell
Nancy Vilhauer (Painter/Printer)

 Nancy is a popular artist in Hawaiʻi who is known for her prints and paintings of scenes from the world of hula. Nancy is producing new paintings and prints for the exhibit.

nancyvilhauer.com
Lauren Okano (Painter)

 Lauren is best known for her abstract work. She's also inspired by the movements of hula dancers, and will combine both loves in new work for this exhibition.

laurenokanoart.com
The John and Kate Kelly Estate Collection (Photographs, Paintings and Aquatints)

John Kelly's prints and paintings of pre-war and post-war Hawaiʻi are among the most iconic images of the Islands. In a very exciting development, "Hoʻopuka" will also include the photography of John Kelly's wife, Kate Kelly, an accomplished photographer whose prints often were used as the basis for her husband's art work. The photographs and original prints and paintings, some of which have never been exhibited before, will be on display.

kellyarthi.com
Jackie Mild Lau (Sculpture)

 Jackie is a well- known Hawaiʻi sculptor who is working on hula dancers for display at the exhibit. She will also be designing the exhibition layout.

cedarstreetgalleries.com/bin/works.cgi?Artist=LauJackieMild
Floyd K. Takeuchi (Photographer)

 Floyd is a documentary photographer whose interest is primarily found at the intersection of the traditional and contemporary. He will be exhibiting photos from a two-year project documenting Halau Na Mamo O Puʻuanahulu and its Kumu Hula, Sonny Ching. He will also have available copies of his new 120-page magazine/book, "Halau - A Life in Hula." Floyd is curator for the exhibition.

floydtakeuchi.com
Jordan Kamuela Gestrich (Photographer)

 Jordan is a young Hawaiian photographer with a strong interest in Hawaiian cultural issues. His portfolio will feature photographs that focus on the importance of kalo (taro) to Hawaiian culture, and reflect his deep love for the culture of these islands. This will be Jordan's first showing in a public art exhibit.

jphoenixphoto.com
Nālamakūikapō Ahsing (Designer/Artist, Multimedia)

Nālamaku works in a number of mediums, but is best known for his graphic artwork that are drawn from traditional Hawaiian motifs. These pieces are usually quite large, and are well suited for the DAC Exhibition Space. He has also done print designs for apparel. Nālamaku is one of the most exciting new artistic talents in Honolulu.

instagram.com/nalamakuikapo
Margo Vitarelli (Print Maker)

Margo is a printer and arts educator with experience in Hawaiʻi and Micronesia. For "Hoʻopuka," she is producing screen prints around a taro/Hawaiian culture theme (along with Jordan Gestrich, above). A long-time member of the Honolulu Printmakers Guild, Margo has had her work included in nine of the past 10 annual shows.
Sandra Blazel (Painter and Multimedia)
Sandra's artwork is inspired by Hawaiʻi. Her emphasis is "old Hawaiʻi" and she works with a variety of media, though her favorites are graphite and acrylics. Her work for the show will be on the theme of hula.

sandrablazelfineart.com
Karen Lucas (Sculpture, Printmaking, Multimedia)

Karen is a multi-talented artist who works in a variety of mediums. She will display sculpture done on hula and Hawaiiana themes.

cedarstreetgalleries.com/bin/works.cgi?Artist=LucasKaren


This exhibition is supported by a generous sponsorship from
AIO
, a family of companies active in media, sports, and food, which is based in Honolulu, Hawai'i.
For more information about the show, please contact Downtown Art Center at
media@downtownarthi.org
or visit
downtownarthi.org
.
 
###


About the Downtown Art Center (DAC):

Located in the Chinatown Gateway Plaza building at 1041 Nuʻuanu Ave., Second Floor, the nonprofit Downtown Art Center is an evolving gallery and workshop space for Oʻahu's arts scene. DAC strives to become a thriving center for the arts by providing display space for local artists and art organizations, workshop classrooms, performances, and more. Support DAC and help it grow at
donorbox.org/downtownartcenter
!

Parking for DAC is located at nearby municipal parking lots (onsite at Chinatown Gateway Plaza, parking entrance off Bethel Street) or at Mark's Garage (entrance at 22 S. Pauahi St.). DAC is easily accessible by public transit as well; get directions, routes and timetables at
www.thebus.org
.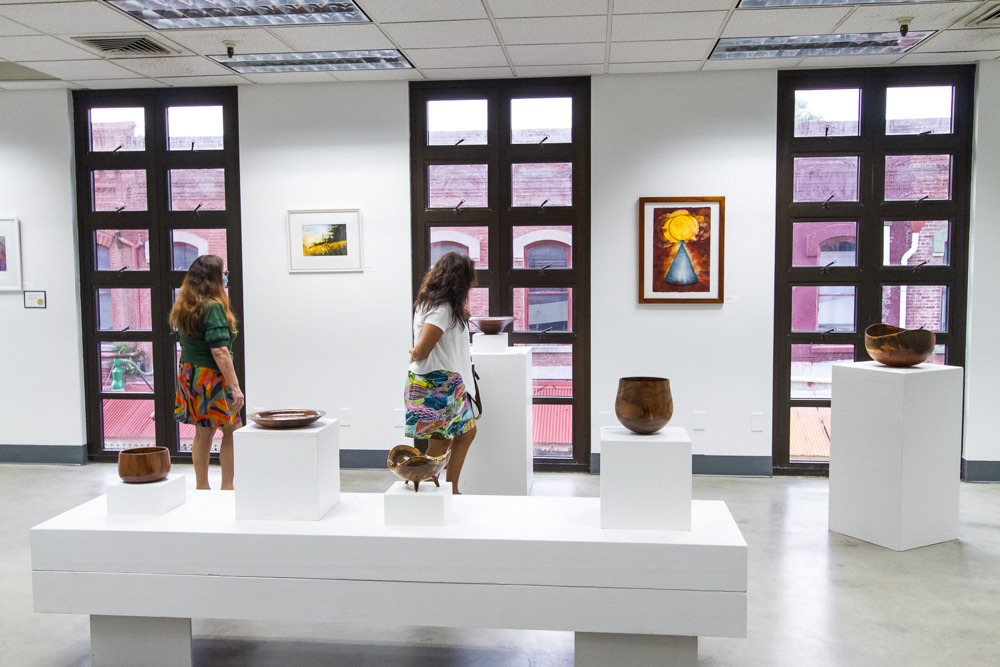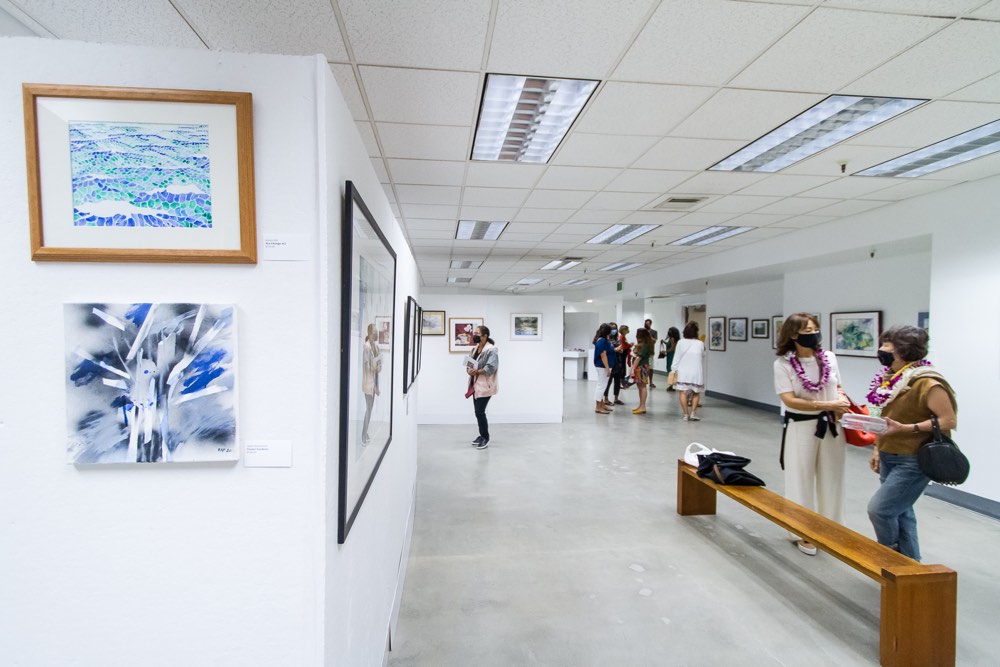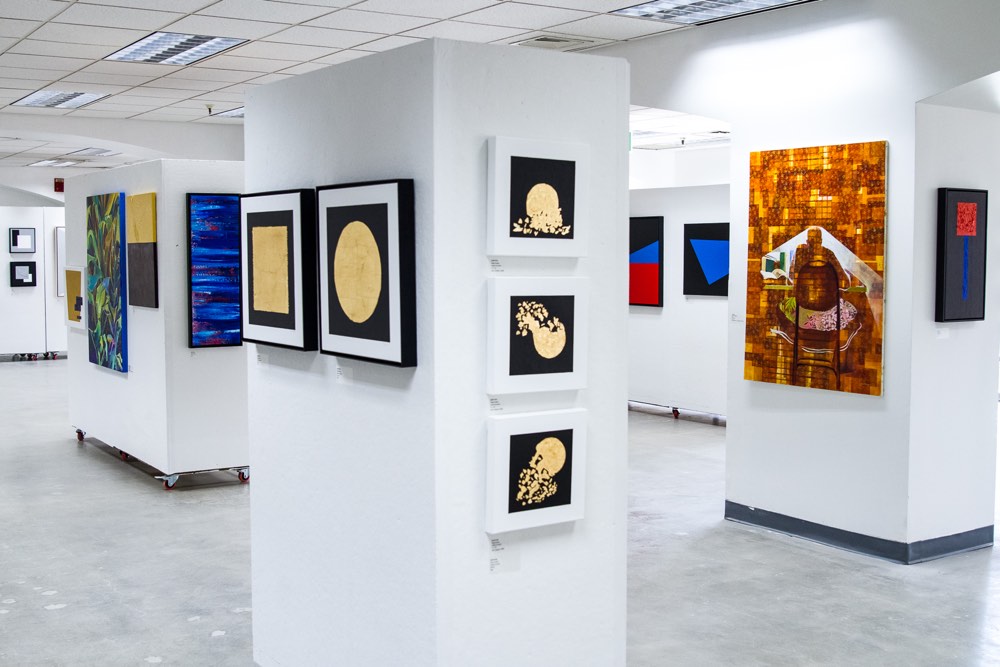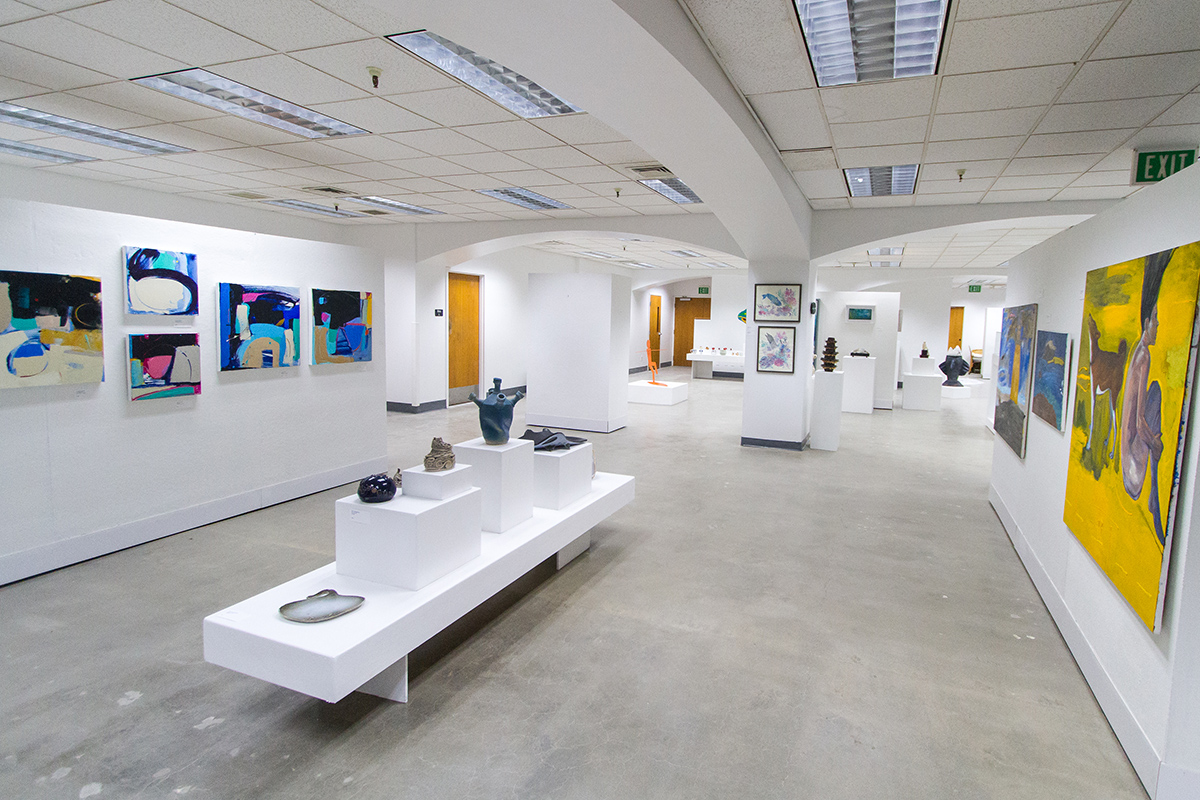 <!#43END>
Featured Product/Service
Downtown Art Center, Honolulu Hawaii
Downtown Art Center (DAC) is an evolving gallery and workshop space for Oahu's arts scene. DAC strives to become a thriving center for the arts by providing display space for local artists and art organizations, workshop classrooms, performances, and more.
1041 B Nuuanu, Honolulu, HI (View Map)
<!998Template_start>
<!998Template_end>
---
Please send questions about this website to