Community website by MBC/Ernest Abrams. Call 808-739-9797 for advertising/sponsorship.
First Friday Hawaii
News Item

Downtown-Chinatown Neighborhood Board Meeting December 2020 Minutes
With Permission / Courtesy of
: City and County of Honolulu Neighborhood Commission Office
<!#450IMAGESTART>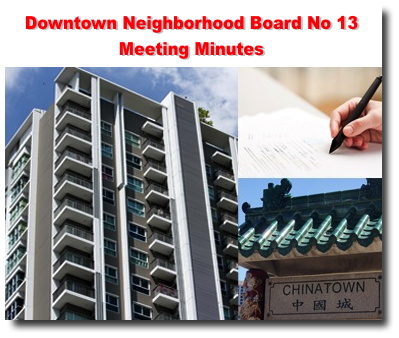 <!#450IMAGEEND>
utf-8">

Having trouble viewing this email?

Click here to view as a webpage

.
DOWNTOWN-CHINATOWN NEIGHBORHOOD BOARD 13

REGULAR MEETING MINUTES
THURSDAY 5 DECEMBER 2019
ONE ALOHA TOWER, MULTI PURPOSE ROOM 2
CALL TO ORDER - Chair McDonald called the meeting to order at 6:00 p.m. Quorum was established with seven members present. Note: This nine-member Board requires five members to establish a quorum and to take official Board action.
Board Members Present - Robert Armstrong, Roxie-Anne Kamoshida, James Logue, Kevin Lye, Kevin McDonald, Dolores Mollring, Willis Moore
Board Members Absent - Chu Lan Shubert-Kwock, Sandy Ma
Guests - Lieutenant Taniguchi (Honolulu Police Department); Captain Russell Youth (Honolulu Fire Department); Justin Gruenstein (Mayor Kirk Caldwell's representative); Damien Elefante (Governor David Ige's representative); Councilmember Carol Fukunaga; Glen Young (Senator Karl Rhoads' office); Lee Stack and Kainoa Adolpho (Chinatown Improvement District); Fran Butera (Chinatown Watch); Pat Lee (Honolulu Authority for Rapid Transportation); Greg Payton (Safe Haven); Ronald Higa, Steve Lohse, Carter Churchfield, Janice Owens, Jack Covington (community members); Harry Cho (Neighborhood Commission Office). Name not included if not known or if illegible on the sign-in sheet.
PUBLIC SAFETY REPORTS
Honolulu Fire Department (HPD) - Captain Youth reported the following:
• November 2019 Statistics: There were 5 nuisance fires, 1 cooking fire, 11 activated alarms (no fire), 169 medical emergencies, 1 motor vehicle crash/collision, 1 motor vehicle collision with a pedestrian, 1 mountain rescue, 1 ocean rescue, and 1 hazardous materials incident.
• Safety Tip: Safety tips were given on Christmas and New Year's safety.
Questions, comments, and concerns followed:
1. Graffiti: Mollring raised concerns with the graffiti on the fire station doors.
Honolulu Police Department (HPD) - Lieutenant Taniguchi reported the following:
• November 2019 Statistics: There were 3 motor vehicle thefts, 3 burglaries, 44 thefts, 21 unauthorized entries into motor vehicles (UEMV), 20 assaults, 3 sex assaults, 4 drug offenses, 2 graffiti incidents, and 2,323 total calls for service.
Questions, comments, and concerns followed:
1. Cameras: Armstrong asked about the status of the surveillance cameras. Taniguchi responded that the current system is outdated and there are currently issues with finding vendors, and the cost.
2. Vandalism: Mollring raised concerns with numerous buildings with broken windows and graffiti.
3. Statistics: McDonald raised concerns that the statistics do not reflect what he sees in the area. Taniguchi responded that the statistics are based on what is reported and encouraged the public to report all incidences to HPD.
4. Assault: A community member raised concerns that she was assaulted on 152 Pauahi Street and the suspect was not arrested.
5. Homeless: A community member raised concerns with the homeless lying down on sidewalks. Lye asked if it would help if the sit-lie ban was enforceable around the clock. McDonald asked for recommendations on how the board can help amend laws to address homelessness. Logue raised concerns with public intoxication, fornicating, and drug use.
6. Bathroom: A community member asked that the bathroom at the police substation be repaired.
7. Alcohol: A community member asked to ensure no one is drinking alcohol near the police substation. McDonald raised concerns that HPD cannot make arrests for drinking in the entrance/doorway of privately owned businesses. A community member suggested contacting the Liquor Commission when noticing violations.
8. Police: A community member suggested HPD foot patrols in the area.
9. Hotel Street: Community member E. Caravalho raised concerns with Uber and Lyft drivers driving on Hotel Street.
10. Emergencies: A community member raised concerns with an increase in emergency responses.
Neighborhood Citizen Patrol (NCP) - Mollring reported that the Weed and Seed banquet was held on Thursday 5 December 2019. NCP has noticed an increase in buildings with broken windows. The NCP walks every Tuesday night at 8:00 p.m.
PARLIAMENTARIAN'S CORNER
Lye recounted for the Board and the gallery recommendations from parliamentary authorities for [1] addressing an unruly member during a meeting as well as options available to the body for continued misbehavior, and [2] procedures acceptable within small boards such as Neighborhood Board 13. Lye also cautioned about the discourteous filing of formal yet otherwise inspecific, unresearched, and unreferenced complaints—often about expressed opinions or matters already adjudicated—which decrease time that could otherwise be spent by members addressing concerns of and matters within the community.
ELECTED OFFICIALS
Governor David Ige's Representative - Damien Elefante reported the following:
• Capitol Connections: This month's Capitol Connections highlight Governor Ige's plans for major solar projects, progress on the Aloha Stadium, airport, and State hospital, construction on the Pali Highway, and applications for boards and commissions.
Mayor Kirk Caldwell's representative - Justin Gruenstein reported the following:
• Follow-Up on Concerns:
o Bus Stop Benches: Department of Transportation Services (DTS) responded that they investigated the location of the bus stop benches and could not find an American Savings Bank at Pioneer Plaza. Please clarify location of the bus stop.
o Permit Requirements: DTS responded that applications for event permits are due 90 days prior to the scheduled event, therefore applicants do not have to wait until the last minute to start their community outreach. DTS encourages applicants to perform their community outreach and to receive feedback about their event as soon as possible.
o Fort Street Mall Graffiti: Department of Parks and Recreation (DPR) responded to please call 911 if one should witness any illegal activity in the parks or malls. The maintenance crew will clean or paint over the graffiti when observed on park property.
o Street Closures: Office of Economic Development responded that they will provide a response at next month's meeting.
o Trash Pick Up: Department of Facilities Maintenance (DFM) responded to please identify the address or location of the bulb-out with trash. We can determine if this is an authorized location to pick up the litter.
o Wind Farm Permitting: Department of Planning and Permitting (DPP) responded that they are responsible for ensuring that the Kahuku Wind Farm Project meets all pertinent development standards. Wind machines are permitted in the AG-1 Restricted Agricultural District and AG-2 General Agricultural District with a Conditional Use Permit (CUP). Since 2017, wind machines up to 100 kilowatts require a CUP (Minor) and wind machines over 100 kilowatts require a CUP (Major). This wind machine project was rated at 25 megawatts. However, when this project was approved in 2016, it only required a CUP (Minor). There was no distinction in the amount of output at that time. A CUP is a discretionary type of permit and wind machines must comply with certain development standards. The Director has the authority to condition the CUP to ensure compatibility with adjacent uses and structures. After the CUP is approved, the building permits are reviewed for compliance with the Conditions of the CUP approval and other building codes. During construction, building inspectors ensure that the Project is consistent with the approved building permit plans.
o Resilience Strategy Costs of Implementation: Office of Climate Change, Sustainability, and Resiliency responded that the City Council unanimously adopted Resolution 19-233 on 6 November 2019, adopting Ola: Oahu Resilience Strategy as a guiding policy document for the City and County of Honolulu. Since the 44 Resilience Actions are so varied in their type (policy changes, projects, education efforts, etc.), it is not possible to establish a firm cost associated with the Strategy. In addition, there are no "prioritized" actions—they are all presented as important opportunities to help reduce the long-term cost of living and increase climate resilience on Oahu, and rely on City leadership including the City Council, the administration, and department leadership to decide on the order of adoption. However, the "Implementation" Section of the Resilience Strategy (pp.124-127) outlines several of the strategies that will help align current City budget development and prioritization processes with the specifics of the 44 Resilience Actions. Though certain actions are new planning and policy research efforts, not all actions require additional funds. Some actions are consistent with staff responsibilities or are elevated initiatives within a department's existing authorities and obligations, so through prioritization of efforts and inclusion of Resilience Actions within existing frameworks for planning, design, and construction, progress will be made with current resources or through typical budgetary processes. As presented on p.125 of the Resilience Strategy: "The single greatest implementation tool the City possesses is our operating and capital budget. It is often said, 'show me your budget and I'll tell you what you value.'" Furthermore, implementation and execution of certain actions will actually realize savings by the City and by private individuals, businesses, and buildings owners. Lastly, with respect to much of the hazard mitigation and climate resilience work detailed in the Resilience Strategy, there is the risk of severe future costs if we don't implement key resilience actions that address challenges that will radically increase into the future. It is well documented that $1 spent up front on resilience (such as stronger building codes or flood prevention) results in $6 (or more) saved in damages. As with most efforts to address risks, the costs come before the benefits, and avoided damages and long-term affordability actions are important benefits at the household level as well as at the government level. The Resilience Actions themselves are a combination of new policies, plans, projects, and/or partnerships. Different types of actions translate to different forms of funding, costs, and/or business of government practices. Some Resilience Actions are/will be additionally supported by or funded in total by outside grant funding (e.g., Federal Hazard Mitigation Grant Program and Pre-Disaster Mitigation funds, State SNAP funds, or private foundation and/or non-profit funds).
o Kekaulike Mall Trash: DPR responded that Kekaulike Mall is serviced daily by DPR staff. The majority of the trash being dumped in this area comes from the merchant stores or residents on or around the mall. This is considered illegal dumping, and no one should not be illegally dumping their personal or business-generated trash on the Mall or on any public property. DPR staff will continue our daily schedule of servicing the area. If anyone witnesses illegal dumping, please call the Honolulu Police Department.
Kamoshida departed at 7:05 p.m.; six members present.
Questions, comments, and concerns followed:
1. Fort Street Mall: Mollring requested more lighting at Fort Street Mall. She also raised concerns about a metal pole.
2. Bicycle Rack: Mollring raised concerns that the metal bike rack between Ross and Walmart has been broken off from the ground.
3. Yellow Bags: Logue requested that the time be extended for the City to provide free yellow trash bags to businesses. Many businesses are concerned with the cost. McDonald raised concerns that when he called to make a request for more bags, he was told that they ran out of yellow bags and to place the trash from his establishment in normal trash bags. However, normal trash bags are not picked up, which worsens the problem of trash being left out on the street.
4. Metal Plates: McDonald raised concerns that the metal plates on School Street between Nu'uanu Avenue and Pali Highway have not been removed since construction was completed.
5. Housing First: A community member asked how many Housing First vouchers have been awarded in Chinatown.
6. Chinatown Properties: A community member raised concerns that property owners should be fined for not taking care of their properties when damaged, and suggested that they should be fined. A community member raised concerns with illegal activity occurring on City-owned properties along Pauahi Street, between River Street and Safe Haven. The community member also asked what the City's plans are to address this. Mollring raised concerns that the former Paradise Lost property is an eyesore.
7. Safety: A community member asked what the City is doing to ensure the safety of the residents.
Kamoshida returned at 7:14 p.m.; seven members present.
Senator Karl Rhoads - Glen Young reported the following:
• Act 139: The State of Hawaii passed Act 136 in 2019, implementing vote by mail beginning with the 2020 Elections. All properly registered voters will automatically receive a mail ballot packet approximately 18 days prior to the election. In addition, voter service centers will be open 10 days prior to each election. Voters may visit any service center within their county should they prefer to vote in person. Additionally, the service center will provide accessible voting and same-day registration. For more information, please visit the Office of Elections website at www.elections.hawaii.gov or call (808) 453-VOTE (8683).
• New Legislation: If anyone has any ideas on new legislation for next year, please contact the Senator's office on (808) 586-6130 or senrhoads@capitol.hawaii.gov.
Councilmember Carol Fukunaga - Councilmember Fukunaga reported the following:
• Nighttime Noise Complaints: On 25 November 2019, my staff and I convened a follow-up discussion with Downtown-Chinatown residents, representatives of Nan, Inc. (HART's utility contractor), and other HART representatives. Since HART's noise variance permits authorization of nighttime and weekend work for the 3-year time frame, we were gratified that HART's construction staff are exploring ways to shift some of the noisier type of nighttime work (e.g., use of the vacuum equipment, which emits loud suction noises during nighttime work) to daytime hours or during early evening instead. HART and Nan representatives will report back in mid-December on possible solutions to the worst nighttime noise disruption, and area legislators Fukunaga, Holt and Rhoads requested State DOT consideration of daytime construction on Nimitz Highway to reduce nighttime noise. HART representatives reported that State DOT authorized HART/Nan, Inc. to manage daytime construction work impacts along Nimitz Highway, starting in December 2019. HART and Nan, Inc. will announce further construction modifications as they develop a construction noise/mitigation plan for discussion with Downtown, Ala Moana/Kakaako neighbors in January 2020.
• Graffiti: Since the filing of complaints about the unattractive graffiti on the Smith-Beretania elevator/parking structure, I've been horrified to see photos of more graffiti on other city-owned structures like the gateway arches to Chinatown across from A ala Park, along Nu'uanu Stream Bridge, and bridge siding fronting Beretania Street between River Street and A ala Street. My staff and I forwarded photos to the Mayor's Office this week, and are anxiously awaiting a decision on how the Managing Director and city agencies plan to address these unsightly graffiti tags. City agencies provide paint and repair materials to community clean-up groups, or City agencies take the lead in painting/repairing the graffiti-tagged properties, and work with neighbors/community clean-up groups to prevent the reoccurrence of new graffiti. Stay tuned for a decision soon. We look forward to cleaning up Chinatown before the Lunar New Year. On the Fort Street mall end of downtown Honolulu, I'm happy to report that Department of Parks and Recreation repaired and replaced three of the five broken water fountains placed along the mall. Mahalo to DPR staff and contractors for completing this long-standing repair.
• Sun Yat-sen Park Renovations: In response to questions that have been posed about the status of improvements to Dr. Sun Yat-Sen Memorial Park next to Hawaii Theatre, Director Nekota of Dept. of Parks and Recreation has provided the attached diagram of upgrades planned for the park. The project is being spearheaded by Dept. of Design and Construction, so I encourage NB 13 to request a presentation on the project in January 2020.
• Kekaulike Mall/Street Multimodal improvements: PBR Hawaii has been contracted by HDR Inc. to assist the City's Department of Transportation Services with preparation of an Environmental Assessment for proposed multimodal street improvements to Kekaulike Mall and Street in Honolulu. A "shared-use" street concept has been designed that seeks to improve pedestrian accessibility, safety, connectivity and way finding while promoting economic activity and enhancing visitor/residents' experiences in Chinatown. Pre-consultation feedback is being solicited for issues that should be considered when preparing the Chapter 343 Environmental Assessment; comments are due by 3 January 2020. Comments can be mailed to PBR Hawaii and Associates, Inc. ATTN: Catie Cullison, 1001 Bishop Street, Suite 650, Honolulu, Hawaii 96813.
Questions, comments, and concerns followed:
1. Graffiti: Logue raised concerns with graffiti along the King Street Bridge and asked if it will be painted over. A community member would like waivers from the City to paint over graffiti.
2. Bills: McDonald asked that Councilmember Fukunaga inform the board of any bills before the City Council. Armstrong and a community member suggested attending the Council meetings which are open to the public. They also noted that the information regarding the meetings and bills are publicly available online. Another community member thanked Councilmember Fukunaga for her responsiveness and work to improve the community.
Residents and Community Concerns:
• Flies: A community member raised concerns with the increase of flies in Chinatown and stated that it may be caused by the trash that is left on the street overnight. This negatively affects businesses and restaurants in the area.
• Ho olaule a: A community member suggested that the board write a resolution asking to bring the Ho olaule a Festival back to Chinatown.
• Events: A community member suggested having winter-related events in Chinatown.
NEW BUSINESS
Hallowbaloo Post-event Summary - Mark Tarone provided a report of the event.
Questions, comments, and concerns followed:
1. Noise: Mollring stated that this was the first event from which she has heard noise. A community member raised concerns with illegal noise violations from the event.
2. Support: Logue and McDonald voiced their support for the event. McDonald suggested that more events should be held in Chinatown. Armstrong also voiced his support for the event and asked to start the event a little earlier. Other community members also voiced their support the event.
McDonald departed at 8:17 p.m. and passed the gavel to Logue; six members present.
COMMUNITY REPORTS
Safe Haven - Greg Payton reported that in the month of November, there were 2 Safe Haven discharges/intakes, 2 activity center placements, 1 return to the mainland, 2 Mental Health Kokua Oahu Case Management housings, and 7 permanent housing placements. The grand total through November for 2019 is 89 placements. The new Homeless Outreach worker in the area is Eric Panaia, who is available from Monday to Friday.
McDonald returned at 8:21 p.m and resumed the chair; seven members present.
Honolulu Authority for Rapid Transportation (HART) - Pat Lee reported that Nimitz Highway utility relocation work is 13.5% complete, but there is a lot more to be done. Demolition of the existing sewer and waterlines are continuing. HART's contractor Nan, Inc. is awaiting final design approvals on dry utilities (electrical and telecommunication) and also approval of traffic control plans for this work. There will be no HART work-related lane closures for the Christmas and New Year's holidays from Saturday 21 December 2019 at 5:00 a.m. to Thursday 2 January 2020 at 8:30 a.m. HART will review requests for variances regarding these restrictions and may issue permits on a case-by-case basis. For more information on the rail project, the public may visit the HART website at www.honolulutransit.org, call the project hotline on (808) 566-2299, or email a question to info@honolulutransit.org.
Chinatown Business and Community Association (CBCA) - Mollring reported that the next meeting will be held on Tuesday 10 December 2019, 10:00 a.m. at Golden Palace.
Chinatown Improvement District (CID) - Lee Stack reported that the community patrol program had another sign-up. They've been working with HPD on a persistent issue taking place in one specific area of Chinatown. CID reiterated their suggestion that the Sit-Lie legislation, which is currently tailored to complement business hours in Chinatown, be extended until 2:00 a.m. when businesses close. Stack talked to property owners in which they've observed that large festivals involving alcohol have resulted in the increase display of graffiti. CID participated in the "Give Me Hawaii" event that was hosted by the HONOLULU Magazine this past Tuesday. People who are interested can go online until the end of December and give to 501(c)(3) charitable organizations throughout the island and the state. Stack thanked Major Nishibun, Captain Hiyashi, Chu-Lan Shubert Kwock, Dolores Mollring, Fran Butera, and Kainoa Adolpho for their hard work, support, and advocacy efforts.
Chinatown Watch - Fran Butera reported the following:
• Update on City Funded Security Guards: Funds for the Chinatown security guards have been in the City FY20 budget since 1 July. That was 5 months ago. Still no guards. However, there is progress to report this month. As noted last month, several community members met with Dept. of Land Management Director Sandy Pfund in early November to try to jumpstart the process. We proposed locations and a schedule for Phase 1 of the City Guards program. Since then, the program got a big boost from our HPD District 1 command. After meeting with Chinatown Watch members on 8 November 2019, Assistant Chief Naito, Major Nishibun, and Captain Hayashi met with Director Pfund on 19 November 2019 to give their input. They offered concrete suggestions based on HPD stats and working knowledge of the neighborhood. Furthermore, they offered to help train and support the City Guards on duty. Director Pfund presented HPD's proposal to Managing Director (MD) Roy Amemiya. MD Amemiya approved the plan and has made the funding available to Director Pfund. Her staff is now getting bids from private security guard firms. We eagerly await news of a timeline from Director Pfund. We hope to be seeing City Guards on the sidewalks and streets around City properties soon. Our goal remains to protect the public by having guards patrol in the public spaces around City-owned buildings, which are among the most derelict in Chinatown. We sincerely thank our HPD commanders for bolstering this community initiative with their expertise and support! Being able to coordinate right from the start with HPD and with CID's private property patrols will help get the City Guards program off on the right foot.
• Yellow Trash Bags: 1) Less illegal dumping by merchants: We are pleased to see that there are fewer mountains of trash sitting uncollected for days at a time. With the yellow bags as a visual cue, Refuse Inspectors are identifying merchants who do not have trash collection accounts, and are taking appropriate action. It helps that the City is once again welcoming new accounts to its daily refuse collection program, which had been closed to new accounts for a number of years. The problem is not yet solved, (E.g., one account holder reports that people open her yellow trash bags and add their own trash.) but the progress is heartening. 2) Continued trash dumping by homeless people and others. The yellow bags fail to address this waste stream because most businesses put their trash out for pick up in the evening. City refuse crews pick up the trash at 4:00 a.m., so bags of trash sit out all night. City crews will not pick up loose trash and the burden falls on merchants and residents. Any real trash solution has to include defenses against trash pilfering. We encourage the City to explore options such as tamper-proof locking bins and to seek community input.
• Actions that City Administrators Can Take: Release the funds for private security guards at and around City-owned properties, commit to being an active, present landlord at your Chinatown properties, and work with the Chinatown community.
• Actions that Concerned Citizens Can Take: Call 911 to report violations. Talk to your neighbors about the problems. Encourage them to call 911, too. Post incidents anonymously to ChinatownWatch.com. Urge the City Council and Mayor Caldwell to fund private security patrols for all of Downtown-Chinatown's public spaces. Contact Councilmember Fukunaga's office to report incidents in your area. Email cafukunaga@honolulu.gov or call (808) 768-5006. Support HPD deploying police foot and bike patrols 24/7 throughout Downtown-Chinatown. Get some neighbors together to meet with the HPD's Community Policing team. Call the CPT office at (808) 732-3927. A strong community partnership with HPD is good for everyone. Merchants and property owners, please join the Chinatown Improvement District's neighborhood security patrol. Call Lee Stack at (808) 589-9927, email chinatownimprovementdistrict@gmail.com, or visit the website cidchinatownhawaii.org. To order Chinatown Watch window signs for your business, email ChinatownWatch@gmail.com.
APPROVAL OF MINUTES
McDonald moved and Moore seconded to adopt the November minutes as amended below. The motion was adopted by unanimous consent, 7-0-0 (Aye: Armstrong, Kamoshida, Logue, Lye, McDonald, Mollring, Moore; Nay: None; Abstain: None).
Amendments:
• Page 7 of 7, immediately prior to the notice of departure of Member Ma, insert the following:
"Board Business
The Chair noted that the Board was unfair to Member Lye by not allowing him to participate fully in the October 2019 meeting while in a remote location."
BOARD BUSINESS
Treasurer's Report - The board retains a balance of $213.09.
Oahu Metropolitan Planning Organization (OMPO) - Mollring provided a report from OMPO.
ANNOUNCEMENTS
• Next Meeting -The next meeting of Downtown-Chinatown Neighborhood Board 13 is scheduled for Thursday 2 January 2020 at Hawaii Pacific University, One Aloha Tower Drive, Multi-Purpose Room 2 at 6:00 p.m.
• Neighborhood Citizen Patrol - The Neighborhood Citizen Patrol meets each Tuesday on the Diamond Head side of Kukui Plaza at 8:00 p.m. Please join the patrol and support its efforts to express service and pride in our Downtown-Chinatown community.
• ' lelo - Rebroadcasts of Downtown-Chinatown Neighborhood Board 13 meetings are scheduled on ' lelo channel 49 for every third Thursday at 9:00 p.m., as well as 6:00 a.m. on the second and fourth Saturdays of each month. Past meetings may be found on http://olelo.org/olelonet/ by searching on within the Search Archives field.
ADJOURNMENT - McDonald adjourned the meeting at 8:40 p.m.
Initial draft by Harry Cho, Neighborhood Assistant
Edited by NB 13 Secretary Roxie-Anne Kamoshida, Kevin Lye and Kevin McDonald
Featured Product/Service
<!998Template_start>
<!998Template_end>
---
Please send questions about this website to