Community website by MBC/Ernest Abrams. Call 808-739-9797 for advertising/sponsorship.
First Friday Hawaii
News Item

Downtown-Chinatown Neighborhood Board Meeting November 2019 Minutes
With Permission / Courtesy of
: City and County of Honolulu Neighborhood Commission Office
<!#450IMAGESTART>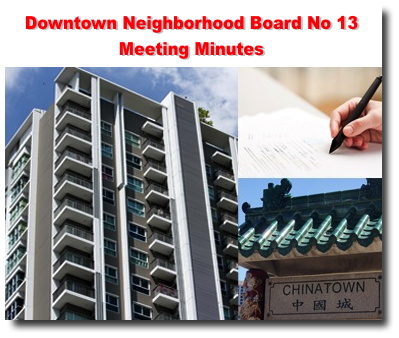 <!#450IMAGEEND>
REGULAR MEETING MINUTESTHURSDAY 7 NOVEMBER 2019ONE ALOHA TOWER, MULTI PURPOSE ROOM 2
CALL TO ORDER - Chair McDonald called the meeting to order at 6:00 p.m. Quorum was established with eight members present. Note: This nine-member Board requires five members to establish a quorum and to take official Board action.
Board Members Present - Robert Armstrong, Roxie-Anne Kamoshida, Kevin Lye, Sandy Ma, Kevin McDonald, Dolores Mollring, Willis Moore, and Chu Lan Shubert-Kwock
Board Members Absent - James Logue
Guests - Lieutenant Liu and Sergeant Romero (Honolulu Police Department); Captain Sean Arakaki (Honolulu Fire Department); Alexander Zannes and Justin Gruenstein (Mayor Kirk Caldwell's representative); Damien Elefante (Governor David Ige's representative); Kimberly Ribellia (Councilmember Carol Fukunaga's office); Senator Karl Rhoads; Lee Stack and Kainoa Adolpho (Chinatown Improvement District); Tim Houghton (Department of Environmental Services); Mark Alexander (Office of Housing); Scott Morishige (State Homeless Coordinator); Fran Butera (Chinatown Watch); Chu Lan Shubert-Kwock (Chinatown Business and Community Association); Pat Lee (Honolulu Authority for Rapid Transportation); Greg Payton (Safe Haven); Kathy Bryant (Senator Brian Schatz); Laureen Tanaka (Friends of Honolulu City Lights); Leonard Kam (Chinese Chamber of Commerce); Chris Johnson (Department of Transportation Services); Mike Doss (YMCA); Eric Arakawa and Justin Barnes (The Limtiaco Consulting Group); Steve Lohse, May Song, Zane Yamamoto, Kerri Osumi, Rob Miyasaki, Avery Horton, Kelsey Sandoval, Skye Lawton, Maria Tijerina, Ed Miyashiro, Juliana Shank, Lisa Arakawa, Ronald Higa, Questor Lau, Mark Tarone (community members); Harry Cho (Neighborhood Commission Office). Name not included if not known or if illegible on the sign-in sheet.
PUBLIC SAFETY REPORTS
Honolulu Fire Department (HPD) - Captain Arakaki reported the following:
• October 2019 Statistics: There were 3 structure fires, 4 nuisance fires, 13 activated alarms (no fire), 168 medical emergencies, and 1 motor vehicle crash/collision
• Safety Tip: Safety tips were given on Thanksgiving Day cooking fires.
Honolulu Police Department (HPD) - Lieutenant Liu reported the following:
• October 2019 Statistics: There were 5 motor vehicle thefts, 4 burglaries, 48 thefts, 13 unauthorized entries into motor vehicles (UEMV), 26 assaults, 4 sex assaults, 20 drug offenses, 2 graffiti incidents, and 2,505 total calls for service.
Questions, comments, and concerns followed:
1. Crime Statistics: A community member asked about the fluctuation in crime statistics. Lieutenant Liu stated that fluctuations in statistics are common.
2. Arrests: McDonald stated that he would like to see more arrests for public urination/defecation, drug use, and enforcement of the sit-lie law.
3. Homeless: Shubert-Kwock stated that there are homeless blocking the store entrances early in the morning on Hotel Street and Kekaulike Mall.
Neighborhood Citizens Patrol (NCP) - Mollring reported that the NCP has noticed an increase in cracked sidewalks and pavers. The NCP walks every Tuesday night at 8:00 p.m.
ELECTED OFFICIALS
Governor David Ige's Representative - Damien Elefante reported the following:
• Capitol Connections: This month's Capitol Connections highlight Governor Ige's plans to address environmental protection, infrastructure improvements, and the upcoming year's supplemental budget.
• Homeless: State Homeless Coordinator Scott Morishige and City Office of Housing Executive Director Mark Alexander provided an update on the current homeless issues on Oahu and in Chinatown.
Mayor Kirk Caldwell's representative - Alexander Zannes reported the following:
• Follow-Up on Concerns:
o Bulb-Outs: Department of Transportation Services (DTS) stated that the Downtown-Chinatown Clean Team manually cleans the Chinatown bulb-outs. There are many locations in Chinatown that the Clean Team manually sweeps and cleans daily. Street sweepers do not operate on the sidewalks. Not all elements of the street need to be accessible by the sweepers to be maintained.
o Loading Zone: DTS stated that they will reevaluate Merchant Street between Bishop and Alakea Streets for a freight loading zone and take appropriate action as warranted by their analysis. DTS will contact the Mayor's Representative should any additional information be required during their investigation.
o Representative at Board Meetings: Budget and Fiscal Services (BFS) stated that the Honolulu Liquor Commission (HLC) will be more than happy to send a response to the board, should there be a specific issue that is of significant public or community interest. In the past, the HLC has occasionally sent a representative to answer specific questions posed by the Neighborhood Boards. General information and updates are posted and available to the public on our website. These include the upcoming agendas, as well as the summary and video recording of each hearing conducted by this Commission. The current liquor laws and the Rules of the Liquor Commission for the City and County of Honolulu are also available on our website. Unfortunately, the HLC does not have the resources to commit to attend these hearings only to reiterate what is already posted and available to the general public. DTS requested to please submit via the monthly neighborhood board report, specific list of issues in order for appropriate division staff to research and prepare updates. Staff will be confirmed upon availability.
o Public Restrooms: The Mayor's Office stated that there are no current plans for additional restrooms to be built in the area.
o Homeless: Office of Housing stated that the Homeless Resource Center at Iwilei is moving ahead, and Kahauiki Village is being built out on schedule. The Outreach Navigation Program has also begun which will assist people experiencing chronic homelessness, severe mental illness, and/or substance abuse. This program will also provide both psychiatric and legal services if needed. For more information and details on our efforts, please visit our webpage: http://www.honolulu.gov/housing.html.
o Permits: Department of Planning and Permitting (DPP) stated that prior to submittal of a permit application package, applicants for the permit types listed below are required to first present their proposed project to the Neighborhood Board (NB) of the District where the project will be located, or, if no such NB exists, an appropriate community association. Prior to the NB presentation, the applicant is also required to provide advance written notice of their presentation to owners of all properties adjoining the proposed project. Proof of such notice must be provided to the Department of Planning and Permitting, with the permit application.
Questions, comments, and concerns followed:
1. Benches: Ma requested that benches by the American Savings Bank across from Pioneer Plaza be moved further away from the ATM. ATM users felt threatened by the people loitering at the benches.
2. Permit Requirements: Shubert-Kwock suggested that it be required for permit applicants to present to the Neighborhood Boards. She also stated that many applicants come to the board meeting at the last minute, sometimes only a week before the scheduled event date.
3. Legislation: McDonald asked all legislators to bring proposed legislation before the board as well.
4. Graffiti: Armstrong raised concerns with the increase in graffiti at Fort Street Mall.
5. Filming: Shubert-Kwock suggested that the Neighborhood Board be notified of any street closures due to filming.
6. Trash Pick-Up: A business owner requested that the Clean Team clear the trash at the bulb-outs more frequently.
7. Restroom Facility: A community member raised concerns with the lack of restroom facilities being widely available to tourists and houseless individuals in Chinatown and requested that the City consider installing paid restrooms with the toll collected by an attendant, similar to those in Western and Western-Central Europe. The tolls collected could help pay for the maintenance of the restroom and attendant.
Senator Karl Rhoads - Senator Rhoads reported the following:
• Homeless Individuals: Residents of our Chinatown community voiced their concern about homeless individuals engaging in disturbing the peace and verbal threats of violence on the Pauahi Street side of 155 North Beretania Street across from Maunakea Marketplace. Senator Rhoads notified HPD about this ongoing problem. HPD responded that District 1 officers were sent to patrol the area but did not witness any disturbances. HPD strongly encourages individuals to call 911 if they witness any type of potentially violent activity.
• Graffiti: Senator Rhoads received a complaint from one of our Chinatown residents about the excessive graffiti and possible gambling activity taking place at 1160 Nu'uanu Avenue. Senator Rhoads contacted HPD and was informed that unfortunately, there is no law that would compel an owner to clean up the graffiti on their property. With regards to the possible gambling activity, Senator Rhoads sent a letter to the owner mentioning that there could be illegal gambling activity taking place on their property. The Senator further informed the owner that pursuant to Hawaii Revised Statutes §712-1230, any gambling equipment in a person's possession may be forfeited to the State.
Questions, comments, and concerns followed:
1. Graffiti: McDonald suggested that legislation be passed that requires property owners to remove graffiti from their property.
2. Age Restriction: Armstrong suggested legislation that would require those who purchase spray paint to be 21 years of age.
3. Senate Bill (SB) 449: A community member voiced her support for SB 449, which requires the court and the prosecution to take appropriate action to ensure a prompt trial in order to minimize the length of time a child abuse victim or minor witness must endure the stress of the child's involvement in the proceedings.
Councilmember Carol Fukunaga - Kimberly Ribellia reported the following:
• Resolution 19-250: Mahalo to NB 13 member Mollring and other Kukui Plaza neighbors for their testimonies in support of Resolution 19-250, CD1, FD1 (Requesting Adoption of Alternative Uses for Kamali i Mini Park and Removal of this Site from the City's Parks Inventory). The City Council adopted the resolution during the 6 November 2019 Council meeting. This measure was also supported by Department of Parks and Recreation (DPR) and Honolulu Fire Department (HFD). Councilmember's Council colleagues also supported the resolution after hearing about recent complaints. The council is scheduling follow-up meetings with DPR, HFD/HPD representatives and community stakeholders shortly so that remedial actions can be planned for the FY 20 budget cycle. The Council is also organizing a series of 'graffiti-busting' events to address the proliferation of graffiti on city-owned properties and business establishments in the Maunakea/Pauahi and Smith Street neighborhood. The accompanying photos illustrate the unsightly property damage that mars the appearance of the City's Smith-Beretania Park elevator/parking structure building on Pauahi Street, with more graffiti tags on buildings located on nearby Smith, Nu'uanu, Hotel and King Streets near the produce markets. Please contact Senior Advisor Kimberly Ribellia at kribellia@honolulu.gov or at (808) 768-5045 for more information, or to volunteer support. Mahalo also to Department of Transportation Services for its recent relocation of the concrete toadstools in front of Walgreens in Union Mall to the edge of the sidewalk in front of the Hotel Street bus stop on Fort Street Mall after months of complaints from NB 13, area legislators, and businesses. Unfortunately, the Walgreens branch fronting Union Mall has announced the closure of the store this month, so Councilmember and her staff are working with the building's owner and Douglas Emmett representatives to ensure that vagrants or homeless individuals do not reclaim this corner of Union Mall.
• Noise Complaints with Hallowballoo: Area legislators Fukunaga, Holt, and Rhoads submitted testimony to the Honolulu Liquor Commission on 10 October 2019, requesting a post-event report for this year's festival. Councilmember Fukunaga also requested and obtained a copy of the transcript of the 10 October 2019 hearing, and a copy of the license application. Since the Liquor Commission materials are [fairly] lengthy, it is not attached to this month's report. The Councilmember has provided Chair McDonald and Neighborhood Assistant Cho with an electronic set of the materials to disseminate to interested NB 13 members following this evening's meeting. Councilmember Fukunaga has also learned about excessive noise complaints from Chinatown Gateway Plaza residents, and hope that the Liquor Commission's post-event evaluations and the promoter's post-event report will help prevent excessive noise for future events.
Questions, comments, and concerns followed:
1. Resolution 19-221: Shubert-Kwock asked if the resolution passed. Ribellia confirmed that it did pass.
2. Kamali i Mini Park: Lye expressed hope that Resolution 19-250 would provide a means to remove the concrete bunkers in the park, something deemed in the past by DPR to be impossible.
Moore left the meeting at 7:15 p.m. Seven members present.
Residents and Community Concerns:
• Resolution: A business owner suggested that the board draft a resolution to address homelessness.
• Board Member Conduct: A community member raised concerns with the conduct of board member Schubert-Kwok and its effect on the board. Other community members gave opinions; some agreed with the speaker, others thanked the board member for her work to improve Chinatown.
• Halewaiolu Senior Residence: A representative of the project clarified that parking is available to residents as well as visitors and users of the facility, and that groundbreaking will take place in the third quarter of 2020.
• Community Solutions: A community member suggested to the community to bring forth solutions for the board to take action on.
Appointment of a Parliamentarian - McDonald appointed Lye as the parliamentarian of Downtown-Chinatown Neighborhood Board 13.
NEW BUSINESS
Office of US Senator Brian Schatz - Kathy Bryant introduced interns attending various neighborhood board meetings to provide an overview of services available to the community.
Office of Climate Change, Sustainability, and Resiliency - Justin Gruenstein provided an update on the Oahu Resilience Strategy.
Questions, comments, and concerns followed:
1. Wind Farms: Shubert-Kwock asked if the City has any responsibility with regard to reviewing/permitting for this project.
2. Cost of Resilience Strategy: Lye inquired about a rough estimated cost to implement all 44 Resilience Actions items identified in the Oahu Resilience Strategy and, alternatively, the estimated cost to implement the listed priority Resilience Actions items.
Department of Transportation Services HOLO Cards - Chris Johnson reported on the benefits of the new HOLO card for public transportation.
YMCA Kamamalu Park Project - Michael Doss provided an update on the Kamamalu Park project.
Questions, comments, and concerns followed:
1. Costs: Ma asked if the expenses will be shared with the City. Doss stated that expenses will be paid for by YMCA.
2. Parking Lot: Lye asked what is currently in the space for the proposed parking lot. Doss stated that currently, there is an unused basketball court. The parking lot will be metered and not gated.
Armstrong moved that the board support the project. Shubert-Kwock moved to amend the motion to state that the board supports the concept of the project. The motion to amend was adopted by unanimous consent, 7-0-0 (Aye: Armstrong, Kamoshida, Lye, Ma, McDonald, Mollring, Shubert-Kwock; Nay: None; Abstain: None). The amended motion was adopted by unanimous consent, 7-0-0 (Aye: Armstrong, Kamoshida, Lye, Ma, McDonald, Mollring, Shubert-Kwock; Nay: None; Abstain: None).
Limtiaco Consulting Group Sewer Reconstruction - Eric Arakawa reported that the wastewater infrastructure in the downtown area services many of the residences and businesses in the surrounding area and needs to be replaced. The wastewater infrastructure is owned by The City and County of Honolulu Department of Environmental Services (ENV), and MIRA Image Construction, LLC has been contracted to complete this improvement project for the City and County of Honolulu. The Limtiaco Consulting Group has been hired to be the construction manager. Construction work at the intersection of Punchbowl and Queen Streets is tentatively scheduled to begin in Novem¬ber 2019, and may continue until March 2020. The majority of the work will take place between the hours of 8:30 a.m. and 3:30 p.m. on weekdays. Construction will occur at the intersection of Queen and Punchbowl Streets. Traffic alteration through this area will be required during the construction period. Additionally, traffic and on-street parking along both Queen and Punchbowl Streets may be affected. Please note that the use of heavy machinery during construction activity may generate noise and dust. MIRA Image Construction will coordinate with residents and businesses in the neighboring area prior to the beginning of construction if your business or residence will be affected by the work.
Questions, comments, and concerns followed:
1. Night Work: Shubert-Kwock asked if there will be night work. Barnes stated that there will be no night work for this phase of the project.
2. Street Repairs: A community member asked that the streets be returned to their original condition after construction.
Information Regarding Voting by Mail - Sandy Ma provided an update regarding the Hawaii State Legislature joint Senate and House Judiciary Committees informational briefing on mandatory statewide vote by mail.
Honolulu City Lights - Laureen Tanaka reported that Punchbowl Street will be closed between King Street and Beretania Street between 12:00 p.m. and 11:00 p.m. There will be no music and no alcohol served.
McDonald moved that the board support the Honolulu City Lights event. The motion was adopted by unanimous consent, 7-0-0 (Aye: Armstrong, Kamoshida, Lye, Ma, McDonald, Mollring, Shubert-Kwock; Nay: None; Abstain: None).
Chinese Chamber of Commerce New Year's Celebration - Leonard Kam reported that the New Year's celebration will take place on 17 and 18 January 2020. Street closures will begin at 6:00 p.m.
Shubert-Kwock moved that the board support this event. The motion was adopted by unanimous consent, 7-0-0 (Aye: Armstrong, Kamoshida, Lye, Ma, McDonald, Mollring, Shubert-Kwock; Nay: None; Abstain: None).
Yellow Trash Bag Program - Tim Houghton provided an update regarding the Department of Environmental Services yellow trash bag program.
Questions, comments, and concerns followed:
1. Complaints: Ma stated that she has received complaints that non-authorized trash bags (aside from the yellow trash bags) are not picked up by the City.
2. Inspector: McDonald suggested placing an inspector at trash sites to differentiate which businesses are illegally leaving their trash on the street. A community member asked if the inspectors are notified when trash is left behind. Houghton stated that the crews do notify the inspector, but the public may call as well at (808) 768-3485.
3. Effectiveness of Bags: McDonald questioned the effectiveness of the new yellow bags, the cost of purchasing the bags, and if they are environmentally friendly.
4. Leftover Trash: Shubert-Kwock raised concerns with the trash that is not picked up and suggested that the City remove it.
5. Locked Bins: Kamoshida asked about the potential cost of instead using locked bins. Houghton stated that lids would cost an additional $30 and the City would provide the bins.
6. Community Input: A community member asked that Houghton meet with the various community groups.
McDonald moved that the board support removal of the yellow trash bag program. There was no second and the motion was not considered.
COMMUNITY REPORTS
Safe Haven - Greg Payton reported that in the month of October, there were 6 Safe Haven discharges/intakes, 2 activity center placements, and 8 permanent housing placements. The grand total for 2019 is 82 placements through October. The new Homeless Outreach Worker in the area is Eric Panaia.
Honolulu Authority for Rapid Transportation (HART) - Pat Lee reported that in the neighborhood board area, demolition of existing utilities continues at night on Nimitz. The underground fuel lines have been removed and demolition of the sewer and water lines are underway. NAN, who is HART's contractor performing the work, is awaiting final design approvals for the dry utilities, which are electrical and telecommunication facilities. HART is planning an accelerated schedule for utility relocations in the City Center segment to make way for the columns, guide way and stations. On Dillingham Boulevard, work will be both day and night, with the goal of substantial completion in 24 months. Accelerating the work could reduce the duration of rail construction and its impacts through Kalihi by as much as 18 months. During the holidays, there will be no HART work-related lane closures for the Thanksgiving weekend, 28 November 2019 from 5:00 a.m. to 1 December 2019 at 8:00 p.m. and during the Christmas and New Year's holidays from Saturday 21 December 2019 at 5:00 a.m. to Thursday 2 January 2020 at 8:30 a.m. These times are pending and subject to change. For more information on the rail project, the public may visit the HART website at www.honolulutransit.org, call the project hotline at (808) 566-2299, or email a question to info@honolulutransit.org.
Chinatown Business and Community Association (CBCA) - Shubert-Kwock reported that the CBCA met on Tuesday 8 October 2019 at Golden Palace for the monthly dim sum meeting. Topics of discussion included updates about the NB 13 meeting, HART, HPD operations in Chinatown, crimes, and homeless issues. The Chinatown Team is revising private security planning to be more effective to address sit-lies during stores' operating hours. Trash is a continuing issue and will continue to sign up more businesses and educating those currently not on the City's trash pick-up list. CBCA celebrated 11 years in volunteer work in Chinatown with our 10th Chinatown Heroes Award. The event was highly supported by our community resulting in a sold-out attendance. The next CBCA dim sum monthly meeting is on 12 November 2019 at 10:00 am. It is open to the public and all are welcome.
The Neighborhood Assistant departed at 9:00 p.m.
Chinatown Improvement District (CID) - Kainoa Adolpho reported that the community patrol program continues to have new sign ups. CID adjusts the program based on feedback from participants and the community. Maunakea Marketplace is now contributing to the cost of the patrols which should help with the conditions along parts of North Hotel Street. CID is currently adjusting their spending costs for patrols to approximately $4,500 per month. CID spearheaded a meeting with the City's Director of Land Management and other community members to discuss guard services outside of City properties in Chinatown. Following the meeting, CID worked with others to come up with recommendations for the program and are hopeful that funding in the City's budget for this program will be released before the end of the year. CID would like to reiterate their suggestion that the Sit-Lie legislation, which is currently tailored to compliment business hours in Chinatown, be extended until 2:00 a.m. when businesses close. On another note, they believe that the Neighborhood Board agendas are supposed to provide enough information for the public to decide how they might be impacted and whether to attend. This month's agenda does not mention specific street closures and times. CID is concerned about the rights of the public to be adequately notified about the impacts to them in their district.
Chinatown Watch - Fran Butera reported the following:
• City Funded Security Guards: Chinatown Watch has been frustrated by the City's apparent unwillingness to get this program started. However, there's been progress in the past 10 days. Members of Chinatown Watch and Chinatown Improvement District met on 29 October 2019 with Sandy Pfund, Director of the Department of Land Management. She will administer the guard program once Managing Director Amemiya releases the funds. (We reported earlier that funds had already been released to Director Pfund, but in fact they have not.) Based on discussions with Director Pfund, we proposed a schedule and locations for the 1st phase of guard service. We've planned the schedule to coordinate with CID's security patrol for private (non-City) properties. Shortly we will be meeting with HPD's District 1 command to get their input, which we will share with Director Pfund. She said she expects to present our proposal to MD Amemiya during the week of 18 November 2019. We hope to have more progress to report at the 5 December 2019 Neighborhood Board meeting. Our goal remains to protect the public by having guards patrol in the public spaces Around City-owned buildings, which are among the most derelict in Chinatown.
• Heroes Banquet: We sincerely thank the CBCA and the Honolulu City Council for acknowledging our group's hard work. The City Council commended Chinatown Watch.com in particular for being "a welcome tool" used by area legislators, HPD and community stakeholders to rescue Chinatown from drugs, crime and other illegal behavior. We're proud to work alongside so many dedicated people who see Chinatown's potential and are moving toward that brighter future.
• Yellow Trash Bags: The problems with the yellow trash bags include illegal dumping by merchants and trash dumped by homeless.
• Actions that City Administrators Can Take: Release the funds for private security guards at and around City-owned properties, commit to being an active, present landlord at your Chinatown properties, and work with the Chinatown community.
• Actions that Concerned Citizens Can Take: Call 911 to report violations. Talk to your neighbors about the problems. Encourage them to call 911, too. Post incidents anonymously to ChinatownWatch.com. Urge the City Council and Mayor Caldwell to fund private security patrols for all of Downtown-Chinatown's public spaces. Contact Councilmember Fukunaga's office to report incidents in your area. Email cafukunaga@honolulu.gov or call (808) 768-5006. Support HPD deploying police foot and bike patrols 24/7 throughout Downtown-Chinatown . Get some neighbors together to meet with the HPD's Community Policing team. Call the CPT office at (808) 732-3927. A strong community partnership with HPD is good for everyone. Merchants and property owners, please join the Chinatown Improvement District's neighborhood security patrol. Call Lee Stack at (808) 589-9927, email chinatownimprovementdistrict@gmail.com, or visit the website cidchinatownhawaii.org. To order Chinatown Watch window signs for your business, email ChinatownWatch@gmail.com.
APPROVAL OF THURSDAY 3 OCTOBER 2019 REGULAR MEETING MINUTES
McDonald moved to approve the Thursday 3 October 2019 regular meeting minutes. The motion was adopted, 7-0-0 (Aye: Armstrong, Kamoshida, Lye, Ma, McDonald, Mollring, Shubert-Kwock; Nay: None; Abstain: None).
Ma left the meeting at 9:15 p.m. Six members present.
Shubert-Kwock left the meeting at 9:19 p.m. Five members present.
ANNOUNCEMENTS
• Next Meeting -The next Downtown-Chinatown Neighborhood Board 13 is scheduled for Thursday 5 December 2019 at Hawaii Pacific University, One Aloha Tower Drive, Multi-Purpose Room 2 at 6:00 p.m.
• Neighborhood Citizen Patrol - The Neighborhood Citizen Patrol meets each Tuesday on the Diamond Head side of Kukui Plaza at 8:00 p.m. Please join the patrol and support its efforts to express service and pride in our Downtown-Chinatown community.
• ' lelo - Rebroadcasts of Downtown-Chinatown Neighborhood Board 13 meetings are scheduled on ' lelo channel 49 for every third Thursday at 9:00 p.m., as well as 6:00 a.m. on the second and fourth Saturdays of each month. An archive of past meetings may be found on http://olelo.org/olelonet/; select and expand from the list of On Demand categories on this page and then manually scroll to find listings for playback of meetings.
ADJOURNMENT - McDonald adjourned the meeting at 9:20 p.m.
Initial draft by Harry Cho, Neighborhood Assistant
Edited by NB 13 Secretary Roxie-Anne Kamoshida, Kevin Lye and Chair Kevin McDonald
Featured Product/Service
<!998Template_start>
<!998Template_end>
---
Please send questions about this website to