Community website by MBC/Ernest Abrams. Call 808-739-9797 for advertising/sponsorship.
First Friday Hawaii
News Item

Downtown-Chinatown Neighborhood Board Meeting September 2019 Minutes
With Permission / Courtesy of
: City and County of Honolulu Neighborhood Commission Office
<!#450IMAGESTART>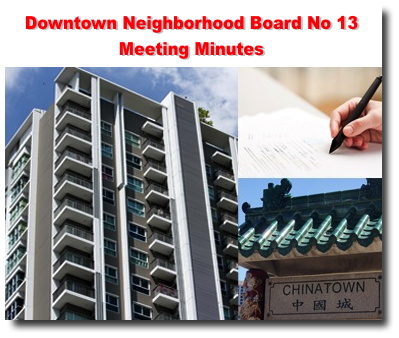 <!#450IMAGEEND>
utf-8">

Having trouble viewing this email?

Click here to view as a webpage

.
DOWNTOWN-CHINATOWN NEIGHBORHOOD BOARD 13

REGULAR MEETING MINUTES
THURSDAY 5 SEPTEMBER 2019
ONE ALOHA TOWER, MULTI PURPOSE ROOM 2
CALL TO ORDER - Chair McDonald called the meeting to order at 6:00 p.m. Quorum was established with eight members present. Note: This nine-member Board requires five members to establish a quorum and to take official Board action.
Board Members Present - Robert Armstrong, Roxie-Anne Kamoshida, James Logue, Kevin Lye, Kevin McDonald, Dolores Mollring, Willis Moore, and Chu Lan Shubert-Kwock
Board Members Absent - Sandy Ma
Guests - Lieutenant Liu and Sergeant Chi (Honolulu Police Department); Alexander Zannes (Mayor Kirk Caldwell's representative); Councilmember Carol Fukunaga; Senator Karl Rhoads; Damien Elefante (Governor David Ige's representative); Kainoa Adolpho (Chinatown Improvement District); Renee Espiau (Department of Transportation Services); Pat Lee (Honolulu Authority for Rapid Transportation); Peter Nakagawa and Kathy Lee (Honolulu Liquor Commission); Lisa Imata (Department of Planning and Permitting); Michelle Fujii and Todd Iacovelli (Make-A-Wish Hawaii); Annie Sokol (US Census Bureau); Glenn Yamasaki, Steve Lohse, Laura Nevitt, Robert Greenberg, Jack Covington, Gale Braceros, Ra Long, Ernest Caravalho (community members); Harry Cho (Neighborhood Commission Office). Name not included here if not known or illegible on the sign-in sheet.
PUBLIC SAFETY REPORTS
Honolulu Police Department (HPD) - Sergeant Chi reported the following:
• August 2019 Statistics: There were 6 motor vehicle thefts, 7 burglaries, 48 thefts, 26 unauthorized entries into motor vehicles (UEMV), 29 assaults, 3 sex assaults, 13 drug offenses, 1 graffiti incident, and 2,508 total calls for service.
• Safety Tip: Safety tips were given on securing one's home while on vacation.
Questions, comments, and concerns followed:
1. Crimes: Shubert-Kwock raised concerns with an increase in illegal dumping and break-ins.
2. Smith-Beretania Mini Park: Moore raised concerns with people loitering at the park.
3. Legislation: McDonald asked if there was any current legislation that the board can support to help HPD.
4. Officer Conduct: McDonald raised concerns regarding a recent encounter with a HPD officer when he called 911 to report a fight.
5. Cameras: Armstrong requested a monthly update on the status of surveillance cameras. Shubert-Kwock also suggested repairing the cameras.
6. Hotel Street: Community member Caravalho raised concerns with Uber and Lyft drivers picking up clients and driving on Hotel Street.
Neighborhood Citizen Patrol (NCP) - Mollring reported that the NCP has been patrolling every Tuesday night.
ELECTION OF VICE CHAIR
McDonald nominated Lye and Mollring nominated Logue. Neither candidate received the majority vote, 4-3-1 (Lye: Armstrong, Lye, McDonald, Moore; Logue: Kamoshida, Logue, Mollring; Abstain: Shubert-Kwock).
DISCUSSION TO CENSURE BOARD MEMBER SHUBERT-KWOCK
Chair McDonald handed the gavel to Secretary Kamoshida at 6:37 p.m.
Lye moved and Moore seconded to adopt the proposed resolution to censure board member Shubert-Kwock.
The gavel was passed back to Chair McDonald at 6:45 p.m.
The motion was not adopted, 4-3-0 (Aye: Armstrong, Lye, McDonald, Moore; Nay: Kamoshida, Logue, Mollring; Abstain: None).
ELECTED OFFICIALS
Governor David Ige's Representative - Damien Elefante reported that this month's Capitol Connections addresses the Thirty Meter Telescope (TMT) and was available for any questions.
Questions, comments, and concerns followed:
1. TMT: Shubert-Kwock provided an opinion on TMT.
Mayor Kirk Caldwell's representative - Alexander Zannes reported the following:
• Follow-Up on Concerns:
o Department of Transportation Services (DTS) Representative: DTS stated that Renee Espiau will represent DTS to answer questions on Complete Streets, bulb-outs and repaving only. At this time, DTS are not able to allocate staff to address street closure permits and bus concerns.
o Adopting a Bus Stop: DTS stated that a Bus Stop Volunteer Application and Agreement Form must be completed by the applicant to adopt a bus stop. The online contact form for the program can be obtained through the following link: http://www.honolulu.gov/dts-bus-volunteer-form.html?view=form. Please contact Coreen Blanco of the Public Transit Division's Facilities and Equipment Branch at (808) 768-8375 for further information.
o Hotel Street/Union Mall Bus Stop: DTS stated that they are taking action on NB 13's request to relocate seats away from the Walgreens store at the bus stop on Hotel Street at Union Mall. A number of tasks are underway, including verification of the locations of all existing conditions in the field to develop a detailed Site Plan for the placement of the bus stop seats. As there are many physical constraints within the bus stop area, the DTS engineers must ascertain that the seats will not impede the flow of pedestrian traffic along the sidewalk, be placed at a safe distance away from the roadway, and provide sufficient clearances to comply with the Americans with Disabilities Act requirements for accessibility. The Site Plan layout is estimated to be completed by Tuesday 15 October 2019. If it is found that all aforementioned parameters can be satisfied, then installation of the seats is estimated to be completed by 30 October 2019.
o Loading Zone: DTS stated that their previous investigation confirmed that there is a 24-hour "No Parking" restriction on both sides of Merchant Street, between Bishop and Alakea Streets. In accordance with the Revised Ordinances of Honolulu Section 15-14.8(1)(2), commercial vehicles with a valid freight loading zone permit are allowed to use the "No Parking" zones to load and unload expeditiously with a maximum time limit of 30 minutes, except during the a.m./p.m. peak hours. As such, DTS does not recommend the installation of a Freight Loading Zone sign on Merchant Street between Bishop Street and Alakea Street at this time.
o 311 App: The geotag feature on the 311 App is not functioning properly. The Department of Information Technology stated that they will be looking into this issue.
o Public Bathrooms: Office of Housing stated that they are not aware of any plans for additional restrooms to be built in the area. However, the Safe Haven hygiene center on North Pauahi Street (operated by Mental Health Kokua) is located near the River of Life Mission, both of which provide access to restrooms.
Questions, comments, and concerns followed:
1. Lights: Mollring stated that the streetlights at Chaplain Lane near the church and Hawaii Pacific University are burned out.
2. Bus Stops: Shubert-Kwock requested installation of bus stop seating at Smith and Hotel Streets.
3. River Street: Shubert-Kwock raised concerns regarding homeless camps and crimes related to burglary and drugs occurring along River Street.
4. Bus Safety: Armstrong recommended signage and advertising safety tips on TheBus to promote safety.
5. Trash: Logue asked if there are alternatives for secured trash bins in Chinatown. He suggested having secured trash bins or evening pickups.
6. Public Sidewalk: A community member raised concerns with residual fecal matter on the island at Pali Highway/South Beretania Street.
Senator Karl Rhoads - Senator Rhoads reported the following:
• Pauahi Recreation Center: It was brought to Senator Rhoads' attention by a member of the community that the chairs in the Pauahi Recreation Center were damaged and that the Center would greatly benefit from air conditioning. Senator Rhoads communicated this to the City's Department of Parks and Recreation (DPR). Director Michele Nekota of the DPR informed the senator that the damaged chairs were replaced and that installing air conditioning in the Center would be considered, should funding become available.
• Kamali i Mini Park: Members of the community have voiced their concerns about the homeless, drug-dealing, and other illegal activity occurring in the Kamali i Mini Park. Senator Rhoads communicated this concern to Mayor Caldwell. Director Michele Nekota of the DPR responded on behalf of the Mayor by stating that concerned citizens who witness any illegal activity should call HPD at 911. Director Nekota also mentioned that she would pass on this concern to HPD. HPD subsequently informed the senator's office that arrests were made and that the park would be monitored. On Monday 19 August 2019, Lieutenant Governor Josh Green, Councilmember Carol Fukunaga, Representative Daniel Holt, Scott Morishige, Deputy Director Edward Mersereau from the Department of Health, Central Middle School Principal Anne Murphy, Senator Rhoads' office, and other concerned groups met to discuss the homeless problem and illegal drug-dealing issues surrounding Kamali i Mini Park and the Central Middle School neighborhood. Possible solutions were discussed, including (1) more HPD involvement, (2) seeking support from the Department of Public Safety for additional security support, (3) identifying alternative uses for Kamali i Mini Park, and (4) relocation of the methadone clinic. A follow-up meeting is scheduled for next week. The senator will apprise NB 13 of further updates.
• Senate Bill (SB) 1124: Senator Rhoads introduced SB1124, which was passed into law this past legislative session. The law makes it easier for homeless individuals with mental illnesses to receive assistance and access to necessary treatment. Based upon this, the Institute for Human Services (IHS) is filing four petitions with the court as a test run.
• Children and Youth Day: Hawaii's 26th Annual Children and Youth Day will take place on Sunday 6 October 2019 from 10:00 a.m. to 3:00 p.m. at the State Capitol grounds and surrounding areas. Children and Youth Day honors and celebrates our children and youth in Hawaii. There will be over 300 interactive, educational, fun activities for infants, toddlers, children, youth, and the entire family. Free parking will be available at neighboring State parking lots, Central Middle School, and Central Pacific Bank at the corner of King and Alakea Streets. For more information, please call Kama'aina Kids at (808) 262-3651 or visit www.HawaiiCYD.org.
Questions, comments, and concerns followed:
1. Institute for Human Services (IHS): Shubert-Kwock asked if portions of the grant for IHS will be used to improve Chinatown. Senator Rhoads stated that the focus will be in Iwilei and Chinatown.
2. Laws: McDonald asked in what way Act 129 [SB1124, now passed] will be effectual and not another law that has no effect.
3. Support: Armstrong voiced his support and gratitude for Senator Rhoads' bill SB1124.
Councilmember Carol Fukunaga - Councilmember Fukunaga reported the following:
• Lift Zones: During August and September, Councilmember Fukunaga received numerous complaints about illegal activities or homeless intrusions in Downtown-Chinatown, as well as in abutting neighborhoods. The councilmember asked the City's Department of Community Services to consider establishing a second lift zone operation in the Downtown-Chinatown or Kaka'ako neighborhoods as it begins its start-up phase in September. The Department had previously reported that the initial pilot project would be sited in Waipahu (a copy of such and additional diagrams were provided). However, a second pilot project in urban Honolulu is being pursued due to the number of unsheltered homeless in urban Honolulu (621) versus the number of unsheltered homeless (76) in the Waipahu area. A list of the number of incidents reported to District 1 HPD dispatch teams is being compiled, which the councilmember believes will greatly exceed those from other neighborhoods. The locations of complaints reported to the Mayor's office on one provided diagram demonstrated the mauka/makai movement of encampments when one area is cleared, as individuals migrate to other areas. Councilmember Fukunaga is tackling the removal/relocation of magnets that attract homeless individuals to the following locations: Kamali i Mini Park, Union Mall/Walgreens property, and Kekaulike Mall.
• Ordinance 18-14: Councilmember Fukunaga is also working on revisions to Ordinance 18-14 (Bill 52, 2018 sidewalk and public space restrictions island-wide) to address HPD concerns over enforceability, and additional enforcement authority for the agreement between HPD and the Law Enforcement Assisted Diversion program. Councilmember hopes that NB 13 members and the broader community will assist in reviewing and supporting these measures.
• Liquor Commission: Councilmembers Fukunaga and Menor introduced Resolution 19-221, petitioning the Liquor Commission to amend the Liquor Commission rules.
Questions, comments, and concerns followed:
1. Lift Zones: Logue raised concerns with a lift zone in A ala Park, and also raised concerns with health, hygiene, and storage for belongings at lift zones. Shubert-Kwock suggested having the lift zones at Punawai. Kamoshida asked how large the lift zone tents would be; Fukunaga noted that she would ask HPD and follow up with Neighborhood Assistant Cho.
2. River of Life: Shubert-Kwock asked for a timeline on the relocation of River of Life.
Resident and Community Concerns:
• Safety: A community member raised concerns with public safety in the Downtown-Chinatown area.
Shubert-Kwock moved and Logue seconded to add Honolulu Liquor Commission to the agenda as item under New Business for a duration of 10 minutes. The motion was adopted by unanimous consent, 8-0-0 (Aye: Armstrong, Kamoshida, Lye, Logue, McDonald, Mollring, Moore, Shubert-Kwock; Nay: None; Abstain: None).
NEW BUSINESS
Department of Transportation Services (DTS) - Renee Espiau reported the following:
• Kalihi Complete Streets: The Kalihi Complete Streets Community Meeting #1 will be held on Tuesday 17 September 2019 from 6:30 p.m. to 8:00 p.m. at Farrington High School.
• Downtown-Chinatown: In June 2015, Chinatown residents, businesses, landowners, community organizations, elected officials, and public agencies gathered at a Chinatown Action Summit organized by the City and County of Honolulu to identify strategies to improve the historic Chinatown neighborhood. The outcome was a Chinatown Action Plan documenting priority near-term improvements, including Complete Streets. Complete Streets accommodates all roadway users regardless of their method of travel, age, or ability. In July 2017, based on input gathered at the Summit and the two community meetings that followed, a project was installed that included pilot bulb-outs and pedestrian way-finding signs. The bulb-outs, also known as bumpouts or curb extensions, were installed along North Pauahi Street at the Nu'uanu Avenue, Smith Street, and Maunakea Street intersections. The pilot project allowed for design testing and adjustments. A safety evaluation found that the features reduced crashes at those intersections by nearly 40%.
• Benefits of Bulb-outs: Improve safety by reducing pedestrian crossing distances, improve visibility between drivers and pedestrians, and slow the speed of turning vehicles. The City and County of Honolulu will be upgrading the bulb-outs with the upcoming repaving of Chinatown area streets. The new design will improve the aesthetics and durability of the installation, preserving and reflecting the historic character of Chinatown. Construction is scheduled for mid-2020. Upgraded bulb-out features include metal bollards to protect pedestrians, street-level permeable paver blocks to improve drainage and storm water quality (as moving the curbs to expand the concrete sidewalk was deemed infeasible due to infrastructure conflicts), and detect¬able (tactile and visual) warnings to indicate the boundaries between pedestrian spaces and vehicular lanes. To learn more about Complete Streets, and to contact us, please visit www.honolulu.gov/completestreets.
Questions, comments, and concerns followed:
1. Priorities: Shubert-Kwock stated that priorities for Chinatown are sanitation, safety, and homelessness, rather than bulb-outs. She reported that there were over 6,500 petitioners asking to remove the bulb-outs. She also raised concerns that large vehicles are unable to turn due to the bulb-outs.
2. Bulb-outs: Logue raised concerns that the initial pilot project was made into a permanent project with a lack of transparency. A community member stated that bulb-outs do not improve pedestrian safety and suggested using scramble crosswalks.
3. Permitting: McDonald raised concerns with the difficulty for event organizers to receive street closure permits.
4. Sidewalks: Armstrong raised concerns with the lack of funding to improve sidewalks in Chinatown.
2020 Decennial Census - Annie Sokol reported that every year, more than $675 billion in federal funds are awarded to states and communities based on census data. That's more than $6.7 trillion distributed over a 10-year period. Census data guide local decision-makers in important community planning efforts, including where to build new roads, hospitals, and schools. Census data affect your voice in Congress. The census determines how many seats each state will have in the U.S. House of Representatives as well as the redistricting of state legislatures, county and city councils, and voting districts. The goal of the Census Bureau's partnership program is to combine the strengths of local governments, community-based organizations, faith-based organizations, schools, media, businesses, and others to ensure a complete and accurate 2020 Census. The Census Bureau will provide promotional materials, regular updates and data assistance to partners to assist in this effort. The Census Bureau is also recruiting. Interested candidates may apply online at 2020census.gov/jobs.
Questions, comments, and concerns followed:
1. Survey: Shubert-Kwock asked how to access the survey. Sokol stated that households will be receiving the questionnaire and reminders through mail.
2. Applicants: Lye asked if the Census Bureau is seeking staff who can speak multiple languages. Sokol stated that multi-lingual candidates would be great.
Small Cell Antennas - Andrew Tomlinson of AT&T provided a report to the board and public.
Questions, comments, and concerns followed:
1. Ownership: Logue asked if service providers lease or rent to use the city-owned light poles. Tomlinson stated that each service provider uses separate light poles.
2. Funding: McDonald asked if there are any government subsidies for this project. Tomlinson stated that there are none.
Land Use Workshop - Katherine Hernandez of the Department of Planning and Permitting (DPP) stated that DPP will be out in the community in late August and September to discuss climate change impacts and sea level rise for the Primary Urban Center plan. A schedule of the community pop-ups was provided to the board and public.
Make-a-Wish Hawaii Jingle Rock Run - Michelle Fujii and James Donnelly reported that the event will take place on Sunday 15 December 2019. Activities will begin 3:00 p.m. at the State Capitol and the run will begin at 6:00 p.m. Rolling road closures will begin at 5:15 p.m. and will open as soon as possible.
Mollring moved and Logue seconded to support the Jingle Rock Run event. The motion was adopted by unanimous consent, 8-0-0 (Aye: Armstrong, Kamoshida, Lye, Logue, McDonald, Mollring, Moore, Shubert-Kwock; Nay: None; Abstain: None).
Honolulu Liquor Commission - Peter Nakagawa and Kathy Lee reported that there are currently 1,460 active liquor licenses and that during the most recent fiscal year, over 500 notices of violation have been issued and 50 criminal cases have been filed relating to underage consumption of liquor. Nakagawa and Lee were available for questions.
Questions, comments, and concerns followed:
1. Maunakea Liquor: Shubert-Kwock raised concern that the Commission has not taken a position on Maunakea Liquor, is disregard of the numerous incidents at the establishment and community petitions. Armstrong asked what the response from the Mayor was regarding the decision of the Commission. McDonald raised concerns that the Commission has not taken action on an establishment that consistently commits violations. Nakagawa ensured that the agency does take action when necessary. Logue asked if public testimony is considered when the Commission makes a decision and was advised HLC does not have record of complaints logged to its system. Logue also raised concerns of the deaths that occurred at the establishment and the underage sale to minors.
2. Public Consumption of Alcohol: A community member raised concerns with people drinking alcohol in front of the liquor store on Lusitana Street.
Resolutions 2019-006 and -007 - Logue moved and Moore seconded to defer discussion of Resolution 2019-006 (regarding prohibition of DJ booths during street closures in Chinatown) and Resolution 2019-007 (regarding public consumption of alcohol in Chinatown).
COMMUNITY REPORTS
Honolulu Authority for Rapid Transportation (HART) - Pat Lee reported that NAN is continuing to relocate fuel lines on Nimitz Highway between River and Richards Streets at night. The contractor is hoping to finish this work by the middle of the month. HART, with Councilmember Fukunaga, tentatively scheduled a Downtown-Chinatown construction update meeting for Wednesday 18 September 2019 from 6:00 p.m. to 8:30 p.m. at HPU Aloha Tower Marketplace in meeting room yet to be determined. HART and DTS are planning for an interim, introductory rail service on the west side of the alignment by the end of next year. The City Rate Commission has been holding public hearings to discuss not only the fares for interim and full service, but also whether to have monthly or annual passes, and what categories such as youth, adult, seniors, disabled, etc. Their next meeting is on Tuesday 17 September 2019 from 2:30 p.m. to 4:30 p.m. in the Mission Memorial meeting room. For more information on the rail project, please visit the HART website at www.honolulutransit.org, call the project hotline at (808) 566-2299, or email a question to info@honolulutransit.org.
Chinatown Business and Community Association (CBCA) - The August CBCA meeting was held on Tuesday 13 August 2019, 10:00 a.m. at Golden Palace. The public was invited. Topics of discussion included Kekaulike Mall encroachment issues, sidewalk repairs, and trash.
Chinatown Improvement District (CID) - Kainoa Adolpho reported that with additional grant funding, community patrols will add a daytime shift starting Monday 9 September 2019 to patrol certain streets on a rotating basis and check in with area businesses during those patrols. Combined with other shifts, there will now be coverage 7 days a week. The CID Autumn Moon and Lantern Festival will take place on Friday 13 September 2019 at the Chinatown Cultural Plaza. It will be held on the night when the autumn moon is at its fullest; a time where one can celebrate the harvest moon, reunion of families, moon cakes, and lanterns. There will be lantern-making demonstrations and the opportunity to view lanterns created by other people in the community. Community members can choose to enter a lantern design of their own. The only rules are that lanterns must fit within a 24" square cube, have an LED light source, and be primarily handmade or transformed. People can register their lanterns on the festival page online at www.cidchinatownhawaii.org/. We will be staging lanterns in the Cultural Plaza Courtyard as well as on the Dr. Sun Yat-sen Mall area, adjacent to Nu'uanu stream.
Chinatown Watch - Shubert-Kwock provided a report from Chinatown Watch.
APPROVAL OF MINUTES
Because the minutes submitted by the Chair for distribution to the public for review were not circulated by the Neighborhood Commission, approval of the June 2019 meeting minutes was deferred.
Because the minutes submitted for distribution to the public for review were further edited by the assigned neighborhood assistant without knowledge of the Chair, approval of the August 2019 meeting minutes was deferred.
ANNOUNCEMENTS
• Next Meeting -The next meeting of the Downtown-Chinatown Neighborhood Board 13 is scheduled for Thursday 3 October 2019 at Hawaii Pacific University, One Aloha Tower Drive, Multi-Purpose Room 2 at 6:00 p.m.
• Neighborhood Citizen Patrol - The Neighborhood Citizen Patrol meets each Tuesday on the Diamond Head side of Kukui Plaza at 8:00 p.m. Please join the patrol and support its efforts to express service and pride in our Downtown-Chinatown community.
• ' lelo - Rebroadcasts of Downtown-Chinatown Neighborhood Board 13 meetings are scheduled on ' lelo channel 49 for every third Thursday at 9:00 p.m., as well as 6:00 a.m. on the second and fourth Saturdays of each month. An archive of past meetings may be found on http://olelo.org/olelonet/; select and expand from the list of On Demand categories on this page and then man¬ually scroll to find listings for playback of meetings.
ADJOURNMENT - McDonald adjourned the meeting at 9:11 p.m.
Initial draft by Harry Cho, Neighborhood Assistant
Reviewed and finalized by NB 13 Secretary Roxie-Anne Kamoshida and Kevin Lye
Featured Product/Service
<!998Template_start>
<!998Template_end>
---
Please send questions about this website to