Community website by MBC/Ernest Abrams. Call 808-739-9797 for advertising/sponsorship.
First Friday Hawaii
News Item

Downtown-Chinatown Neighborhood Board Meeting August Agenda
With Permission / Courtesy of
: City and County of Honolulu Neighborhood Commission Office
<!#450IMAGESTART>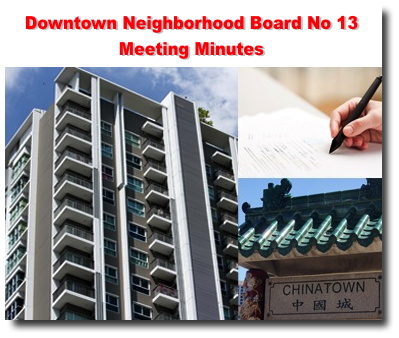 <!#450IMAGEEND>
REGULAR MEETING AGENDA

THURSDAY 1 AUGUST 2019HAWAII PACIFIC UNIVERSITYONE ALOHA TOWER DRIVEMULTI-PURPOSE ROOM 26:00 P.M.
Reminder of order and decorum: Persons wishing to speak on agenda items must raise their hand and, when recognized, address the Chair. Each member of the audience is entitled to speak once for up to two (2) minutes on any agenda item unless otherwise directed by the Chair. Board Members shall adhere to Board speaking limits.
The meeting is being recorded for broadcasting and viewing on 'Olelo. To insure that all verbal comments are audible for broadcasting, please speak into the designated microphone to enable the importance of the speaker's message to be recorded and heard at the broadcast and viewing of the meeting.
I. CALL TO ORDER
II. PUBLIC SAFETY REPORTS
A. Honolulu Fire Department
B. Honolulu Police Department
C. Neighborhood Citizen's Patrol
III. ELECTION OF BOARD OFFICERS - Chair, Vice Chair, Secretary, and Treasurer (10 Minutes)
IV. INITIAL CONVENING - Determination of location, date, time, and rules of speaking.
V. ELECTED OFFICIALS
A. Governor David Ige's Representative
B. Mayor Kirk Caldwell's Representative
C. Senator Karl Rhoads
D. Representative Daniel Holt
E. Councilmember Carol Fukunaga
F. US Congressman Ed Case
G. Public Concerns - Two (2) minutes each for issues not on the Agenda
VI. NEW BUSINESS
A. NB13 Community Recognition Certificates
1. Sifu Ernest Loo, Lung Kong Physical Club & Chinatown Business & Community Association (CBCA)
2. Sifu Kimo Wong - Chinatown Business & Community Association (CBCA)
& BOH Br. Manager
3. Eric Wong - Kekaulike Courtyard Manager
4. Paul Min - Kekaulike Market
B. Hawaiian Electric work at Fort Street Mall and road closure of 2 road ways at N King/Maunakea and also Maunakea St to Hotel from July 29, 2019 to 8-2-2019 from various hours - Brandi Crabbe (5 minutes)
C. 26th Annual Children & Youth Day on October 6, 2019. Road closures: Punchbowl St. between Beretania St and N. King St. between 10:00 a.m. to 3:00 p.m. Allan Silva ( 5 minutes)
D. City Department of Transportation Services - Briefing on Non Construction Street Closures.
Director Wes Frysztacki (10 -15 Minutes)
E. Honolulu Liquor Commission: New Licenses and Renewal of Liquor Licenses, Violations and Adjudication and Public Information and Notices to NB13- Cathy Lee et al. (10-15 Minutes)
F. Nancy Ortiz - Block Party Report: Hank's Bar for Cinco de Mayo - Complaints on noise issues - Steve Lohse of Chinatown Gateway and others to report. (5 Minutes)
G. Hispanic Heritage Street Festival. October 5, 2019 10:00 a.m. to 5:00 p.m. Streets Closure: Nuuanu Ave from Chapman Lane to King Street and both sides of Pauahi Street from Nuuanu Ave. A Stage will be set up on Chapman Lane & Nuuanu Ave. No Alcohol served, sandy Pohl & Nancy Ortiz (5 Minutes)
H. James Logue: NB13 Resolution to Honolulu Liquor Commission to implememnt a geographic exclusion for future liquor licenses to prevent victimizing the at-risk Homeless Population Nearby. Geographic Areas Excluded From Future Liquor Licenses Include Nimitz Between Maunakea Street To River St. To N. Beretania to River Street. Streets Covered Include N.King, N. Hotel Pauahi And N. Beretania Between Maunakea St. To River Street. Nb 13 Member, James Logue (10 Minutes)
I. Nicole Reid - Arts, Culture, Merchants, Etc. (A.C.M.E.) First Fridays: June & July 2019 Reports (5 MINUTES).

VII. COMMUNITY CONCERNS (2 MINUTES)
A. Safe Haven
B. Honolulu Authority for Rapid Transportation (HART)
C. Chinatown Business and Community Association (CBCA)
D. Chinatown Improvement District (CID)
E. Chinatown Watch - Fran Butera

VIII. APPROVAL OF JUNE 6, 2019 REGULAR MEETING MINUTES
IX. BOARD BUSINESS AND REPORTS
X. CHAIR'S REPORT
A. Concerns: Homeless camps, lawlessness
1. Liquor License Application and Street Closures.
2. Neighborhood Commission Updates
3. Office of Information Practices Report
B. Treasurer's Report
C. City and County Affairs
D. Oahu Metropolitan Planning Organization (OMPO)
X. ANNOUNCEMENTS
A. The next regular meeting is scheduled for Thursday, September 5, 2019, Hawaii Pacific University,
One Aloha Tower Drive, Multi-Purpose Room 2 at 6:00 p.m.
B. The Neighborhood Citizen's Patrol meets each Tuesday on the Diamond Head side of Kukui Plaza at
8:00 p.m. Please consider joining the patrol and supporting its efforts as they express their service and pride in our Downtown-Chinatown community.
C. Broadcast-Videotape of Board meetings are scheduled to be shown on the 3rd Thursday, and on the
2nd and 4th Saturday, Channel 49.
XI. ADJOURNMENT
A mailing list is maintained for interested persons and agencies to receive this board's agenda and minutes. Additions, corrections, and deletions to the mailing list may be directed to the Neighborhood Commission Office (NCO) at Kapalama Hale, Suite 160, 925 Dillingham Boulevard, Honolulu, Hawaii 96817; Telephone (808) 768-3710 Fax (808) 768-3711; or call Neighborhood Assistant Harry Cho at (808) 768-3714 or e-mail Harry.cho@honolulu.gov. Agendas and minutes are also available on online at www.honolulu.gov/nco.
Any individual wishing to attend a Neighborhood Board meeting who has questions about accommodations for a physical disability or a special physical need should call the NCO at 768-3710 between 8:00 a.m. and 4:00 p.m. at least three business day before the scheduled meeting.
All written testimony must be received in the Neighborhood Commission Office 48 hours prior to the meeting. If within 48 hours, written and/or oral testimony may be submitted directly to the board at the meeting. If submitting written testimony, please note the board and agenda item(s) your testimony concerns. Send to: Neighborhood Commission Office, 925 Dillingham Boulevard, Suite 160, Honolulu, HI 96817. Email: nco@honolulu.gov.
Featured Product/Service
<!998Template_start>
<!998Template_end>
---
Please send questions about this website to