Community website by MBC/Ernest Abrams. Call 808-739-9797 for advertising/sponsorship.
First Friday Hawaii
News Item

Downtown-Chinatown Neighborhood Board Meeting March 2019 Minutes
With Permission / Courtesy of
: City and County of Honolulu Neighborhood Commission Office
<!#450IMAGESTART>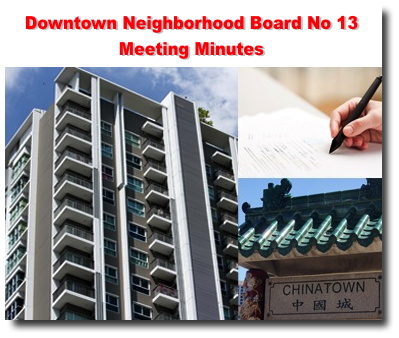 <!#450IMAGEEND>
utf-8">

Having trouble viewing this email?

Click here to view as a webpage

.
DOWNTOWN-CHINATOWN NEIGHBORHOOD BOARD No. 13

REGULAR MEETING MINUTES
THURSDAY 7 MARCH 2019
ONE ALOHA TOWER, MULTI PURPOSE ROOM 2

CALL TO ORDER - Chair Shubert-Kwock called the meeting to order at 6:00 p.m. Quorum was established with eight members present. Note: This nine-member Board requires five members to establish a quorum and to take official Board action.

Board Members Present - Ernest Caravalho, James Logue, Kevin Lye, Kevin McDonald (arrived 6:24 p.m.), Dolores Mollring, Willis Moore, Chu Lan Shubert-Kwock, and Bob Tom.

Board Members Absent - Lori McCarney

Guests - Corporal Dana Paikai, Sergeant Chi, and Lieutenant Ferrell (Honolulu Police Department); Captain Kiana Kam (Honolulu Fire Department); Raelynn Nakabayashi (Mayor Kirk Caldwell's representative); Councilmember Fukunaga; Senator Karl Rhoads; Damien Elefante (Governor David Ige's representative); Kathy Bryant, Theresa Ng, Natalie Winter, Evan Gates, Jarod Nelson, and Marcus Mow (US Senator Brian Schatz); Pat Lee (Honolulu Authority for Rapid Transportation); Greg Payton (Safe Haven); Lee Stack (Chinatown Improvement District); Fran Butera (Chinatown Watch); Leilani Breeze and Bernard Mokuahi (Montessori School); Kainoa Adolpho, Lynell Yuu, Greg Wong, Ann Rafael-Straka, Ronald Higa, Jaylen Murakami, John Selby, Eric Wong (community members); Harry Cho (Neighborhood Commission Office).

PUBLIC SAFETY REPORTS

Honolulu Fire Department (HFD) - Captain Kiana Kam reported the following:
• February 2019 Statistics: There was 1 structure fire, 2 cooking fires, 12 activated alarms, 159 medical emergencies; and 2 motor vehicle crash/collisions.
• Safety Tip: Fire sprinklers respond quickly and effectively to a fire, often extinguishing the fire prior to the fire department's arrival. Fire sprinklers can save lives and property from fire. The National Fire Association reported fire sprinklers reduced fire deaths by 83% and property loss in homes by 69%.

Honolulu Police Department (HPD) - Corporal Paikai and Lieutenant Ferrell reported the following:
• February 2019 Statistics: There were 6 motor vehicle thefts, 3 burglaries, 43 thefts, 29 unauthorized entries into motor vehicles (UEMV), 13 assaults, 8 sex assaults, 4 graffiti incidents, 5 drug offenses, and 2,404 total calls for service.
• Safety Tip: Due to the recent increase in UEMVs, HPD would like to remind the public to lock your doors, do not leave valuables in your vehicle, keep your vehicle clean, stash before you park, park in a visible area, use car alarms, and report suspicious activity.
• Annual Police Week: Monday 13 May 2019 will be the start of Police Week. Two to three lanes of South Beretania Street will be closed between Ward Avenue and Richards Street. More information can be found at www.honolulupd.org.

Mollring moved and Lye seconded that the Downtown-Chinatown Neighborhood Board 13 support the HPD commemorations for National Police Week. The motion was adopted by unanimous consent, 8-0-0 (Aye: Caravalho, Lye, Logue, McDonald, Mollring, Moore, Shubert-Kwock, Tom; Nay: None; Abstain: None).

Neighborhood Citizen Patrol (NCP) - Mollring reported that the NCP has been patrolling every Tuesday night.

Residents' and Community Concerns:
• Citizen Patrol: Eric Wong, property manager of Kekaulike Courtyards, stated that the public may join the Kekaulike Mall citizen patrol every Thursday at 8:30 a.m.
• Pilot Patrol Program: Leilani Breeze inquired about a pilot patrol program in Chinatown and was referred to the Community Patrol Pilot Project by the Chinatown Improvement District.
• Hawaii Department of Transportation (HDOT): A representative from HDOT gave an update regarding the Pali Highway Emergency Slope Stabilization and the Pali Highway Resurfacing Projects.
NEW BUSINESS

United States Senator Brian Schatz - Kathy Bryant and members of Senator Schatz's high school internship program are attending various Neighborhood Board meetings to learn about government function and to share information about programs such as the military academy nomination process.

McDonald arrived at 6:24 p.m.; eight members present.

Montessori School - Leilani Breeze raised concerns regarding crime and homeless impacting the safety of the students and parents.

Questions, comments, and concerns followed:
1. Problems: Logue asked how these problems have affected the school. Breeze stated that parents are very concerned and the students are in danger. A community member and parent also raised concerns that he feels his son and wife are in danger.
2. Solutions: Tom raised concerns with the City not taking responsibility to address these issues and that the community may retaliate on their own if this continues.
3. Resolution: Councilmember Fukunaga suggested that the board adopt a resolution urging the City to declare the homeless crisis as an emergency.
4. Police: Shubert-Kwock asked if the police are contacted. Breeze stated that they contact HPD but at times may take a while to arrive because reported events are not emergencies. The building is working on hiring its own security.

Resolution urging the Hawaii state legislature to take action on proposed measures to address Hawaii's growing youth vaping epidemic

Questions, comments, and concerns followed:
1. Youth vaping: A community member raised concerns regarding the increase in youth vaping in high schools and middle schools due to the sale of candy-flavored e-juice.
2. Advertising: A community member raised concerns with companies advertising to the youth.

Caravalho moved and Mollring seconded that the Downtown-Chinatown Neighborhood Board 13 support the resolution to urge the state Legislature to address youth vaping. Moore moved and Logue seconded to withdraw this motion from the table. The motion was adopted by majority vote, 7-0-1 (Aye: Caravalho, Lye, Logue, McDonald, Mollring, Moore, Tom; Nay: None; Abstain: Shubert-Kwock).

Resolution urging the Hawaii state legislature and the Honolulu City Council to take action to stop the proliferation of illegal aerial and illegal consumer fireworks in our community

Questions, comments, and concerns followed - Fireworks: McDonald stated that he is in support of legal purchase and use of fireworks.

Caravalho moved and Moore seconded that the Downtown-Chinatown Neighborhood Board 13 support the resolution to urge the Legislature to address illegal fireworks. The motion was not adopted, 2-6-0 (Aye: Mollring, Shubert-Kwock; Nay: Caravalho, Lye, Logue, McDonald, Moore, Tom; Abstain: None).

Liquor License Applications (no presentations made to the Board):
• Rangoon Restaurant is applying for a Category 1 liquor license
• Island Country Market is applying for a general retail liquor license
• Unify Championship Entertainment LLC is applying for a one-day liquor license

Downtown-Chinatown Neighborhood Board Issues - The Board discussed issues including crime, homeless camps, trash, and encroachments of merchandise from Kekaulike Market merchants into public walkspace at Kekaulike Mall.

Logue departed at 6:58 p.m.; seven (7) members present.

COMMUNITY REPORTS

Safe Haven ??? Greg Payton reported the following:
• February 2019 Statistics: There were two Safe Haven discharges/intakes, two activity center and pathway placements, one Mental Health Kokua Oahu Case Management Housing placement, and five permanent housing placements. The grand total for 2019 is 38 placements through February 2019.
• Point in Time Count: Total number of homeless individuals counted on Oahu was 4,311. This is a 4% decrease over the past year. Most of this year's decrease comes from a drop in sheltered homeless individuals from 2,350 in 2018 to 1,910 in 2019. The total number of sheltered homeless individuals on Oahu decreased by 440 (19%) over the past year. However, the unsheltered count continues to grow, with 2,401 individuals counted. The unsheltered homeless population increased by 256 (12%) over the past year.
• Security: Safe Haven is currently working with the City to hire security. In the meantime, a Safe Haven staff member will be provided to keep watch. Lieutenant Governor Josh Green has also been contacted to discuss relocation.

Logue returned at 7:01 p.m.; eight (8) members present.

Questions, comments, and concerns followed - Correspondence decorum: Lye noted that Payton appeared to have been the subject of unwarranted strident and ad hominem remarks during recent e-mail exchanges within the community about Safe Haven, and requested a general calming.

Honolulu Authority for Rapid Transportation (HART) - Pat Lee reported that many municipalities in the United States are building and extending new rail lines to improve service to their cities. Honolulu has nearly one million registered vehicles which clog our streets and highways every day. The rail system will provide an attractive option to being stuck in traffic congestion, which will only get worse in the future. Our 20-mile, 21-station system will directly serve communities from Kapolei to Ala Moana and connect seamlessly with bus service to other areas of the island. Trains will be arriving every five minutes during peak times and 11 minutes in off peak hours. Rail interim service is planned for the end of next year, and the anticipated opening for full revenue service of the 20-mile system is planned for the end of 2025. Once completed, rail will become an integral part of Honolulu's public mass transit system along with TheBus and TheHandi-Van, and provide both residents and visitors with fast, safe, reliable transportation. Just a reminder about HART's Art Poster contest, which is open to all Oahu high school students: the entry deadline is Friday 15 March 2019. For more information on the rail project, the public may visit http://www.honolulutransit.org, call the project hotline at (808) 566-2299, or email a question to info@honolulutransit.org.

Questions, comments, and concerns followed:
1. Escalators: Caravalho raised concerns with the lack of escalators at rail stations. Lee stated that some stations will include escalators and others won't. Shubert-Kwock suggested using ramps rather than stairs.
2. Subpoenas: McDonald asked what the outcome may be from the subpoena.

Chinatown Business and Community Association (CBCA) - Shubert-Kwock reported that the CBCA's monthly meeting was held on Tuesday 12 February 2019 at Sunflower Café. Deputy Director of the Department of Environmental Services (ENV) Tim Houghton will be in attendance to discuss trash pickup in Chinatown. The homeless situation has reached a crisis point. Community groups are working together with Councilmember Fukunaga and city officials, HPD, and the Lieutenant Governor's office to resolve some of these very pressing issues dealing with crazies high on alcohol and/or drugs, including the Assisted Community Treatment (ACT) Act, the Hawaii Homeless Healthcare Hui (H4), and other means to address the crisis. Funding is urgently needed to provide City-hired private security officers to help secure safety for our streets and sidewalks. Regarding difficulties committing a "crazy??? with existing laws: ACT is a means to help get these out-of-control homeless to a hospital and get treatment; H4 is another method utilizing Housing First to satisfy Bill 52 where there must be a bed available to permit HPD to redirect a person elsewhere from the street. Rapid Response is another method medical teams working with social workers and HPD to get homeless with mental illness medicine and treatment. ACLU issues also hamper treatment for our homeless. CBCA continues to deal with fear of attack by gangs of criminals purse-snatching and preying on our seniors. Criminals with alcohol and drug issues hang around looking for prey. They wear baseball caps, have sunglasses, carry backpacks, and are either on foot, bikes, or skateboards. Kekaulike Mall merchants are violating the littering and trash ordinance plus going beyond the 48 inches of permitted produce display and sale from abutting leases. The owner of Kekaulike Market was made aware of violating merchants and police were called daily dealing with hardcore violators who caused falls from trash and empty boxes, stored produce, discarded produce, and generally commandeered into public mall space reserved for the safety of pedestrians. CBCA is working with HPD, as within Chinatown one appreciates the difficulty of prosecuting repeat warnings and citations of sidewalk violations of tents, campers, and drugged out sleepers. Illegal food vendors selling food stamp-purchased food for resale on sidewalks and within or near Dr. Sun Yat-sen Mall. Neighborhood Board 13 was asked by Councilmember Carol Fukunaga to ask the city for emergency funding to pay for security guards to help augment the shortage of police officers. A Chinatown Task Force may be formed to work with a city-appointed Director to coordinate crisis management in Chinatown to reduce duplication of calls for services and provide proper rapid responses to resolve urgent public safety issues. CBCA, Chinatown Improvement District, and Chinatown Watch are hard at work to get the crisis situation understood and to obtain help from our City.

Chinatown Improvement District (CID) - Lee Stack stated that the Chinatown Improvement District is a 501(c)(3) charitable organization and works on a number of projects in the area including events, beautification projects, policy issues, clean-ups, community security patrols, and economic development initiatives. More information on our work may be found at our website: www.cidchinatownhawaii.org. The Community Patrol Pilot Project is due to end on Thursday 14 March 2019. Several of the participants indicated that they wish to continue on so we will work to continue the project for another three or four months. We had some unanticipated startup costs due to the fact that the guard service would not patrol at the outset with less than two guards per shift for safety reasons. Luckily, though, we received some donations. We'd like especially to thank Representative Holt for his donation after meeting with the Strode school today and being moved by their experiences. There have been two new signups including Homecoming Honolulu at 12 South King Street and the McCandless Building at 925 Bethel Street. It is a little more work that we had anticipated between communicating with the guard service, monitoring the patrols, and disseminating information to owners and businesses and relaying their concerns back; we are happy to have the assistance of a volunteer, Kainoa Adolpho, who is assisting us with some of the logistics for this project. We aim to expand the patrols to every weekday morning but that will depend on additional signups and donations. Anyone who wishes to contribute to the project may do so at the "contact us" page of our website. The graffiti study is slowly drawing to a close as testing of the last product will finish this coming week. We have another project in the works but will go over that at next month's board meeting.

Chinatown Watch - Fran Butera reported the following:
• Brief: Chinatown residents, businesses and workers struggle daily with rampant drug and gang activity, public drinking, homeless camps, and psychotic and violent people mixing with the general population. As currently funded and staffed, HPD cannot control this toxic situation. There is no rapid response network of mental health professionals to help HPD deal with homeless and mentally ill offenders. Daily disruptions by homeless and mentally ill people steal HPD's time, resources and attention away from its core mission: Fighting crime and protecting the public. Downtown-Chinatown urgently needs a city/state-funded, district-wide uniformed security patrol to support HPD in protecting the citizens of this district, and uniformed HPD officers to patrol Downtown-Chinatown on foot or bike all day, every day.
• Discussion: We are mystified as to why the City administration continues to ignore the serious on-going security problems in Chinatown, which have spilled over into the Downtown blocks. Drunks, drug addicts, drug dealers, psychos, gangs and vagrants threaten public health and safety across our district. Everyone is at risk, from the preschoolers on Bethel Street and Merchant Street to the kupuna at the City-run Pauahi Senior Rec Center. Business people are exhausted and angry; their customers are disappearing. Visitors are frightened and disgusted. The pervasive lawlessness just breeds more of the same. Chinatown Watch members report the following examples (excerpts):
o Around Kekaulike Mall, petty theft and purse snatchings happen almost daily. "We are seeing homeless people grabbing things off the shelves and running off, to more brazen attempts by teenager(s) on bikes and/or skateboard grabbing bags and purses esp. around the bus stops."
o At the Senior Rec Center on Pauahi Street, seniors are afraid to walk in the neighborhood. "I would like to report that daily, the streets and sidewalks, both across and alongside(s) of our Center, echoes of yelling, swearing, fighting, drug/alcohol use (and exchange of) the behaviors/actions are non-stop, thus creating fear for the innocent to even walk, let alone shop, on the streets and within the China Town Market places."
o Residents of a Maunakea Street building report encounters such as these: Homeless lady is running around naked in the garage, a homeless lady is sleeping under the garage stairs, it scared me because she was doing drugs, homeless follows me around, now I go in from the other side, I learned, I am not giving them money anymore, homeless tried to come into the building (main entrance) so I closed the door fast.
o Public drinking on North Hotel Street, Pauahi Street, and Maunakea Street, particularly around the liquor stores.
• To the City Administration: The community asks to begin immediately to fund private security patrols for Chinatown, with special emphasis on the known crime zones surrounding the homeless services and liquor stores. Provide all additional funding needed to support HPD in protecting Chinatown's citizens. Close the Pauahi Street hygiene center and relocate Safe Haven out of Chinatown. Fast-track your negotiations with River of Life Mission so they may move their feeding operation to lwilei this year. Close the liquor stores that sell alcohol and drugs to the homeless and mentally ill substance abusers who congregate in disproportionately high numbers in Chinatown.
• To Chinatown Residents, Merchants, Shoppers, Property Owners, and Visitors: 1) Call 911 to report violations. Don't think you're inconveniencing the police by calling. They want you to call 911. Doing so gets the violations into their database and helps HPD help you. 2) Talk to your neighbors about the problems. Encourage them to call 911, too. 3) Post incidents anonymously to ChinatownWatch.com. Please encourage your neighbors to post, too. It's an unofficial but visible way to build our community's case for more support. Please note that posting to ChinatownWatch.com is not a substitute for calling 911. 4) To order Chinatown Watch window signs for your business, go to ChinatownWatch.com, click the About link, then send a message via the Contact link. Please allow a few days for a response as the site is run by volunteers. 5) Get some neighbors together to meet with the HPD's Community Policing Team (CPT). Call the CPT office at (808) 732-3927. A strong community partnership with HPD is good for everyone. 6) Merchants and property owners, please join the Chinatown Improvement District's neighborhood security patrol. Call Lee Stack at (808) 589-9927, email chinatownimprovementdistrict@gmail.com, or visit the website: cidchinatownhawaii.org.
• Photos: Handouts were provided which included photos of garbage piles, a person defecating in building lobby, broken windows at HNB, a man wandering in a street intersection, illegal peddling and sidewalk obstructions, a person passed out on sidewalk, an intoxicated man harassing another person, sidewalk camping, and a woman throwing a lit cigarette at a person.

Questions, comments, and concerns followed - Legal remedies: Lye asked if counsel could be sought to ascertain what statutes, if any, were being violated by liquor stores in the area to reduce the incidence of problem behaviors contributing to recurrent problems. Butera noted that pro bono work from an attorney would be welcome. Mollring opined that if a landlord knowingly allows illegal activity, the property may in some cases be confiscated by the government.

ELECTED OFFICIALS

Mayor Kirk Caldwell's representative - Raelynn Nakabayashi reported the following:
??? Follow-Up on Concerns:
o Chinatown Sidewalks: Department of Facility Maintenance (DFM) stated that Sidewalk resurfacing to smoothen irregularities and unevenness, and upgrades to widen sidewalks for American's with Disabilities Act (ADA) accessibility are beyond the present capabilities of the DFM to implement unilaterally. Such features are actually covered by the City and County of Honolulu Complete Streets program which includes the Departments of Design and Construction (DDC), Transportation Services (DTS), and Planning and Permitting (DPP). The requested improvements are just a portion of other pedestrian- and bicycle-friendly improvements that are being considered in future projects in the Downtown-Chinatown area. Due to the nature of the requested improvements and the agencies involved, we respectfully request postponing any walk-through with the Neighborhood Board Chair and community members pending a meeting to discuss the concerns and potential remedies within the scope of funded City projects.
o Office of Housing (HOU): HOU confirms that Executive Director Marc Alexander will attend the April meeting.
o Dr. Sun Yat-sen Memorial Park: The Department of Design and Construction (DDC) will be doing a complete renovation of the Dr. Sun Yat-sen Memorial Park which will be completed in summer or fall 2020.

Questions, comments, and concerns followed:
1. Dr. Sun Yat-sen Memorial Park: Shubert-Kwock asked when the public comment period will be for the proposed renovations, and for a DDC representative to attend a future Board meeting.
2. Dr. Sun Yat-sen Memorial Park: McDonald stated that he would like the gate at the park left open until 2:00 a.m. as it serves as an Americans with Disabilities Act (ADA) entrance and fire exit to his business. He noticed the gate being left open for other events.
3. Ramp Repairs: Shubert-Kwock stated that multiple sidewalk ramps need to be improved.

Councilmember Carol Fukunaga - Councilmember Fukunaga reported the following:
• Homelessness Leads Legislative and Council Agendas: With Lieutenant Governor Green spearheading public-private partnerships and H4 clinic operations in Chinatown (Joint Outreach Center), Iwilei (pending City request for proposals for an expanded H4 operation at Punawai Rest Stop), and Kakaako. Councilmember Fukunaga is working with Senator Rhoads and Representative Holt to expand HPD enforcement in the neighborhood and impose stiffer penalties for illegal liquor/drug sales in Chinatown with Honolulu Liquor Commission. Councilmember Manahan and Fukunaga are also pursuing stricter enforcement/confiscation of properties in which illegal gambling/drug-dealing has occurred. These steps would restore some of the features of the federal 'Weed & Seed' program that successfully tackled illegal gambling and drug dealing operations in Chinatown-Ala Moana between 2003 and 2008. Since federal funding for these programs dried up in 2008, Waipahu has been the only area with community-based enforcement and 'Weed & Seed' activities. However, we are also considering re-establishing this popular program as a county-state initiative rather than a federal enforcement effort. Key priorities identified by Downtown-Chinatown businesses for city funding include funding for private security patrols to augment HPD foot patrols in Chinatown, funding for security personnel at Mental Health Kokua's Safe Haven program at Pauahi Hale, and relocation of the Safe Haven program out of Chinatown.
• Punawai Rest Stop: Councilmember Fukunaga suggested a community/board site visit to the Punawai Rest Stop.

Questions, comments, and concerns followed:
1. Parking Rate Increase: McDonald raised concerns with the parking rate increase.
2. Red Hill Fuel Tanks: Caravalho raised concerns with the Red Hill Fuel Tanks and asked that City Council support the emptying of the tanks.
3. Roads: A community member raised concerns with the poor conditions of roads.
4. Maintenance: Moore asked if there is a timeline for when DFM or DDC maintenance projects will take place.

Senator Karl Rhoads - Senator Rhoads reported the following:
• Homeless and Crime: Senator Rhoads received multiple concerns about the homeless situation and criminal activity taking place on the sidewalk fronting the Strode Montessori Preschool at 925 Bethel Street. Senator Rhoads communicated these concerns to HPD Chief Susan Ballard and also to homeless coordinators Scott Morishige (State) and Marc Alexander (City). Senator Rhoads will update the board when responses are received.
• Bills: This session, Senator Rhoads has focused his attention on the seriously mentally ill homeless who are usually the most difficult cases and even one or two of them in a neighborhood can be very disruptive and can scare residents and visitors. Senator Rhoads introduced five bills to address the situation, four of which have passed the Senate and now head to the House for consideration.
o Senate Bill (SB) 567: Would require that anyone who is picked up for possible psychiatric issues be evaluated for court ordered treatment under the Assisted Community Treatment (ACT) Act (2013). The bill also requires the Department of Health to convene a mental health emergencies task force.
o SB 1124: Streamlines the ACT process by changing the treatment eligibility requirements to the easier to meet standard of "danger to self or other" instead of "imminently dangerous," which can be established by refusing to follow a medical plan. In addition, it would remove the requirement that lack of adherence to a medical plan has to happen twice before the person can be deemed dangerous.
o SB 1464: Would fund additional positions in the Department of the Attorney General and in the Judiciary with the responsibility of preparing, filing, and adjudicating ACT filings.
o SB 1465: Would require health insurance policies to cover expenses associated with diagnosing ACT patients and pursuing ACT petitions.

Governor David Ige's Representative - Damien Elefante was available for any questions.

APPROVAL OF THURSDAY 7 FEBRUARY 2019 REGULAR MEETING MINUTES - McDonald moved and Logue seconded to approve the Thursday 7 February 2019 regular meeting minutes. The motion was adopted by unanimous consent, 8-0-0 (Aye: Caravalho, Lye, Logue, McDonald, Mollring, Moore, Shubert-Kwock, Tom; Nay: None; Abstain: None).

TREASURER'S REPORT - The Board retains a balance of $223.10.

ANNOUNCEMENTS
• Next Meeting - The next meeting of the Downtown-Chinatown Neighborhood Board 13 is scheduled for Thursday 4 April 2019 at Hawaii Pacific University, One Aloha Tower Drive, Multi-Purpose Room 2 at 6:00 p.m.
• Neighborhood Citizen Patrol - The Neighborhood Citizen Patrol meets each Tuesday on the Diamond Head side of Kukui Plaza at 8:00 p.m. Please join the patrol and support its efforts to express service and pride in our Downtown-Chinatown community.
• ' lelo - Rebroadcasts of Downtown-Chinatown Neighborhood Board 13 meetings are scheduled on ' lelo channel 49 for every third Thursday at 9:00 p.m., as well as 6:00 a.m. on the second and fourth Saturdays of each month. An archive of past meetings may be found on http://olelo.org/olelonet/ and searching on .

ADJOURNMENT - Chair Shubert-Kwock adjourned the meeting at 9:00 p.m.

Submitted by: Harry Cho, Public Relations Assistant
Reviewed by: Chris Naylon, Neighborhood Assistant; Kevin Lye, Secretary, NB 13
Featured Product/Service
<!998Template_start>
<!998Template_end>
---
Please send questions about this website to