Community website by MBC/Ernest Abrams. Call 808-739-9797 for advertising/sponsorship.
First Friday Hawaii
News Item

Downtown-Chinatown Neighborhood Board Meeting February 2019 Minutes
With Permission / Courtesy of
: City and County of Honolulu Neighborhood Commission Office
<!#450IMAGESTART>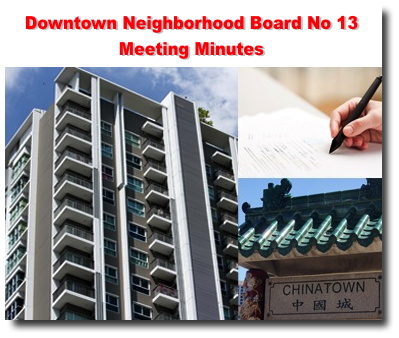 <!#450IMAGEEND>
REGULAR MEETING MINUTESTHURSDAY 7 FEBRUARY 2019ONE ALOHA TOWER, MULTI-PURPOSE ROOM 2
CALL TO ORDER - Chair Shubert-Kwock called the meeting to order at 6:03 p.m. Quorum was established with eight (8) members present. Note: this nine-member Board requires five members to establish a quorum and to take official Board action.
Board Members Present - James Logue, Kevin Lye, Lori McCarney, Kevin McDonald, Dolores Mollring, Willis Moore, Chu Lan Shubert-Kwock, and Bob Tom.
Board Members Absent - Ernest Caravalho
Guests - Sergeant Robertson and Major Nishibun (Honolulu Police Department); Captain Russell Youth (Honolulu Fire Department); Raelynn Nakabayashi (Mayor Kirk Caldwell's representative); Councilmember Carol Fukunaga; Diana Ronquillo (Senator Karl Rhoads' Office); House Representative Daniel Holt; Pat Lee (Honolulu Authority for Rapid Transportation); Greg Payton (Safe Haven); Nicole Reid (Arts, Culture, Merchants, Etc.); Lee Stack (Chinatown Improvement District); Fran Butera (Chinatown Watch); Don Murphy (Murphy's Bar and Grill); JJ Johnson (Honolulu Marathon); Mark Reardanz and Shawn Dela Cruz (Hawaii Pacific University); Ronald Higa, John Selby, Bob Armstrong (community members); Harry Cho (Neighborhood Commission Office).
PUBLIC SAFETY REPORTS
Honolulu Police Department (HPD) - Sergeant Robertson reported the following:
• January 2019 Statistics: There were 12 motor vehicle thefts, 11 burglaries, 34 thefts, 33 unauthorized entries into motor vehicles (UEMV), 24 assaults, 3 sex assaults, 1 drug offense, and 2,641 total calls for service.
• Safety Tip - Robbery Prevention: Stay tuned in to your surroundings, walk briskly and confidently, avoid going to ATM machines after dark, and do not flash large sums of cash, jewelry, or expensive items; avoid isolated areas, short cuts, and deserted parking lots, and do not hesitate to call the police if you suspect you are being followed; if you are the victim of a robbery, do not attempt to fight with your assailant, remember what the robber looks like, and call the police as quickly as possible.
Questions, comments, and concerns followed:
1. Crime: McCarney raised concerns with the increase in crimes and violence in Chinatown. She suggested that the City and HPD install more cameras to compensate for the cameras that are out of order. Mollring also would like to see more enforcement on crime so the public may enjoy the area safely. McDonald suggested working with the City and State legislators to help address the issues in Chinatown. Shubert-Kwock requested for Major Nishibun to stay for the meeting to listen to the community's concerns and issues in the area.
2. Panhandling: Lye raised concerns that lax enforcement of statues addressing panhandling on and around the medians at the intersection of Vineyard Boulevard and Pali Highway has led to an expansion of pandandling elsewhere, including within parking lots at Kukui Plaza.
3. Public Consumption: A community member raised concerns with homeless people publicly consuming alcohol directly across from the Chinatown substation.
Honolulu Fire Department (HFD) - Captain Russell Youth reported the following:
• January 2019 Statistics: There were 8 nuisance fires, 2 cooking fires, 7 activated alarms, 163 medical emergencies, 4 motor vehicle collisions with a pedestrian, 5 motor vehicle crash/collisions, and 1 hazardous materials incident.
• Fire Safety Tip: The HFD reminds the public to call 911 first for an emergency. Do not drive to a fire station, as a fire company may be responding to another emergency. When you call 911, inform the operator if you need police, fire, or ambulance. After you have been transferred to the appropriate agency, give an accurate description of your emergency, address, or location. The operator will dispatch the closest available fire company to your emergency.
Neighborhood Citizen Patrol (NCP) - Mollring reported that the NCP has been patrolling every Tuesday night.
Residents' and Community Concerns:
• Dog Park: A community member stated that the ground breaking for a dog park will be held on Monday 11 February 2019 at A'ala Park. The Downtown Bark Park has been working with the City and American Savings Bank and has also started a GoFundMe page.
NEW BUSINESS
Three Absences of Willis Moore - No action was taken.
First Friday Block Party Events ??? Nicole Reid from Arts, Culture, Merchants, Etc. (ACME) gave a post-event report on the 2018 and January 2019 First Friday events. The First Friday events in March, April, May, and June 2019 will also include a live mural painting, live music, street food, and beer and wine services.
Questions, comments, and concerns followed ??? Boundaries: McDonald asked if there are future plans to expand the boundaries of the event to get more participants involved.
McDonald moved and Moore seconded that the Downtown-Chinatown Neighborhood Board 13 support the First Friday event for March, April, May, and June 2019. The motion was adopted by unanimous consent, 8-0-0 (Aye: Lye, Logue, McCarney, McDonald, Mollring, Moore, Shubert-Kwock, Tom; Nay: None; Abstain: None).
Murphy's Bar and Grill St. Patrick's Day Event - Don Murphy reported that the event will take place on Sunday 17 March 2019 from 10:30 a.m. to 12:00 a.m. There will be food, drinks, live music and a keiki tent. Portions of the proceeds will be donated to various charities and organizations.
Questions, comments, and concerns followed:
1. Boundaries: McDonald asked if there are plans to expand the boundaries. Murphy stated that he has asked before and has been denied by the Department of Transportation Services (DTS).
2. Foot-Traffic: McCarney asked when foot traffic is higher and lower throughout the event.
3. Sidewalks: Chair Shubert-Kwock reminded Mr. Murphy not to block the sidewalk access for handicapped in the affected blocked streets.
Mollring moved and McCarney seconded that the Downtown-Chinatown Neighborhood Board 13 support the Murphy's Bar and Grill St. Patrick's Day event. The motion was adopted by unanimous consent, 8-0-0 (Aye: Lye, Logue, McCarney, McDonald, Mollring, Moore, Shubert-Kwock, Tom; Nay: None; Abstain: None).
Chinatown Issues - The Board and public discussed issues regarding cameras, enforcement of sit/lie, sanitation of sidewalks, homeless encampments, damaged streets/potholes, liquor stores, drugs, robbery, assault, and vehicle break-ins.
Questions, comments, and concerns followed:
1. Issues: Logue stated that is seems that the sit/lie law is not being enforced properly by HPD. The odor along River Street is very significant from homeless urination and defecation. The area business owners would like the area to be sanitized and power-washed.
2. Bishop Street: Moore stated that there has been some improvement, but there are still numerous homeless people along Bishop Street.
3. Alcohol: Chair Shubert-Kwock raised concerns about intoxicated persons being able to purchase alcohol from area liquor stores as seen by cameras from Chinatown Watch. She suggested HPD and the Honolulu Liquor Commission (HLC) share data on the citations and share that with NB 13 and the community so there could be input from our community regarding annual renewals. Crime Mapping shows significant citations by HPD of drinking in public within the NB 13 jurisdiction. These liquor stores should be cited for selling to intoxicated people and for selling expired liquor out of a pack.
4. Events: McCarney stated that an increase in public events such as First Fridays will help decrease the issues such as homeless in the area.
COMMUNITY REPORTS
Hawaii Pacific University (HPU) ??? HPU student Mark Reardanz asked to interview several Board members after the meeting.
Safe Haven - Greg Payton reported the following:
• January 2019 Statistics: There were three Safe Haven discharges/intakes, five activity center and pathway placements, and 8 permanent housing placements. The grand total is 33 placements through January 2019.
• Punawai Rest Stop: The Punawai Rest Stop grand opening took place on Tuesday 8 January 2019. This is a project by the City and County of Honolulu, operated by Mental Health Kokua. Services provided include showers, toilets, laundry services, lockers, mail services, and kennels. There are currently no security guards at Pauahi Hale due to the lack of funding; however, there are security guards at the new Punawai Rest Stop.
Questions, comments, and concerns followed - Security: A community member raised concerns with the lack security at the Chinatown Hygiene Center. She also raised concerns with the amount of people on the sidewalks and the lack of a waiting area to keep the homeless off the public sidewalks. Service providers should be held responsible for maintaining safe sidewalks and managing their clients for public safety and welfare.
As there were no objections, a brief presentation on the King's Runner 10k Event was added to the agenda by unanimous consent, 8-0-0 (Aye: Lye, Logue, McCarney, McDonald, Mollring, Moore, Shubert-Kwock, Tom; Nay: None; Abstain: None).
King's Runner - The Director of the Honolulu Marathon stated that the King's Runner 10k event will take place on Sunday 3 March 2019 and provided a handout of the route to the Board and public.
McCarney moved and Mollring seconded that the Downtown-Chinatown Neighborhood Board 13 support the King's Runner 10k event. The motion was adopted by unanimous consent, 8-0-0 (Aye: Lye, Logue, McCarney, McDonald, Mollring, Moore, Shubert-Kwock, Tom; Nay: None; Abstain: None).
Honolulu Authority for Rapid Transportation (HART) - Pat Lee reported that major progress on the rail project was made in 2018. This year, HART anticipates awarding a contract for the final 4.2-mile City Center segment from Middle Street to Ala Moana Center by the fall utilizing a P3 (public-private partnership) contracting method. The stations on the west side of the alignment are progressing and are in various stages of completion. A 5th four-car train is being delivered to the Rail Operations Center soon, which means a quarter of the 80-rail car fleet will be here on-island by next month. The Automatic Train Control System testing between the Rail Operations Center/Maintenance and Storage Facility and the guideway and stations in Waipahu is ongoing in preparation for the interim opening of rail service from Halawa station at Aloha Stadium to the Kualaka'i station in east Kapolei by the end of 2020. Progress on the Airport Guide Way and Stations is keeping pace with the schedule. Three of the four (4) stations for this segment, including the station at the Daniel K. Inouye International Airport are in the initial stages of construction. The City Center Utility Relocation (CCUR) contract was executed in mid-2018 with the goal of relocating utilities along the Dillingham and Kaka'ako corridor prior to the guide way and stations work, to reduce the impacts and delays caused by unforeseen conditions. This includes relocation of both wet utilities (sewer and water) and dry utilities including Hawaiian Electric Company's (HECO) electrical lines and facilities. HART's contractor, NAN, Inc. who is undertaking the advance utility relocation work, is having a community meeting to discuss their operations and provide details to the work in your area on Tuesday, February 19, 2019, at HPU Aloha Tower Multi-purpose Room #3 starting with registration at 6:00 p.m. The anticipated opening for revenue service of the full rail system is planned for the end of 2025. Once completed, rail will become an integral part of Honolulu's public mass transit system along with the bus and Handivan, and provide both residents and visitors with fast, safe, reliable transportation and an option to being caught in traffic congestion. For more information on the rail project, the public may visit
http://www.honolulutransit.org
, call the project hotline at (808) 566-2299, or email a question to
info@honolulutransit.org.
Questions, comments, and concerns followed - Costs: McDonald raised concerns with the cost of the project.
Chinatown Business and Community Association (CBCA) - Shubert-Kwock reported that the CBCA's monthly meeting was held at 10:00 a.m. on Tuesday 8 January 2019 at Sunflower Café. The CBCA supports more business, more safety, more sanitation, and an improved working relationship with the City. The next meeting is on Tuesday 12 February 2019, 10:00 a.m. at Sunflower Cafe on 1157 Maunakea Street. All interested parties are welcome to the open meeting.
Arts, Culture, Merchants, Etc. (ACME) - Nicole Reid reported that ACME is a 501(c)(4) organization whose mission is to preserve and promote the cultural traditions, architecture, and economic climate of the Chinatown District. In 2018 ACME was able to accomplish the re-launch of First Fridays in coordination with Axis Chinatown, in conjunction with website . In 2019 Chinatown welcomed the return of the Holidaze event by Art + Flea. The goal for 2019 is to continue to put art in vacant spaces and continue to make progress. This year's holiday season was one of the slowest in recent years and several businesses have left Chinatown.
Chinatown Improvement District (CID) - Lee Stack stated that the CID, a 501(c)(3) charitable organization, was formed for the following purposes: 1) to enhance and improve neighborhood conditions; 2) to combat community deterioration in Chinatown in partnerships, for the benefit of the community and public at large; 3) to identify community problems and encourage their resolution; 4) to supplement and enhance existing municipal services; and 5) to encourage and promote the preservation and enhancement of the ethnic, cultural, and historical character and significance of Chinatown. Our latest newsletter was published in January 2018 and features news about our Taste of Chinatown and Lantern Festival, the tour of historical courtyards, our graffiti study and the security pilot project launched in December 2019. The Security Project has had some good results to date and people seem fairly pleased. The encampment at the entrance of the TBN building across from Smith-Beretania Mini Park has largely been dispersed. The guard service has worked with HPD to better secure areas in Chinatown. They have also been instructed to call in sit-lie violations. We have had one new sign-up and an additional sign-up this week. We have had some donations from businesses in support of the project. Anyone who wishes to contribute to the project may do so at our website . On Saturday 2 February 2019, we participated in the Night in Chinatown event celebrating the Lunar New Year and saw old friends and met some new ones.
Questions, comments, and concerns followed - Security: Shubert-Kwock made suggestions on where to place security personnel.
Chinatown Watch - Fran Butera submitted a report that stated the following:
• Brief: Chinatown citizens continue to search for ways to cope with homelessness and crime in our district. Our efforts are Band-Aids for temporary relief while we wait for city and state agencies to make the large, coordinated policy moves to correct system-wide flaws in their homelessness agenda.
• Discussion: Of particular concern is a lack of recognition by both city and state of the effects that their homeless programs have on the communities in which they're placed. For instance, in the Pauahi Street/Maunakea Street neighborhood, having the city hygiene center Safe Haven, River of Life Mission, and two liquor stores within a two-block radius has been a nightmare for area businesses and residents. We believe the reasons can be summarized as follows: Homeless and mentally ill people congregate here because there are services for homeless and mentally ill people. A large proportion of this population abuses drugs and alcohol. Public drinking is a daily occurrence on our block, due in part to the city programs and River of Life Mission attracting substance abusers to our neighborhood and the liquor stores obliging them. Also damaging to our neighborhood are the psychotic outbursts and fights and shouting matches and violent acts that erupt when liquor and drugs meet mental illness. Criminals use the homeless people in many ways, such as customers, distractions, scapegoats, and targets. Criminals are therefore attracted to places where homeless people gather. Aggregating these factors in Chinatown means that drunks, drug users, drug dealers, vagrants, crazy people, and violent people roam freely among the merchants, shoppers, residents, tourists, and workers in our district. Needless to say, some very ugly things can and do happen as a result. The city failed to plan for these outcomes. They did not budget for a security service to keep Chinatown's citizens safe. The new Iwilei hygiene center does have a security guard on the premises all day, every day. But the Chinatown hygiene center does not have a security guard, despite well-documented problems on the Pauahi block. Neither Mental Health Kokua staff nor River of Life staff actively supervise the people who hang out in front of their facilities. These groups often include the neighborhood troublemakers as described above. They obstruct the sidewalk, drink, get in fights, etc. Because there is no security and little supervision, it is left to the neighbors to try to keep order in the neighborhood. We call 911 multiple times every day. HPD is very responsive; however, they are understaffed. The daily disturbances down here tax their resources and waste their time and everyone's time. Pictures of the incidents from the past month were provided to NB 13 and the public, including pictures of public intoxication, public urination, public consumption of alcohol, a man exposing himself, homeless sleeping on sidewalks, and stolen property at homeless camps.
• To the City Administration: The community asks to begin immediately to fund private security patrols for Chinatown (with special emphasis on the known crime zones surrounding the homeless services and liquor stores), provide all additional funding needed to support HPD in protecting Chinatown's citizens, close the Pauahi Street hygiene center and relocate Safe Haven out of Chinatown, fast-track your negotiations with River of Life Mission so they may move their feeding operation to lwilei this year, and close the liquor stores that sell alcohol and drugs to the homeless and mentally ill substance abusers who congregate in disproportionately high numbers in Chinatown.
• To Chinatown Residents, Merchants, Shoppers, Property Owners, and Visitors: 1) Call 911 to report violations. Don't think you're inconveniencing the police by calling. They want you to call 911. Doing so gets the violations into their database and helps HPD help you. 2) Talk to your neighbors about the problems. Encourage them to call 911, too. 3) Post incidents anonymously to . Please encourage your neighbors to post, too. It's an unofficial but visible way to build our community's case for more support. Please note that posting to
ChinatownWatch.com
is not a substitute for calling 911. 4) To order Chinatown Watch window signs for your business, go to , click the About link, then send a message via the Contact link. Please allow a few days for a response, as the site is run by volunteers. 5) Get some neighbors together to meet with the HPD's Community Policing Team (CPT). Call the CPT office at (808) 732-3927. A strong community partnership with HPD is good for everyone. 6) Merchants and property owners, please join the Chinatown Improvement District's neighborhood security patrol. Call Lee Stack at (808) 589-9927, email
chinatownimprovementdistrict@gmail.com
, or visit the website .
Questions, comments, and concerns followed:
1. Safety: A community member raised concerns that she does not feel safe walking through Chinatown.
2. Legislators: Tom stated that he would like the city and state legislators and government to work to improve the situation in Chinatown, and that city ignored Neighborhood Board No. 13 elected members as if they were "window dressings."
ELECTED OFFICIALS
Mayor Kirk Caldwell's representative - Raelynn Nakabayashi reported the following:
• Follow-Up on Concerns:
o Fort Street Mall Pavers: Department of Facility Maintenance (DFM) and Department of Parks and Recreation (DPR) are working together to assess and coordinate the repair of pavers on Fort Street Mall. The repairs will be scheduled shortly.
o Potholes on Maunakea Street and North Beretania Street: DFM stated that the potholes in the vicinity are being scheduled for repair on Monday 28 January 2019.
o Power Washing: DFM stated that both sides of River Street were power-washed on Friday 11 January 2019, in coordination with Stored Property and Sidewalk Nuisance Ordinance (SNO) enforcement.
o Chinatown Cameras: HPD stated that matters involving the purchase, upgrade, and installation of security cameras fall under the purview of Department of Information Technology (DIT). Please reassign the concerns from HPD to DIT. DIT stated that they reached out to the HPD Chinatown officers that were working on this project to get a status update. We didn't hear anything back yet. DIT would have a hard time installing the cameras in Chinatown, because they wanted 40 plus cameras and the distances from the junction box is too far for our standard deployment. DIT suggested that they get a contractor, since Department of Transportation Services (DTS)/DFM's installation rate of eight to ten cameras a year would make it hard to schedule. DIT will reach out to HPD again and see if they were able to secure grant funding, which was the best option last year.
o Homeless Sweep on River Street: HPD stated that on Wednesday 30 January 2019, officers from the Community Outreach Unit offered shelter services to numerous individuals on River Street who all declined services. Follow-up Stored Property Ordinance (SPO)/SNO enforcement in coordination with the Chinatown foot patrol (Fourth Watch) officers was conducted on Thursday 31 January 2019 and follow-up operations are planned for Friday 1 February 2019. Outreach and enforcement operations will continue in the area. DFM stated that they perform regular (typically weekly) Stored Property and SNO enforcement that applies to personal property illegally stored on public property that interferes with the public's use of sidewalks and City public areas along River Street. During the Point in Time Count, SPO/SNO enforcement was suspended between Monday 14 January 2019 and Monday 28 January 2019 to enable a more accurate count of homeless individuals on Oahu. The bus stop on Bishop Street will be scheduled for enforcement when the SPO/SNO enforcement resumes.
Questions, comments, and concerns followed - Sidewalks: Chair Shubert-Kwock raised concerns with old, narrow, and uneven sidewalks in Chinatown and would like the DFM to conduct a walk-through with the Neighborhood Board 13 Chair and Chinatown constituents to identify areas in need of resurfacing.
Councilmember Carol Fukunaga - A report was submitted to the Board and public that stated the following:
• Council District 4: Former DTS Director Mike Formby was sworn in on Tuesday 5 February 2019 by City Clerk Glen Takahashi as the interim Councilmember for district 4 following the Council's unanimous vote in support of his selection. Among issues he is proposing to discuss with constituents and reflect their perspectives are monster homes, transient vacation rentals, and transportation concerns. Since councilmembers have worked with him in past years, he has the experience and skills to hit the ground running.
• Delay in Enforcement of Sidewalk Obstruction/Illegal Lodging in Public Spaces Law: At the recent Public Infrastructure, Technology, and Sustainability (PITS) Committee's informational briefing with Corporation Counsel (CORP) and HPD representatives, Deputy CORP Duane Pang and HPD Major Sean Naito reported that city agencies are delaying enforcement of Ordinances 18-34 and 18-35. While they did not provide many details, the city's legal counsel and law enforcement representatives said that the laws have been determined to be unenforceable in their present form. Councilmembers Pine, Menor, and Fukunaga expressed frustration that defects in the City's proposed bills had not been identified earlier. They urged city agencies to resolve the problem areas quickly, and to provide amendments for the law as soon as possible. Meanwhile, congratulations to Chinatown community stakeholders on a successful Chinese New Year celebration during the past week. Councilmember Fukunaga and her staff sought removal of homeless encampments on both ends of River Street during the past ten days, and continue to work closely with leaders of the Chinese community, Lieutenant Governor Green, and city agencies to tackle the 'difficult-to-serve' chronic homeless in the Maunakea-Pauahi Streets neighborhoods. Mahalo to Lieutenant Governor Green and the H4/Joint Outreach Center team for donating two power washers to City agencies to improve public sanitation and cleaning along Chinatown streets. Councilmember Fukunaga and her staff have also requested immediate city DTS cleaning and sanitation for the bus stop in front of Chinatown Gateway Plaza with its hazardous-materials contractors.
• Bill 96: This bill—relating to fire safety—cleared its initial committee review. A revised fire safety improvements measure introduced by Councilmembers Fukunaga and Kobayashi was heard by the PITS Committee, and will advance for full Council review on Wednesday 13 February 2019. For more information on the measure or to submit testimony, please contact Linda Oamilda at
loamilda@honoluIu.gov.
Senator Karl Rhoads - Diana Ronquillo reported the following:
• Queen Liliuokalani Statue: The Director of the Hawaii State Foundation on Culture and Arts stated that there are no plans to move the statue.
• Capital Improvement (CIP) Funds: $500,000 of CIP has been released for the design and construction for various construction and maintenance of the state capitol. $450,000 of CIP were released for purchasing a building to house the Mediation Center of the Pacific.
• Homeless: The City's Managing Director, DFM, HPD, area legislators, and Chinatown merchants met to address the homelessness problem on River Street. Senate Bill (SB) 566 was introduced to establish the offense of unauthorized attachment of an object to a fence, gate, or wall, which is committed when a person knowingly attaches an object to a fence, gate, wall, or other structure or barrier without the owner's permission.
House Representative Daniel Holt - Representative Holt reported the following:
• Homelessness: Area legislators have been working with HPD and trying to get them the tools they need to address homelessness. Lee Stack was commended for all her work in the community. Lieutenant Governor Green has agreed to donate two power washers to the City.
• Legislation: Representative Holt has been working with Senator Rhoads on new legislation. House Bill (HB) 159 has been introduced to increase criminal penalties for anyone who knowingly keeps or maintains any structure or place for the purpose of using controlled substances or which is used for keeping or selling them in violation of controlled substance laws and to increase criminal penalties for those who knowingly profit from or advance gambling. HB 160 was introduced which enhances community noise control as regulated by county liquor commissions in counties with a population of seven hundred thousand or more by permitting the county liquor commission to issue fines to establishments that exceed certain decibel sound levels. HB 908 has been introduced to allocate and appropriate funds from transient accommodations tax revenues to the Hawaii Tourism Authority to implement initiatives, in conjunction with the Hawaii Lodging and Tourism Association, to address homelessness in tourist and resort areas.
• Chinese Societies: Representative Holt has been working to get a grant-in-aid for the United Chinese Society to renovate their building.
Questions, comments, and concerns followed:
1. Chinatown Funding: Shubert-Kwock stated that non-profit organizations in Chinatown need to be funded, including those which organize the hugely attended annual Chinese New Year Parade and Night in Chinatown.
2. New Legislation: McDonald raised concerns that new legislation needs to be proposed to provide HPD and other organizations with funds to address homelessness.
Congressman Ed Case - Chad Wolke from Congressman Ed Case's office distributed a newsletter and introduced himself to the Board and public.
APPROVAL OF THURSDAY 3 JANUARY 2019 REGULAR MEETING MINUTES - Moore moved and Mollring seconded to approve the Thursday 3 January 2018 regular meeting minutes. The motion was adopted by unanimous consent, 8-0-0 (Aye: Lye, Logue, McCarney, McDonald, Mollring, Moore, Shubert-Kwock, Tom; Nay: None; Abstain: None).
TREASURER'S REPORT - The Board retains a balance of $223.10.
Tom moved and McDonald seconded that the Downtown-Chinatown Neighborhood Board 13 purchase two NB 13 banners. The motion was adopted by majority vote, 7-1-0 (Aye: Caravalho, Logue, McCarney, McDonald, Mollring, Shubert-Kwock, Tom; Nay: Lye; Abstain: None).
ANNOUNCEMENTS
• Next Meeting - The next meeting of the Downtown-Chinatown Neighborhood Board No. 13 is scheduled for Thursday 7 March 2019 at Hawaii Pacific University, One Aloha Tower Drive, Multi-Purpose Room 2 at 6:00 p.m.
• Neighborhood Citizen Patrol - The Neighborhood Citizen Patrol meets each Tuesday on the Diamond Head side of Kukui Plaza at 8:00 p.m. Please join the patrol and support its efforts to express service and pride in our Downtown-Chinatown community.
• ' lelo - Rebroadcasts of Downtown-Chinatown Neighborhood Board 13 meetings are scheduled on ' lelo channel 49 for every third Thursday at 9:00 p.m., as well as 6:00 a.m. on the second and fourth Saturdays of each month. An archive of past meetings may be found on
http://olelo.org/olelonet/
and searching on .
ADJOURNMENT - Chair Shubert-Kwock adjourned the meeting at 8:40 p.m.
Submitted by: Harry Cho, Neighborhood Assistant
Reviewed by: Kevin Lye, Secretary, NB 13
Featured Product/Service
<!998Template_start>
<!998Template_end>
---
Please send questions about this website to