Community website by MBC/Ernest Abrams. Call 808-739-9797 for advertising/sponsorship.
First Friday Hawaii
News Item

Downtown-Chinatown Neighborhood Board Meeting November Agenda
With Permission / Courtesy of
: City and County of Honolulu Neighborhood Commission Office
<!#450IMAGESTART>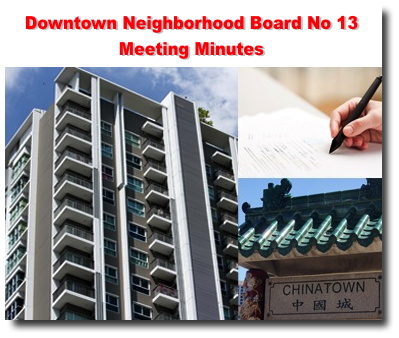 <!#450IMAGEEND>
REGULAR MEETING AGENDA

THURSDAY 1 NOVEMBER 2018HAWAII PACIFIC UNIVERSITYONE ALOHA TOWER DRIVEMULTI-PURPOSE ROOM 36:00 P.M.
Reminder of order and decorum: Persons wishing to speak on agenda items must raise their hand and, when recognized, address the Chair. Each member of the audience is entitled to speak once for up to two (2) minutes on any agenda item unless otherwise directed by the Chair. Board Members shall adhere to Board speaking limits.
The meeting is being recorded for broadcasting and viewing on 'Olelo. To insure that all verbal comments are audible for broadcasting, please speak into the designated microphone to enable the importance of the speaker's message to be recorded and heard at the broadcast and viewing of the meeting.
I. CALL TO ORDER
II. INTRODUCTION OF BOARD MEMBERS
III. PUBLIC SAFETY REPORTS
A. Honolulu Fire Department
B. Honolulu Police Department
C. Neighborhood Citizen's Patrol
D. Public Concerns - Two (2) minutes each for issues not on the Agenda)
IV. NEW BUSINESS
A. Filling of Vacancy - There is one (1) at large vacancy
B. Board of Water Supply (BWS) - Jane Pascual
C. 1192 Alakea Senior Housing - Dennis Silva
D. Neighborhood Board (NB) 13 Resolution supporting Bills 51 and 52 to clear sidewalks and lodging on sidewalks.
E. NB13 Resolution to request River of Life feeding to be transferred to new Kuwili Center when the
Kuwili Building becomes ready.
F. NB13 Resolution to request SafeHaven's Hygiene Center be moved to the Kuwili Building next year when the Kuwili Building is ready.
G. NB13 Resolution to require City to address the drug and homeless problems by the bus stop and surrounding area (triangle) in front of Walgreens.
H. Arts, Culture, Merchants, Etc. (ACME) - Art & Flea "HOLIDAZS SMALL BUSINESS
Street Closure on Nuuanu Avenue from Chaplain Lane to Hotel Street, Pauahi Street from Mark's Garage to Madre Chocolate, Saturday 22 December 2018, 8:30 a.m. to 4:30 p.m.
I; ACME - First Fridays, 7 December 2018, 4 January 2019, 1 February 2019, 7:30 p.m. to 11:00 p.m.
Community Block Party - Street closures on Hotel Street between Nuuanu Avenue and Smith Street.
J. Chinese Chamber of Commerce - Friday 1 February 2019 Chinatown Open House 5:00 p.m. to 10:00 p.m. rolling street closures from River Street to Bethel Street and from Beretania Street to Nimitz Highway.
K. Chinatown Merchants Association and Honolulu Chinese Jaycees Chinese Night in Chinatown Festival, food, craft booths, and stage performances from 9:00 a.m. to 9:00 p.m. Streets Closures on Beretania Street to Maunakea Street, between Beretania Street North King Street, Smith Street between Beretania Street and North King Street. Saturday 26 January 2019 or Saturday 2 February 2019.
L. Chinatown Merchants Association and Honolulu Chinese Jaycees - Asian Lunar New Year Parade starting at Richard Street/Hotel Street. Staging area is behind the State Capitol. Parade will proceed from Richard Street/Hotel Street along Hotel Street to River Street from 4:00 p.m. to 5:30 p.m. Saturday 26 January 2019 or Saturday 2 February 2019.
V. COMMUNITY CONCERNS - Three (3) minutes each
A. Hawaii Pacific University (HPU)
B. Safe Haven
C. Honolulu Authority for Rapid Transportation (HART)
D. Chinatown Business and Community Association (CBCA)
E. Arts, Culture, Merchants, Etc. (ACME)
F. Chinatown Improvement District (CID)
G. BikeShare - Todd Boulanger
H. Chinatown Watch - Fran Butera
I. Honolulu Arts and Culture - Kimo Wong/Miki Lee
VI. ELECTED OFFICIALS
A. City and County of Honolulu
1. Mayor Kirk Caldwell's Representative - Megan Muramatsu
2. City Councilmember - Carol Fukunaga
B. State
1. Governor David Ige's Representative ??? Laurel Johnston
2. State Senators and State Representatives
VII. APPROVAL OF THURSDAY 6 SEPTEMBER 2018 REGULAR MEETING MINUTES
VIII. BOARD BUSINESS AND REPORTS
A. Chair's Report
1. Liquor License Application and Street Closures.
2. Neighborhood Commission Updates
3. Office of Information Practices Report
B. Treasurer's Report
C. City and County Affairs
D. Oahu Metropolitan Planning Organization (OMPO)
IX. ANNOUNCEMENTS
A. The next regular meeting is scheduled for Thursday 6 December 2018, Hawaii Pacific University,
One Aloha Tower Drive, Multi-Purpose Room 3 at 6:00 p.m.
B. The Neighborhood Citizen's Patrol meets each Tuesday on the Diamond Head side of Kukui Plaza at
8:00 p.m. Please consider joining the patrol and supporting its efforts as they express their service and pride in our Downtown-Chinatown community.
C. Broadcast-Videotape of Board meetings are scheduled to be shown on the 3rd Thursday, and on the
2nd and 4th Saturday, Channel 49.
X. ADJOURNMENT
A mailing list is maintained for interested persons and agencies to receive this board's agenda and minutes. Additions, corrections, and deletions to the mailing list may be directed to the Neighborhood Commission Office (NCO) at Kapalama Hale, Suite 160, 925 Dillingham Boulevard, Honolulu, Hawaii 96817; Telephone (808) 768-3710 Fax (808) 768-3711; or call Neighborhood Assistant Sultan White at (808) 768-3714 or e-mail
Harry.Cho@honolulu.gov.
Agendas and minutes are also available on the internet at
www.honolulu.gov/nco
.
Any individual wishing to attend a Neighborhood Board meeting who has questions about accommodations for a physical disability or a special physical need should call the NCO at 768-3710 between 8:00 a.m. and 4:00 p.m. at least 24 hours before the scheduled meeting.
All written testimony must be received in the Neighborhood Commission Office 48 hours prior to the meeting. If within 48 hours, written and/or oral testimony may be submitted directly to the board at the meeting. If submitting written testimony, please note the board and agenda item(s) your testimony concerns. Send to: Neighborhood Commission Office, 925 Dillingham Boulevard, Suite, Honolulu, HI 96817. Fax: (808) 768-3711. Email:
nbtestimony@honolulu.gov.
Featured Product/Service
<!998Template_start>
<!998Template_end>
---
Please send questions about this website to