Community website by MBC/Ernest Abrams. Call 808-739-9797 for advertising/sponsorship.
First Friday Hawaii
News Item

Downtown-Chinatown Neighborhood Board Meeting June 2018 Minutes
With Permission / Courtesy of
: City and County of Honolulu Neighborhood Commission Office
<!#450IMAGESTART>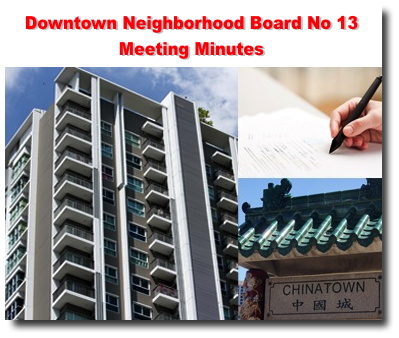 <!#450IMAGEEND>
REGULAR MEETING MINUTESTHURSDAY 7 JUNE 2018ONE ALOHA TOWER, MULTI PURPOSE ROOM 2
CALL TO ORDER - Chair Au called the meeting to order at 7:00 p.m. Quorum was established with seven (7) members present. Note: This nine (9)-member Board requires five (5) members to establish a quorum and to take official Board action.
Board Members Present - Alvin Au, Ernest Caravalho, Kevin Lye (departed at 8:10 p.m.), Lori McCarney, Dolores Mollring, Chu Lan Shubert-Kwock (departed at 8:55 p.m.), Robert Tom
Board Members Absent - Willis Moore, John Smiley
Guests - Captain Sean Arakaki (Honolulu Fire Department); Lieutenant Lee and Sergeant Chi (Honolulu Police Department); Megan Muramatsu (Mayor Kirk Caldwell's representative); Laurel Johnston (Governor David Ige's representative); Glen Young (Senator Karl Rhoads' Office); House Representative Daniel Holt; Roelle Torres (Councilmember Carol Fukunaga's Office) ; Pat Lee, John Moore, and Bill Brennan (Honolulu Authority for Rapid Transportation); Sam Moku (Hawaii Pacific University); Nicole Reid (Art's, Culture, Media, and Etc. (ACME)); Greg Payton (Safe Haven), Lori McCarney (BikeShare Hawaii); Connie Kwan and Kyler Carlson (SHADE); Gail Jennings, Rick Kenne, Liana Benn, Kalawai Goo, Ronald Louie, Lynell Yuu, Ronald Higa, Lee Stack (Residents); Harry Cho (Neighborhood Commission Office).
INTRODUCTION OF BOARD MEMBERS - The Board members introduced themselves. Chair Au reminded those present to speak into the microphone when addressing the Board.
PUBLIC SAFETY REPORTS
Honolulu Fire Department (HFD) - Captain Arakaki reported the following:
• May 2018 Statistics: There were 3 nuisance fires, 1 cooking fire, 12 activated alarms with no fire, 175 medical emergencies, 1 motor vehicle collisions with a pedestrian, 6 motor vehicle crash/collisions, 1 mountain rescue, and 2 hazardous materials incident.
• Safety Tip - Wild Land Fire Preparedness:
o Every year, wild land or brush fires can cause great damage in communities. By working together, residents can better protect their property and neighborhood from fires.
o Clear leaves and other vegetative debris from roofs, gutters, porches, and decks. This helps prevent embers from igniting a fire.
o Remove flammable materials such as dead vegetation and wood piles within 30 feet of your home.
o Keep your lawn hydrated and maintained. If your lawn is dry, cut it down to reduce fire intensity. Dry grass and shrubs are fuel for brush fires.
o Have a plan in place if you must evacuate.
Questions, comments, and concerns followed - Vehicle/Pedestrian Accident: Tom and McCarney requested information regarding a motor vehicle collision with a pedestrian.
Honolulu Police Department (HPD) - Lieutenant Lee reported the following:
• May 2018 Statistics: There were 12 motor vehicle thefts, 1 burglary, 63 thefts, 16 unauthorized entries into motor vehicles (UEMV), 22 assaults, 4 sex assaults, 9 drug incidents, and 2,419 total calls for service.
• Safety Tip - Disaster Preparedness Safety:
o Hurricane Season: Prepare to cover all windows and door openings with boards, shutters, or other shielding materials. Be aware of the structural limitations of your home. Reinforce your home against high winds.
o Tsunami: If in an evacuation zone, you must leave if ordered to do so. Do not tie up phone lines with non-emergency calls. Go inland or to a higher elevation as soon as possible.
o Be Prepared: Make an emergency plan and know escape routes and meeting places. Stock up on batteries, radios, flashlights, and first aid supplies. Prepare a survival kit for home use to take to a shelter. Learn the location of officially designated civil defense shelters.
Questions, comments, and concerns followed:
1. Sex Assault: Shubert-Kwock asked if there was a sex assault during last month's First Friday event. Sergeant Chi clarified that a sex assault did not occur.
2. Crime Increase: Tom stated that he noticed crime rates from the previous month's report are increasing.
Neighborhood Citizens Patrol - Mollring reported that the neighborhood citizen's patrol has been taking photographs, making notice of any concerns, and reporting the concerns to each department. A few days of patrol were missed due to the rain.
Public Concerns - There were no concerns.
NEW BUSINESS
Renovation and Restoration of the Historic Wo Fat Building - Dean Sakamoto reported the following:
• Mighty Wo Fat LLC: This is group of Hawaii and U.S. mainland-based investors who recognize the potential of the former Wo Fat Chop Suey House building in particular as a renewed nexus of commercial and cultural activity in the heart of Honolulu's historic Chinatown.
• The Mighty Union: The operator is The Mighty Union which does hotels, restaurants, bars, and any other projects that affords them the opportunity to create conditions for quality, conviviality, and play.
• Design Team: The design team will include Clayton & Little Architects, Dean Sakamoto Architects LLC, and SHADE.
??? Project Overview:
o Preservation and Adaptive Reuse Project
o Close to future rail station
o Ground floor will include a restaurant/bar, retail, reception, and lobby
o Second (2nd) and third (3rd) floors will include guestrooms, 23 total
o Roof will include equipment room and a possible bar
Questions, comments, and concerns followed:
1. Drop Off: Tom asked where the pick-up and drop-off will location will be. Sakamoto stated that all services will be at the alley on Maunakea Street. An easement needs to be worked out with the owners of 1036 Maunakea Street Building next door.
2. Restaurant: Chair Au stated that there is a need for a large capacity restaurant (banquet hall) in Chinatown. Now that Empress Restaurant is closed, the Chinese community is looking for a large event space which can hold over 300 people.
3. Economic Goals: Lye asked what the economic goals were. Sakamoto stated that with only 23 hotel rooms, there will be economic pressure on the bar/restaurant to produce revenue. The overall project budget will be around $10 million.
4. Chinese Chamber of Commerce (CCCH): Chair Au stated that there is a Chinese Chamber of Commerce (CCCH), and encouraged engaging with them. They can give good business ideas and suggest how to make a successful restaurant in Chinatown. Renewing the Wo Fat building is a refreshing idea and the Chinese community wants a positive improvement at that location.
5. Investors: Shubert-Kwock asked who the local investors were. Sakamoto stated that June Jones is the lead local investor.
6. Community Impact: Caravalho asked what impact neighbors will have with noise and how this will help with homelessness. Sakamoto stated that he agrees that noise in the late evening will be a problem for area residents. They will need to factor for that. Regarding the homeless issue, this project will not directly address it. However, indirectly it will help this problem by bringing positive economic activity to the area.
After Action Review of Street Closure for First Friday Mural Installation - Nicole Reid reported that beer and wine was not sold during the Friday 1 June 2018 First Friday event. Beer and wine were served during the Friday, May 4, 2018 First Friday event. During both months, the event began at 8:00 p.m. Live music was held between 8:30 p.m. and 10:00 p.m. Four (4) portable toilets were on site from 8:00 p.m. to 2:00 a.m. HPD special duty officers were present from 7:30 p.m. to 2:00 a.m. There were no incidents during the duration of the event. Approximately 300 guests were present. Cleaning and removal of the portable toilets occurred at 2:15 a.m.
Questions, comments, and concerns followed:
1. Liquor Sales: Shubert-Kwock stated that First Friday events never used to sell alcohol, but now does.
2. Buses: Shubert-Kwock stated that public buses should return to normal operations at an earlier time to accommodate the public. Reid stated that attendants were at public bus stops to relocate and notify public transportation users. McCarney stated that Hotel Street should not be used as a bus mall and rather be used for pedestrians. A community member/business owner in Chinatown stated that buses are re-routed to ensure pedestrian safety and agreed that buses should be removed from Hotel Street.
Discussion on Mayor Kirk Caldwell's Veto of City Council Bill 82, Removal of Chinatown Bulb-Outs:
• Opposition: A community member stated that the community was not involved in the discussion with the addition of bulb-outs in Chinatown.
• Support: Shubert-Kwock stated that the community should support Bill 82.
• Pedestrian Safety: McCarney stated that sidewalk extensions have positive impact on pedestrian foot traffic.
• Community Influence: Chair Au stated that he asked the City why the community was not involved with the discussion regarding the initial installation of bulb-outs. However, there is a lot more that needs to be discussed before supporting or opposing these bulb-outs.
• Petition: Caravalho stated that there was a petition from the Chinatown community that opposed the bulb-outs.
Lye departed the meeting at 8:10 p.m. Six (6) Board members present.
Shubert-Kwock MOVED and Caravalho SECONDED the motion that the Chinatown/Downtown Neighborhood Board No.13 support Bill 82. The motion was NOT ADOPTED, 4-2-0. (Aye: Caravalho, Mollring, Shubert-Kwock, Tom; Nay: Au, McCarney; Abstain: None).
COMMUNITY CONCERNS
Hawaii Pacific University (HPU) - No report was given.
Safe Haven - Greg Payton reported that in May 2018 there were four (4) Safe Haven discharges/intakes, five (5) activity center and pathways placements, and one (1) return to mainland. MHK has received the 90 day contract to start affordable homeless housing for Waikiki. MKH is working with the City and County of Honolulu to occupy the building low income and homeless adults. The long-term contract is out for procurement now and the provider of the long-term contract will be decided by the City by July 2018. MHK received a contract award for a new homeless outreach worker by the Department of Health (DOH) Adult Mental Health Division. Please contact Ema Bell at 808-859-0538 with any issues in the Chinatown/Downtown area.
Honolulu Authority for Rapid Transportation (HART) - John Moore, HART East Area Construction Manager, provided a short update on the City Center Advance Utility work that was recently awarded to NAN, Inc. on Thursday 31 May 2018. This work is from the Middle Street station in Kalihi to the Ala Moana station, a little over four (4) miles in length and would traverse the Downtown/Chinatown area. NAN has received the contract for the advanced utility work as a an ID/IQ, indefinite delivery/indefinite quantity "task order" contract which will allow HART to control when and where the work is done. This would assist area businesses by planning work around their schedules and busiest times. This work is being performed ahead of the City Center Guide way and Stations (CCGS) contract, to relocate utilities in advance of the construction of the rail columns, guide way structure, and eight (8) rail stations that will come later when a contract is awarded for that work.
Chinatown Business and Community Association (CBCA) - Shubert-Kwock reported that the CBCA's monthly meeting was on Tuesday, May 8, 2018, 9:00 a.m. at Won Kee Restaurant. The Mayor's veto regarding Bill 82 was discussed. CBCA also worked with HPD on the urgent care clinics assisting the director to find spaces for respite care. The Urgent Care clinic is a needed resource center for all who need help whether it is rehousing, mental health assistance, job training, or drug rehab. There was a First Friday block party street shut down from 7:30 to 2:00 a.m. to allow area bars to stage. Community members do not believe bar owners should continue to use block parties to promote their business and believe the City needs to show it cares by committing to keeping the sidewalks and parks clean. The next CBCA meeting will be on Tuesday 12 June 2018, 9:00 a.m. at Won Kee Restaurant. The Director of the Urgent Care Help Center was invited for a briefing.
Arts Cultural Merchants Etc. (ACME) - No report was given
Chinatown Improvement District (CID) - Lee Stack reported that there are new planters along Hotel Street. Thursday, July 7, 2018 will be a tour with the Hawaiian Heritage Center of different buildings in the Chinatown area. A grant was received for a graffiti project and testing of products will be conducted.
Biki - BikeShare Chief Executive Office (CEO) Lori McCarney reported that the station along River Street will be moved to College Walk during the expansion which will be held in Summer 2018 or early Fall 2018. A handout of the organizational structure of Biki and BikeShare Hawaii was given to the Board.
Questions, comments, and concerns followed:
1. Registration: Caravalho asked if the bikes are registered. McCarney stated that all bikes are registered with the City.
2. Pedestrian Safety: Tom stated that he is concerned with pedestrian safety due to bicyclists riding along the sidewalks.
ELECTED OFFICIALS
Mayor Kirk Caldwell's representative - Megan Muramatsu reported the following:
• Follow Up:
o Pedestrian Crossing Signal: Department of Transportation Services (DTS) responded that they checked the pedestrian signal at Bishop Street and Adams Lane and found it working. The pedestrian signal at South Beretania Street and Smith Street has been repaired.
o Sidewalk at Little Village Noodle House: Department of Facility Maintenance (DFM) responded that they have received a sidewalk work request from the Department of Planning and Permitting (DPP) and will schedule repairs after permits and authorizations have been obtained. Due to its location within the Special Chinatown District, the sidewalk repairs will need to be reviewed and approved for construction so that the appearance matches the surrounding area. In the interim, patches will be performed to address possible trip hazards.
o Pavers at Fort Street Mall: DFM stated that they are working with Department of Parks and Recreation (DPR) on identifying the damaged sidewalk paver locations and determining the cause of the damages. Upon completion of DPR's assessment of the sidewalk paver repairs needed, DFM will schedule the necessary repairs as resources are available.
o Street Wells on South King Street: DPR stated that crews of the Division of Urban Forestry (DUF), DPR, performed work to level tree wells along the mauka side of North and South King Streets and continue their efforts to level tree wells throughout the Downtown area, as necessary.
o Smith-Beretania Park Hours: DPR stated that the contractor has been instructed to close no sooner than 7:00 p.m. and the maintenance section will open the park as close to 7:00 a.m. as possible. However, there may be occasions when it is not possible for the park gate to be opened by 7:00 a.m., due to the roving crew being required to address an emergency maintenance issue or other types of problems at another park.
Questions, comments, and concerns followed - Fire Escape: The owner of Sin Lounge stated that he noticed other businesses being allowed to use Smith-Beretania Park as a fire escape while some businesses are not allowed access.
Councilmember Carol Fukunaga - Roelle Torres distributed a newsletter to the Board and public and was available to hear concerns.
Governor David Ige's representative - Director of Department of Budget and Finance Laurel Johnston reported that
Governor Ige has released funds for the flooding on Kauai and the volcanic eruption on the Big Island for immediate disaster assistance. A report regarding the Statewide 2018 Point in Time Count was distributed to the Board and public.
Senator Karl Rhoads - Glen Young reported the following:
• Capital Improvement Project (CIP) Funds: $586,500 was released for improvements, repairs, and maintenance of Washington Place. The Governor no longer resides there. It is now a historic building primarily used for ceremonial occasions. $300,000 was released for construction of a new visitor and education center at the Hawaii Heritage Center.
• Bike Lanes: Following up on the concerns to the State Department of Transportation (HDOT) concerning the unsightly jersey barriers and the loose gravel in the bike lanes along Nimitz Highway. DOT responded that the matter is being investigated and has been assigned a tracking number. Senator Rhoads will update the Board of any future developments.
• Drug Activity: Regarding the complaint about possible illegal drug activity occurring in a River Street apartment, HPD responded that they investigated the matter but could not find any illegal activity. HPD will continue to monitor the area.
Shubert-Kwock departed the meeting at 8:55 p.m. Five (5) Board members present.
Representative Daniel Holt - Representative Holt reported the following:
• University of Hawaii (UH) Promise Program: The UH Promise Program alleviates some of the burden of finishing college with a large amount of student loan debt by providing scholarships for the unmet direct cost needs of qualified students enrolled at any community college campus of the UH system. House Bill (HB) 2501 also appropriates $700,000 to establish and implement this program for the upcoming year.
• Affordable Housing: $570 million was awarded for affordable housing, which will help create over 25,000 new affordable units.
• Project Funds: Significant project funds include $3,200,000 for McKinley High School Stadium improvements and $400,000 to upgrade their bell system, $150,000 to Aloha Medical Mission for the construction of a new dental clinic, and $200,000 to Kalihi Palama Health Center for new facilities for women???s and children's programs.
• Chinatown Family Fair: The event will take place on Saturday 9 June 2018 at the Smith-Beretania Park from 10:00 a.m. to 3:30 p.m.
APPROVAL OF THURSDAY 5 APRIL 2018 REGULAR MEETING MINUTES - As there were no objections, the Thursday 3 May 2018 regular meeting minutes were APPROVED by UNANIMOUS CONSENT, 5-0-0. (Aye: Au, Caravalho, McCarney, Mollring, Tom; Nay: None; Abstain: None).
BOARD BUSINESS AND REPORTS
Treasurer's Report - No report was given.
ANNOUNCEMENTS
Next Meeting - The next meeting of the Downtown-Chinatown Neighborhood Board 13 is scheduled for Thursday 5 July 2018 at Hawaii Pacific University, One Aloha Tower Drive, Multi-Purpose Room 2 at 7:00 p.m.
Neighborhood Citizen Patrol - The Neighborhood Citizen Patrol meets each Tuesday on the Diamond Head side of Kukui Plaza at 8:00 p.m. Please join the patrol and support its efforts to express service and pride in our Downtown-Chinatown community.
Ô lelo - Rebroadcasts of Downtown-Chinatown Neighborhood Board 13 meetings are scheduled on Ô lelo channel 49 for every third Thursday at 9:00 p.m., as well as 6:00 a.m. on the second and fourth Saturdays of each month. An archive of past meetings may be found on
http://olelo.org/olelonet/
and searching on .
ADJOURNMENT - Chair Au adjourned the meeting at 9:05 p.m.
Submitted by: Harry Cho, Neighborhood Assistant
Reviewed by: K. Russell Ho, Neighborhood Assistant and Kevin Lye, Secretary, Downtown-Chinatown Neighborhood Board 13
Featured Product/Service
<!998Template_start>
<!998Template_end>
---
Please send questions about this website to