Community website by MBC/Ernest Abrams. Call 808-739-9797 for advertising/sponsorship.
First Friday Hawaii
News Item

The 47th Annual Association Of Hawaii Artist (AHA) Contemporary Show 2018
<!******* 1 TAB NAVIGATION START******>
Back to the top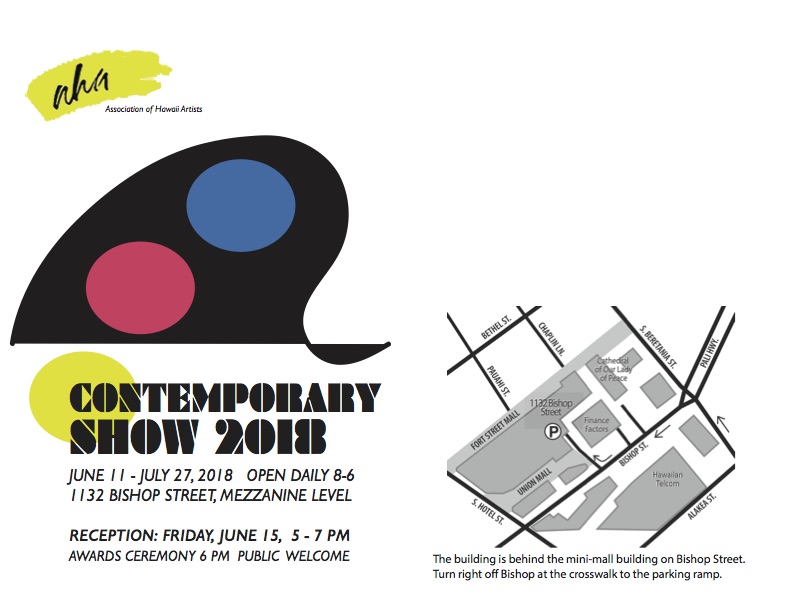 <!#43START>
Name of Show: THE 47TH ANNUAL ASSOCIATION OF HAWAII ARTIST CONTEMPORARY SHOW 2018
Show dates/times: June 11 to July 27, 2018, 8 a.m. to 6 p.m. M-F. Closed on the weekends.
Location: 1132 Bishop Street, Lobby Level, Honolulu, Hawai'i, 96813
Artwork on display: All original Jurored 2D and 3D pieces in all media from the members of Association of Hawaii Artist. All artwork will be for sale.
Opening Reception:June 15, 2018, 5-7 p.m.; public invited; refreshments served; The parking garage is located beneath the street. The driveway ramp is mid-block by the
pedestrian crosswalk, just before building on the Ewa side of Bishop Street going south; there is a flashing light and sign. The building closes on Saturday at 2 pm.
Curator/Show Chair: Suzanne Barnes, VP/ show chair of Association of Hawaii Artist Associationhawaiiartists.com
Juror: Gregory Pai, PSA, O'ahu art instructor and juror, signature member of the Pastel Society of America.
Greg is represented at Manoa Gallery in Manoa Valley; see his work at www.gregorypai.com
<!#43END>
<!******* 2 TAB NAVIGATION START******>
Back to the top
ABOUT THE ASSOCIATION OF HAWAII ARTIST

<!#4444>
ABOUT US ASSOCIATION OF HAWAII ARTISTS
The Association of Honolulu Artists was established in 1926. The Honolulu Art Academy did not exist at that time. With the exception of the Bishop Museum, there was no focal point for the arts. That year a small group of friends eager for cultural exchange gathered to discuss the arts and establish themselves as a membership organization devoted to the support and promotion of the growing arts community. This core group came to be known as "The Association of Honolulu Artists".

By the 1930's, the population of Honolulu had grown to a city of over 200,000 residents and the new prestigious Art Academy was visited by almost 50,000 people. AHA was gaining recognition and news coverage on their regularly held art exhibits. Gathering momentum, the periodic art shows that they sponsored grew more frequent and much broader in scope throughout the next few decades. Cash awards for first place winners were replaced with war bonds during the turbulent war years.

Celebrating its 88th Anniversary in 2014, AHA is not only the oldest but also the most diverse art organization in Hawaii. It has had an enormous impact on the public's enthusiasm and appreciation for the arts. The name was changed from the Association of Honolulu Artists to the Association of Hawaii Artists in order to encompass all islands in the State of Hawaii. After almost eight decades, we are still a vibrant art force in Hawaii. We promote the multimedia arts and its artists members and we build on a foundation where artists of all media can come together for comradeship, education, showmanship, and moral support. We encourage the expression of our diverse cultural heritage and explore themes that reflect the islands' current issues. We have two jury shows every year along with additional exhibitions that are hosted with the city and the business community. We work to promote art education and growth through AHA's educational programs, scholarships, workshops and group demonstrations.
Hawaii has a high percentage of the population that characterizes themselves as practicing Artists. Some artist members are professional artists, others practice art as an avocation and serious interest, and some are beginning artists and students. We are accessible. We encourage work in all media and of all interested artists. We enthusiastically invite you to join AHA whether you are an artist or a patron.
MEMBERSHIP
Please join us!
Download and print out a copy of the membership form. Mail it back to:
The Association of Hawaii Artists
PO Box 10202
Honolulu, Hawaii 96816-0202

After we receive your Membership Form and payment, you will receive E-bulletins/e-mails (please include your e-mail address on the Membership Form) with the latest AHA news, art news, links to AHA prospectuses, news on members, call-to-artists, member's exhibits, and other upcoming exhibits.
We have at least two major juried exhibits each year--one in the Spring or Summer and another in the Fall. Members may also enter our non-juried exhibits at the Honolulu Country Club (HCC). These shows and prospectuses will be announced to members through E-bulletins and on the AHA website. Check our calendar of events and come back often to see what else might be new.
Upon your request, we will link member's website addresses on our AHA website, "Members Websites" page. Please include your request on your application or e-mail your request to us.
We encourage members to volunteer and participate in our exhibits.
If interested in our By-laws please click.
Meet the Board Members. We will be happy to answer all your questions.
<!#4444>
Featured Product/Service
<!998Template_start>
<!998Template_end>
---
Please send questions about this website to