Community website by MBC/Ernest Abrams. Call 808-739-9797 for advertising/sponsorship.
First Friday Hawaii
News Item

The ARTS at Marks Garage - NOVEMBER 2017 Update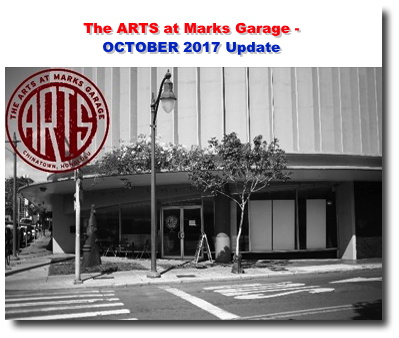 <!#43START>
The ARTS at Marks Garage - NOVEMBER 2017 Update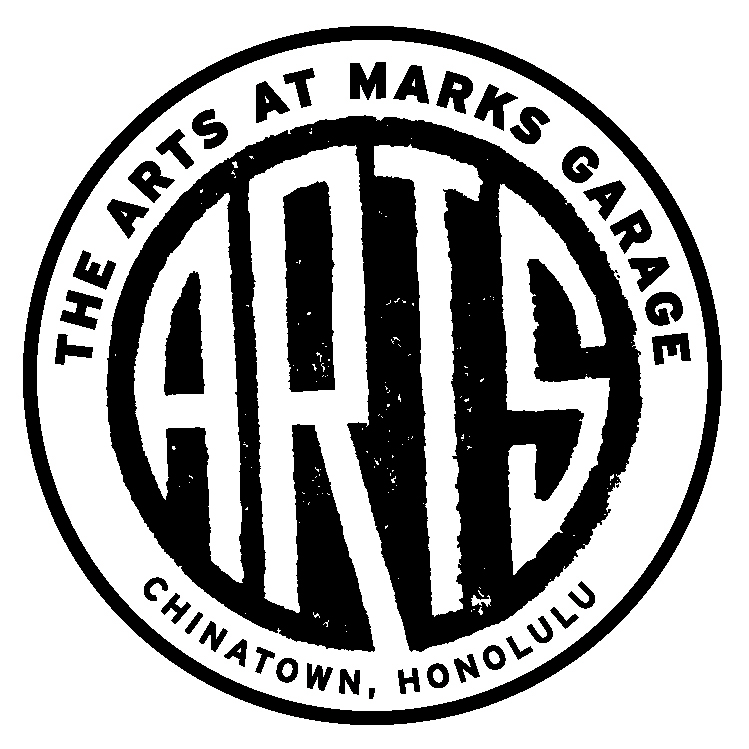 The ARTS at Marks Garage
November 2017
1159 Nu'uanu Avenue *Honolulu, Hawai'i 96817
808.521.2903
Gallery Hours:Tuesday through Saturday12pm - 5pm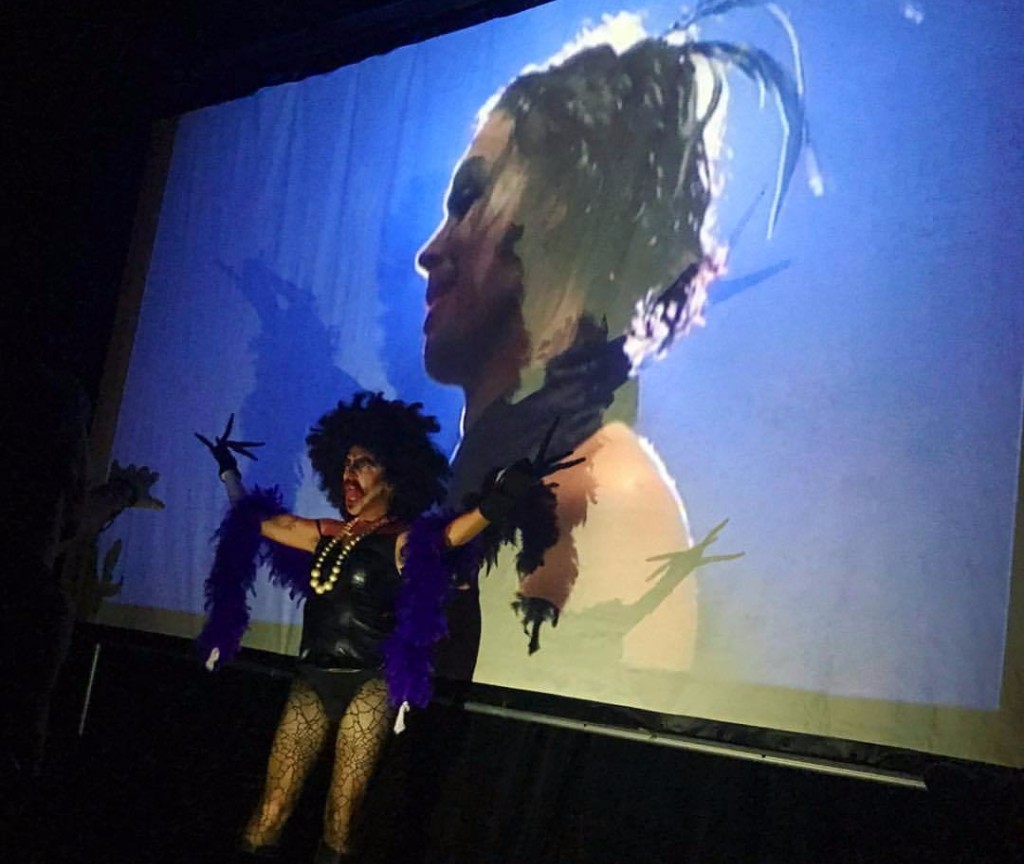 Photo by Miss Catwings
Let's Do The Timewarp Again!
I proudly confess that I am a Rocky Horror veteran. That film helped me find myself and my tribe in the 80's, and I'm so happy to be a part of bringing all of the fabulous music, silliness, decadence, liberation and joy encompassed in it to Chinatown once again this year. We're loving our Rocky Horror experience in the exceptional care of our Franken-host this year, the A-MAZ-ING Tita Titsling! And frankly, isn't The ARTS at Marks Garage exactly where this party should be? Our run is almost over -- we just have one more show on Halloween night. We're currently sold out, but we will sell standing room only tickets if you'd like to come down and join in the fun. The doors open at7PMand the movie starts at 8PM.
Please check out these amazing artistic experiences and join us in welcoming our newest partners, Groovestar Productions and AltruVistas! Together, we're assuring that The ARTS at Marks Garage remains one of the most vital, dynamic and AWE-FREAKING-SOME art centers in the Pacific
Donna Blanchard
Consulting Director, The ARTS at Marks Garage
Managing Director, Kumu Kahua Theatre
Host, Backstage with Donna Blanchard
kumkahuadirector@gmail.com
The ARTS at Marks Garage
Awarded Best Art Gallery 2017!
We are honored to be awarded "Best Art Gallery" in the first annual "Best of hiChinatown" Awards! Thank you for voting! You can find The ARTS and this year's other winners athttp://hichinatown.com.
NOVEMBEREXHIBIT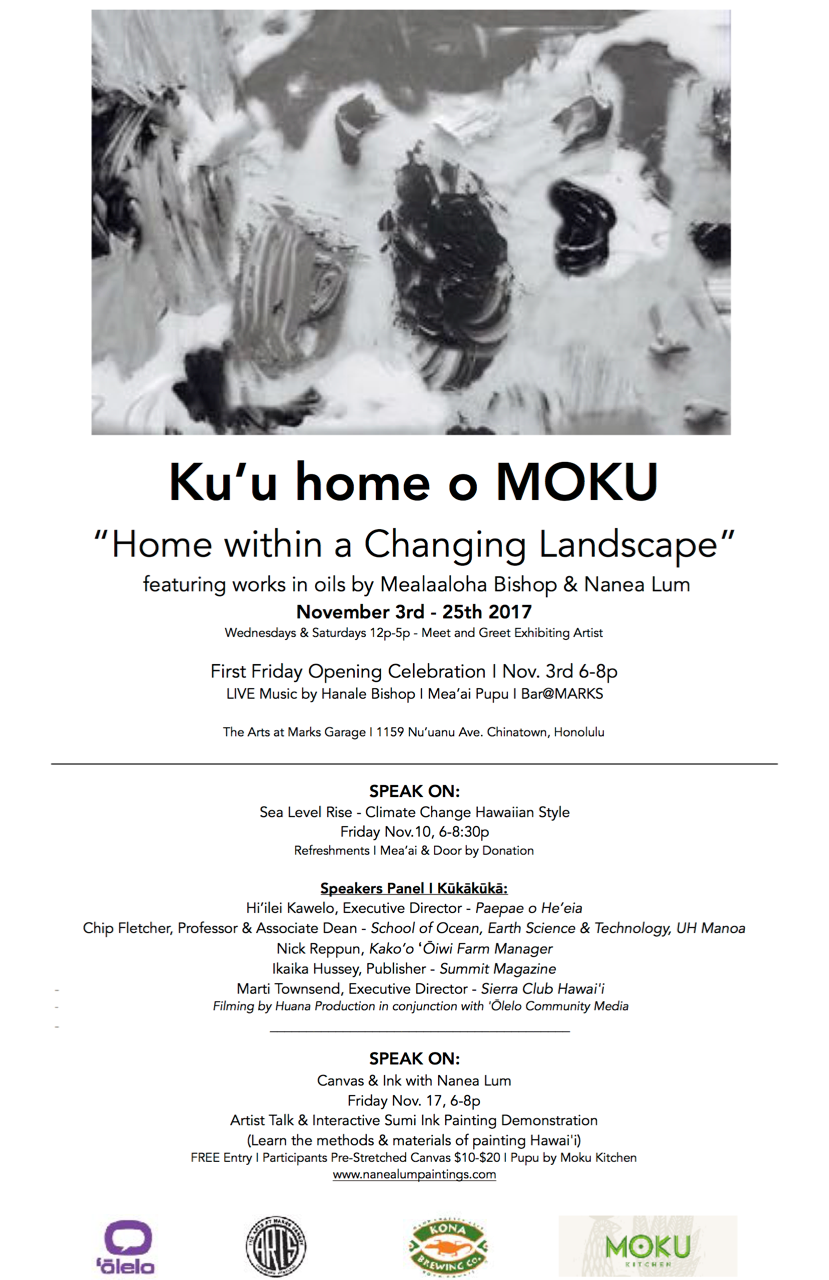 Ku'u Home o MOKU: "Home with a Changing Landscape"
Featuring works in oils by Mealaaloha Bishop & Nanea Lum
November 3 - 25
Exploring the ideas, realities and stories of climate change. The future of island communities through visual works created by two native Hawaiian contemporary wahine artists. Disappearing landscapes reaches outward, back to land, back to the people and communities of O'ahu and Ko'olaupoko.
SHOWS & EVENTS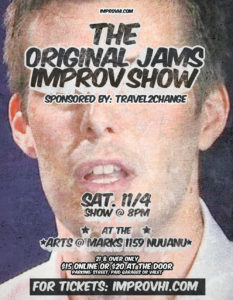 The OJams Improv Show
November 4, 8 PM
We are excited to announce the opening (and sadly the closing) of Travel2Change: The Musical! We are putting the spotlight on fellow Arts at Marks partners Travel2Change and their founder Dr. Thomas Kohler. Join us for a night of major LOLs! We promise you've never seen a show like THIS before...
Tickets: $15 online or $20 at the door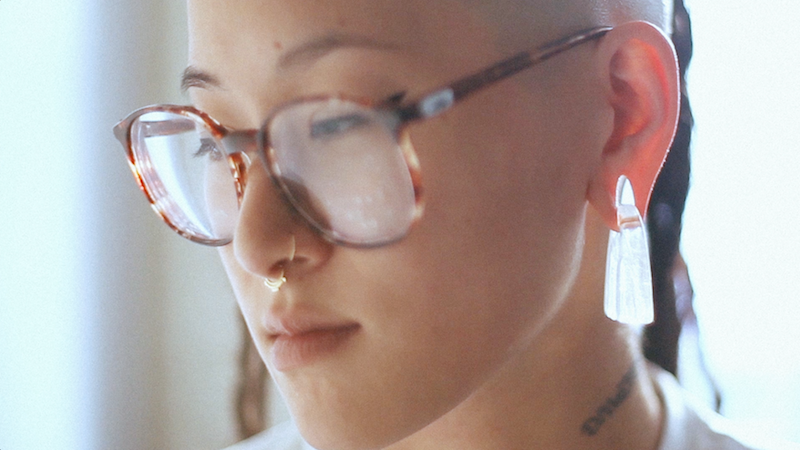 "U" at HIFF
Lala Openi
November 4, 8 PM
Chinatown Artist Lofter Lala Openi's most recent film, titled: "U", is screening at Hawaii International Film Festival NOV 4th 2017!
#FilmAboutU makes its debut in Hawai'i nei at #HIFF37 alongside other talented 'āina-based filmmakers in a juried competition for @hiffhawaii's #MadeInHawaii program!
Through spoken word, we follow Openi -- an introverted, introspective, Chinese-diasporic queer on the cusp of a solar return -- as they reflect on the nuances and intricacies of the relationship between their lover and themself. This autobiographical self-portrait explores themes of lust, idealism, non-attachment, and the notion of the meeting of soul-mates as both an intensely gratifying and autodidactic experience. This film was written, produced, performed, and executed by QTPOC, API and POC cast and crew in Honolulu, HI.
MORE INFO: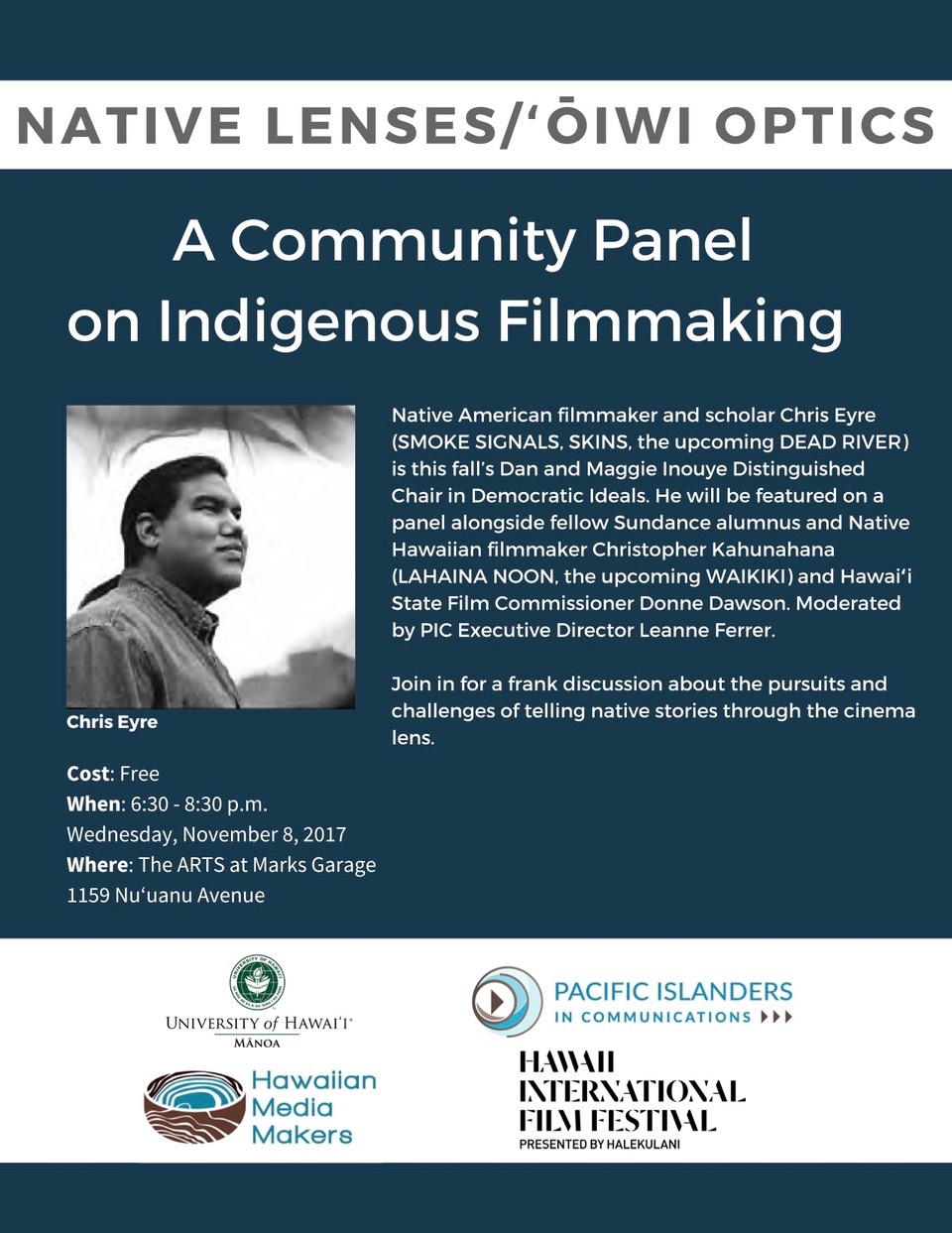 A Community Panel on Indigenous Filmmaking
November 8, 8:30PM
Native American filmmaker and scholar Chris Eyre
(SMOKE SIGNALS, SKINS, the upcoming DEAD RIVER) is this fall's Dan and Maggie Inouye Chair in Democratic Ideals. He will be featured on a panel alongside fellow Sundance alumnus and Native Hawaiian filmmaker Christopher Kahunahana
(LAHAINA NOON, the upcoming WAIKIKI) and Hawaiʻi
State Film Commissioner Donne Dawson. Moderated by PIC Executive Director Leanne Ferrer.
Join in for a frank discussion about the pursuits and challenges of telling native stories through the cinema lens.
Hawaii International Film Festival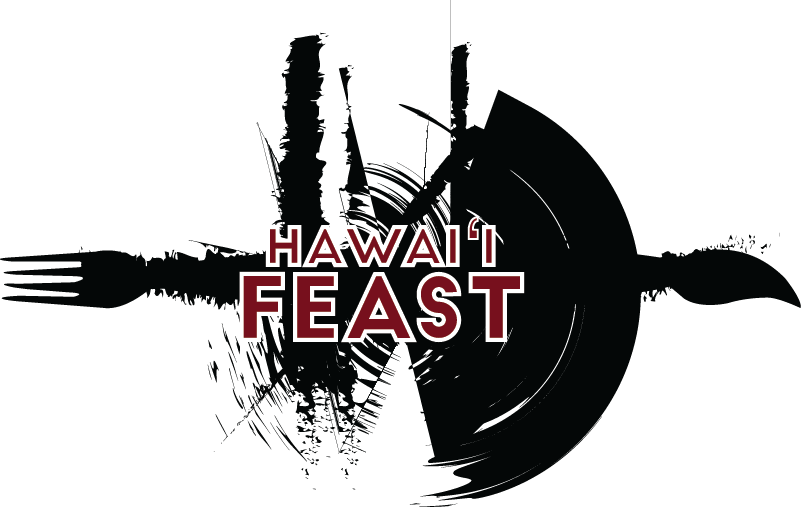 Hawaii FEAST
November 8, 6-8 PM
Attend FEAST and support local artists!
FEAST (Funding Emerging Art with Sustainable Tactics) is a public soirée that uses community-driven financial support to democratically fund new and emerging art makers. FEAST attendees will pay to attend a reception catered by The Nook Neighborhood Bistro, and a portion of that payment will be set aside as a prize. While attendees eat, mingle, and imbibe, four artists will showcase their work and explain their proposed public art project. After the four presenters are finished, attendees vote on which artist's project they wish to award the prize. Support the artists by joining us!
Cost: Pre-sale $20 / at the door $25
There are only 100 tickets available for this event - buy early!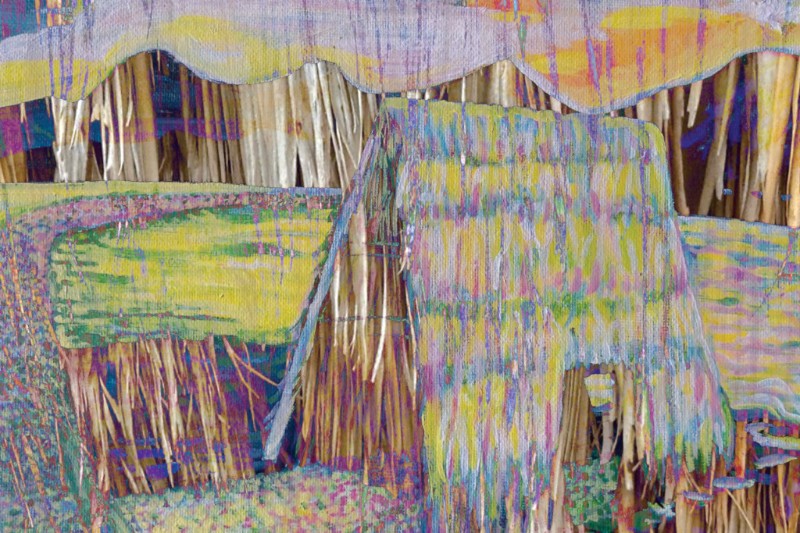 SPEAK ON: Sea Levels Rise - Climate Change Hawaiian Style
November 10, 6-8:30 PM
This event welcomes community to an open, honest and rich discussion about the next steps in facing the realities of climate change rooted in island culture, people, place and indigenous value systems in the 21st century with the goal of resilent outcomes.
Speakers Panel I Kūkākūkā:
- Hi'ilei Kawelo, Executive Director - Paepae o He'eia
- Chip Fletcher, Professor & Associate Dean - School of Ocean, Earth Science & Technology, UH Manoa
- Nick Reppun, Kako'o ʻŌiwi Farm Manager
- Ikaika Hussey, Publisher - Summit Magazine
- Marti Townsend, Executive Director - Sierra Club Hawai'i
Filming by Huana Production in conjunction with 'Ōlelo Community Media
SPEAK ON: Canvas & Ink with Nanea Lum
November 17, 6-8 PM
Artist Talk and Interactive Sumi ink Painting Demonstration (Learn the methods & materials of painting Hawaii)
Free entry | Participants Pre-Stretched Canvas $10-20 | Pupu by Moku Kitchen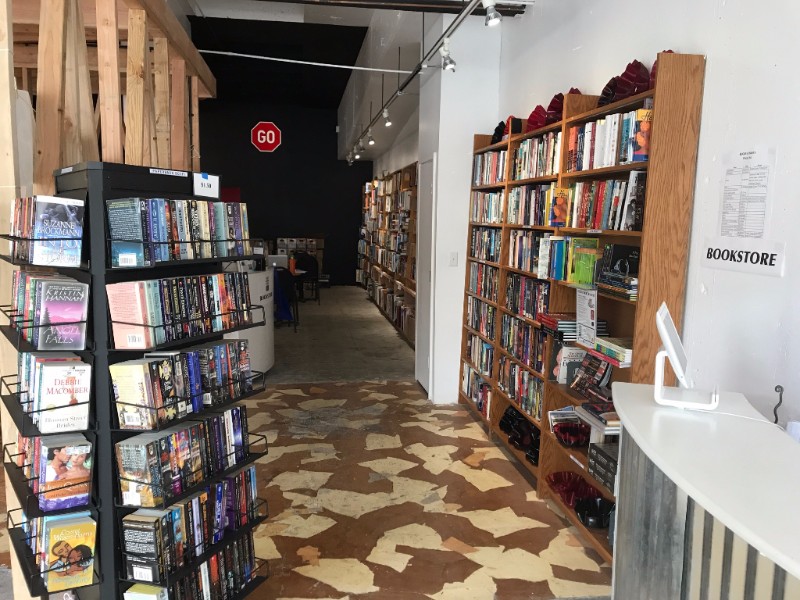 Books at Marks
Friends of the Library
Open Tue-Sat 12-5 PM, and until 10 PM on First Fridays
There's a BOOKSTORE in Downtown! Books at Marks, a bookstore by Friends of the Library of Hawai'i, opened on April 4th in The ARTS at Marks Garage and will be a continuing fixture in the newly renovated space.
[if (gte mso 9)|(IE)]> </td> <td align="center" valign="top" style="width:298px;" width="298"> <![endif]
FIRST FRIDAY
October 6, 6PM - 10PM
Join us for November First Friday Opening pARTy of Ku'u Home o MOKU "Home within a Changing Landscape"
Featuring works in oils by Mealaaloha Bishop & Nanea Lum with live Music by Hanale Bishop and pupu by Mea'ai.
Bar@MARKS The BAR@MARKS in full swing servingKona Brewing Co., a selection of Andis Wine, and signature cocktails.
Books@Marks by The Friends of the Library will be open until 10PM.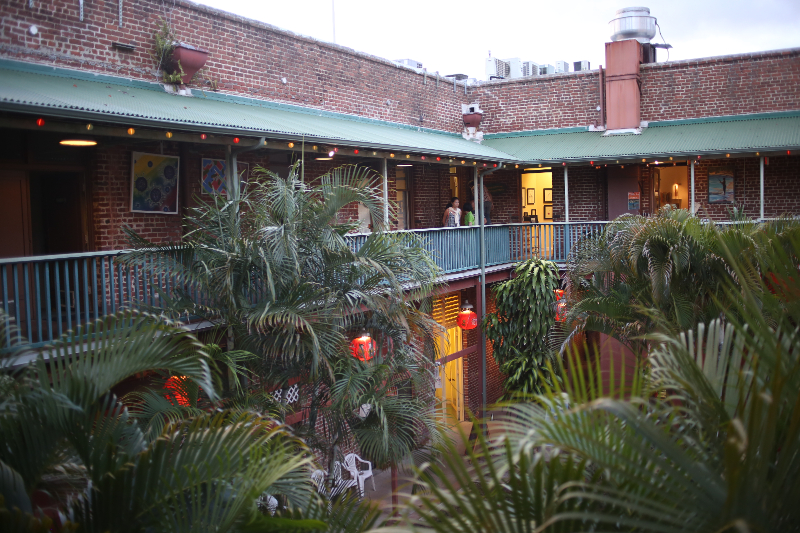 Open House @ The Lofts
Chinatown Artist Lofts
October 6, 6-9 PM
Live music, performances, and open houses throughout the night.
WORKSHOPS & CLASSES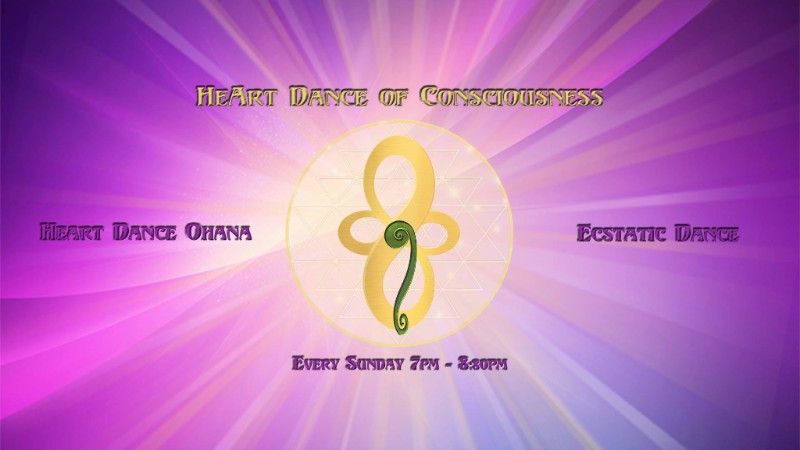 Ecstatic Dance
HeArt Dance ofConsciousness,Deep Healing Arts of Consciousness Dance
Every Sunday, 6:30 -9:30 PM
Admission $15
HeArt Dance of Consciousness is excited to open its home for HeArt Dance Ohana, Ecstatic Dance. Let's celebrate, create, connect to our authentic Self, our awakened Self. See You on the dance floor!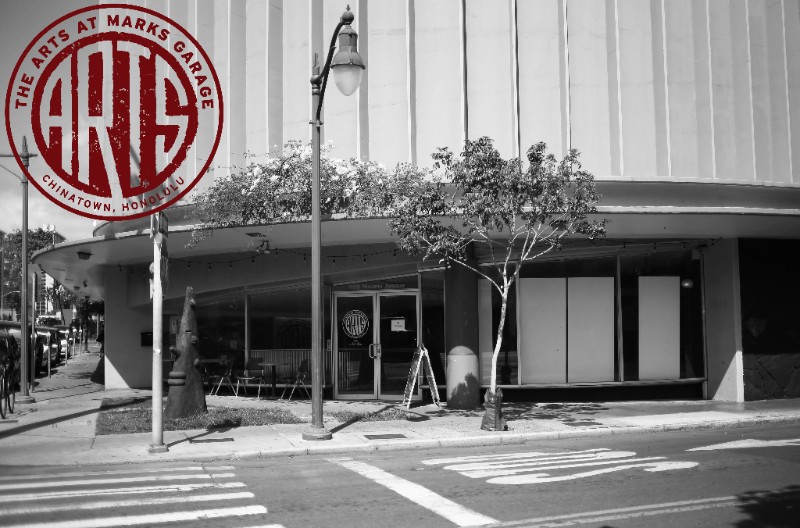 Intermediate Ensemble Acting Class
Eden Lee Murray
Mondays, 4-6 PM,Cost per semester: $350, scholarships available
A program designed for O`ahu students age 12-15. This acting program is designed for students who have had some theatre experience and are interested in learning more about performance technique. Led by award-winning director/actor/artist-educator Eden Lee Murray, the class includes theatre games, improvisation, as well as an introduction to techniques for character creation and text analysis, whether for audition monologues or short scenes. Classes take place September through April. No audition is required. Those interested should call 384-2157.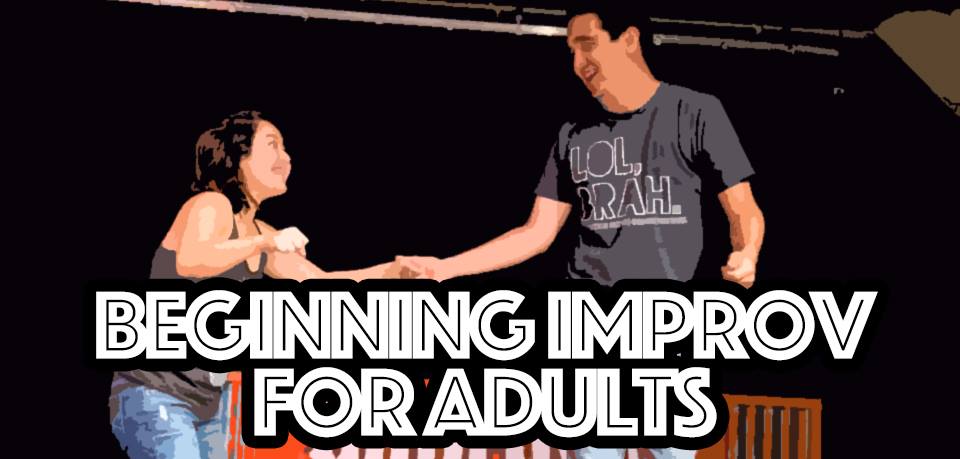 Beginning Improv Classes for Adults
improvHI
Mondays, 6:30 PM, $50 for 4 classes*
Whether you're wanting to break out of your shell, work on your public speaking skills or just want to get your brain a sweatin'...this class will guide you to thinking on your feet and outside of the box through short form improv games and warm ups. GREAT for groups, entrepreneurs, performers, dog walkers and anyone else that likes to have a good time. No experience required. Also good for seasoned improvisers looking to brush up on their skills and play with new peeps!
Sorry, no drop ins. *payment plans available.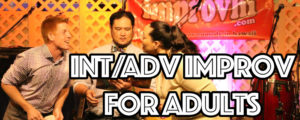 Int/Adv Improv Classes for Adults
improvHI
Mondays, 7:30 PM, $75 for 4 classes
This intermediate/advanced level class allows students to practice the essentials of long-form improv comedy. Students will learn to build scenes by "yes, and"-ing, activate their listening, support their scene partners and to play in the reality to create fun and comedic improvised scenes with the opportunity to perform in an improv show at the end of the session. Some improv experience is suggested. Limited Space.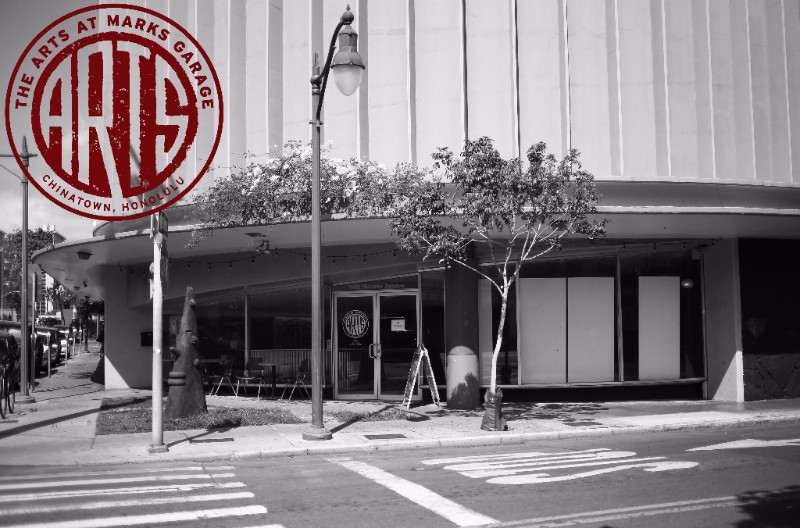 Junior Ensemble Acting Class
Eden Lee Murray
Tuesdays, 4-5:30 PM,Cost per semester: $250, scholarships available
A class designed for students 6th -- 8th grades. This introductory acting program is led by award-winning director/actor/artist-educator Eden Lee Murray and includes basic performer skills, creative dramatics, ensemble-building theatre games, and improvisation. The intention is to give middle-school students a place to come once a week and have fun with theatre. No "homework" required outside of class. Classes take place September through April. No prior theatre experience is necessary. Those interested should call 384-2157.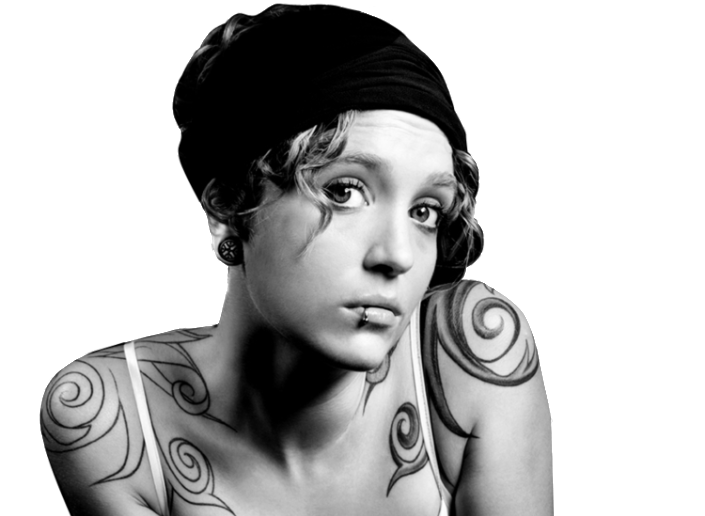 The Acting Studio
COJODA Productions
Tuesdays, 5:30-7 PM
Single Point Acting for actors of all ages and levels. It's a simplified process created by Consulina Wong derived from the classic techniques of Stanislavski, Stella Adler, Sanford Meisner and Lee Strasberg. Learn acting skills from a veteran actress. For more info and to join, call: Consulina Wong at(808) 223-6338.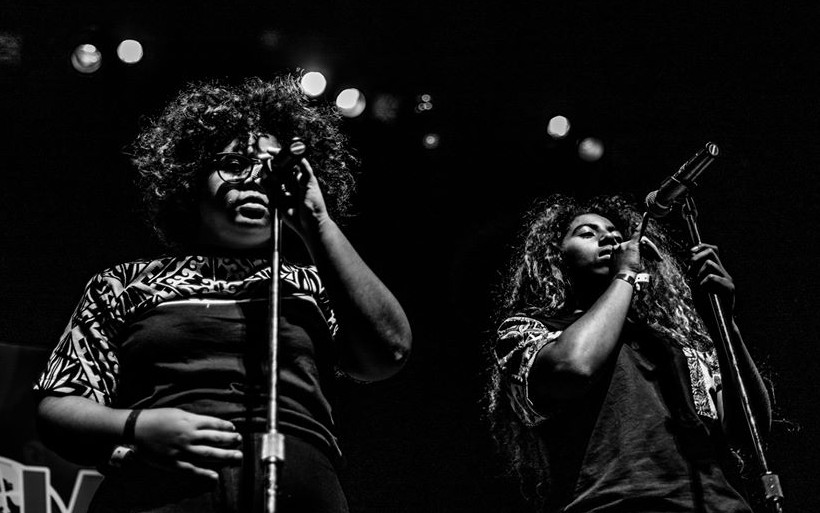 Teen Slam Poetry
Pacific Tongues / Youth Speaks Hawaii
Wednesdays, 4:30-6 PM
Free teen slam poetry writing and performance workshops.
Support The ARTS!
The ARTS at Marks Garage cannot survive without your help, and we really mean it. If you have made a donation in the past, please consider making another one now.
If you haven't donated before, it's time to step up!
OUR PARTNERS
Honolulu Culture & Arts District
COJODA Productions
Groovestar Productions
Pacific Tongues/Youth Speaks Hawai'i
T-RX/Hallowbaloo Music + Arts Festival
A sincere thank you to Kona Brewing Company, Hawaii State Foundation on Culture and the Arts, Colliers International, Spire Accountants - Advisors, Mayor's Office on Culture and the Arts, G70, Andis Wines, Weissman Family Foundation, Stern Sidney Stern Memorial Trust, 1001 Friends, anonymous donors and many others for their ongoing support! Mahalo!
Please join these fine people by reconnecting, making a donation, and continue a wildly creative 2017!
<!#43END>
Featured Product/Service
The ARTS At Marks Garage
The ARTS at Marks Garage is a community arts center with a 1,000 sq. ft. gallery, a 1,000 sq. ft. theater, and a 1,000 sq. ft. office space founded in 2001. Marks is home to 13 performing and visual arts businesses including Youth Speaks Hawaii and Hawaii Shakespeare Festival. 45,000 visitors attend 13 exhibits and 150 performances each year.
1159 Nuuanu Ave., Honolulu, HI (View Map)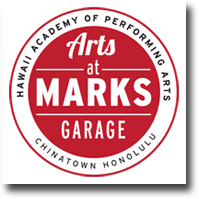 <!998Template_start>
<!998Template_end>
---
Please send questions about this website to