Community website by MBC/Ernest Abrams. Call 808-739-9797 for advertising/sponsorship.
First Friday Hawaii
News Item

Downtown-Chinatown Neighborhood Board Meeting October 2017 Minutes
With Permission / Courtesy of
: City and County of Honolulu Neighborhood Commission Office
<!#450IMAGESTART>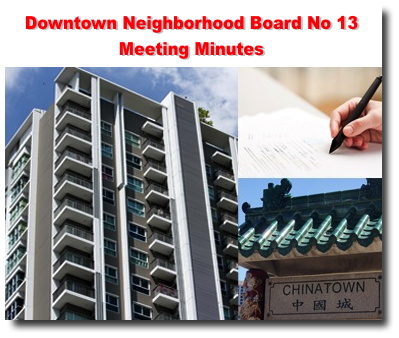 <!#450IMAGEEND>
REGULAR MEETING MINUTESTHURSDAY 5 OCTOBER 2017ONE ALOHA TOWER, MULTI PURPOSE ROOM 2
CALL TO ORDER - Chair Au called the meeting to order at 7:00 p.m. Quorum was established with eight (8) members present. Note: This nine (9)-member Board requires five (5) members to establish a quorum and to take official Board action.
Board Members Present - Alvin Au, Ernest Caravalho, Kevin Lye, Lori McCarney, Dolores Mollring, Willis Moore, Chu Lan Shubert-Kwock, and Robert Tom.
Board Members Absent - John Smiley.
Guests - Acting Lieutenant Douglas Vollrath (Honolulu Police Department); Councilmember Carol Fukunaga; Megan Muramatsu (Mayor Caldwell's representative); Pat Lee (Honolulu Authority for Rapid Transportation); Glen Young (Senator Karl Rhoads' representative); Greg Payton (Safe Haven); Nicole Reid (Arts, Culture, Merchants, Etc.); James Logue (Chinatown Business & Community Association); Michael Galmiche (Hallowbaloo); Nancy Orfir, Ruk Klene, Ronald Higa, Ariel Stenek, Christopher Mossler; and Sultan White (Neighborhood Commission Office).
INTRODUCTION OF BOARD MEMBERS - The Board members introduced themselves. Chair Au reminded the individuals present to speak into the microphone when wishing to speak.
Chair Au leaves at 7:03 p.m. There are seven (7) members present. The gavel is passed to Vice Chair Tom.
PUBLIC SAFETY REPORTS
Honolulu Police Department (HPD) - Acting Lieutenant Douglas Vollrath reported the following:
• September 2017 Crime Statistics - There were 7 motor vehicle thefts, 6 burglaries, 53 thefts, 16 unauthorized entries into a motor vehicle (UEMVs), 22 assaults, 5 sexual assaults, and 5 drug offenses. A total of 2,390 calls were placed for service.
• Safety Tip - Halloween Safety:
o A parent or responsible adult should always accompany young children on their neighborhood rounds. Teach children how to call 911 if they have an emergency or become lost.
o If your older children are going out alone, plan and review the route that is acceptable to you. Agree on a specific time by when they should return.
o Only go to homes with a porch light on and never enter a home or vehicle for a treat.
o Because pedestrian injuries are the most common injuries to children on Halloween, remind trick-or-treaters to stay on the sidewalk and to not run across the street.
o If no sidewalks are available, walk at the far edge of the roadway facing traffic.
o Only cross the street as a group in established crosswalks. Avoid crossing between parked cars.
o Carry a flashlight and wear reflective clothing.
o A parent or responsible adult should inspect all candy before it is eaten.
o HPD should be notified immediately if the candy appears to be tampered with, or of any other suspicious or unlawful activity.
o If you or someone that you know would like to join or participate in a Neighborhood Security Watch or Citizen Patrol group, contact Sergeant Deric Valoroso on (808) 529-3922 or
dvaloroso@honolulu.gov.
Questions, comments and concerns that followed:
1. Shooting: Lye asked for updates on the shooting on Maunakea Street. Lieutenant Vollrath responded that it is on the warrant database.
2. Purse Snatching: Shubert-Kwock asked and Lieutenant Vollrath responded that there are no updates on purse snatching.
3. Drinking: Shubert-Kwock reported people drinking alcohol out of brown paper bags and Lieutenant Vollrath responded that the Liquor Commission and Fourth Watch are aware of the situation and will enforce.
4. Homelessness: Shubert-Kwock reported homeless tents on Hotel Street and King Street. Lieutenant Vollrath responded that they are working on that issue.
Neighborhood Citizens Patrol - Mollring reported that there will be a combined walk of all patrols and a potluck on at the Kekaulike Mall, and encouraged all to join.
Questions followed: Set Time: McCarney asked if each patrol meets at a set time and Mollring affirmed.
Public Concerns - Bus Updates: Resident Ronald Higa recapped information relayed during prior meetings of the Board and noted that no longer will transfers be issued on TheBus; one may now purchase a one-day pass (valid for as many as 27 hours, as such are may also be used from 12:00 a.m. until 2:59 a.m. on the day following that of purchase).
NEW BUSINESS
Status Update on Complete Streets Bulbouts - No Department of Transportation Services (DTS) representative was present. An email from Hong Li of DTS was circulated to the Board.
Concerns followed: Bill 82: Shubert-Kwock said that DTS should consult with the community before putting in permanent bulbouts. She said that Bill 82 would require that DTS seek City Council approval before building.
2017 Hallowbaloo Music and Arts Festival - Promoter Mike Galmiche reported that the event will take place on Saturday 28 October 2017 from 6:00 p.m. to 10:30 p.m. Honolulu's Chinatown Arts District and historic downtown transform into a spooktacular celebration of music, food, art, and entertainment. Join us for an evening you'll never forget! The 2017 Hallowbaloo will celebrate the exploding craft beer scene in Honolulu. Hallowbaloo is not just a festival - it's an experience! Historic Chinatown will transform into a gathering of eclectic performance artists, street food, burlesque, and unbridled Halloween frivolity. It will feel like Oktoberfest with a large open-air craft beer event, where VIP ticket buyers will experience free beer-tasting, along with a special collector's edition Hallowbaloo beer stein and priority access to bars with the stein, including skip-the-line access to participating clubs. A handout of the Safety/Security/Monitoring/Reporting Plan was circulated to the Board. More information and a footprint of the event can be found at
www.hallowbaloo.com
.
Questions, comments, and concerns followed:
1. Differences: McCarney asked how this year's Hallowbaloo would be different. Galmiche responded that last year the event was at the Hawaii State Art Museum, but since such will be closed for renovations this year, the event will return to Chinatown as in prior years.
2. Noise: Shubert-Kwock raised concerns about noise and partying after closing.
3. Trash: Caravalho raised concerns about trash on the street. Galmiche said that there will be clean-up crews sweeping throughout the night and they will stay until 3:00 a.m.
4. Crowd: Shubert-Kwock asked for the expected crowd size. Galmiche responded that there will be between 3,000 and 4,000 people. There will be a minimum of 25 security officers and 25 special duty officers. They will have 22 toilets, whereas in the past there were 12.
5. Emergency Lane: Shubert-Kwock asked if there would be an emergency lane. Galmiche responded that all streets will have an emergency lane. The barricades are moveable.
6. Electric Scooter: Mollring raised concerns of her electric scooter not being able to get through the event.
7. Economic Impact: Lye suggested that Galmiche update the map next year to reflect active businesses and asked for the economic impact of the event. Galmiche said that it is a big deal for adults to have somewhere to go to celebrate Halloween. The event will bring business to Chinatown. Presiding Officer Tom said that the event would bring value to the restaurants and bars. He encouraged Galmiche to stay on top of everything and make it a good event.
8. New Year's: McCarney said to come present before the Neighborhood Board when planning the New Year's Event.
9. Follow Up: Caravalho requested Galmiche return to the Neighborhood Board for a follow-up report after the event.
10. Balance: The program manager for ARTS at Marks Garage said that the art scene and festivals are good for the neighborhood. They are trying to find a balance. They support Hallowbaloo. Shubert-Kwock said that people were partying and drinking in the bulbout outside of their store.
11. Rocky Horror Picture Show: Mollring said that there are many interesting and great things in Chinatown. She said that the Rocky Horror Picture Show is coming and everyone should get the word out. There is a rejuvenation in Chinatown.
Biki (Bike Share) Station located on Maunakea Street near North King Street - Shubert-Kwock reported that there was a City Council resolution to relocate the bike station. It is blocking the lane and the merchants do not like it. Lori McCarney, CEO of Bikeshare Hawaii, reported that Biki is growing in popularity. People are coming into Chinatown. The reason they put the Biki station in the bulbout was to not displace legal parking spots. Biki is having a small-business promotion to increase foot traffic. They currently have BikiBites which promotes food and beverage place. They are promoting 20 businesses. They will roll out BikiBuys on 1 November 2017 with 20 retail merchants. Shubert-Kwock said that if cars cannot park in the bulbout, then bikes should not be able to either.
Questions, comments, and concerns followed:
1. Bulbout Removal: Presiding Officer Tom asked what would happen to the Biki station if the bulbouts were taken out. McCarney responded that the City would renegotiate where to place it.
2. Disrespect: Mollring said that the placement of the Biki station near Dr. Sun Yat-sen's statue is disrespectful and that it should be moved.
3. Misuse of Bikes: Mollring reported that kids were misusing bikes near Central Middle School.
4. More Stops: McCarney reported that Biki should have more stops to get more people riding. They will need to find where they can best be placed.
Discussion on Cinco De Mayo Festival - Nancy Ortiz said that she was not told to bring an after-action review to the Neighborhood Board, and apologized for not coming sooner. She said that the Cinco De Mayo Festival went without incident and that was confirmed by DTS. They had a cleaning team there until 3:30 a.m. Bars had normal traffic at 2:00 a.m. It had been stated that the crowd would be 500 people or more.
Questions, comments, and concerns followed:
1. Complaints: Shubert-Kwock reported that the Board had been given short notice of the event. She said that it had been made clear that the Board desired an after-action review. She said that the promoters sent a one-sentence summary to the Honolulu Liquor Commission. She said that ambulances were called for drunk people, that there were not enough toilets, that there was a mechanical bull, and that noise went on for too long. Ortiz responded that the ambulance was called for a domestic dispute, and it was not due to the Cinco De Mayo festival.
2. Head Count: Presiding Officer Tom asked how many people attended the event. Ortiz said that 1500 people attended. The event organizers have suggestions from merchants about how it can go better in the future.
3. Garbage: Caravalho said that if they throw the festival again, they should notify the Board earlier. He said that he was not bothered by the noise, but there was a lot of garbage in the morning.
COMMUNITY CONCERNS
Hawaii Pacific University (HPU) - No report was given.
Safe Haven - Mental Health Kokua (MHK) was founded in 1973 as a non-profit Hawaii corporation, of which the mission is to assist people with mental health and related challenges to achieve optimum recovery and functioning in the community. CEO Greg Payton reported that 77 people have been placed into permanent housing in 2017 so far. They have a full time janitor to keep the public showers clean. They work with other providers for referrals. A handout was circulated.
Questions, comments, and concerns followed:
1. Toilets: Shubert-Kwock said that the toilets have improved. There has been good staff presence and she sees the matching shirts often. Payton responded that there are 12 staff on duty and three (3) at night. They can better monitor the traffic. The new uniform has been very helpful.
2. Help: McCarney asked how the Board can help. Payton said that if they send him pictures of problems in the area, they can send outreach out faster. The Law Enforcement Assisted Diversion (LEAD) program is beginning in November 2017.
3. Donations: Shubert-Kwock said to donate toiletries to Safe Haven. Payton added that clothing and old kitchen items are also very helpful.
4. In-Between Meals: Shubert-Kwock said that homeless people are hanging around in the street between meals, and that they should be allowed inside during that time. Payton said that they are building a new activities center that will be finished by Christmas.
Honolulu Rail Transit (HART) ??? Pat Lee reported that work continues on the rail project with all nine (9) stations from Aloha Stadium to East Kapolei under construction to be completed in time for the interim opening of the first ten miles to revenue passenger service. Two (2) locally based companies are doing the work. The West Oahu Stations and Kamehameha Guideway Station Group are under contract to Nan, Inc. The West Oahu Stations Group (East Kapolei, UH West Oahu and Ho'opili) is anticipated to be completed in the fall of 2018. The Kamehameha Guideway Station Group (Pearl Highlands, Pearl Ridge and Aloha Stadium) should be finished by summer of 2019. The Farrington Highway Stations Group (West Loch, Waipahu Transit Center and LCC), being built by Hawaiian Dredging, is anticipated to be finished by spring of 2019. The Pearl Highlands Transit Center and Parking Garage is pending the procurement of this contract. Core Systems, train vehicles, controls, and operating system work is ongoing at the Rail Operations Center in Waipahu, with trains being tested up on the guideway for the next six (6) months. The Airport Guideway and Stations, being built by STG (Aloha Stadium to Middle Street with stations at Pearl Harbor, Airport, Lagoon and Middle Street), is estimated to be completed by mid-2021. Now that additional rail funding has been approved, the bidding process to procure and award the contract for final leg of the project, from Kalihi to Ala Moana, can begin to move forward with a revised construction plan. HART and DTS continue the planning and coordination for bus and rail integration including a single fare-card system, in anticipation of the start of revenue passenger service. HART plans to open the first 10 miles (from Aloha Stadium to East Kapolei) for revenue passenger service in late 2020 or early 2021. The full 20-mile system's operation to Ala Moana Center is pending the completion of the CCGS segment, with a target date of December 2025. For general project information, traffic updates, meeting notices and more information, please visit the website
www.honolulutransit.org
, call the project hotline on (808) 566-2299, or email a question at
info@honolulutransit.org.
Questions, comments, and concerns followed:
1. Art: Mollring said that the pillars in Pearl City are works of art. Lee said that those are part of the Art in Transit Program. 1% of the original rail budget is allocated for public art. Each stop along the rail will have art that tells a different story.
2. Walk Time: Lye asked and Lee answered that the distance from the airport rail station to the airport check-in area will be roughly equivalent to the width of the airport parking garage.
3. Chinatown Construction: McCarney asked when construction would start in Chinatown. Lee will follow up. He said that they might do utility relocation along the line before the construction contracts are awarded. McCarney said that she would like to know the start and duration because Chinatown business could suffer losses during the construction period. Lee said that they have a Business Outreach Program to notify business ahead of time. For example, if a business is planning renovations, the best time to do it would be while the rail is being constructed in Chinatown.
4. Audits: Lye asked HART would undergo an audit and Lee answered that HART has several audits annually. The City and County has an efficiency audit on construction. The legislators audit HART operations. The Federal Transit Administration (FTA) audits HART periodically.
Chinatown Business & Community Association (CBCA) - Shubert-Kwock reported the following:
• CBCA had its September monthly meeting at Won Kee Restaurant on 12 September 2017. Such are held on the second Tuesday of each month.
• Crime statistics were discussed with Commander Nagata.
• We were encouraged that 12 gang-related youths were arrested and will be prosecuted for a spade of muggings.
• We continue to experience more homelessness on River, Kukui. and A'ala areas.
• We continue to work with DTS in hopes of hearing back from them about removing the bulbouts. The modifications have been helpful to our merchants, shoppers, and residents, but most prefer total removal.
• We support City Council Resolution 167 on total removal of bulbouts and relocation of the King Maunakea Biki docking station.
• We had one shooting at Maunakea Liquors where one man was killed.
• We continue to urge City administration to schedule regular power washings of our Chinatown streets as there is a fear of a feces-induced Hepatitis A outbreak as in San Diego, which has led to the deaths of 19 people there.
• The next CBCA Monthly Meeting is on 10 October 2017 from 8:30 am to 10:00 a.m. at Won Kee Chinese Restaurant.
• We will be staging our 3rd annual Moon Festival Concert for 300 seniors on 7 October 2017 from 2:00 p.m. to 5:00 p.m. at the Mission Memorial Hall. All 300 seats are taken.
• We will be celebrating our 8th CBCA Chinatown Heroes Banquet by honoring two (2) outstanding Chinatown heroes—Don Murphy, and Duc Nugyen of Duc's Bistro—for their 30 years of doing business in Chinatown. Tickets are $35 each and we welcome those who would like to buy a table. Wine is donated by Duc's Bistro (one (1) bottle per table).
• We will be having a Mini Farmer's Market with $1.00 bags of basil donated by Fat Law Farms.
Arts, Culture, Merchants, Etc. (ACME) - Nicole Reid reported that Celebrate the Arts will be at Pauahi Street at Bethel, Dr. Sun Yat-sen Memorial Park, and The ARTS at Marks Garage on 14 October 2017 from 11:00 a.m. to 3:00 p.m. There will be food trucks, arts and crafts, live music, art demonstrations, and more. For more information visit
www.creativeartshi.com
. There will also soon be a fence around Dr. Sun Yat-sen Memorial Park.
Questions, comments, and concerns followed:
1. Statue: Shubert-Kwock asked if the Dr. Sun Yat-sen statue would move to the front. Reid will follow up.
2. Fence: Caravalho asked how high the fence will be. Reid answered that it will be six (6) feet high and have three (3) entrances. Caravalho asked how the businesses along Nu'uanu Avenue with rear entrances within or facing the park will be impacted by the fence. Reid said she can ask them. Shubert-Kwock asked if there would be a Hawaiian design on the fence. Reid said she was not sure.
Chinatown Improvement District (CID) - No report was given.
Biki - Lori McCarney, CEO of BikeShare Hawaii, reported that there have been 180,000 total trips to date and 2100 rides per day. Friday and Saturday are the busiest days. 43% of trips are from members; 57% are from casual users. The Free Spirit is the most popular plan. The average riding time is 14 minutes and 13 seconds for members and 28 minutes for casual users. There have been about 2 million miles logged thus far.
Questions, comments and concerns followed:
1. Message on Screen: Lye asked if there can be a message on the kiosk reminding users not to ride on the sidewalk. McCarney replied that they are working with the Fort Street Mall Association to get messages on the ground. She said that as bike infrastructure increases, people will ride on the sidewalk less.
2. Break Even: Tom asked if they would break even. McCarney replied that they would not. They are a non-profit that depends on donations.
3. Reported Issues: Tom asked about vandalism and accidents. McCarney stated that vandalism has died down and that there have been no reported accidents involving Biki.
ELECTED OFFICIALS
Mayor Kirk Caldwell's Representative - Megan Muramatsu from the City Managing Director's Office provided updates on questions from the prior meeting.
• Fire Lane: In the course and scope of an officer's duty, there are exemptions for certain violations. Lieutenant Baron Lee, who attended the Neighborhood Board Meeting on 3 August 2017, parked his vehicle along the red curb adjacent to the building with his blue pilot light illuminated to show active police presence. The vehicle was also parked there so that Lieutenant Lee, who was the District 1 (Central Honolulu) watch commander that night, would have immediate access to his vehicle should he be called to an emergency.
• Bike and Bus Lane: District 1 (Central Honolulu) officers monitored Hotel Street for vehicular traffic in the designated lanes and did not observe any violations. They are aware that passenger vehicles sometimes drive down the bus/bike-only lane on Hotel Street, and the officers will issue citations when they see such violations. They will continue to monitor the area and take the appropriate enforcement action.
• Bus Pass: Bus passes purchased prior to 1 January 2018 will be valid for the duration specified on the pass. As noted in earlier reports, effective 1 January 2018, the price of a 2-year senior citizen bus pass will be $70.
??? Filming in Chinatown: The Honolulu Film Office thanks the neighborhood board for its strong support of Hawaii's film industry. ACME members may not recall that about two (2) years ago NB 13 member Mr. Jonathan Saupe had asked for a presentation about permits approved for filming and other events. A DTS and film office rep came to the NB13 meeting and discussed the matter to the satisfaction of the board. The same process—approval on a case-by-case basis after a careful review to balance the needs of the community and those of production—is being employed today.
• Parking Time Limits: The Department of Transportation Services could not identify any safety or historical reason for or against a 2-hour time limit for metered stalls. While DTS has no objections for raising the meter limit to two (2) hours, the area businesses and/or associations (e.g.. CBCA) and the Downtown-Chinatown Neighborhood Board should be consulted prior to proposing any changes to DTS.
Questions, comments, and concerns followed:
1. Thanks: Shubert-Kwock thanked the City for their support with the Mission Memorial Concert and the Moon Festival Sponsorship.
2. Residential Fire Safety Advisory Committee: Lye asked how Kukui Plaza, the largest condominium project in the state of Hawaii, could have been involved with the Residential Fire Safety Advisory Committee; the condominium will be directly impacted by approved recommendations emanating from the RFSAC and perhaps could have been asked to provide a representative to participate. Murumatsu said to make a request to them. She said that the RFSAC had already started.
3. Uneven Sidewalk: Mollring reported an uneven sidewalk on Beretania Street between Fort Street and Bethel Street near the Biki stop.
4. Power Washing: Shubert-Kwock requested power washing in Chinatown. Murumatsu said that such has been asked and responded to before; teams will power wash as they have staff available or if there are acute sanitation issues.
5. Bus Stop: Shubert-Kwock reported that the bench at the bus stop at Smith Street and Hotel Street has been taken away.
Councilmember Carol Fukunaga - Councilmember Fukunaga circulated a handout discussing the Complete Streets program and the recent condo fire safety community meeting. She also circulated copies of Bill 82, relating to Chinatown and amending the Complete Streets Ordinance, Chapter 14, Article 33 of the Revised Ordinances of Honolulu 1990, to revise the procedure for the implementation of certain Complete Streets proposals in order to minimize their impacts on the economy of Chinatown.
Questions, comments, and concerns followed: Bill 82: Mollring asked if Bill 82 would become law. Councilmember Fukunaga said that it will open up public discussion.
Mollring moved and Shubert-Kwock seconded that the Downtown-Chinatown Neighborhood Board support the concept of Bill 82.
Discussion Followed:
1. Lye stated that it is premature for the Board to take a stance.
2. Shubert-Kwock stated that Chinatown is a historic area. She said that DTS is using safety as an excuse to do whatever they want. Councilmember Fukunaga said that with minor street changes, DTS does not need major public vetting.
3. Councilmember Fukunaga concurred that a vote now by the Board may be premature.
The Board decided to defer the vote.
Governor David Ige's Representative - No representative was present. No report was given.
Representative Daniel Holt - No representative was present. No report was given.
Senator Karl Rhoads - Senator Karl Rhoads reported HPD has cleared the bus stop near Chinatown Gateway Plaza of homeless individuals and will continue to monitor the area. A shop owner at the Chinatown Cultural Plaza complained about the rash of robberies and assaults occurring at the Plaza. Rhoads filed a report with HPD to look into the matter. HPD reported that they arrested two (2) juveniles for theft and truancy and will continue to monitor the area and take all necessary enforcement action within their power. If anyone has any ideas on new legislation for next year, please contact Senator Rhoads' office on (808) 586-6130 or
senrhoads@capitol.hawaii.gov.
APPROVAL OF 7 SEPTEMBER 2017 REGULAR MEETING MINUTES - The 7 September 2017 regular meeting minutes were APPROVED by UNANIMOUS CONSENT as amended.
Amendments include the following:
1. Under the CBCA report change $39.00 to $35.00.
BOARD BUSINESS AND REPORTS
Chair's Report - Presiding Officer Tom reported that attempts are being made to get the Honolulu Liquor Commission to present before the Board. There was a request that the Chair transmits Liquor license or block party requests to all members upon receipt.
Neighborhood Commission Updates - No report was given.
Office of Information Practices Report - No report was given.
Treasurer's Report - Mollring reported that there is $351.12 left in the budget. The report was filed.
City and County Affairs - No report was given.
Oahu Metropolitan Planning Organization (OMPO) - Mollring said that they are calling for project suggestions. She suggested that the sidewalks be fixed.
ANNOUNCEMENTS
Next Meeting - The next meeting of the Downtown-Chinatown Neighborhood Board No. 13 is scheduled for Thursday 2 November 2017 at Hawaii Pacific University, One Aloha Tower Drive, Multi-Purpose Room 2 at 7:00 p.m.
Neighborhood Citizen Patrol - The Neighborhood Citizen Patrol meets each Tuesday on the Diamond Head side of Kukui Plaza at 8:00 p.m. Please join the patrol and support its efforts to express service and pride in our Downtown-Chinatown community.
Olelo - Broadcasts of Downtown-Chinatown Neighborhood Board No. 13 meetings are scheduled for every third Thursday as well as the second and fourth Saturdays of each month on Channel 54.
ADJOURNMENT - The meeting adjourned at 9:03 p.m.
Submitted by: Sultan White, Neighborhood Assistant
Reviewed by: Aran Wilson, Neighborhood Assistant, Chu Lan Shubert-Kwock, and Kevin Lye, Secretary, Neighborhood Board 13.
Featured Product/Service
<!998Template_start>
<!998Template_end>
---
Please send questions about this website to