Community website by MBC/Ernest Abrams. Call 808-739-9797 for advertising/sponsorship.
First Friday Hawaii
News Item

The ARTS at Marks Garage - OCTOBER 2017 Update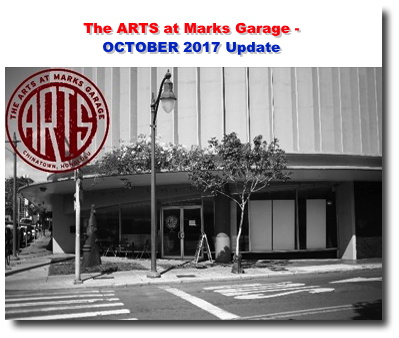 <!#43START>
The ARTS at Marks Garage - OCTOBER 2017 Update
OCTOBEREXHIBITS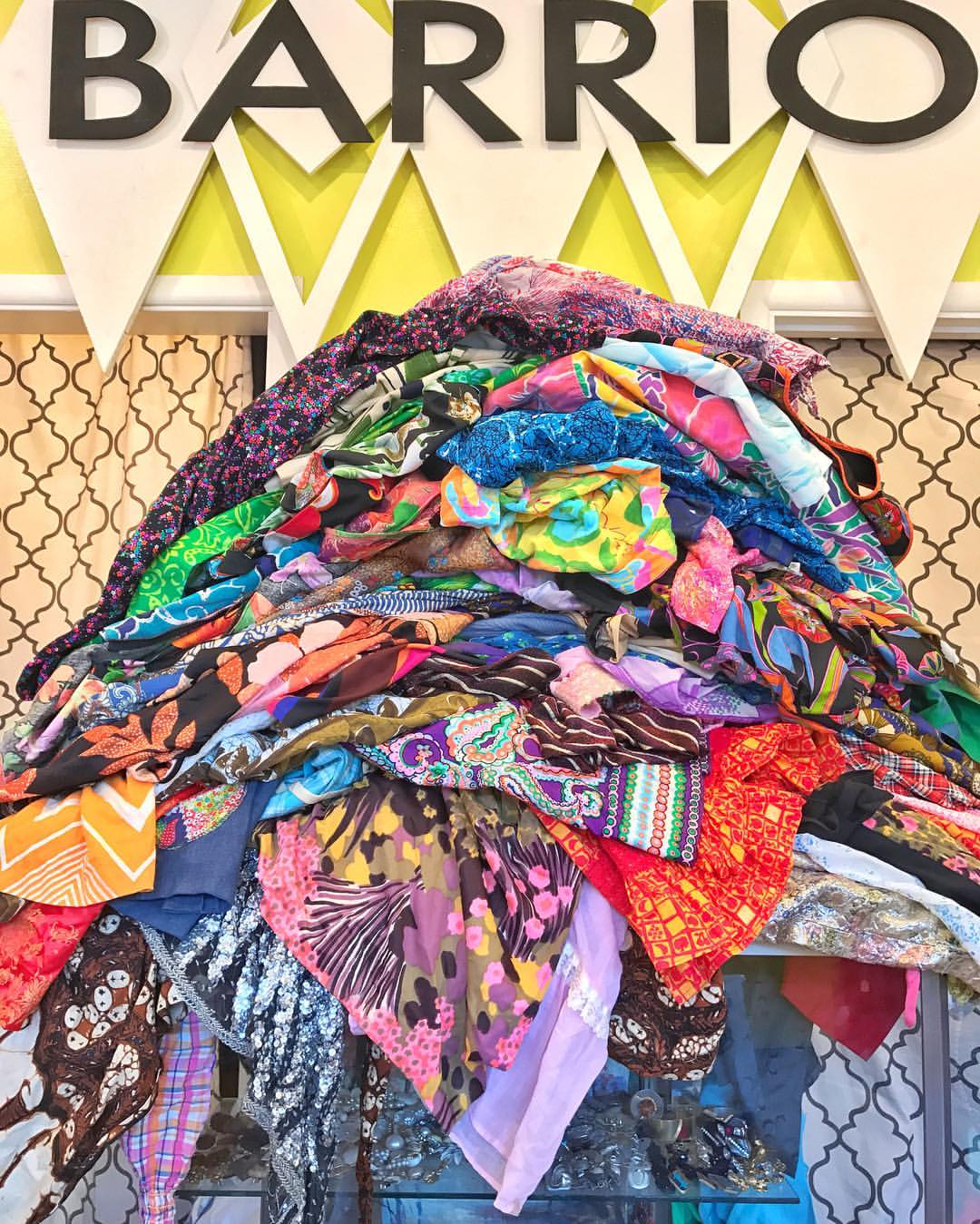 Let's do the Time Warp
Barrio Vintage
October 3 - 31
Barrio Vintage will be curating a special exhibit:"Let's do the Time Warp" with a journey thru the decades in this month-long insallation leading up to the premiere of "The Rocky Horror Picture Show" live at The ARTS (Oct. 26, 27, 28 & 31st).
Barrio is filling The ARTS at Marks Garage with a coveted collection! The gallery will be filled with funky fabric art, fashionable costume inspiration, and one of a kind decor all FOR SALE!
An opening reception is scheduled for Friday October 6th from 5-11PM, followed by a Fashion Fundraising Bash on Friday October 20th (stay tuned for event details).
SHOWS & EVENTS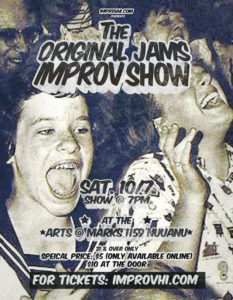 The OJams Improv Show: Audience Appreciation Night
October 10, 7PM,$5 online or $10 at the door
We love our audience...A LOT! We want to show our appreciation with a special performance for only $5!
Join us as we do a full hour of improv awesomeness for you featuring YOU our audience! Audience members will be given in the opportunity to join us for some games OR have a musical done about YOU! Space is limited, so purchase your tickets online while you still can!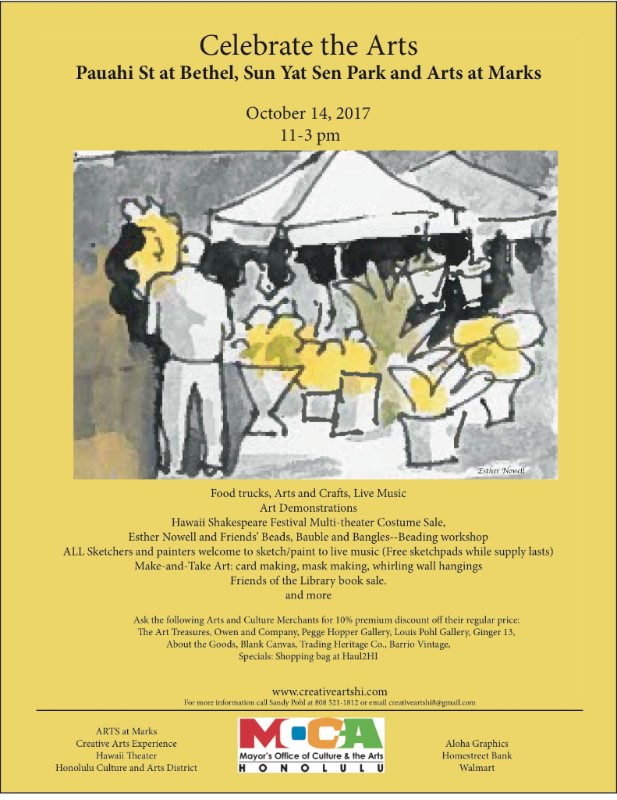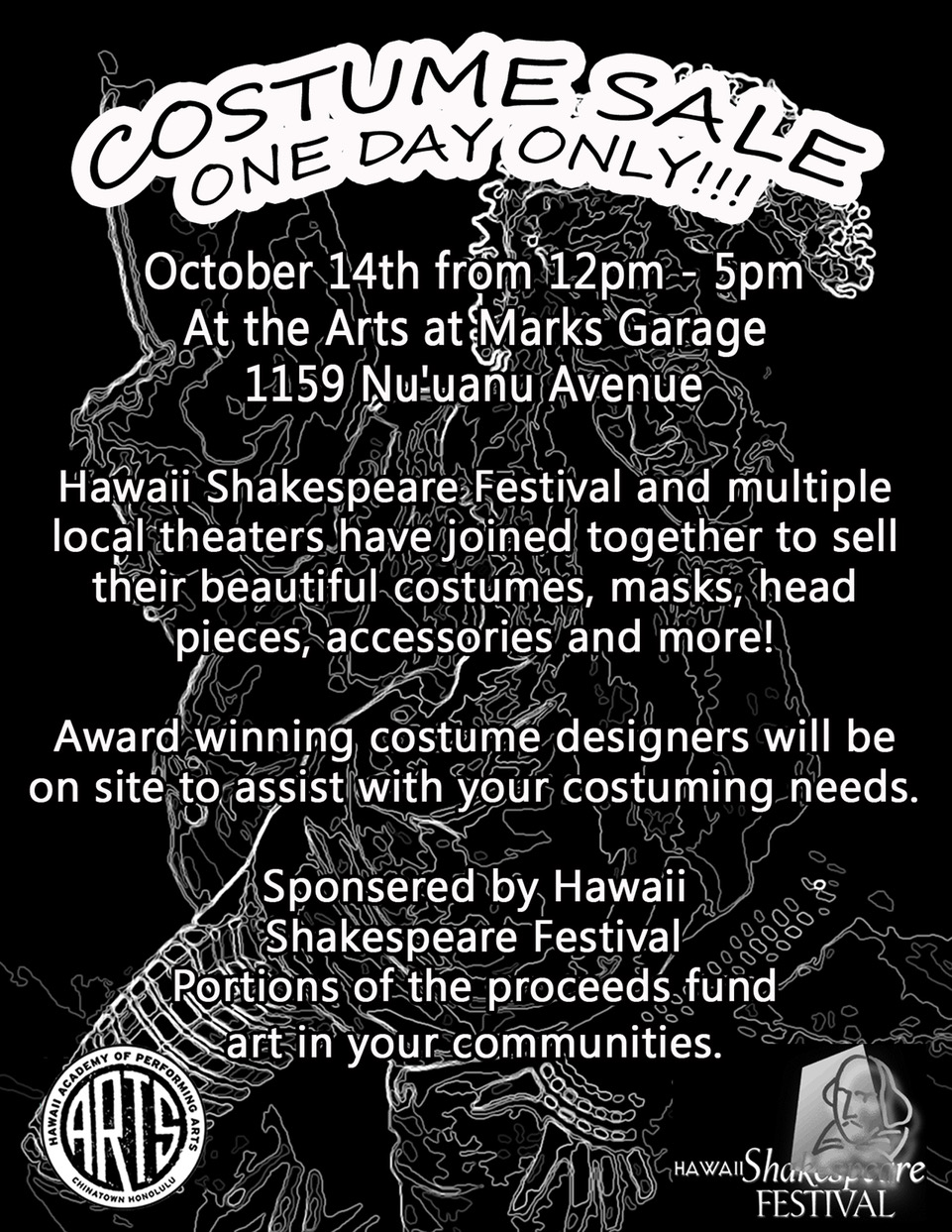 Celebrate the Arts Chinatown Street Fair
October 14, 11 AM - 3 PM
Swing by for Art Demonstrations, Food Trucks, Arts and Crafts, Live Music, and More!
Also be sure to check out theThe Hawaii Shakespeare Festival Costume Sale! Find your perfect costume with the help of award winning costume designers!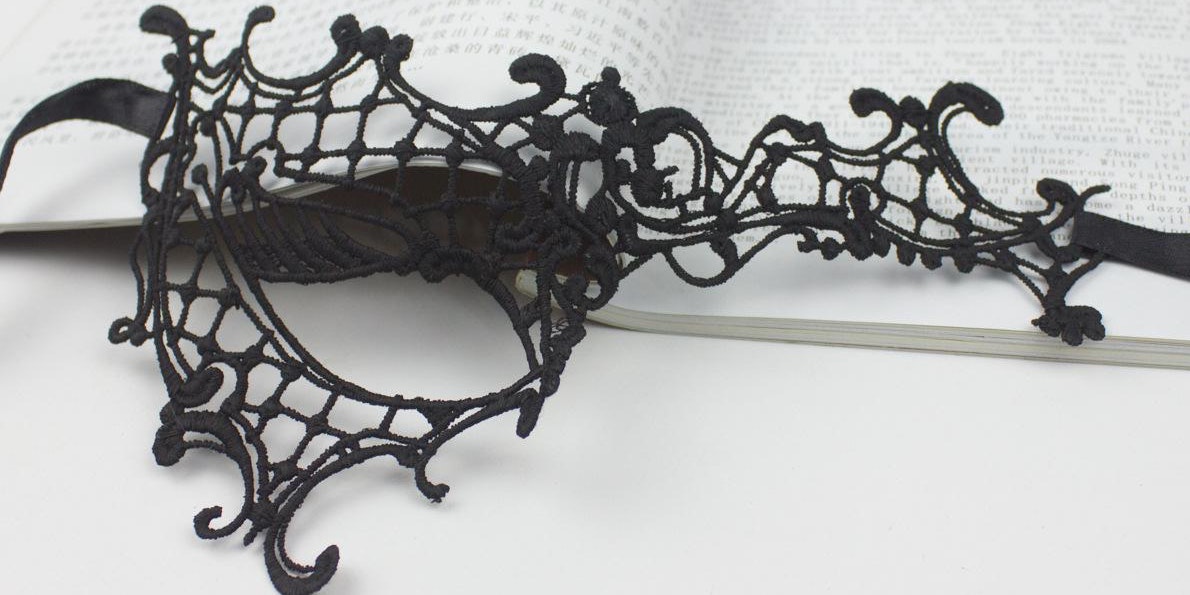 The ARTS at Marks Garage FASHION FUNDRAISER
October 20, 7-10 PM
The ARTS at Marks & Barrio Vintage are co-creating a fabulous neighborhood collaboration with a night filled with art, sound, fashion and flavors! Spend your Friday night experiencing what the Historical Arts District Chinatown is all about while giving back to the ONLY non-profit art community hub in town.
Get ready for the unexpected! In honor of Hallows Eve month, come dressed as your favorite fashion icon, enjoy libations & tapas to quench the senses, be ready for unexpected performances and music that will surely be Trickin & Treatin all night long!
$20 pre-sale tickets & $25 at the door. Ticket includes (1) welcome libation & entrance to the Hallows Eve event you WON'T want to miss!!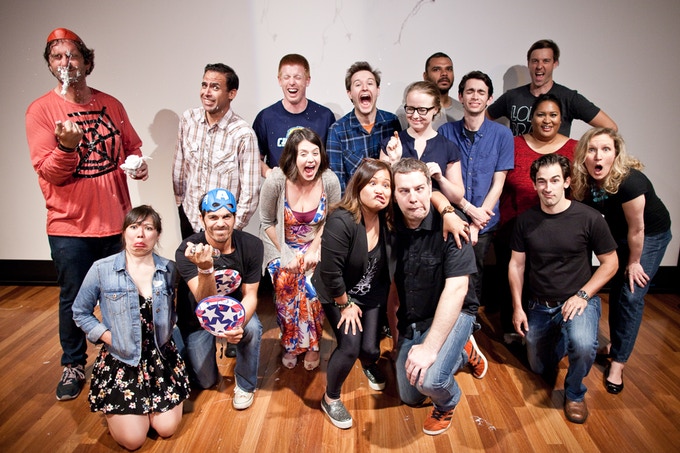 The 3rd Annual Hawaii Sketch Comedy Festival: "Two Scoops Funny"
October 22, 7 PM
The Hawaii Sketch Comedy Festival is an annual two-day event featuring original comedy by local and off-island creators, plus live music and educational workshops geared towards writers, performers, and producers interested in a career in comedy.
Our main focus is to provide opportunities for Hawaii based funny folks and to showcase their work. Our aim is to help them bring their skills up to the next level! The "Two Scoops Funny" Show at Arts at Marks Garage features the work of local writers exclusively. There's so much talent here in Hawaii and we do our best to nurture and celebrate it!
Join us for a night of local grown funnies! You'll be sure to laugh your slippers off!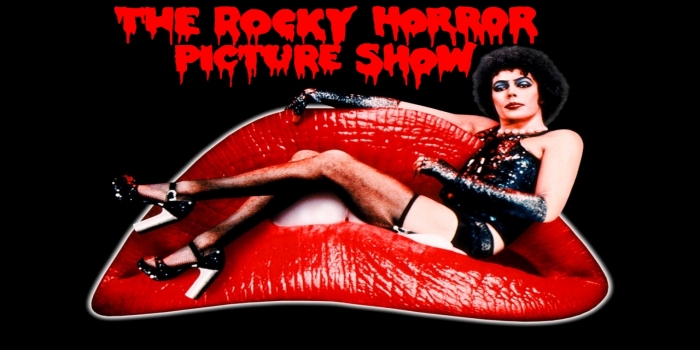 Rocky Horror Picture Show - Hosted by Tita Titsling & Cast!
Thursday Oct. 26th - 8PM
Friday Oct 27th - 8PM
Saturday Oct. 28th - 7PM & Midnight
Tuesday Oct. 31st - 8PM
$20 advance tickets, $25 at the door
Experience the Cult Classic film on our monster size movie screen. This is a fully interactive show accompanied this year with a full cast of characters and hosted by Tita Titsling herself to lead you through the madness of shouting at the screen and dancing in your seats. Costumes are encouraged!
Doors open 1 hour before start time to get ready for the fun with cocktails, movie snacks, props and more! Interactive prop boxes are available for purchase for $5 at the show. Run time is approximately 1 hour 40 minutes. We will be open for a post-show soiree up to an hour after the show.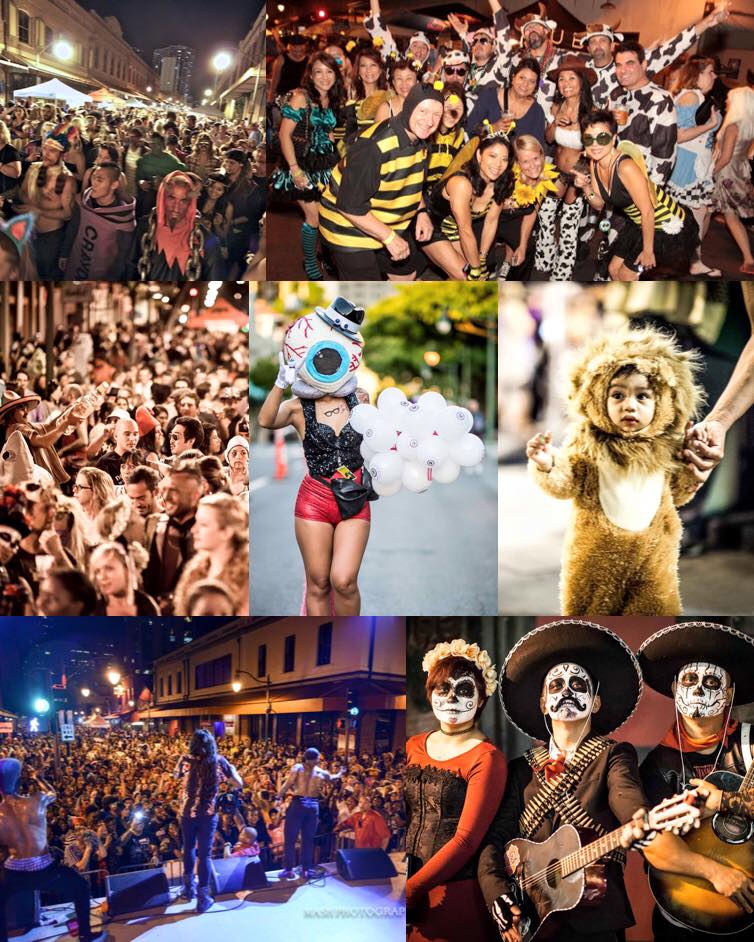 Hallobaloo
T-RX/Hallowbaloo
October 28
Stay tuned for more info on the Eventbrite page!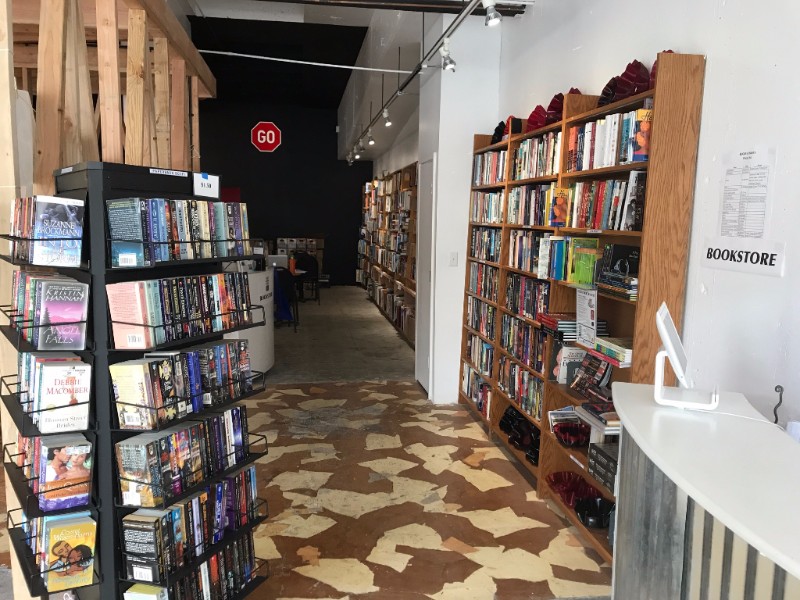 Books at Marks
Friends of the Library
Open Tue-Sat 12-5 PM, and until 10 PM on First Fridays
There's a BOOKSTORE in Downtown! Books at Marks, a bookstore by Friends of the Library of Hawai'i, opened on April 4th in The ARTS at Marks Garage and will be a continuing fixture in the newly renovated space.
FIRST FRIDAY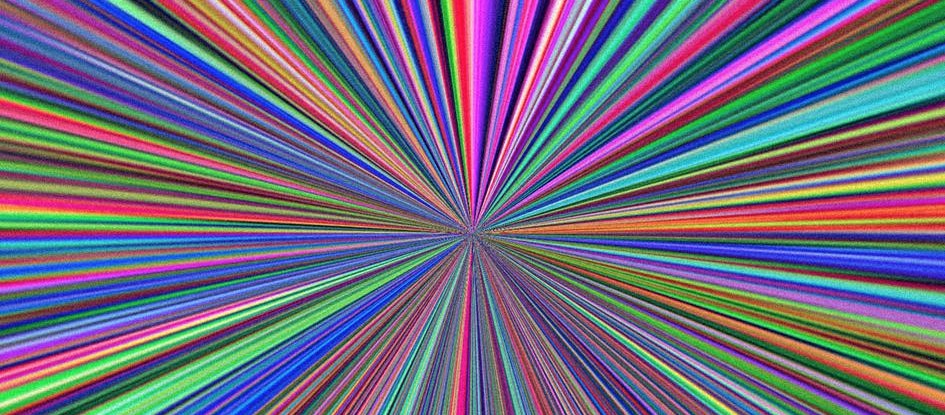 October 6, 5:30PM-12AM
Barrio Vintage istaking over Nuuanu Avenue! Come pArTy with us FIRSTFRIDAY!!! FREE & open to the public. Be the first to see the "Time Warp" installation by Barrio Vintage at The Arts at Marks Garage!!! Enjoy the cool retro vibes and dance the night away!
5-6:30PM:Doors Open with Lounge DJ
6:30-7PM: Live performance by Chalin Shadowboxing in the Gallery
7-9PM: DJ set by Smucci Gucci at the Marks Gallery and Live Burlesque in the Barrio Vintage storefront window
9-9:30PM: Live performance by Chalin Shadowboxing in the Gallery
10-Midnight: Dance Party with DJ Bradley & DJ Timo
The BAR@MARKS in full swing servingKona Brewing Co., a selection of Andis Wine, and signature cocktails.
Books@Marks by The Friends of the Library will be open until 10PM.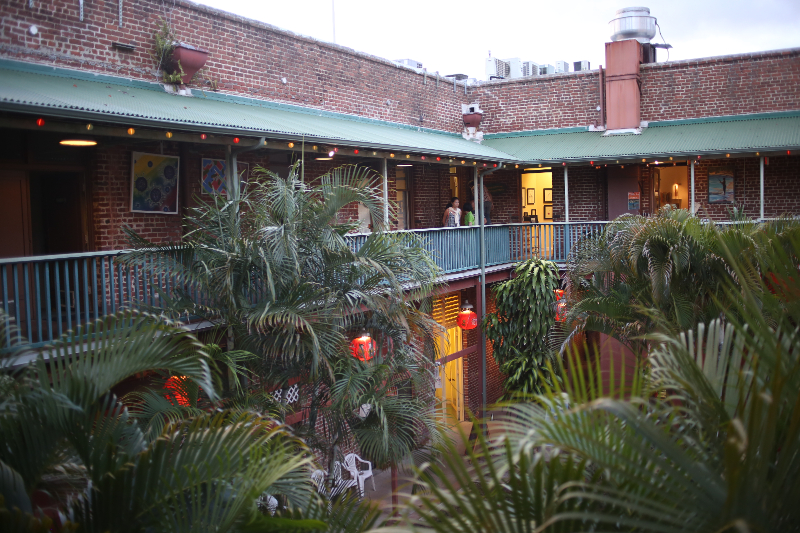 Open House @ The Lofts
Chinatown Artist Lofts
October 6, 6-9 PM
Live music, performances, and open houses throughout the night.
WORKSHOPS & CLASSES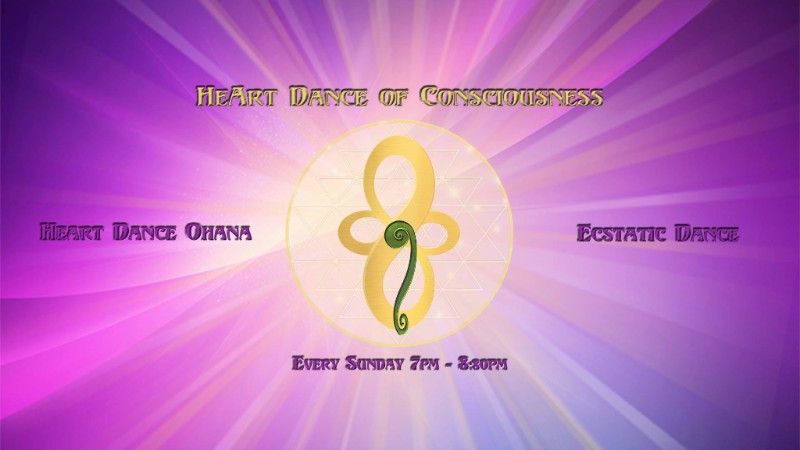 Ecstatic Dance
HeArt Dance ofConsciousness
Sundays, 6:30 PM
*No meeting on October 22*
HeArt Dance Of Consciousness is excited to open its home for HeArt Dance Ohana, Ecstatic Dance. Let's celebrate, create, connect to our authentic Self, our awakened Self. See You on the dance floor!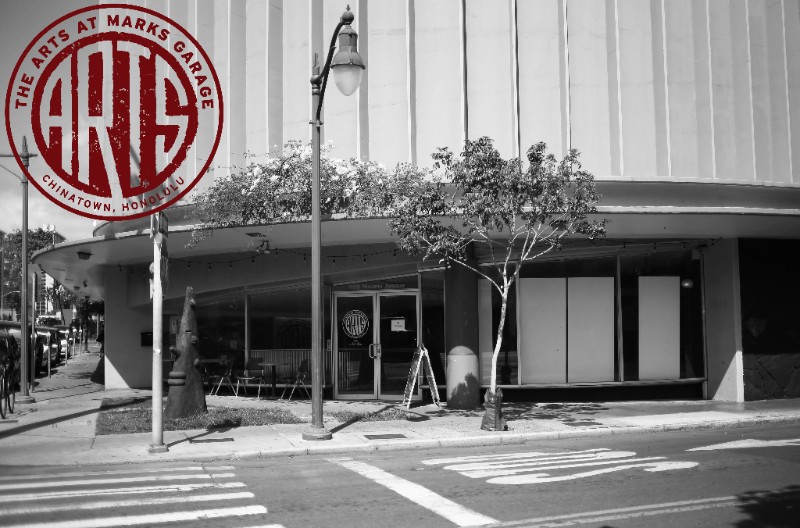 Intermediate Ensemble Acting Class
Eden Lee Murray
Mondays, 4-6 PM,Cost per semester: $350
A program designed for O`ahu students age 12-15. This acting program is designed for students who have had some theatre experience and are interested in learning more about performance technique. Led by award-winning director/actor/artist-educator Eden Lee Murray, the class includes theatre games, improvisation, as well as an introduction to techniques for character creation and text analysis, whether for audition monologues or short scenes. Classes take place September through April. No audition is required. Those interested should call 384-2157.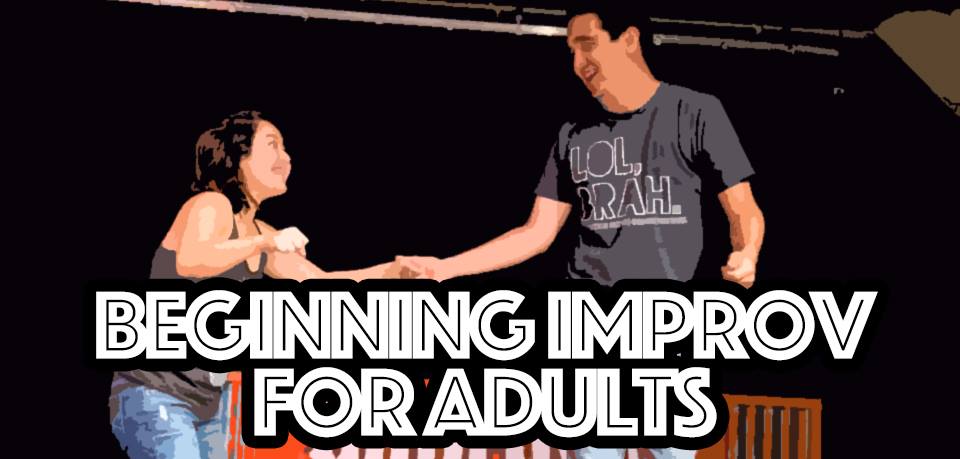 Beginning Improv Classes for Adults
improvHI
Mondays, 6:30 PM, $50 for 4 classes*
Whether you're wanting to break out of your shell, work on your public speaking skills or just want to get your brain a sweatin'...this class will guide you to thinking on your feet and outside of the box through short form improv games and warm ups. GREAT for groups, entrepreneurs, performers, dog walkers and anyone else that likes to have a good time. No experience required. Also good for seasoned improvisers looking to brush up on their skills and play with new peeps!
Sorry, no drop ins. *payment plans available.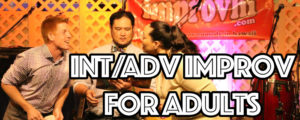 Int/Adv Improv Classes for Adults
improvHI
Mondays, 7:30 PM, $75 for 4 classes
This intermediate/advanced level class allows students to practice the essentials of long-form improv comedy. Students will learn to build scenes by "yes, and"-ing, activate their listening, support their scene partners and to play in the reality to create fun and comedic improvised scenes with the opportunity to perform in an improv show at the end of the session. Some improv experience is suggested. Limited Space.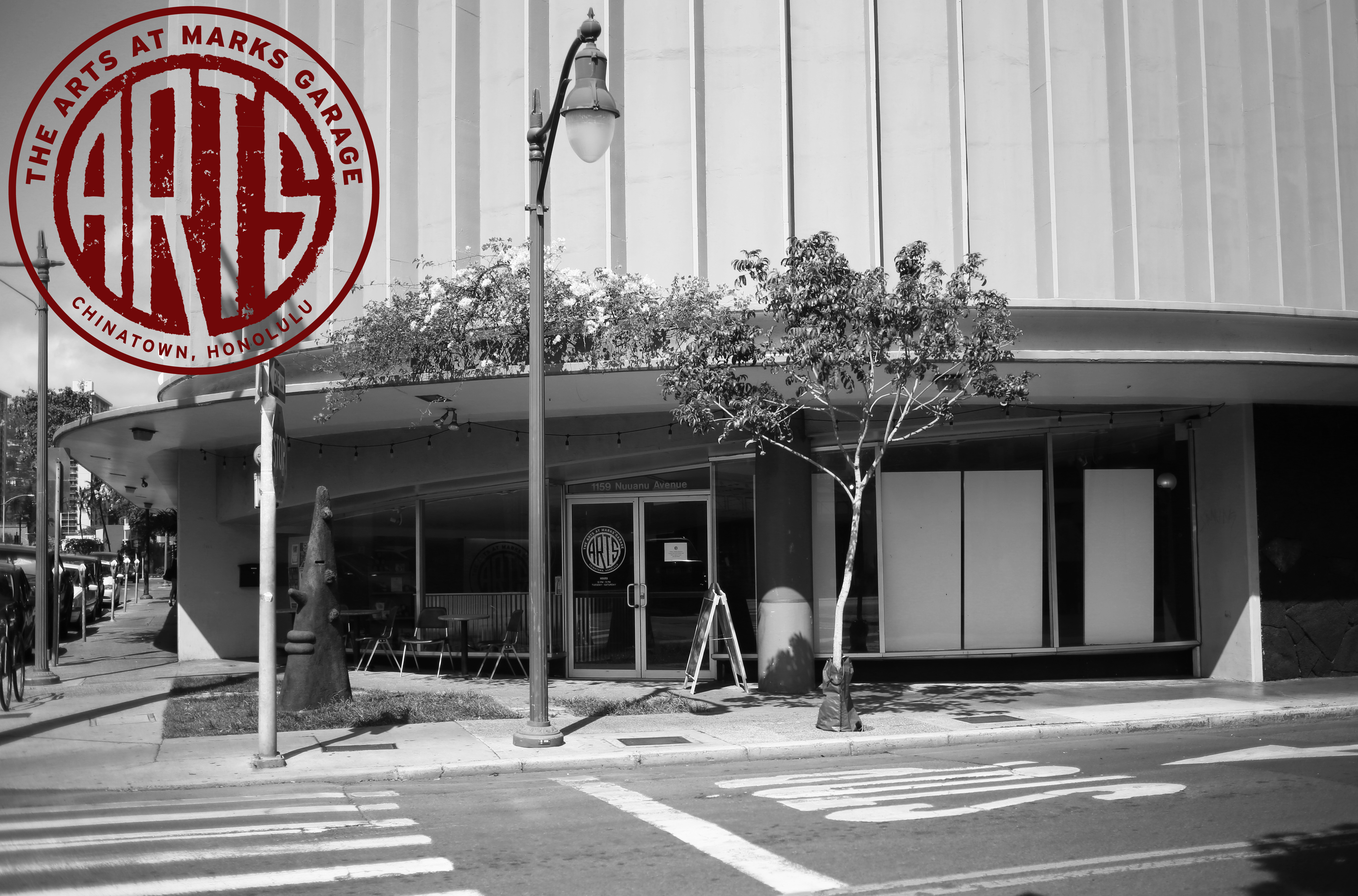 Junior Ensemble Acting Class
Eden Lee Murray
Tuesdays, 4-5:30 PM,Cost per semester: $250
A class designed for students 6th -- 8th grades. This introductory acting program is led by award-winning director/actor/artist-educator Eden Lee Murray and includes basic performer skills, creative dramatics, ensemble-building theatre games, and improvisation. The intention is to give middle-school students a place to come once a week and have fun with theatre. No "homework" required outside of class. Classes take place September through April. No prior theatre experience is necessary. Those interested should call 384-2157.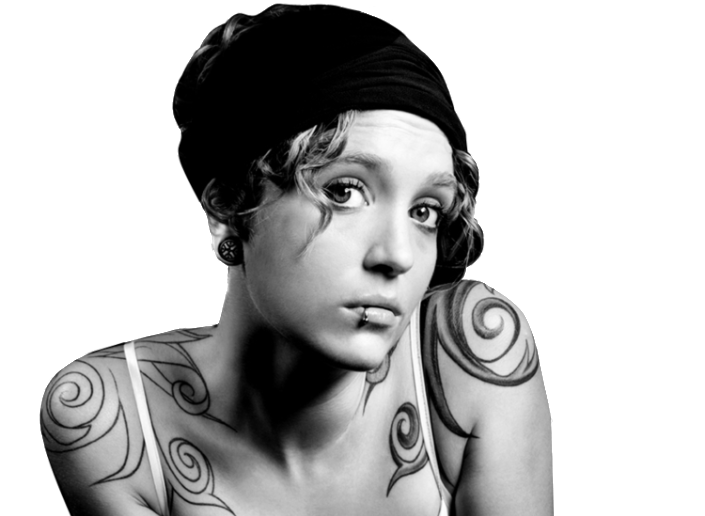 The Acting Studio
COJODA Productions
Tuesdays, 5:30-7 PM
Single Point Acting for actors of all ages and levels. It's a simplified process created by Consulina Wong derived from the classic techniques of Stanislavski, Stella Adler, Sanford Meisner and Lee Strasberg. Learn acting skills from a veteran actress. For more info and to join, call: Consulina Wong at(808) 223-6338.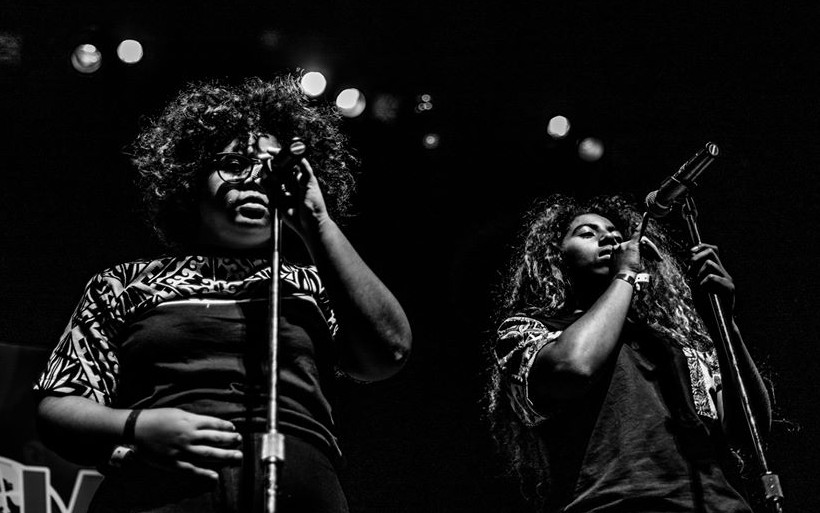 Teen Slam Poetry
Pacific Tongues / Youth Speaks Hawaii
Wednesdays, 4:30-6 PM
Free teen slam poetry writing and performance workshops.
Support The ARTS!
The ARTS at Marks Garage cannot survive without your help, and we really mean it. If you have made a donation in the past, please consider making another one now.
If you haven't donated before, it's time to step up!
BEGIN LOWER BODY //
OUR PARTNERS
Honolulu Culture & Arts District
COJODA Productions
Pacific Tongues/Youth Speaks Hawai'i
Rhizome Theater Lab
T-RX/Hallowbaloo Music + Arts Festival
// END LOWER BODY
BEGIN FOOTER //
A sincere thank you to Kona Brewing Company, Hawaii State Foundation on Culture and the Arts, Colliers International, Spire Accountants - Advisors, Mayor's Office on Culture and the Arts, G70, Andis Wines, Weissman Family Foundation, Stern Sidney Stern Memorial Trust, 1001 Friends, anonymous donors and many others for their ongoing support! Mahalo!
Please join these fine people by reconnecting, making a donation, and continue a wildly creative 2017!
Donna Blanchard
Consulting Director, The ARTS at Marks Garage
Managing Director, Kumu Kahua Theatre
Host, Backstage with Donna Blanchard
kumkahuadirector@gmail.com
<!#43END>
Featured Product/Service
The ARTS At Marks Garage
The ARTS at Marks Garage is a community arts center with a 1,000 sq. ft. gallery, a 1,000 sq. ft. theater, and a 1,000 sq. ft. office space founded in 2001. Marks is home to 13 performing and visual arts businesses including Youth Speaks Hawaii and Hawaii Shakespeare Festival. 45,000 visitors attend 13 exhibits and 150 performances each year.
1159 Nuuanu Ave., Honolulu, HI (View Map)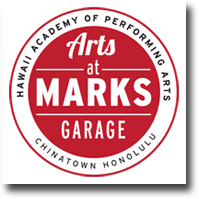 <!998Template_start>
<!998Template_end>
---
Please send questions about this website to