Community website by MBC/Ernest Abrams. Call 808-739-9797 for advertising/sponsorship.
First Friday Hawaii
News Item

Announcing Hawai'i's newest and boldest theatre company: EPOCH (Empowering People of Color Hawai'i)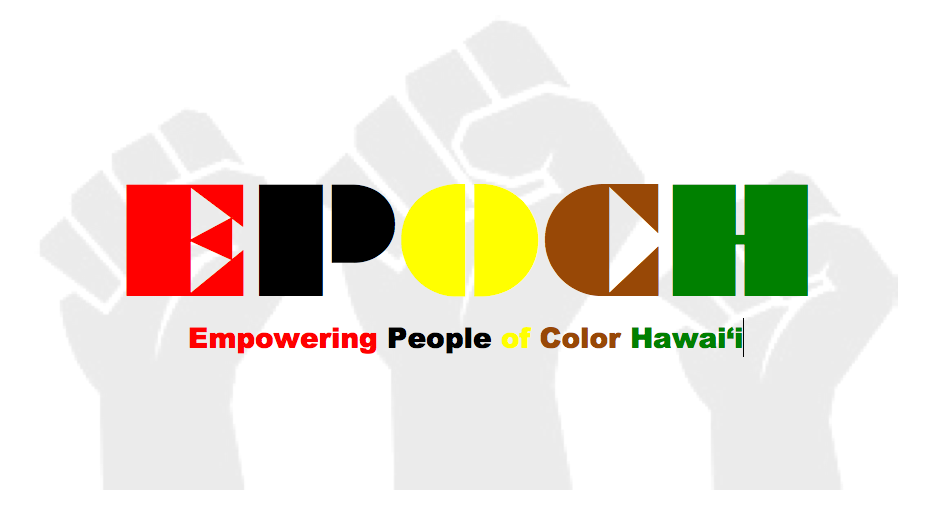 <!#43START>
A New Theatre Company for a New Era
Announcing Hawai'i's newest and boldest theatre company: EPOCH
(Honolulu, HI)--Empowering People of Color Hawai'i (EPOCH) is proud to announce its debut onto O'ahu's theatre scene with their inaugural 2017-18 season. Created out of the need for more stories about and opportunities for people of color, the company aims to increase awareness and encourage diversity through theatre, by showcasing some of the newest and hottest productions rarely or never seen before on Hawai'i's stages.
Production Manager Lanaly Cabalo states re: the company's name, "I want to encourage people of color to pursue theatre in any capacity, be it production, writing, directing, acting. The word "epoch" itself means: a time marked by an event that begins a new period or development." Artistic Director Troy M. Apostol adds, "There's a wealth of stories showcasing people of color that need to be told, and we're here to provide that outlet. In a place as culturally and ethnically vibrant as Hawai'i, let's embrace those differences. Color is a beautiful thing."
Mission-Vision Statement
CREATIVE: To stage existing plays and create new works across a spectrum of performance styles and traditions showcasing the histories, current experiences, and aspirations of People of Color (POC*).
COMPANY: To provide artists of color a range of opportunities in theatre to work as playwrights, actors, directors, designers, choreographers, and other performing arts practitioners, as well as prioritizing POC managers and other administrators.
COMMUNITY: To build a more inclusive theater community that reflects the diversity of thought, ideas, and worldviews of POC who reside in and throughout Hawai'i, and around the world.
*POC in this context refers to people who have been historically, and continue to be, marginalized in the USA such as Native Americans, Blacks, Asians, Mexicans, Pacific Islanders, Middle Easterners, and others who consider themselves POC, including bi/multiracial persons, who live in Hawai'i and who may or may not identify as being "local" but/and also closely identify with socio-cultural experiences and heritages that are distinct or different from Western, European-American dominant culture.
EPOCH's ambitious upcoming season consists of one controversial remount and four Hawai'i premieres. The offerings range from raw and racy to serene and sentimental, and are helmed by some of Hawai'i's top theatre artists. Though dates are tentative and venue is TBA, EPOCH aims to confirm these details in the following weeks.
2017-18 Season
The Motherfucker with the Hat by Stephen Adly Guirgis -- EPOCH Premiere Directed by Troy M. Apostol
Struggles with addiction, friendship, love, and the challenges of adulthood are at the center of the story. Jackie, a petty drug dealer, is just out of prison and trying to stay clean. He's also still in love with his coke-addicted childhood sweetheart, Veronica. Sept. 15, 16, 17
Sept. 21, 22, 23, 24
Bengal Tiger at the Baghdad Zoo by Rajiv Joseph -- Hawai'i Premiere Co-directed by Maseeh Ganjali and Edo Natasha
The lives of two American Marines and an Iraqi translator are forever changed by an encounter with a quick-witted tiger who haunts the streets of war-torn Baghdad attempting to find meaning, forgiveness and redemption amidst the city's ruins. Nov. 10 (Veterans Day), 11, 12
Nov. 16, 17, 18, 19
Intimate Apparel by Lynn Nottage -- Hawai'i Premiere
Co-directed by Troy M. Apostol and Wendy Pearson
The time is 1905, the place New York City, where Esther, a black seamstress, lives in a boarding house for women and sews intimate apparel for clients who range from wealthy white patrons to prostitutes. One by one, the other denizens of the boarding house marry and move away, but Esther remains, lonely and longing for a husband and a future.
Feb. 2, 3, 4
Feb. 8, 9, 10, 11
Yellow Face by David Henry Hwang -- Hawai'i Premiere
Directed by Jason Kanda
Truth and fiction blur with hilarious and moving results as Asian-American playwright DHH leads a protest against the casting of Jonathan Pryce as the Eurasian pimp in Miss Saigon, condemning the practice as "yellowface." This soon comes back to haunt him when he mistakes a Caucasian actor, Marcus G. Dahlman, for mixed-race, and casts him in a lead Asian role.
March 30, 31, April 1
April 5, 6, 7, 8
Aubergine by Julia Cho -- Hawai'i Premiere
Directed by John Wat
In America, a man shares a bowl of berries, and a young woman falls in love. A world
away, in Korea, a mother prepares a bowl of soup to keep her son from leaving home. And a son cooks a meal for his dying father to say everything that words can't. May 18, 19, 20
May 24, 25, 26, 27
Please support EPOCH in their mission to provide quality POC theatre by donating to their GoFundMe campaign at https://www.gofundme.com/epochtheatre.
For more information, please contact Production Manager Lanaly Cabalo at lanaly@hawaii.edu or 808-232-3239.
<!#43END>
Featured Product/Service
<!998Template_start>
<!998Template_end>
---
Please send questions about this website to