Community website by MBC/Ernest Abrams. Call 808-739-9797 for advertising/sponsorship.
First Friday Hawaii
News Item

Downtown-Chinatown NB August Minutes AUGUST 2017
With Permission / Courtesy of
: City and County of Honolulu Neighborhood Commission Office
<!#450IMAGESTART>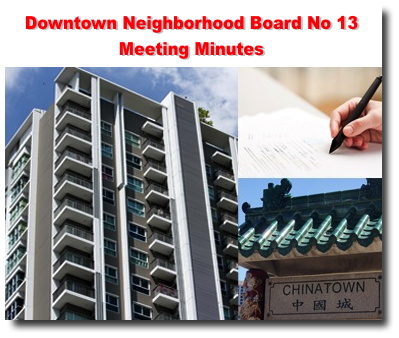 <!#450IMAGEEND>
REGULAR MEETING MINUTESTHURSDAY, AUGUST 3, 2017ONE ALOHA TOWER, MU

<!#450IMAGESTART><!#450IMAGEEND>

LTI PURPOSE ROOM 2
CALL TO ORDER - Chair Alvin Au called the meeting to order at 7:02 p.m. Quorum was established with eight (8) members present. Note: This nine (9)-member Board requires five (5) members to establish a quorum and to take official Board action.
Board Members Present - Alvin Au, Dolores Mollring, Kevin Lye, Lori McCarney, Chu Lan Shubert-Kwock, Willis Moore, Robert Tom and John Smiley.
Board Members Absent - None
Guests - Captain Stan Kimura (Honolulu Fire Department); Sergeant R. Keliikipi and Lieutenant B. Lee (Honolulu Police Department); Laurel Johnston (Governor Ige's Representative); Councilmember Carol Fukunaga; Megan Muramatsu (Mayor Caldwell's Representative); Pat Lee (Honolulu Authority for Rapid Transportation); Senator Karl Rhoads; Representative Daniel Holt; Honglong Li and Rae Gei (Department of Transportation Services); Brent Fujiwara and Steven Takare (Department of Budget and Fiscal Services); Thaddeus Phan (Department of Health); Sam Moku (Hawaii Pacific University); Harrison Rue (Department of Planning and Permitting); Greg Payton (Safe Haven); Kalawai'a Goo (University of Hawaii Master in Social Work); Nicole Reid (Arts Culture Merchant Etc); Elizabeth O'Brien (Hawaii Theatre);Ernest Caravalho, Heather Lusk, Sandra Pohl, Joseph Young, Haven Rafto, Ben Li, Ruk Keene, Robert Kelso, Sam Shy, Susan Chen, John Selby, Ronald Higa, John Crank, Jenny Louie, Anthony Chang, Jillian Jakahi; and Sultan White (Neighborhood Commission Office).
INTRODUCTION OF BOARD MEMBERS - Chair Pro Tem Au and the Board members introduced themselves. Chair Au reminded the individuals present to speak into the microphone when wishing to speak.
PUBLIC SAFETY REPORTS
Honolulu Fire Department (HFD) - Captain Stan Kimura reported the following:
¥ June 2017 Fire Statistics - There were 2 nuisance fires, 1 structure fire, 2 cooking fires, 10 activated alarms (no fire), and 1 brush fire. There were 144 medical emergencies, 1 motor vehicle collision with pedestrians, 8 motor vehicle crashes, and 2 hazardous materials incidents.
¥ Fire Safety Tip - Grilling Safety: Each year a national average of 8,900 home fires are grilling-related and almost half of all injuries involving grills are due to thermal burns. Follow these simple tips for safe grilling:
o Propane and charcoal barbeque grills should only be used outdoors.
o Grills should be placed well away from the home, deck railings, and out from under eaves and overhanging branches.
o Keep children and pets at least three feet away from the grill area.
o Keep your grill clean by removing grease or fat buildup.
o Never leave your grill unattended.
o Ensure that the gas grill lid is open before lighting it.
o Charcoal chimney starters allow you to light the charcoal using newspaper as fuel.
o If you use a starter fluid on charcoal grills, only use charcoal starter fluid. Never add charcoal fluid or any other flammable liquids to the fire.
o Keep charcoal fluid out of children's reach and away from heat sources.
o After grilling, let the coals cool completely before disposing them in a metal container.
Questions, comments and concerns that followed:
1. Parking: A resident raised concerns about illegal parking in a fire lane near Marks Garage. Captain Kimura responded that HFD does not enforce parking.
2. Marco Polo Fire: Lye asked when there would be an investigation on the fire. Captain Kimura said that they have not heard when the investigation would start, but they are using national resources for the job.
3. Fire Risk: McCarney raised concerns about the increased fire risk due to Chinatown being denser. Captain Kimura replied that HFD keeps a cache of preplans for each building that is updated monthly. They are updating the high risk/non-sprinkler buildings first.
4. Funding: A resident asked about funding for retrofitting buildings with sprinklers. Captain Kimura said they have no numbers at their level but the current administration is looking into it. Megan Muramatsu said that City Council passed a resolution which updated the Fire Safety Advisory Committee report and explored funding options.
Honolulu Police Department (HPD) - Lieutenant Lee reported the following:
¥ July 2017 Crime Statistics - There were 6 motor vehicle thefts, 4 burglaries, 55 thefts, 26 unauthorized entries into a motor vehicle (UEMVs), 26 assaults, 8 sexual assaults, 1 graffiti incident and 12 drug offenses. A total of 2,323 calls were placed for service.
¥ Safety Tip - Safety at Social Events: Be with a trusted friend when at a bar, club or party. Always have a designated sober driver. Inform friends and family of where you are going. Do not drink from already opened beverages. Trust your instincts. If you feel disoriented after not drinking too much, leave the event and seek medical attention. Be aware of your surroundings.
Questions, comments and concerns that followed:
1. Security Cameras: Shubert-Kwock asked if the 26 cameras in Chinatown were operating and if they were staffed 24/7. Lieutenant Lee said that they do not monitor them 24/7, but they have an officer who scans it. 25 are running correctly and one (1) is not working due to fiber optic issues. Funding to fix the last camera has been requested.
2. Assaults: McCarney asked why there has been an increase in assaults. Lieutenant Lee said that crime increases in the summer months. There has also been an increase of homeless people in Aala Park. He said that there seems to be more mental illness as there have been higher assaults on officers. McCarney asked if there were new homeless people in Chinatown. Lieutenant Lee said there were some new faces, but that is not the reason for the increase in assaults.
3. Car Jacking: A Board member raised concerns about a carjacking near Aloha Tower Marketplace which was reported on Channel 4 News.
4. Homelessness: Chair Au reported the Rail transit site on Kekoliki Street between King Street and Nimitz Avenue is covered with tents. The public cannot walk on the sidewalk and need to walk on the street.
5. Phone in Crosswalk: Chair Au asked about the new law banning phones in the crosswalk. Lieutenant Lee said that they will educate the public about it for a few months before enforcing it.
6. Police Privilege: McCarney asked if the police were allowed to do things that regular people are not. For example, she says people report police riding on the sidewalk when they are not allowed to. Lieutenant Lee said that he believes police should be role models, but not all follow that philosophy. They can ride on the sidewalk when in active pursuit or active police service.
Neighborhood Citizen's Patrol - Mollring reported that as part of its ongoing efforts to promote community safety, the Honolulu Police Department hosted National Night Out on Tuesday, August 1, 2017. The free event promotes police-community partnerships and sends a message to criminals that neighborhoods are organized and fighting back against crime. National Night Out will be held at the Salt Lake Target store (4380 Lawehana Street) from 5 p.m. to 9 p.m. The event will feature live music and entertainment, free keiki identification cards, first responder vehicles, and safety information. Attendees will also have the opportunity to meet UFC lightweight Yancy Medeiros. For more information on National Night Out, please contact the District 5 Community Policing Team at 723-8231. The Neighborhood Citizens Patrol meets on Tuesday nights at 8:00 p.m. on the Diamondhead side of Kukui Plaza.
Public Concerns
1. Traffic Lights: A resident raised concerns about broken crossing signals in Chinatown
2. Downtown: A resident raised concerns about the Downtown-Chinatown Neighborhood Board focusing more on Chinatown issues than Downtown issues.
3. Sidewalk: A resident raised concerns about tourists and homeless people biking on the sidewalk.
4. Wayfinding Signs: A resident raised concerns about the new wayfinding signs in Chinatown not having the distance or Chinese characters.
APPOINTMENT TO FILL THE VACANCY AT LARGE
Ernest Caravalho and Noe Levan both volunteered to fill the vacancy and introduce themselves to the community.
Ernest Caravalho was appointed by the Downtown-Chinatown Neighborhood Board No. 13 by BALLOT VOTE, 8-0-0; (AYE: Au, Mollring, Lye, McCarney, Shubert-Kwock, Moore, Tom and Smiley. NAY: None. ABSTAIN: None).
Chair Au called a recess at 7:40 p.m. so the Neighborhood Assistant could administer the Oath of Office.
Caravalho sat on the Board. There were nine (9) members present.
The meeting was called back to order at 7:43 p.m.
NEW BUSINESS
Creative Arts Experience Festival - Sandy Pohl announced the GOODBYE TO UGLY Chinatown Community Clean-up by the Creative Arts Experience and the Honolulu Culture and Arts District, and Hawaii Theater. They will build community pride for a vibrant and clean neighborhood to live, work and play. Merchants will be asked to pick up trash on the sidewalk fronting their storefront. It is a two (2)-year commitment to do two (2) clean-ups per year in the area between Chaplain Lane to King Street and Bethel Street to Smith Street. The first event is on September 9, 2017 from 9:00 a.m. to 11:00 a.m. There will be refreshments after the clean-up. They will paint the pump hose bunker in Sun Yat Sen park with a community mural using recycled paints. They will paint the graffiti off of the Indigo doorways and the staple wall on Nuuanu Avenue. They will pick up trash in the area. The event is sponsored by the Merchants of the Culture and Arts District. Pohl also announced the Celebration of the Arts Mini Street Festival. It will be on October 14, 2017 from 11:00 a.m. to 3:00 p.m. in collaboration with the Honolulu Culture and the Arts District, Creative Arts Experience, and Hawaii Theater.
Questions, comments, and concerns followed:
1. Arts Culture Merchants Etc (ACME): Shubert-Kwock asked and Pohl answered that ACME is not participating. Three (3) other non-profits are participating to make Chinatown the townsquare and clean it up.
2. Bunker: Shubert-Kwock said that the bunker in Sun Yat Sen park should be removed. Elizabeth O-Brien said that the fence may be put in around the park by the end of the year, but there is no plan to remove the bunker.
3. Advertise: Tom asked how the event was advertised. Pohl answered that all merchants were invited to come and participate.
4. Equipment: Tom asked what equipment they will be using. Pohl answered that the City will provide equipment, but that volunteers are welcome to bring their own.
5. Department of Facilities Maintenance (DFM): Chair Au encouraged Pohl to invite DFM to help with their project.
Shubert-Kwock moved and Mollring seconded that the Downtown-Chinatown Neighborhood Board No. 13 support the GOODBYE TO UGLY Chinatown Community Clean-up. The motion was APPROVED by UNANIMOUS VOTE, 9-0-0; (AYE: Au, Mollring, Lye, McCarney, Shubert-Kwock, Moore, Tom, Bautista and Smiley. NAY: None. ABSTAIN: None).
Residential Use Dedication affecting Executive Centre, Harbor Court and Royal Queen Emma - Brent Fujiwara from the City Real Property Assessment Division reported that certain condominium owners may now consider dedicating their properties for Residential Use for a five (5)-year period if their units are being used as a primary residence, or a long-term rental (longer than 30 days at a time). This option will allow the properties that are currently on land zoned as mixed use, hotel, or commercial, and whose Declaration of Condominium or Horizontal Property Regime specifically states that the unit is allowed to be used as residential, to be classified as Residential, and thereby eligible for the historically lower real property tax rate. Upon sale or transfer of the dedicated property, the dedication will continue for the remainder of the dedication, but will not be automatically renewed. Once expired, the dedication will be cancelled, and the new owner must file a new petition to dedicate in order to continue with the Residential Classification. Failure to observe the restrictions will result in a paramount lien upon the property, as well as rollback taxes and penalties. This Residential Use Dedication will replace any previous methods by which condominiums on non-residential zoned lands were allowed to be classified as Residential. Previously approved Declaration Regarding Condominium Use forms are deemed to be invalid. A Home exemption will no longer automatically qualify a property for classification as Residential. The deadline to file this dedication is September 1, 2017. Should you have any questions please contact 808-768-3799.
Questions, comments, and concerns followed:
1. Inform Community: Chair Au said that there are three (3) buildings in Chinatown that fall under Ordinance 17-13. Please let your neighbors know and spread the word. The apartment owners need to be informed of the mail.
2. Impetus: Tom asked what brought about this ordinance. Fujiwara said that it is for people in mix use areas to dedicate their properties to the correct classification. Prior to this they declared their properties. There were no consequences for fraudulent use.
3. Miss Date: Smiley asked what happens if they miss the deadline. Fujiwara answered that then they must wait until September 1, 2018 to rededicate.
Law Enforcement Assisted Diversion (LEAD) - Greg Payton reported that LEAD is a pre-booking or pre-arrest diversion program that will refer repeat, low level drug offenders and other low-level offenders to harm-reduction-based case management and community-based services. LEAD was intended to demonstrate that non-coercive and non-punitive approaches to currently illegal activities such as drug use can be more effectively and humanely addressed outside of the criminal justice system. LEAD has been shown to be more effective than repeating the cycle of arrest and incarceration. LEAD offers individualized case management services. The types of services accessed are entirely determined by individual participants and their case manager. The only requirement for being in LEAD is to complete an intake assessment within a specified period of time. After that the individual is free to walk away without repercussion. LEAD involves a wide variety of stakeholders including the Mayor's Office, City Council members, the Prosecuting Attorney's Office, Police and Sheriff Departments, Public Safety, legislators and healthcare and social service providers and the community. For more information, visit
www.leadkingcounty.org
.
Questions, comments, and concerns followed:
1. Approval: Shubert-Kwock said this program is needed. There needs to be less crime in the community. She said it should be island-wide. She hopes it gets approved for the pilot project. Payton said that the project was meant to reduce the number of people entering the criminal justice system for low level offenses related to drug use, mental health, sex work, and extreme poverty.
2. Who: Tom said that the program seems directed toward the homeless community. Does it apply to anyone? Payton responded that referrals happen by the police or friendly and social contacts. It is open to all.
3. Help: McCarney asked the time schedule for the project and how the Board could help. Payton responded that there is an October 1, 2017 start date. He asked that the Board pass a resolution showing support.
4. Safeguards: Lye asked how this is not a get-out-of-jail free card. Payton answered that the police have utmost discretion in the situation. The charge can also be brought back up if the program manager or police feel necessary. Chair Au said that hopefully the bad ones still go to jail.
Shubert-Kwock moved and Mollring seconded that the Downtown-Chinatown Neighborhood Board No. 13 support the Law Enforcement Assisted Diversion (LEAD). The motion was APPROVED by UNANIMOUS VOTE, 9-0-0; (AYE: Au, Mollring, Lye, McCarney, Shubert-Kwock, Moore, Tom, Bautista and Smiley. NAY: None. ABSTAIN: None).
Status Update on Complete Streets Bulb-Outs - Hong Li from the City Department of Transportation Services (DTS) reported that the bulbouts are for the elderly and children. By reducing the crossing distance, they reduce exposure to traffic. People are learning to use it. There have been concerns about parking and loading but he has been meeting with merchants and stakeholders to come up with ideas to minimize the negative impacts of the bulbouts.
Questions, comments, and concerns followed:
1. Resolution: Shubert-Kwock said that the Department of Business, Economic Development & Tourism (DBEDT) passed a resolution in support of the complete removal of the bulbouts.
2. Bad Idea: Tom said that the business merchants are losing money. He said that the bulbouts should be taken out. He said that the reality does not match the pictures.
3. Data: Lye asked if there was any data behind the complaints. Li said that it is hard to collect accounting data to confirm loss to businesses. He said that one (1) fatality is enough to justify the bulbouts.
4. Petition: Shubert-Kwock said that there were 2,500 signatures opposing the bulbouts delivered to Councilmember Fukunaga's office.
5. Reports: Chair Au asked for periodic updates, and that DTS continue to meet with merchants and community members to find the best solution.
6. Homelessness: A resident raised concerns about homeless people sitting in the bulbouts.
7. Pilot Project: A resident said that since the bulbouts are a pilot project, it can be scrapped for something else.
8. Parking: A resident raised concerns that the bulbouts take up parking and that they do not look nice.
9. Not Working: A resident said that the bulbouts only slow turning traffic, but people going straight can still speed.
10. Loading Zone: A resident said that FedEx/UPS Does not park at a loading zone then walk the package to the shop. They now park in the middle of the street since the shoulders have been removed. The bulbouts in combination with Biki take up too much space.
11. Revised Plan: Li said that he and DTS will work on the revised plan and share it with the community.
COMMUNITY CONCERNS
Hawaii Pacific University (HPU) - No report was given.
Safe Haven - Mental Health Kokua was founded in 1973 as a non-profit, Hawaii corporation, in which the mission is to assist people with mental health and related challenges, to achieve optimum recovery and functioning in the community. CEO Greg Patyon reported that 65 people have been placed into permanent housing in 2017 so far. Safe Haven will be moving to 126 Pauahi Street in September 2017. A handout was circulated.
Honolulu Rail Transit (HART) - HART Representatives Pat Lee and Jiro Sumada announced the following:The 20-mile rail system includes 21 stations. By 2030, nearly 70% of Oahu's population and 80% of the island's jobs will be located along the rail corridor. The nine stations along the first 10 miles of the route are currently under construction and the next four from Pearl Harbor to Middle Street are in final design. These stations and the guideway section are anticipated to be complete by middle of 2021. The 5.2 mile City Center section of the project, which is subject to additional funding that may be discussed at a Special Session of the Legislature end of this month, is from Middle Street to Ala Moana Center and includes eight stations that together are estimated to generate over 51,000 daily boardings or nearly 43% of the total system ridership. These stations are: Kalihi Station at Dillingham and Mokauea, Kapalama Station at Dillingham and Kokea at the Honolulu Community College, Iwilei Station at Dillingham and Kaaahi, Chinatown Station at Nimitz and Kekaulike, Downtown Station at Nimitz and Bishop, Civic Center Station at Halekauwila and South, Kakaako Station at Halekauwila and Ward, Ala Moana Station at Kona Street near Kona Iki, mauka of the shopping center. From Ala Moana Center, we anticipate integrated bus and shuttle systems to destinations further east such as Waikiki and the University of Hawaii at Manoa. HART plans to open the first 10 miles (from Aloha Stadium to East Kapolei) for revenue passenger service in late 2020 or early 2021, and pending additional funding which is before the State Legislature, the full 20-mile system could open in 2025 to Ala Moana Center. Regarding HART's construction work in Chinatown, these are HART Historic Preservation Fund (HPF) projects. The HART Programmatic Agreement, which is federal law, requires that HART establish a two million dollar grant for improvements to historic properties in Chinatown. This is an update:
??? Sumida Building - River of Life at 1138 Maunakea Street: Awning replacement
o The contractors have been limiting the Maunakea Street lane closure as much as possible to minimize impacts to the public and area businesses.
o August 9th - plan to start awning installation on Maunakea portion.
o Contractors are ahead of schedule and should be completed with the job no later than August 25, 3 weeks ahead of schedule.
¥ Pig & Lady - Pacific Gateway Center at 83 N. King Street: awning replacement and repairs
o Work would likely start no earlier than September. There is still a lot of leg work that needs to be handled before plans are finalized.
o Like we did for the Sumida Building, HART staff will be canvassing the area with a flyer once details are finalized as they relate to start time, duration, etc.
o Work will likely restrict access of the right lane of N. King Street which would be closed between Maunakea Street and Smith Streets. Discussions on how the sidewalk and pedestrians will be handled are still being vetted between HART staff and the contractor.
¥ M. Manghnani Trust Building at 158-162 N. Hotel Street: replace air conditioning and roof repairs
o Work is restricted to Hotel Street and we do not anticipate any lane closures.
For general project information, traffic updates, meeting notices and more information, please visit the website
www.honolulutransit.org
, call the project hotline at 566-2299 or email a question at
info@honolulutransit.org.
Questions, comments, and concerns followed:
1. Construction: Chair Au said that HART should contact the merchants affected by the construction plans so that they know the plans are City projects, not building owner projects.
2. Ridership: Lye asked if ridership numbers would be affected if some Rail stations were not built. Lee answered that there must be 21 stations. However, moving the stations will still affect ridership numbers.
3. Audit: Lye asked if an audit of HART was likely. Lee answered that they have the budget, but it is up to the HART Board.
Arts, Culture, Merchants, Etc. (ACME) - Nicole Reid reported that they had a positive Business Watch meeting. ACME met with Institute of Human Services (IHS) to discuss mental illness and substance abuse. Hawaii has a grade of B- for mental health laws and D for enforcement of those laws. ACME supports the Discover Art event. Reid reported that the HNL 311 app is good for small City complaints and concerns. ACME supports the Sun Yat Sen Park beautification. Art in public spaces could attract many visitors like the wings mural in Haleiwa. There is a new merchant at Marl's Garage. It is a clothing store. There will be no street closures during the First Friday event, but some buses will be diverted.
Questions, comments, and concerns followed: Bus: Chair Au asked why the buses will be diverted. Reid replied that there used to be lane closures, but now they only keep the bus from going through First Friday in Chinatown. She said she is not fully sure why, but that it is probably for safety concerns if too many people are out walking.
Chinatown Improvement District (CID) - Lee Stack reported that Taste of Chinatown will be on Saturday, August 26th from 10:00 a.m. to 4:30 p.m. Join us for a free family friendly event in the heart of Chinatown! Sample tastings from the many new area chefs, browse artisan wares, engage in various cultural demonstrations and keiki activities and take advantage of special offers available only on this day. Or just relax and enjoy live entertainment in a park setting.
Chinatown Business & Community Association (CBCA) - Shubert-Kwock reported that CBCA spoke with area merchants who were very upset with the loss of their traditional parking areas to conduct business with their stop and go customers. Chinatown is experiencing a lot of purse snatching and assaults and CBCA encourages HPD to deploy more officers to patrol and handle crimes in Chinatown. CBCA continues to request power washing of Chinatown streets and hope that trash pickup can be eased by the removal of the barricades soon. The next CBCA Chinatown Dim Sum Meeting is on Tuesday, August 8, 2017 at Empress Restaurant at 8:30 a.m.
ELECTED OFFICIALS
Mayor Kirk Caldwell's Representative - Megan Muramatsu from the City Managing Director's Office provided updates on questions from the last meeting.
¥ Bulbouts: On July 16, 2017, our Fire Operations (OPS) section investigated the new bulb outs in the Chinatown area and found that a frontline apparatus must utilize two lanes to turn onto Pauahi Street from Maunakea and Smith Streets. This maneuver will be easier while responding with lights and sirens. As such, we will try to avoid nonemergency turns onto Pauahi Street and carefully navigate the turns during emergencies. Should you have questions, please contact Assistant Chief Ronald Rico of our OPS section at 723-7103 or
rrico@honolulu.gov.
The project followed HFD's guideline of minimum 20 feet roadway width. For those vehicles blocking an emergency vehicle, they have to proceed to a location where they can pull over. Department of Transportation Services (DTS) will continue to talk to HFD to gather HFD's feedback on the demonstration project. The delineators, the concrete planters, and the bollards are all essential safety features. DTS will work with the community on the ideas softening the image. The City ordinance prohibited any loading and parking 75 feet from the signalized intersection. The installed bulbouts did not take any travel lane away, and did not eliminate any legal parking or loading. There is no lost lane capacity. Cars, small vans, and pickup trucks should not have problems negotiating the curves if they follow the speed limits. For larger trucks on Pauahi Street, there are no impacts to them. For large trucks going through on Nuuanu, Smith, and Maunakea there are no changes. The only movements for large trucks that are affected are from Nuuanu turning right to Pauahi, from Smith turning right/left to Pauahi, and from Muanakea turning right/left to Pauahi. Those truck volumes are really low and the detours are available for them.
¥ Monthly Report: If the board requires additional information that is not being provided in the monthly report, please inform the Honolulu Police Department as to specifically what information is needed, and the proper authorities will review the requests.
¥ Illegal Parking: District 1 (Central Honolulu) officers made checks of the area of Mark's Garage. From July 13-22, 2017, 17 citations were issued for various violations. Officers will continue to monitor the area and take the appropriate enforcement action.
??? Inadequate Enforcement: Information is currently being gathered to determine the identity of the involved officers for their alleged inaction. When they are identified, their conduct will be reviewed and appropriate disciplinary action taken if warranted.
¥ Crosswalk Timer: DTS has been monitoring the intersection of Maunakea and Pauahi Street, and found the pedestrian timing is set appropriately. DTS did observe many pedestrians started to cross when the flashing hand was displayed. DTS wants to remind everyone, a pedestrian should start to cross the street only when the white "walkman" appears and it is safe. Once the white walkman turns into a blinking red hand you can continue to cross. However, if you have not started to cross by this time DO NOT enter the crosswalk because you will not have sufficient time to cross the street safely. When the solid red hand is displayed, NO ONE should start to cross the street.
¥ Parking Rates: Parking rates are approved by the City Council. Bill 12 hearings considered geographic exemptions to rate increases; ultimately these were not included in the final bill.
¥ Complete Streets: The design concepts studied and vetted during the Downtown/Chinatown Complete Streets Implementation Project are currently being engineered with the Rehabilitation of Streets design consultant. The complete streets team is working with the Department of Design and Construction who is managing this consultant in preparation of the construction bid documents.
¥ Potholes: Potholes were patched on July 1, 2017 along Fort Street between S. Kukui Street and Beretania Street, but due to parked vehicles, a crew was sent out to patch potholes again on July 15, 2017, for areas that were not previously addressed.
Questions, comments, and concerns followed:
1. Signal Malfunctions: Chair Au asked how to report traffic signal malfunctions. Muramatsu answered that it would be best to call the Department of Customer Services hotline at 808-768-4381 or report a concern on the HNL 311 app.
2. Bus: Chair Au asked why the bus is rerouted in Chinatown during the First Friday events. Murumatsu said that she will follow up on that issue.
3. Tree Wells: Mollring reported that the tree wells in Chinatown are not filled with dirt and pose a tripping hazard. She provided the locations to Mayor's Representative Muramatsu.
4. Sidewalk: Shubert-Kwock reported that the sidewalk in front of the Tea Hut has a level change that can pose a tripping hazard.
5. Bike Training: Tom asked why bicyclists do not need training when car drivers do. McCarney answered that the Hawaii Bicycling League has youth and adult safety programs. She also said that Biki brings attention and awareness to biking and brings people to Chinatown.
6. Rail: Muramatsu reported that the GET is the best way to pay for the Rail, and that there will be a Special Session at the end of the month to determine how to fund the Rail.
Councilmember Carol Fukunaga - Councilmember Fukunaga circulated a handout and reported that she and Councilmember Kobayashi introduced Resolution 17-205 that urges the City administration to remove the traffic bulbouts from Chinatown as they result in business losses. Councilmember Fukunaga also co-sponsored Resolution 17-195 in response to the Marco Polo fire, which seeks an update to the 2005 Fire Safety Advisory Committee Report and to identify which incentives and solutions are workable today. The following residential condominium buildings in the Downtonw/Chinatown area that were identified as non-sprinklered buildings in the 2005 report are: 1511 Nuuanu Avenue, 920 Ward Avenue, 55 S. Kukui Street, and 222 Vineyard Street.
Governor David Ige's Representative - Laurel Johnston, Deputy Director of the Department of Budget and Finance, circulated a newsletter, which states that the Department of Education (DOE) is on track to reach the goal of providing air conditioners to 1,000 classrooms, Dr. Christina Kishimoto is Hawai`i's new school superintendent, and the new Kupuna Caregivers program is the first in the nation.
Questions, comments and concerns that followed: Asbestos: Mollring reported that older buildings have asbestos, which must be removed before sprinklers can be added.
Representative Daniel Holt - No representative was present; no report was provided.
Senator Karl Rhoads - Senator Karl Rhoads reported that a one way sign on Beretania by Richards Street was knocked down. Lan Yoneda of the City and County contacted him to say that they would have it fixed. A member of the community reported that the storm drain between the Honolulu Tower and the Maunakea Tower Building continuously backs up when there's a heavy rain and the smell of sewage is apparent. His office filed a Problem Report with the City and County. Lan Yoneda contacted him to say that they will investigate the problem. A member of the community reported that the Ewa mauka corner ramp on Richards and Hotel Street is too steep. They have filed a Problem Report. If anyone has any ideas on new legislation for next year, please contact 808-586-6130 or
senrhoads@capitol.hawaii.gov.
APPROVAL OF MAY 4, 2017 REGULAR MEETING MINUTES - The July 6, 2017 regular meeting minutes were APPROVED by UNANIMOUS CONSENT as amended.
Amendments include:
1. Inadvertent page break on page five (5).
2. Question two (2) on page five (5), strikeout "She asked that it be moved to Nimitz and Maunakea Street."
BOARD BUISNESS AND REPORTS
Chair's Report - Chair Au asked McCarney to provide monthly Biki reports during the Public Concerns portion of the meeting. Shubert-Kwock reported that the private promoter never submitted the after-Block Party report.
Neighborhood Commission Updates ??? Chair Au reported that Uyen Vong has moved to a new office and Relley Araceley was promoted to Community Relations Specialist.
Office of Information Practices Report - No report was given.
Treasurer's Report - No report was given.
City and County Affairs - No report was given.
Oahu Metropolitan Planning Organization (OMPO) - No report was given.
ANNOUNCEMENTS
Next Meeting - The next Downtown-Chinatown Neighborhood Board No. 13 meeting is scheduled for Thursday, September 7, 2017 at the Hawaii Pacific University, One Aloha Tower Drive, Multi-Purpose Room 2 at 7:00 p.m.
Neighborhood Citizen's Patrol - The Neighborhood Citizen's Patrol meets each Tuesday on the Diamnond Head side of Kukui Plaza at 8:00 p.m. Please consider joining the patrol and supporting its effors as they express their service and pride in our Downtown-Chinatown community.
Olelo - Broadcast-Videotape of Board meetings are scheduled to be shown on the 3rd Thursday, and on the 2nd and 4th Saturday, Channel 54.
ADJOURNMENT - The meeting adjourned at 9:40 p.m.
Submitted by: Sultan White, Neighborhood Assistant I
Reviewed by: Jackson Coley, Neighborhood Assistant I
Featured Product/Service
<!998Template_start>
<!998Template_end>
---
Please send questions about this website to