Community website by MBC/Ernest Abrams. Call 808-739-9797 for advertising/sponsorship.
First Friday Hawaii
News Item

The ARTS at Marks Garage - SEPTEMBER 2017 Update
<!#43START>
Find out what's happening this month at The ARTS at Marks!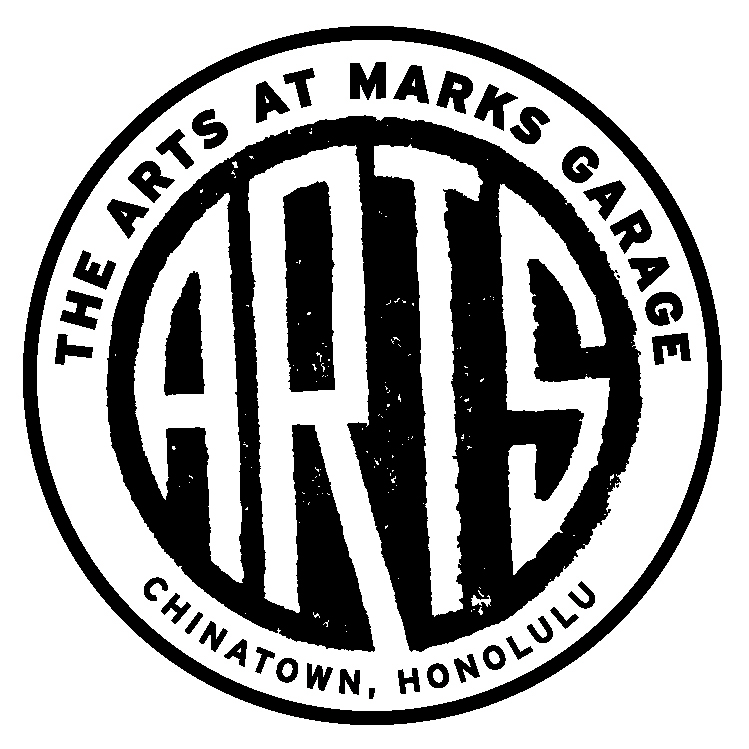 The ARTS at Marks Garage
September 2017
1159 Nu'uanu Avenue *Honolulu, Hawai'i 96817
808.521.2903 *info@artsatmarks.com*www.artsatmarks.com
Gallery Hours:Tuesday through Saturday12pm - 5pm
Even though I've been out of school for several decades, there's something about September - autumn - that makes me feel such a sense of possibility and anticipation. Here at The ARTS at Marks Garage we have great reason to feel excitement over burgeoning possibilities. You don't have to be going back to school to celebrate this new generation of our work, presence and engagement in the community.
This month we have two seriously awesome fundraisers, a community arts event, two gallery shows, an invitation to visit our Artist Lofts AND special events and classes offered by our Partners.
Welcome to a new school year, and a new season at The ARTS at Marks Garage.
Donna Blanchard
Consulting Director, The ARTS at Marks Garage
Managing Director, Kumu Kahua Theatre
Host, Backstage with Donna Blanchard
kumkahuadirector@gmail.com
SEPTEMBEREXHIBITS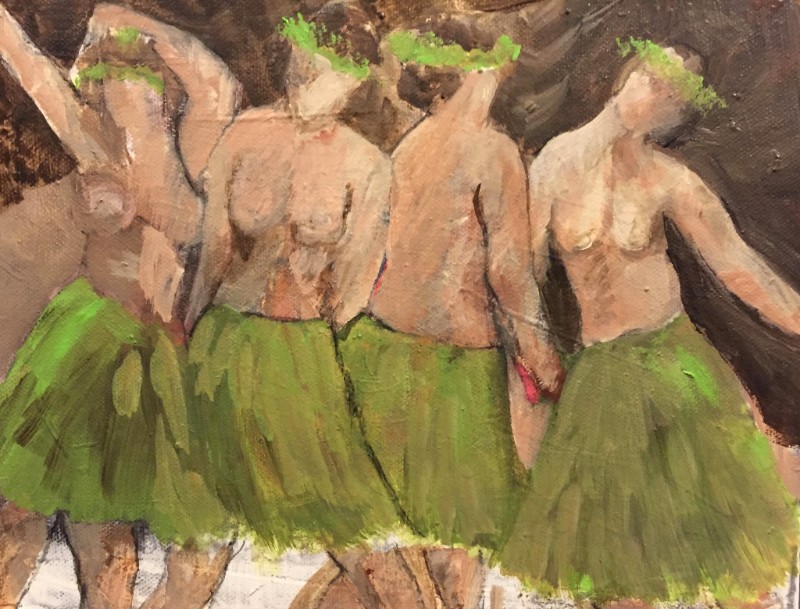 Little Picture Show
Hawaii Watercolor Society
Now through September 16
With special guest artists George Woollard and Jinja Kim's carved and built table-top art 100 little paintings by 25 artists, framed and ready to hang. PLUS A selection of beautiful small carvings and objets created by renowned local artists George Woollard and Jinja Kim.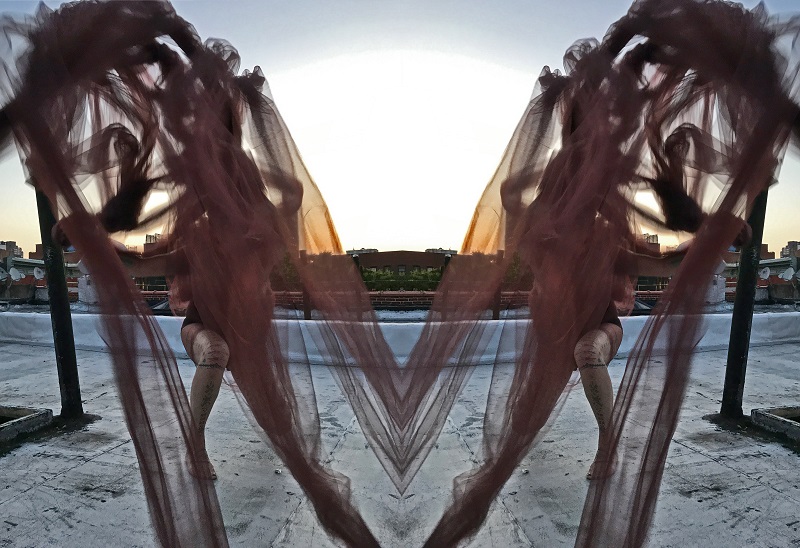 The Total Suspension of Disbelief
Moana Nepia and Rosanna Raymond
September 19 -30
Immerse yourself in the vastness of Moananuiakea with "The Total Suspension of Disbelief", an exhibition featuring the work of Moana Nepia and Rosanna Raymond. Explore the realm of the "va" through intimate textile and video installations, culminating in a live closing performance on Saturday, September 30th.
Moana Nepia is a Māori visual and performing artist - a choreographer, curator, video artist, painter, and poet. A professor at UH Manoa's Center for Pacific Islands Studies, he is helping to develop new courses with a focus on arts and performance in the Pacific. His interdisciplinary research interests include visual arts, dance and performance studies in the Pacific, Indigenous epistemologies, and research through creative practice. Rosanna Raymond is an internationally renowned New Zealand--born performance poet, artist, costume designer and writer of Samoan and Pākeā descent. Her poetry springs, in part, from her experiences in the diaspora, but it ranges across the various landscapes of her life and derives much of its force and images from the oral histories taught to her in her youth.
SHOWS & EVENTS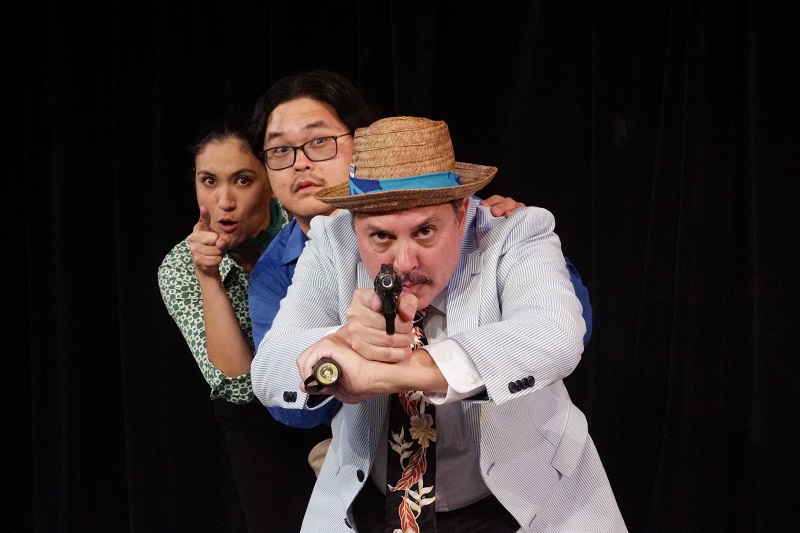 Murder Mystery
September 8, 6 PM, $40
Join us for an interactive Murder Mystery Fundraising Party for The ARTS at Marks Garage! We'll begin at The ARTS with a live, interactive murder mystery performance, then walk to Kumu Kahua Theatre to watch Who Killed Gilbert Botello? with priority seating. Pupus provided by Bethel Union, JJ Dolan's and Cake Envy and your first drink at The Bar@Marks Garage is on us!
$30 of your ticket price goes to The ARTS at Marks Garage!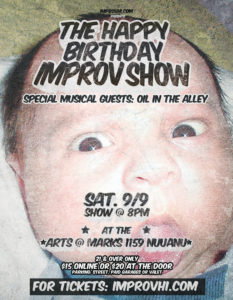 The Happy Birthday Improv Show
September 9, 8PM,$15 online or $20 at the door
It's our birthday and we'll cry happy tears if we want to!
Join us for our 5th AND 6th birthday (we miscounted at our last party) as we take a stroll down memory lane with past and present improvhi forms and shows. Featuring special musical guests: Oil in the Alley!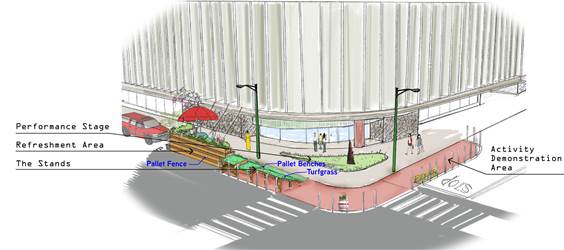 PARK(ing) Day
Sept. 15, 11 AM - 7 PM
PARK(ing) Day is an annual open-source global event where citizens, artists and activists collaborate to temporarily transform metered parking spaces into "PARK(ing)" spaces: temporary public places. These temporary public spaces are referred to as "parklets."
This year SSFM International and The ARTS at Marks Garage are partnering up to host a parklet at the corner of Nu'uanu Ave and Pauahi St. The theme is Celebrating the Arts. The parklet and the sidewalk bulbout at the corner will be activated with seating, art activities, and performances that will be open to all throughout the day.
SAVE THE DATE!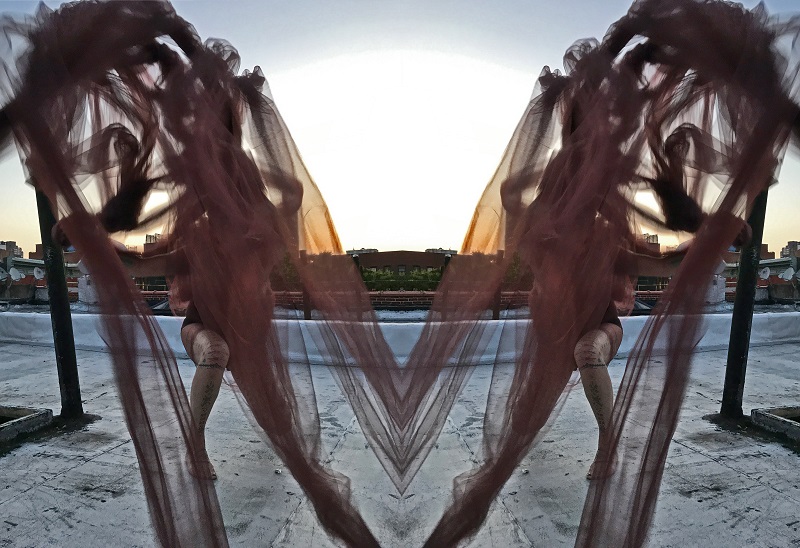 Soiree Sa(va)ge Fundraiser
September 30, 6-9 PM
Experience the expanse of Oceania in this intimate night of movement, music and sound, culinary delights and the visual arts. Enjoy 'awa and farm to table foods from locally renowned chefs while listening to poetry, prose, and Hawaiian music, culminating in a one time only collaborative performance by international artists Rosanna Raymond (New Zealand/Samoa) who activates the Pacific notion 'Va' in provocative performance work, and Moana Nepia (Māori/English/Irish), a visual artist, former ballet dancer/choreographer and UH Professor who explores the Māori concept of ' 'Te Kore' -- the void. Fresh from conducting separate projects at the Met Museum, this is their inaugural performance together. It will truly be a night of firsts.
Limited tickets will be available soon for $65.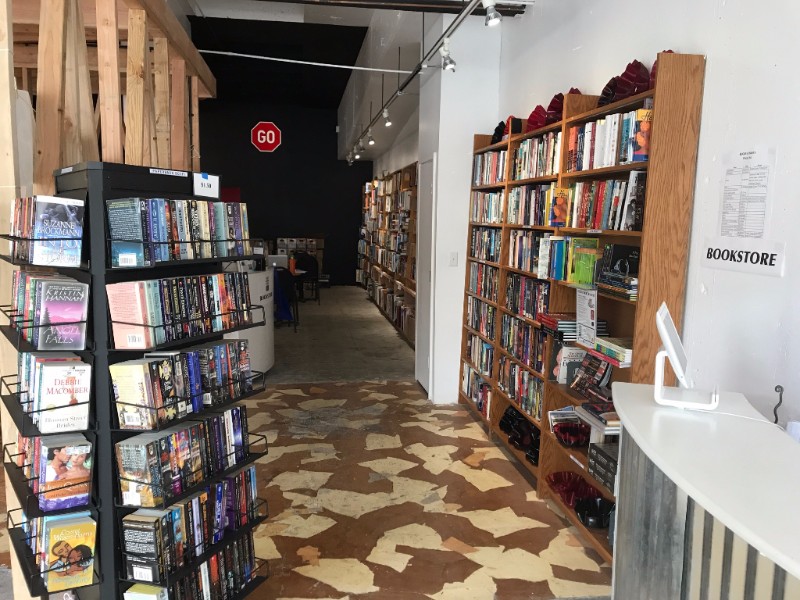 Books at Marks
Friends of the Library
Open Tue-Sat 12-5 PM, and until 10 PM on First Fridays
There's a BOOKSTORE in Downtown! Books at Marks, a bookstore by Friends of the Library of Hawai'i, opened on April 4th in The ARTS at Marks Garage and will be a continuing fixture in the newly renovated space.
FIRST FRIDAY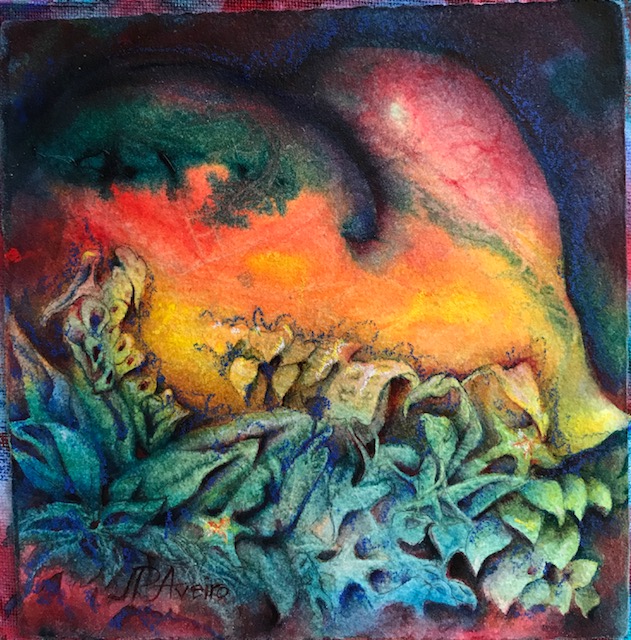 September 1, 5:30-9:30 PM
Join the Hawaii Watercolor Society for their opening on First Friday! Watch some artists in action, maybe get a portrait drawn or painted, and make some art of your own!
The BAR@MARKS in full swing servingKona Brewing Co., a selection of Andis Wine, and signature cocktails.
Books@Marks by The Friends of the Library will be open until 10PM.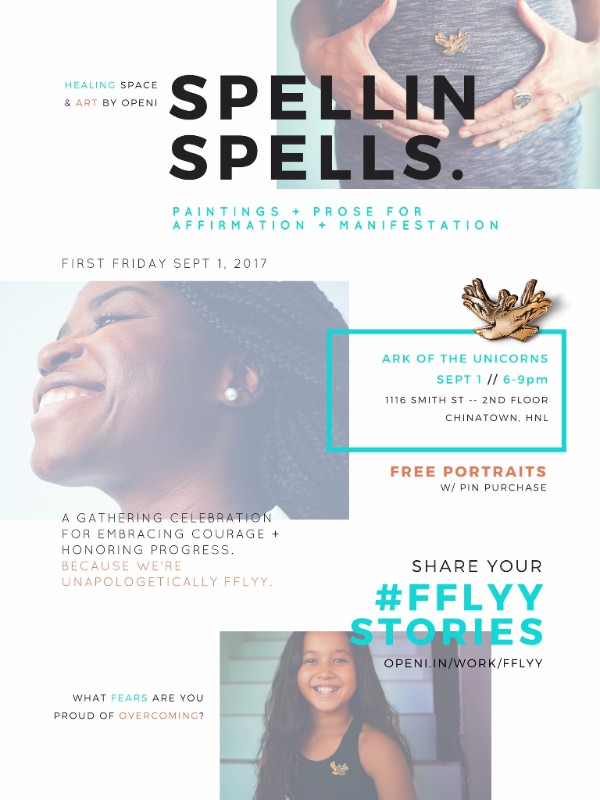 Open House @ The Lofts
Chinatown Artist Lofts
September 1, 6-9 PM
This First Friday September 1st at Ark of the Unicorns, Lala Openi will be holding space for us to share our #FFLYYstories as we ponder how we are honoring our personal triumphs in overcoming obstacles. Openi will be offering free portraits to accompany your FFLYYstories, with each purchase of a FFLYYpin. To set the mood, on the walls will be Openi's most recent series, Spellin Spells, a series of paintings + personal prose for affirmation + manifestation.
WORKSHOPS & CLASSES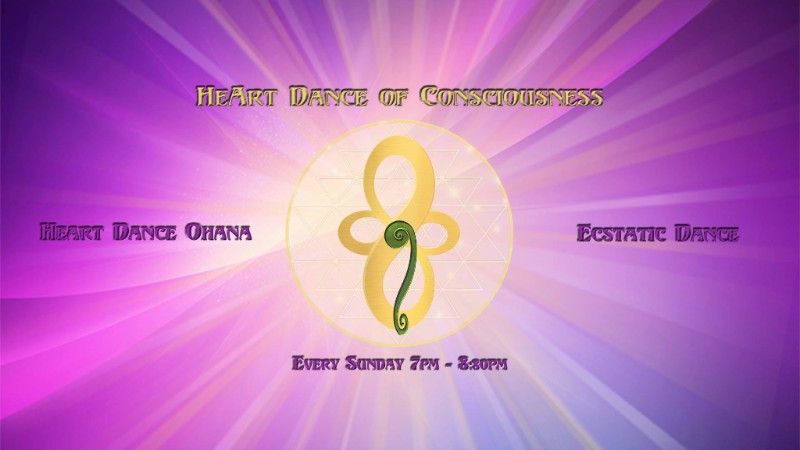 Ecstatic Dance
HeArt Dance ofConsciousness
Sundays, 6:30 PM
HeArt Dance Of Consciousness is excited to open its home for HeArt Dance Ohana, Ecstatic Dance. Let's celebrate, create, connect to our authentic Self, our awakened Self. See You on the dance floor!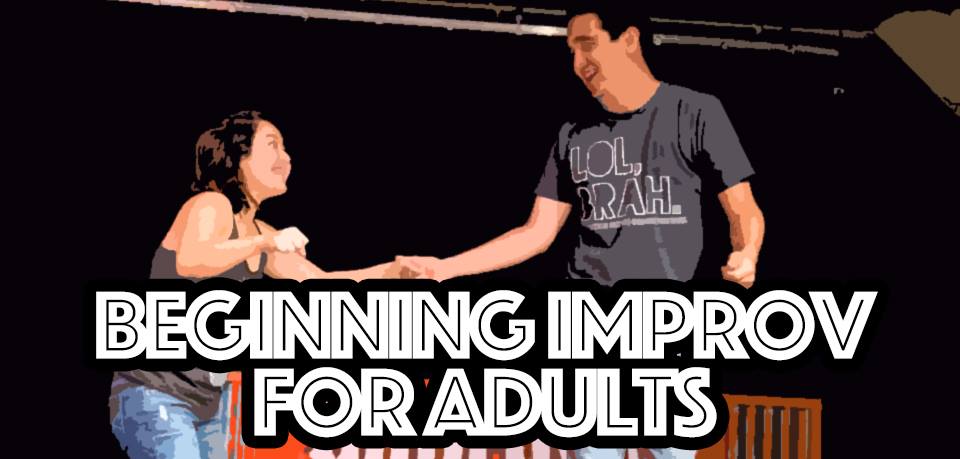 Beginning Improv Classes for Adults
improvHI
Mondays, 6:30 PM, $50 for 4 classes*
(No class on Labor Day Sept. 4)
Whether you're wanting to break out of your shell, work on your public speaking skills or just want to get your brain a sweatin'...this class will guide you to thinking on your feet and outside of the box through short form improv games and warm ups. GREAT for groups, entrepreneurs, performers, dog walkers and anyone else that likes to have a good time. No experience required. Also good for seasoned improvisers looking to brush up on their skills and play with new peeps!
Sorry, no drop ins. *payment plans available.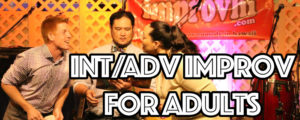 Int/Adv Improv Classes for Adults
improvHI
Mondays, 7:30 PM, $75 for 4 classes
(No class on Labor Day Sept. 4)
This intermediate/advanced level class allows students to practice the essentials of long-form improv comedy. Students will learn to build scenes by "yes, and"-ing, activate their listening, support their scene partners and to play in the reality to create fun and comedic improvised scenes with the opportunity to perform in an improv show at the end of the session. Some improv experience is suggested. Limited Space.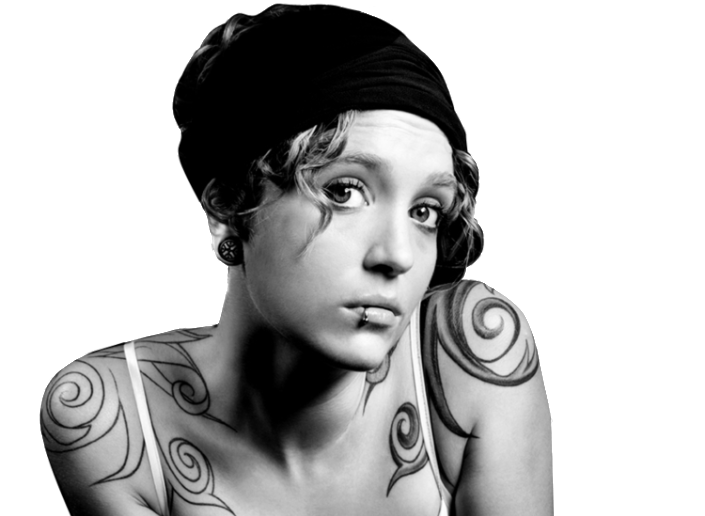 The Acting Studio
COJODA Productions
Tuesdays, 5:30-7 PM
Single Point Acting for actors of all ages and levels. It's a simplified process created by Consulina Wong derived from the classic techniques of Stanislavski, Stella Adler, Sanford Meisner and Lee Strasberg. Learn acting skills from a veteran actress. For more info and to join, call: Consulina Wong at(808) 223-6338.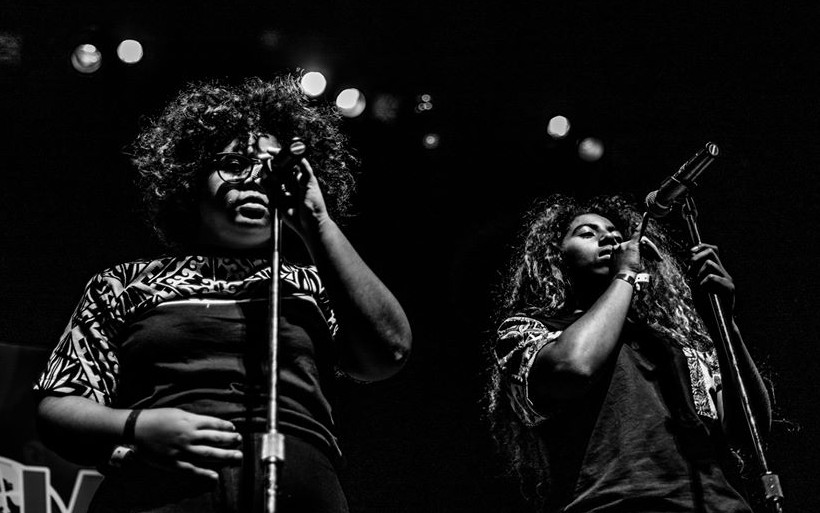 Teen Slam Poetry
Pacific Tongues / Youth Speaks Hawaii
Wednesdays, 4:30-6 PM
Free teen slam poetry writing and performance workshops.
Support The ARTS!
The ARTS at Marks Garage cannot survive without your help, and we really mean it. If you have made a donation in the past, please consider making another one now.
If you haven't donated before, it's time to step up!
(you didn't think we were really going to let you step off, did you?)
OUR PARTNERS
Honolulu Culture & Arts District
COJODA Productions
Pacific Tongues/Youth Speaks Hawai'i
Rhizome Theater Lab
T-RX/Hallowballoo Music + Arts Festival
A sincere thank you to Kona Brewing Company, Hawaii State Foundation on Culture and the Arts, Colliers International, Spire Accountants - Advisors, Mayor's Office on Culture and the Arts, G70, Andis Wines, Weissman Family Foundation, Stern Sidney Stern Memorial Trust, 1001 Friends, anonymous donors and many others for their ongoing support! Mahalo!
Copyright 2017 Hawai'i Academy of Performing Arts (HAPA)/
The ARTS at Marks Garage, a 501(c)3 non-profit organization. All rights reserved.
Our mailing address is:
The ARTS at Marks Garage
1159 Nu'uanu Avenue
Honolulu, HI 96817
<!#43END>
Featured Product/Service
The ARTS At Marks Garage
The ARTS at Marks Garage is a community arts center with a 1,000 sq. ft. gallery, a 1,000 sq. ft. theater, and a 1,000 sq. ft. office space founded in 2001. Marks is home to 13 performing and visual arts businesses including Youth Speaks Hawaii and Hawaii Shakespeare Festival. 45,000 visitors attend 13 exhibits and 150 performances each year.
1159 Nuuanu Ave., Honolulu, HI (View Map)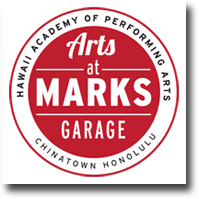 <!998Template_start>
<!998Template_end>
---
Please send questions about this website to