Community website by MBC/Ernest Abrams. Call 808-739-9797 for advertising/sponsorship.
First Friday Hawaii
News Item

Downtown Neighborhood Board No. 13 Minutes Posted for THURSDAY, MAY 4, 2017 Meeting
With Permission / Courtesy of
: City and County of Honolulu Neighborhood Commission Office
<!#450IMAGESTART>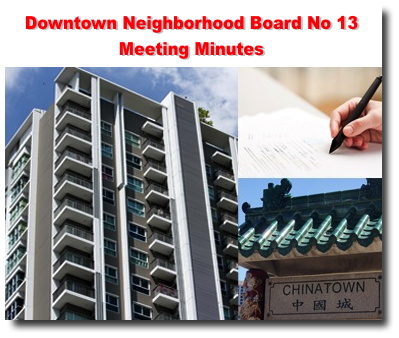 <!#450IMAGEEND>
<!#43START>
DOWNTOWN NEIGHBORHOOD BOARD NO 13
REGULAR MEETING MINUTES
THURSDAY, MAY 4, 2017
ALOHA TOWERS, MULTI PURPOSE ROOM 2
CALL TO ORDER -- Chair Alvin Au called the meeting to order at 7:06 p.m., with four (4) members present, not establishing quorum. Note: This nine (9) member Board requires five (5) members to establish a quorum and to take official Board action.
Board Members Present -- Alvin Au, Anthony Chang (arrived at 7:40 p.m.), Dolores Mollring, Bob Tom, Stanford Yuen, Kevin Lye (sworn in at 8:13 p.m.), Lori McCarney (sworn in at 8:13 p.m.), and John Donaldson-Selby (sworn in at 8:13 p.m.).
Board Members Absent -- Chu Lan Shubert-Kwock.
Guests -- Captain Russell Youth (Honolulu Fire Department); Lieutenant Baron Lee and Sergeant Harold Chi (Honolulu Police Department); Laurel Johnston (Governor Ige's Representative); Councilmember Carol Fukunaga; Executive Director Marc Alexander (Mayor's Office of Housing); Pat Lee (Honolulu Authority for Rapid Transportation); Jessie Faige (Senator Karl Rhoads' Representative); Sam Moku (Hawaii Pacific University);Greg Payton (Mental Health Kokua/Safe Haven); Lee Stack (Chinatown Improvement District); Jacob Chung (Chinatown Family Fair); John Crank, Rick Keene, Jim Bill, Ronald Higa, Anthony Marlin, David Amodo (videographer); and Sultan White (Neighborhood Commission Office).
INTRODUCTION OF BOARD MEMBERS -- Chair Au and the Board members introduced themselves. Chair Au reminded the individuals present to speak into the microphone when wishing to speak.
Since quorum was not yet established, without opposition Chair Au skipped the election to fill the vacant Board member positions until quorum can be met.
PUBLIC SAFETY REPORTS
Honolulu Fire Department (HFD) --Chair Au reported the following, as HFD left to respond to an emergency:
• April 2017 Fire Statistics -- There were 10 nuisance fires, 1 cooking fire, 1 wildland/brush fire and 12 activated alarms (no fire). There were 138 medical emergencies, 1 motor vehicle collision with pedestrian, and 4 motor vehicle crashes/collisions.
• Fire Safety Tip -- Wildland Fire Preparedness:
• Every year, wildland fires, also known as brush fires, can cause great damage in our communities. By working together, residents can better protect their property and neighborhood from a wildland fire. The following are steps homeowners can take:
o Clear leaves and other vegetative debris from roofs, gutters, porches, and decks. This helps prevent embers from igniting your home.
o Remove flammable materials, i.e., dead vegetation and wood piles, from within 30 feet of your home's foundation.
o Keep your lawn hydrated and maintained. If your lawn is dry, cut it down to reduce fire intensity. Dry grass and shrubs are fuel for brush fires.
o Have a plan in place if you must evacuate.
Honolulu Police Department (HPD) -- Lieutenant Baron Lee reported the following:
• April 2017 Crime Statistics -- There were 8 motor vehicle thefts, 5 burglaries, 68 thefts, 22 unauthorized entries into a motor vehicle (UEMV's), 25 assaults, 5 sexual assaults, 6 graffiti incidents and 18 drug offenses. A total of 1,847 calls were placed for service.
• Safety Tip -- Burglary Prevention:
• The most common threat to your home is burglary. According to the FBI a burglary occurs somewhere in the US every 15 seconds. A burglary is when a person enters a residence or dwelling and commits a crime or offense. It usually occurs when the residents are not home. Some tips to prevent such incidences are:
o Use solid core or metal doors for all entry points.
o Secure sliding glass patio doors with a secondary lock.
o Use visible alarm, beware of dog, or security watch decals.
o Make sure that someone cannot reach through an open window to unlock your door.
o Anti-lift devices on your windows prevent your windows from being opened.
o Be a good neighbor and look out for each other.
o Place valuables in a safe. Catalogue your valuables, social security card, passport and driver's license.
Questions, comments and concerns that followed:
1. Noise Complaints: Chair Au asked about the noise complaints on 184 N. King St. It is an art center that makes a lot of noise until 2 a.m. to 3 a.m. He then invited Anthony Marlin, a resident of Chinatown Manor, to speak about the noise. The art center is called Ong King, and they host open mic nights and First Fridays. The open mic nights are on Sundays and last from 8 p.m. until 2 a.m. or 3 a.m. at the latest, but there are noise complaints on other days of the week sometimes. The residents are tired of it. He has spoken to HPD multiple times, but they keep playing loud music. He spoke with Corporal Matsuda from HPD. He also spoken with Ong King managers, but they do not change their behavior. Since the residents of Chinatown Manor are primarily elderly, they need a restful sleep. Marlin has been in contact with Major Nakata as well.
2. Liquor License: Chair Au asked if alcohol is served at Ong King, but Marlin did not know. He said they used to serve alcohol years ago around 2005. Their Facebook feed promotes that they served alcohol back in 2015.
3. Landlord: Chair Au asked if he knew the name of the landlord. Marlin has spoken with Megan Muramatsu and she will help find out. Marlin would like for Ong King to come to the Downtown-Chinatown Neighborhood Board No. 13 meeting to come to a solution together. Chair Au clarified that Ong King were just tenants and that the landlord has a larger stake in this matter.
4. Room Capacity: Member Mollring mentioned that HFD could get involved if the event is over room capacity. Marlin said that the residents of Chinatown Manor can see the outside lounge area of Ong King and that there tends to be a lot of people.
5. Closing Time: Member Tom asked Marlin what a win-win situation would look like. Marlin wants to see them close at 10 p.m. on Sundays, so open mic may have to start earlier. Saturdays and Fridays are acceptable since there is no work the next morning. In one case, a resident had to get sleeping medication prescribed from her doctor. Marlin reiterated that he wants Ong King to come to a Neighborhood Board meeting. Chair Au said that there is a common nuisance law that should be strictly enforced. Chair Au reiterated that they need to get in contact with the landlord. The Board does not do mediation. Also, if they do not have a liquor license then the Liquor Commission can get involved.
6. Police: Lieutenant Lee will inform the officers assigned to Chinatown to continue to monitor the area. He encouraged the neighbors to continue to call 911 if the nuisance continues. He will also let the officers who patrol after 10 p.m. know to keep watch.
7. Yelp: Member Yuen encouraged Marlin to use Yelp reviews and social media to voice his concern.
NEW BUSINESS
Neighborhood Citizen's Patrol (NCP) -- Dolores Mollring reported that no prostitution or viewed drug dealing has been seen, but they might be doing their walks too early. Kevin Lye has joined for a couple of the walks. The restaurants have been full.
Questions, comments, and concerns followed: Other Groups: Chair Au noticed that there were Citizen's Patrol groups walking during the day. Member Mollring said that there are 5 Citizen's Patrols in Chinatown that meet at different times. Once a month they get together and have a combined walk with a potluck afterward. The next one is tentatively on Thursday, May 25th, 2017. They will meet at Kekauliki Mall.
Public Concerns
• Joint Fact Finding Group: Resident Lee Stack raised concerns about the April 2017 meeting minutes. She said that the Joint Fact Finding Group (JFF) was instituted to inform policy. The process was paid for by the city and coordinated by elected representatives with Councilmember Carol Fukunaga leading the charge. Local stakeholders were involved. She wanted to correct the inaccuracies in last month's meeting.
• Affordable Housing: Marc Alexander reported that in the first three (3) months of 2017, there has been a 40% increase in the number of people moving into permanent housing compared to the three (3) months prior. 300 people were moved into permanent housing including 70 veterans. Permanent housing is the gold standard. Winston Hale in the heart of downtown is a recent example of a completed project. There was a 42 unit project opened on Piikoi Street to help the homeless and formerly homeless. As of Wednesday, February 1, 2017 the State put new contracts into place that affect shelters and the outreach programs. These contracts are much more in alignment with best practices across the country. They specify metrics that must be met in terms of shelter, occupancy, and increased movement out of the shelter and off the streets into permanent housing. The City and the State are working closely to make sure the contract language and outcomes that they are encouraging are in alignment with each other. State Homeless Coordinator Scott Morishige is leading a delegation of people funded by the National Governor's Association to go to Houston to look at their Coordinated Entry System. Mayor Caldwell has been encouraging the development of Accessory Dwelling Units (ADU) as it is an effective way of increasing affordable housing. Every year there will be 800 new ADUs.
Questions, comments, and concerns followed:
1. City Housing Update: Member Yuen asked for an update on the City housing projects in Chinatown, specifically near the Lum Sai Ho Tong Temple. He said they have been pretty quiet for about a year. There have been rumors that they have been encountering all kinds of problems. Alexander responded that Sandy Pfund will come to the June 2017 meeting to provide updates. Chair Au said that Pfund will be at the next meeting with the developer of the Senior project in Chinatown.
2. Priority to Homeless: Member Tom asked if there is any priority given to applicants of affordable housing. Alexander responded that it depends on the project. They can give preference to seniors, veterans, people with mental health issues, families with children under 18 years old, or other groups with need. They try to vary the focus of each affordable housing project based on need, and they take input from the community to decide.
3. Job Programs: Member Tom asked what is done after the homeless people move into affordable housing. He wanted to know if there were programs in place so that they can become productive in some capacity. Alexander responded that it depended on the population. The ill, disabled or elderly, if they are not able to work, are likely to receive permanent support of housing. The bulk of those who are assisted with housing are encouraged and assisted with employment. It is a challenge due to low wages. Some families do receive subsidies or are on extended vouchers due to their situation.
At 7:40 p.m. Member Anthony Chang arrives, establishing quorum with five (5) members present.
4. Wait List: Chair Au has spoken to people who have had to wait five (5) years in order for their application to go through so that they can get housing. He recognized that there is a huge demand for affordable housing, but he wants to know if the system is fair. Does it prefer people who are homeless over low-income families that do have homes? Alexander responded that the system tries to be fair. While many affordable housing projects have homeless or formerly homeless preference, they are not exclusive. There is a certain income level that must be hit. He said that the urban core has the longest waiting list. Outside the City and on neighbor islands the waiting list is much shorter. Chair Au addressed that it is unfair to people who waited honorably on the list just to be surpassed by someone who is homeless. Alexander said that there are affordable housing projects that are for everyone, not just for the homeless.
5. Affordable Housing Near Capitol Plaza: Chair Au asked if the affordable housing project next to Capitol Plaza was a City project. Alexander mentioned that it was a public-private partnership with the State. It is common and good practice to do public-private partnerships for affordable housing development. Chair Au said that they gave a presentation at last month's meeting but left out many details, including how it would be managed.
6. Housing Update: Resident Anthony Marlin asked about updates on affordable housing in the Chinatown area. Alexander said that Sandy Pfund will get to it next meeting.
Since Member Chang arrived, establishing quorum, without opposition Chair Au reverted to item III "ELECTION TO FILL THREE (3) VACANT AT-LARGE DOWNTOWN CHINATOWN NEIGHBORHOOD BOAD MEMBER POSITIONS WHICH CURRENT TERM OF OFFICE EXPIRES ON JUNE 30, 2017."
ELECTION TO FILL THREE VACANT AT-LARGE DOWNTOWN CHINATOWN NEIGHBORHOOD BOARD MEMBER POSITIONS WHICH CURRENT TERM OF OFFICE EXPIRES ON JUNE 30, 2017
Speeches followed:
1. Kevin Lye: He has been a resident of Downtown Honolulu for about 12 years. He served a little more than one (1) full term on the Downtown Chinatown Neighborhood Board approximately four (4) years ago, which gave him an understanding of what impact an advisory board can have in the community. He has an attention to detail.
2. John Donaldson-Selby: He has been a resident of Chinatown since 2003. He is a Senior Vice President for a commercial real estate company. He was previously a member of the Board. As of March 2017 he has relieved himself of most of his responsibilities on the real estate side, so that he can have more time to help the community with the Neighborhood Board.
3. Lori McCarney: She is a recent resident of Downtown-Chinatown. She is an urban type of person. Typically the urban core is where many cities have started, so there is a lot to preserve. There is a lot to enjoy, a vitality, and diversity that makes the urban core unique. Knowing that the Honolulu Chinatown is the oldest one in the United States is special. She is a background in business and was recruited to the Bank of Hawaii in 1999. She loves Hawaii, and chose for it to be the place she retires. She guarantees that she will put all of her effort into the Board.
4. Anthony Marlin: He formerly became a Board member to stop the Mayor from selling all of the affordable properties. It was one of the most exciting experiences of his life being on the Board. Now, he wants to be on the Board to stop Ong King from playing loud music late at night and keeping up the surrounding residents.
Questions, comments, and concerns followed:
1. Member Mollring, speaking to Marlin, said that she would like a candidate that is dedicated to all of Downtown-Chinatown, not just the residents near Ong King. She then spoke to Lye, saying that she had concern that he had to travel a lot for work.
2. Member Tom clarified that Lye, Donaldson-Selby, and McCarney were in the elections for the next Board term.
Chair Au called a vote. Kevin Lye was elected to the Board by UNANIMOUS CONSENT, 5-0-0 (AYE: Au, Chang, Mollring, Tom, and Yuen; NAY: None; ABSTAIN: None).
John Donaldson-Selby was elected to the Board by UNANIMOUS CONSENT, 5-0-0 (AYE: Au, Chang, Mollring, Tom, and Yuen; NAY: None; ABSTAIN: None).
Lori McCarney was elected to the Board by UNANIMOUS CONSENT, 5-0-0 (AYE: Au, Chang, Mollring, Tom, and Yuen; NAY: None; ABSTAIN: None).
At 8:00 p.m. Chair Au called a recess so that Neighborhood Assistant Sultan White could swear in and check the residencies of the new Board members.
At 8:14 p.m. Chair Au called the meeting back into session. Kevin Lye, Lori McCarney, and John Donaldson-Selby join the Board. Eight (8) members now present.
NEW BUSINESS (cont.)
Information Briefing on Bikeshare Hawaii -- CEO of Bikeshare Hawaii Lori McCarney shared the outreach efforts in the Downtown-Chinatown area, which occurred on Thursday, April 20, 2017. They reached 138 businesses that were closest to the stations. They explained the Biki system then asked for any feedback, concerns or comments. Overall, people were positive. She passed out brochures and the site descriptions.
Questions, comments, and concerns followed:
1. Pronunciation: Kevin Lye asked for the pronunciation of Biki. CEO McCarney said it is up to the public to decide.
2. Spirit Card: Member Lye asked if one (1) Spirit Card can be used to check out two (2) bikes. CEO McCarney said there can only be one (1) bike per Spirit Card.
3. App: Member Lye asked if there would be and app and if there was mass media funding. McCarney said that they have no funding for mass media. They will rely on word of mouth, public relations and simply the visibility of the bike stations. There will be an app that shows the occupancy of each bike station among other things. After awhile they will have the data to determine bike demand at each station.
4. Instruction: Member Donaldson-Selby asked if there would be instruction for the rules of the road for bicyclists. CEO McCarney said that once the stations are being built they will have sessions led by Hawaii Bicycling League to help teach the rules. There will be three (3) per week for a month. After that there will be tips on the bike baskets as well as signage. There will also be hands-on training.
5. Theft: Member Mollring asked about bike theft. She also asked what happens if someone loses their Spirit Card. CEO McCarney said that once it is in the dock, the bikes are hard to remove. There are many stations close together so that bikers will not have to worry about theft. If it is not in the dock it is the bicyclists' responsibility. They also chose parts that are very hard to remove and that do not fit other bikes. In the case of lost or stolen cards, Biki has a call center that you can call to stop the card and issue a new card. They are working on adding that to the website as well.
6. Pricing: Member Tom asked about the pricing. CEO McCarney said that for $15.00 per month subscribers can have as many 30 minute rides as they want. If it goes slightly over 30 minutes, it is okay because there is a small grace period. Over 30 minutes the bikes are $3.50 per half hour.
7. Age Requirement: Member Tom asked the minimum age to ride. McCarney said it is 16 years old with a parent or guardian's permission. Otherwise, bikers can ride if they are at least 18 years old.
8. Flat Tire: Member Tom asked about what happens if the bike has a flat tire. McCarney said that there is a mechanic button on the kiosk that will send a mechanic and add extra time.
9. Other Cities: Chair Au asked if bike share programs are practiced at every large city. McCarney said that there are 55 cities with bike share programs. They have visited many to see what works and what does not. The Spirit Card is specific to Hawaii Bike Share.
10. Supply and Demand: Chair Au asked what they will do to find a balance between supply and demand at the bike stations. McCarney said that during the first couple months after launch they will keep track of the activity at each station. The docks at the stations can easily be increased or reduced to rebalance the stations. In cases where the stations are not big enough, Biki workers will stand there ready to accept or give away bikes.
11. Funding: Member Lye asked about funding. McCarney said that they have received $1,000,000 from the State and $1,000,000 from the City. After that money runs out they will rely on donations, sponsorships and revenue. The goal is to be self-sustaining and not require taxpayer subsidies.
12. Safety: Jessie Faige from Senator Karl Rhodes office asked about safety. McCarney said that Biki is working with bike shops to make helmets more affordable since they are not required in Hawaii. Since more bikers will be on the road, there will be more awareness and people will become more cautious. They are also planning on creating more bike infrastructure to provide better safety for bikers and keep riders off of the sidewalk. The bikes also have lights on the front and the back that automatically turn on. There are reflectors on the sides and tires, and the bike is a bright color.
13. Insurance: Anthony Marlin asked if there is insurance. McCarney said that Biki is providing the means to ride a bike, not insurance. It is similar to renting a car. There will be waivers to sign before riding.
COMMUNITY CONCERNS
Hawaii Pacific University (HPU) -- HPU Representative Sam Moku left, so Chair Au shared the report. HPU approved the extension for one (1) more year to use Multi-Purpose Room 2 to hold meetings.
Safe Haven -- Greg Payton of Safe Haven reminded the community that Safe Haven is a 25 bed permanent housing facility for homeless adults with mental illness, located in Chinatown. He handed out a report for January -- April 2017 indicating a variety of different contracts that Safe Haven has to place people into housing. They have placed 47 people off the streets into housing. There are also 25 people that live at Safe Haven. There are 30 to 40 people per day in the activities center. This summer they are moving from 41 South Beretania Street to 126 Pauahi Street. They will renovate Pauahi Hale. Many people who they serve are in and out of the Emergency Rooms (ER). Once these people use housing, 95% never used the ER again. The people they serve come to the day program, volunteer or have part time jobs. Safe Haven hires 60 people per month to help the case managers.
Questions, comments, and concerns followed:
1. Single Family Residents: Chair Au asked if they have single family residents in the program. Payton said they currently have 14 single family residents throughout Oahu. There are usually six (6) -- eight (8) people living in a single home depending on the zoning. There is 24/7 service provided by staff members on shifts.
2. Quiet: Chair Au mentioned that it was a very quiet program. Payton said that they want to remain quiet and under the radar as not to disturb the community. They live integrated lives within communities and are then placed into permanent housing as soon as they can get rent subsidies.
3. Improve Lifestyle: Chair Au asked if they were finding people who were behaving themselves and wanted to improve their lifestyle. Payton said that it is part of the process. By the time the residents come to Safe Haven they are in some level of recovery already, as they usually come from hospitals or community programs. The residents are no more dangerous than the general population, though the news media makes it seem otherwise.
4. Other Board Responses: Chair Au asked if other Neighborhood Boards have asked about the single family arrangements in their communities. Payton said that other Boards have asked but there have been no complaints toward Safe Haven in particular, though there are complaints toward other single family housing providers.
5. Guards and Counselors: Member Tom asked if there are security guards or counselors with the clients. He also asked if they are comfortable with people with mental illness living next to schools. Payton said that he is more concerned with the individual safety of Safe Haven clients. If someone is starting to become psychotic the on-site staff can catch it right away and get them to a psychiatrist. They usually do not become dangerous even though the behavior can scare people. They provide project-based housing which means there is always a staff member on-site. Even when the clients eventually move into permanent housing there are still case managers that check in with them.
Honolulu Rail Transit (HART) -- HART Representative Pat Lee first shared that the Senate Bill (SB) 1183 did not pass the legislative session. HART has provided its project recovery plan to the Federal Transit Administration on Sunday, April 30, 2017. It points out that Plan A is the desired alternative, but it is pending additional local funding. Plan B is also in the report, but the report points out the risks and deficiencies if Plan B is used. You can get to Rail stations by The Bus, one of the private shuttle services, walking, biking, drop off, or driving to one of the parking lots at several stations. There will be drop off and pick up areas as well as bike racks at each of the stations. Bicyclists can take their bikes onto the trains and use the vertical bike racks. The Handi-Van will offer drop off and pick up services. The City's bus routes will be reconfigured to provide service to the stations. There will also be four (4) new bus stations. Find more information on the website www.honolulutransit.org. The project hotline is 566-2299. Email questions to info@honolulutransit.org.
Chinatown Business & Community Association -- No report was given.
Member Dolores Mollring informed the public about the misprint on the mail-in ballots. Only over voting will disqualify the ballot, under voting will not.
Chinatown Improvement District (CID) -- Lee Stack said that Sustaining Chinatown has an expanded scope. It is now called Sustaining Places rather than Sustaining Chinatown. CID will provide resources to maintain historical buildings anywhere on Oahu. The first seminar will be on Wednesday, April 10, 2017 at noon in the Hawaii National Bank building on the 5th floor. The Taste of Chinatown Festival will be on Saturday, August 26, 2017. They know the landlord of the Ong King building.
Questions, comments, and concerns followed: Encouragement: Chair Au encouraged the community to attend the CID seminars.
Arts, Culture, Merchants, Etc. (ACME) -- Chair Au summarized a written report. HPD Community Policing District 1 was successful in attending the Community Safety Meeting. They gave useful information about reporting crimes and public disturbances. They were happy that the City replaced the light bulb in Sun Yat-sen Park. They will lobby for more officers to provide foot patrols in Chinatown. Their presence in the community is felt and welcome. They are happy to see economic stimulus and events in the community such as the Cinco De Mayo Block Party.
ELECTED OFFICIALS
Mayor Kirk Caldwell's Representative -- Megan Muramatsu from the City Managing Director's Office provided updates on questions from the last meeting.
• Cleanup: Construction at the American Savings Bank on North Beretania Street has begun and cleanup is the responsibility of the property and the contractor. A'ala Park is maintained by the Department of Parks and Recreation. Department of Facility Maintenance (DFM) performs store property ordinance and sidewalk nuisance ordinance enforcement every other week in that area. Chinatown Gateway has been monitored by store property ordinance and sidewalk nuisance ordinance, but it has been cleaned for the last three (3) weeks. Enforcement is scheduled every other week.
• Light Repair:The light bulb in Sun Yat-sen Park has been repaired.
• No Bicycling Signs: The Department of Parks and Recreation (DPR) needs specific street names in order to put up signs informing bicyclists not to ride on those sidewalks.
• Sidewalk Cleaning: Sidewalk cleaning using pressure washing is done four (4) days per week pending staff resources by DFM. The number for the Clean Up Team is 522-7098. DFM made an assessment of the sidewalks on Fort Street to Nuuanu Street. If the assessment passes, the sidewalks will be added to a list of projects and will be repaired once the funds are available. Lastly, Ong King is not licensed by the liquor commission.
Questions, comments, and concerns followed:
1. No Bicycling Signs: Chair Au does not know the specific streets, but he does know that there is an ordinance prohibiting bicyclists from riding on the sidewalks in all of Chinatown-Downtown. DTS should put the signs up where bicyclists are prohibited from riding on the sidewalk. The City already knows the street names. Once Biki launches the problem will get worse.
2. Ong King: Chair Au said that the Community Policing Team would be a good mediator for the Ong King noise problem.
3. Potholes: Member Mollring said that there were potholes on Fort Street between Kukui Street and Beretania Street. Muramatsu said the City Pothole hotline is 768-7777. If it is a State road, the hotline is 536-7852. If it is a road maintained by HART the number is 566-2299.
4. Resilience Office: Member Lye asked about the Resilience Office and its impact on funding. He wants to know what will happen after the two-year funding from Rockefeller Center runs out. Murumatsu said that The Office of Climate Change and Sustainability was authorized by the voters of Honolulu via the Charter Amendment. She will answer the concern about funding at the next meeting.
5. Anthony Marlin reiterated his concern about Ong King.
Councilmember Carol Fukunaga -- Chair Au read a statement from Councilmember Fukunaga. Her and her staff were requesting the Board consider an agenda item for the change to park closure hours of Kamalii Park from 10:00 p.m. -- 5:00 a.m. to 7:00 p.m. -- 7:00 a.m. daily.
Questions, comments, and concerns followed: Member Mollring said that she spoke to a City cleaning crew that informed her that they picked up 14 needles in the park in one day. She thinks they should close the park.
Mollring moved and Lye seconded that the Downtown-Chinatown Neighborhood Board No. 13 support the DPR's request to change Kamalii Park's closure hours from 10:00 p.m.-5:00 a.m. to 7:00 p.m.-7:00 a.m. daily.
1. In discussion, Member Tom said that Kamalii Park did not need to close down, just be made nicer, and have better lighting and more patrols.
2. Member Lye said that it is so bad that it should be closed down for now until another solution can be made.
3. Member Mollring said that nobody even plays in that park and it is unsightly.
The motion was APPROVED by UNANIMOUS CONSENT, 6-0-1 (AYE: Au, Chang, Mollring, Lye, Tom, Donaldson-Selby and Yuen; NAY: None; ABSTAIN: McCarney).
Governor David Ige's Representative -- Laurel Johnston, Deputy Director of the Department of Budget and Finance highlighted the monthly newsletter. The Department of Health (DOH) said not to eat your vegetables raw in order to avoid the Lungworm Disease. Collective bargaining has been fit into the financial plan. They hope that revenues will stay at a level so that they can maintain collective bargaining. The Governor gave schoolteachers a little bit extra pay because he felt they deserved it.
Questions, comments and concerns that followed: Ong King: Anthony Marlin reiterated concerns about the Ong King noise violations.
Senator Karl Rhoads' Representative -- Jessie Faige said that Senator Rhoads introduced Senate Bill (SB) 119 which was passed by the Legislature and will be transmitted to the Governor. SB 119 establishes a cap of 8% on late rent payment fees which is applicable to all new rental agreements and rental agreement renewals entered into, on, or after the effective date of Wednesday, November 1, 2017. The original intent of the bill was to require landlords to disclose in writing the tenant's ability to establish a new due date for rent payment if the tenant receives public assistance. It would have also established a cap of 5% on late rent. If anyone has any ideas for new legislation for next year, please contact Rhoads' office.
Representative Daniel Holt -- No report was given.
Without objection Chair Au allowed a member of the public to speak about an upcoming event.
Jacob Chung informed the public of the 6th annual Chinatown Family Fair on Saturday, June 10th from 10 a.m. to 3 p.m. at Smith and Beretania Urban Park.
Questions, comments and concerns followed: Member Mollring encouraged the community to attend the fun event.
APPROVAL OF APRIL 6, 2017 REGULAR MEETING MINUTES -- Member Lye wanted the correct spelling of his last name on page three (3). The Board approved the April 6, 2017 regular meeting minutes by UNANIMOUS CONSENT, as circulated 8-0-0. (AYE: Au, Chang, Mollring, Tom, McCarney, Donaldson-Selby, Lye and Yuen; NAY: none; ABSTAIN: none).
Featured Product/Service
<!998Template_start>
<!998Template_end>
---
Please send questions about this website to