Community website by MBC/Ernest Abrams. Call 808-739-9797 for advertising/sponsorship.
First Friday Hawaii
News Item

The ARTS at Marks Garage - APRIL 2017 Update
<!#43START>
Find out what's happening this month at The ARTS at Marks!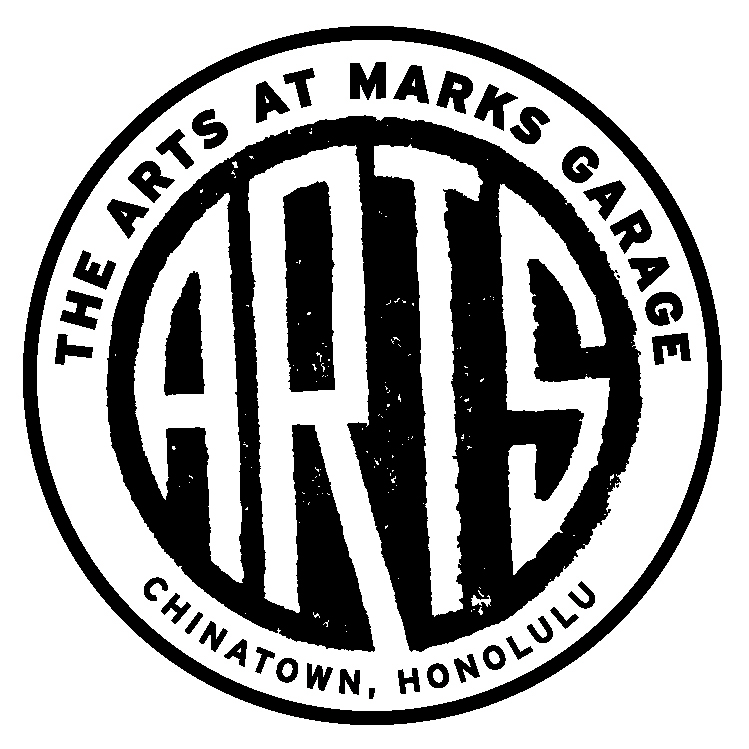 The ARTS at Marks Garage
APRIL 2017
1159 Nu'uanu Avenue *Honolulu, Hawai'i 96817
808.521.2903
Gallery Hours:Tuesday through Saturday12pm - 5pm
APRIL EXHIBITS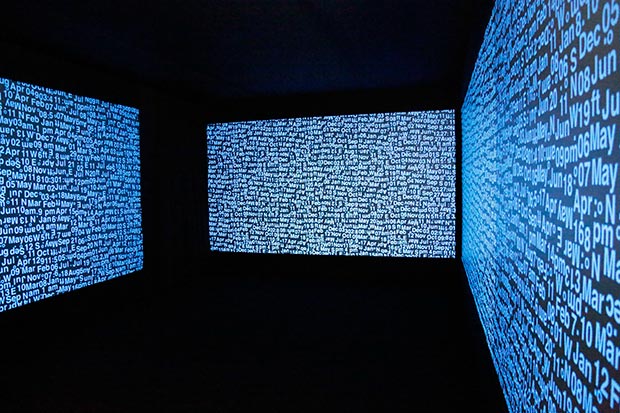 Honolulu Biennial Visual Installation by Mohammad Kazem
LAST MONTH TO EXPERIENCE!
Kazem employs geographical markers as a way to locate his own subjectivity in relation to the rapid modernization and development of his homeland, the United Arab Emirates.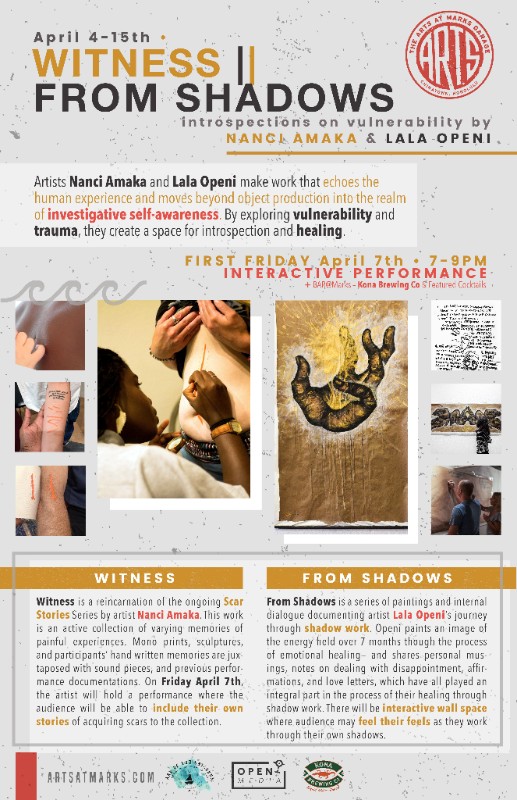 Witness | From Shadows
Lofters Pop Up Exhibit
April 4-15
Lala Openi:
Nanci:
Lofters Nanci Amaka and Lala Openi make work that echoes the human experience and moves beyond object production into the realm of investigative self-awareness. By exploring vulnerability and trauma, they create a space for introspection and healing.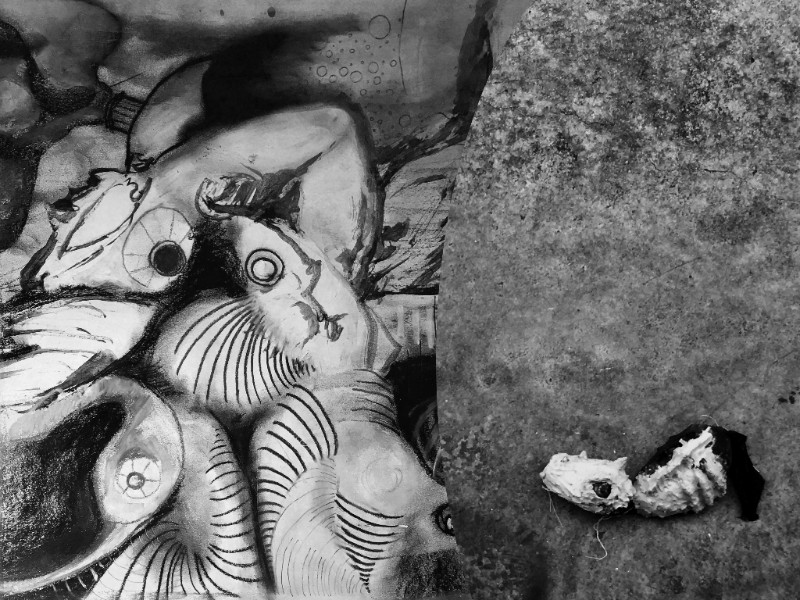 Earth Day Tribute Pop Up Exhibit
The 6th Great Extinction
April 18-29
Ava Fedorov, artist in resident at the Honolulu Museum of Art, explores art space as a safe place to encourage dialogue around social, environmental and extinction issues facilitated through performances, film, music and engaging experiences.
SHOWS & EVENTS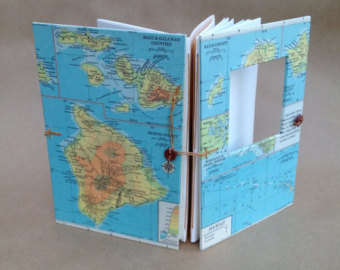 New Partner Open House
travel2change
April 1, 2-5PM
Come experience an artfully filled literary journey with the official launch of 2 new ARTS partners. travel2change launches an alternative travel desk. Discover unique & off-the-beaten path happenings going on around our island taken to artful new heights from culture and the arts to aina and sustainability. See how Kamaʻaina become travelers and travelers become Ohana.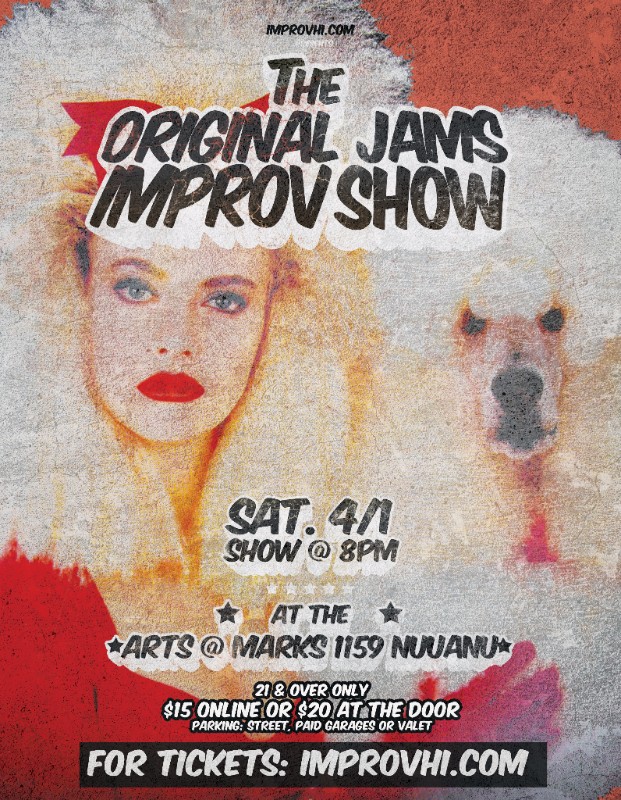 First Saturday Improv Show
April 1, 8PM
Join us for some live comedy every first Saturday! The Original Jams Improv Show returns for the first time at The Arts.It's April Fool's Day, so we're doing it up with some of Hawaii's top players and special guests! OPEN IMPROV JAM to follow. Anyone can play! No experience required.
Special $10 Ticket Code For AAM Friends: welovearts
*offer only for online purchases
$15 online or $20 at the door (21+)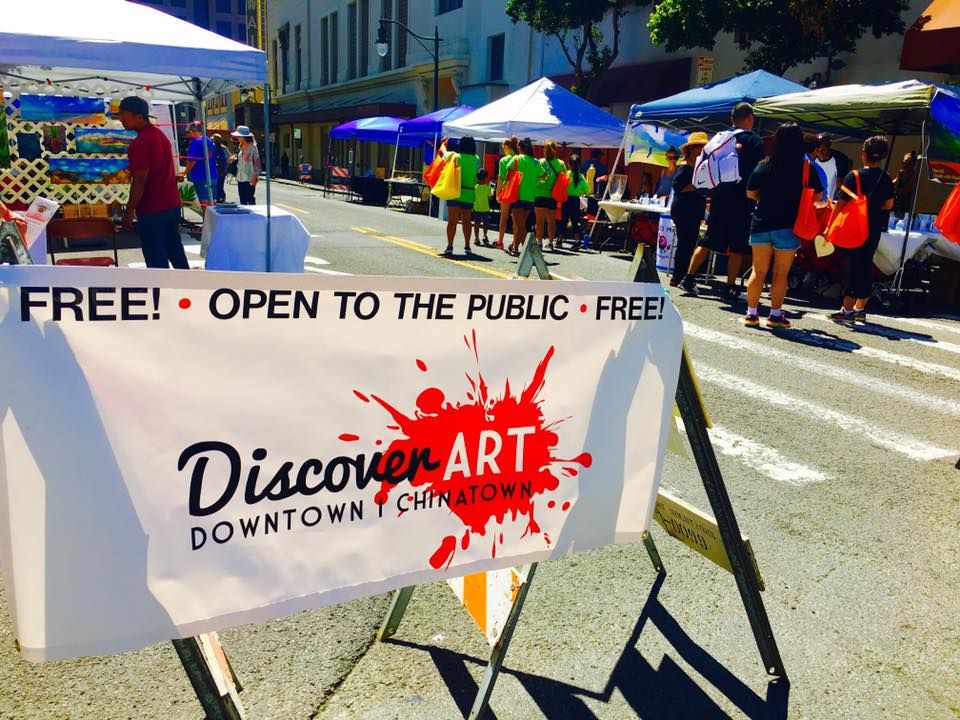 Second Saturday Discover Art
April 8, 10AM-2PM
Every second Saturday, the Creative Arts Experience features artists andperformers, stationed around the Chinatown community, to offer art classes,demonstrations and lessons. Activities will be interactive and geared towardchildren and families. Activities will include watercolors, face and body painting, take-away art, ceramics,papier-mâché, and more!

Jens Hoffman Talk Story
Presented by HB & Nella Media Group: biennial building, creativity transforming urban communities
Saturday April 15th, 2:30-3:30PM
$5 donation suggested entry
Artist/Life: Intersecting Identities in the Art World
Moderated by Natalia Nakazawa, Nanci Amaka, and Billie Lee
Saturday, April 15, 4:30-6:30PM
$5 donation suggested entry
Artists often have the difficult task of negotiating multiple identities and roles while also supporting ourselves financially, socially, and intellectually. Discussion: making art, money, and managing to do it all while taking care of ourselves. Activities: mind-mapping, mantra-writing, and small group discussions.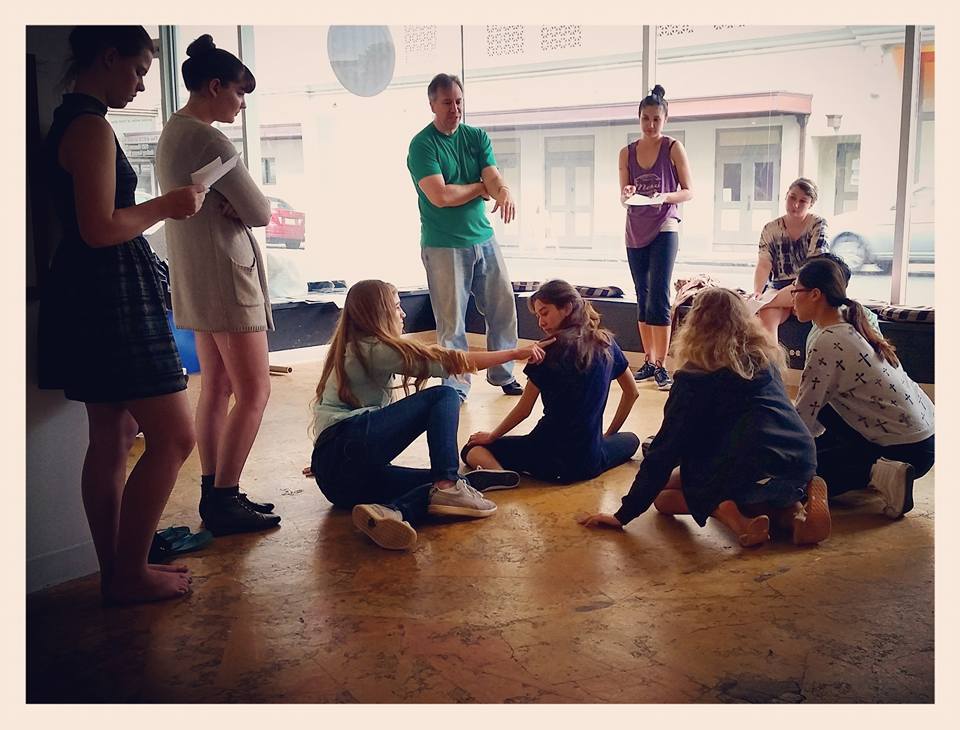 Hawaii Shakes Auditions
Hawaii Shakespeare Festival
Sunday April 16, 2-5PM
HSF will be holding four days of open auditions in April, including one date at The ARTS. The 2017 season runsJuly 14-August 20and includes Romeo and Juliet, Comedy of Errors and The Seagull. For more info visithttp://hawaiishakes.org/audition.htm.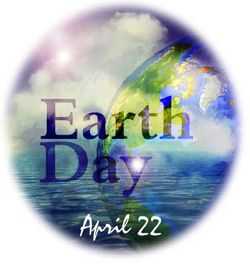 Earth Day After Party/ The 6th Great Extinction Opening Party
April 22, 6-9PM
$10 Suggested donation-based entry
Including live performances, music & spoken word by Artists for Social Justice, and old school vinyl by DJ Funkybrewster and Friends. Social mixer for Sustainable Coastlines Hawaii and Building Voices. Bar@ARTS in full swing serving Kona Brewing Co., a selection of Andis Wines & signature cocktails.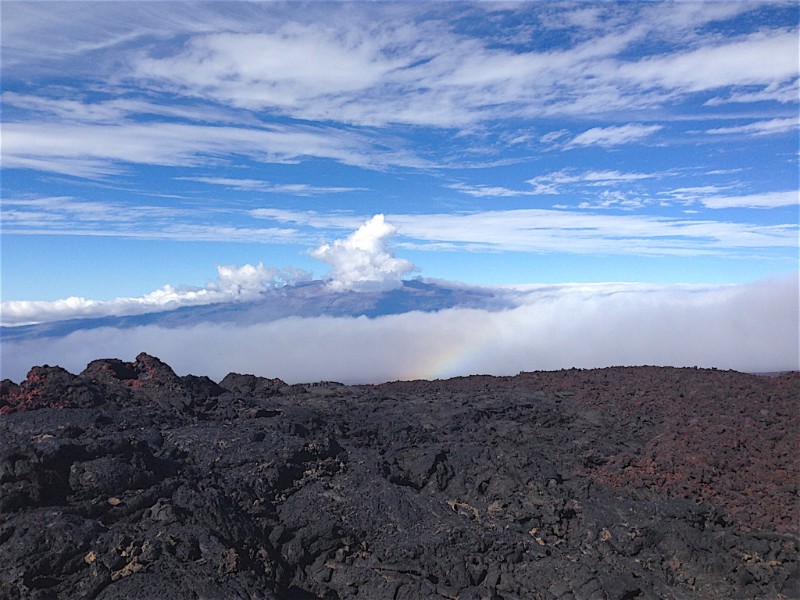 Screening of "Let the Mountain Speak", Kukakuka & Awa Night
Vilsoni Hereniko
April 26, 6-8PM
$15 ($10 students/kupuna)
A visual poem that pays tribute to Maunakeawritten and directed by Vilsoni Hereniko, produced by Jeannette Hereniko, shot by Paul Atkins, edited by Shirley Thompson, featuring the voice of Leo Anderson Akana.AWA Maika'i - Share Hawaiian ʻawa/kava and let's talk together. Awa protocols with Keala Kahuanui-Paleka and 'Awa Koa.
Purchase tickets at Eventbrite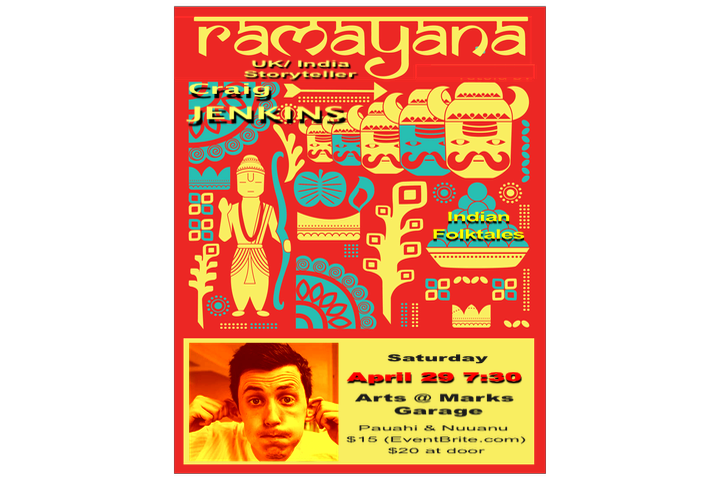 Ramayana
Craig Jenkins
April 29, 7:30PM
English Storyteller CRAIG JENKINS will tell tales from India from the Panchatantra (animal teaching tales, India's Aesop's fables), and chapters from India's classic love story, the Ramayana. Craig wins over audiences across the world with his funny, vibrant, & interactive shows.
Purchase Tickets on Eventbrite
FIRST FRIDAY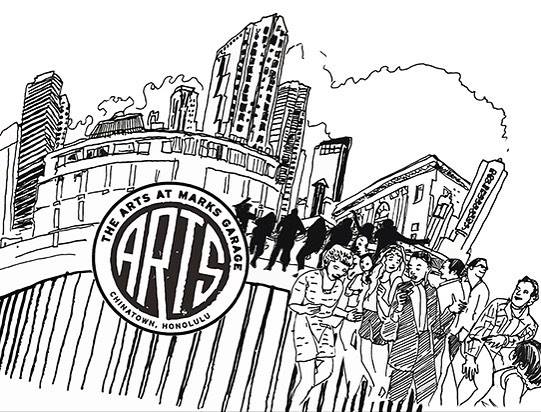 Interactive Performance from Witness | From Shadows
April 7, 6-10 PM, Performance 7-9PM
Artists will hold a performance where the audience will be able to include their own stories of acquiring scars to the collection.
The BAR@ARTS in full swing servingKona Brewing Co., a selection of Andis Wine, and signature cocktails.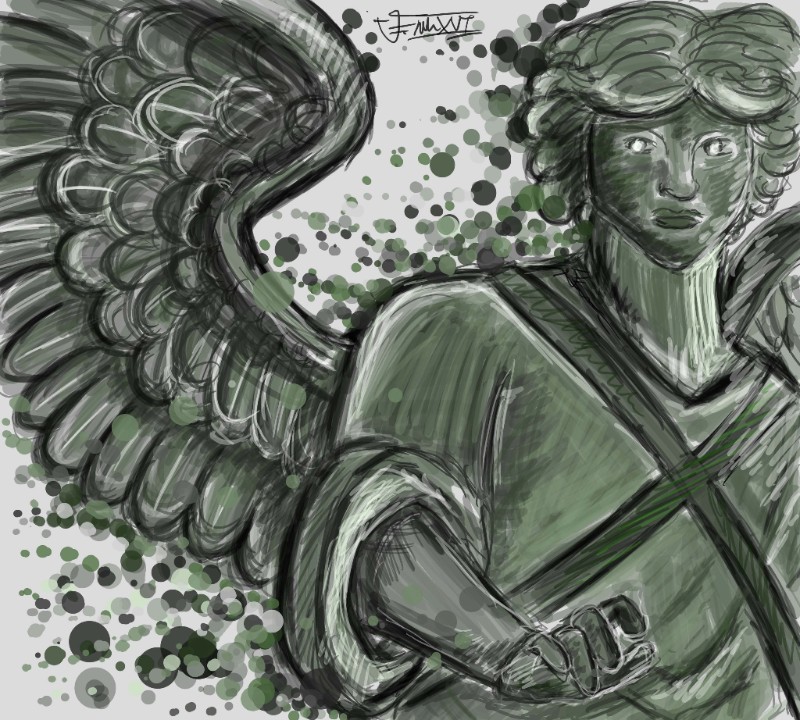 Open House @ The Lofts
Chinatown Artist Lofts
Mendonça Building Courtyard Artwalk
April 7, 5-9PM
Digital Paintings by UH Architecture Student Isis Coen presented in reclaimed wood frames on reUSE #1 metal art display frames by loft artist, tommytrain.studio.
WORKSHOPS & CLASSES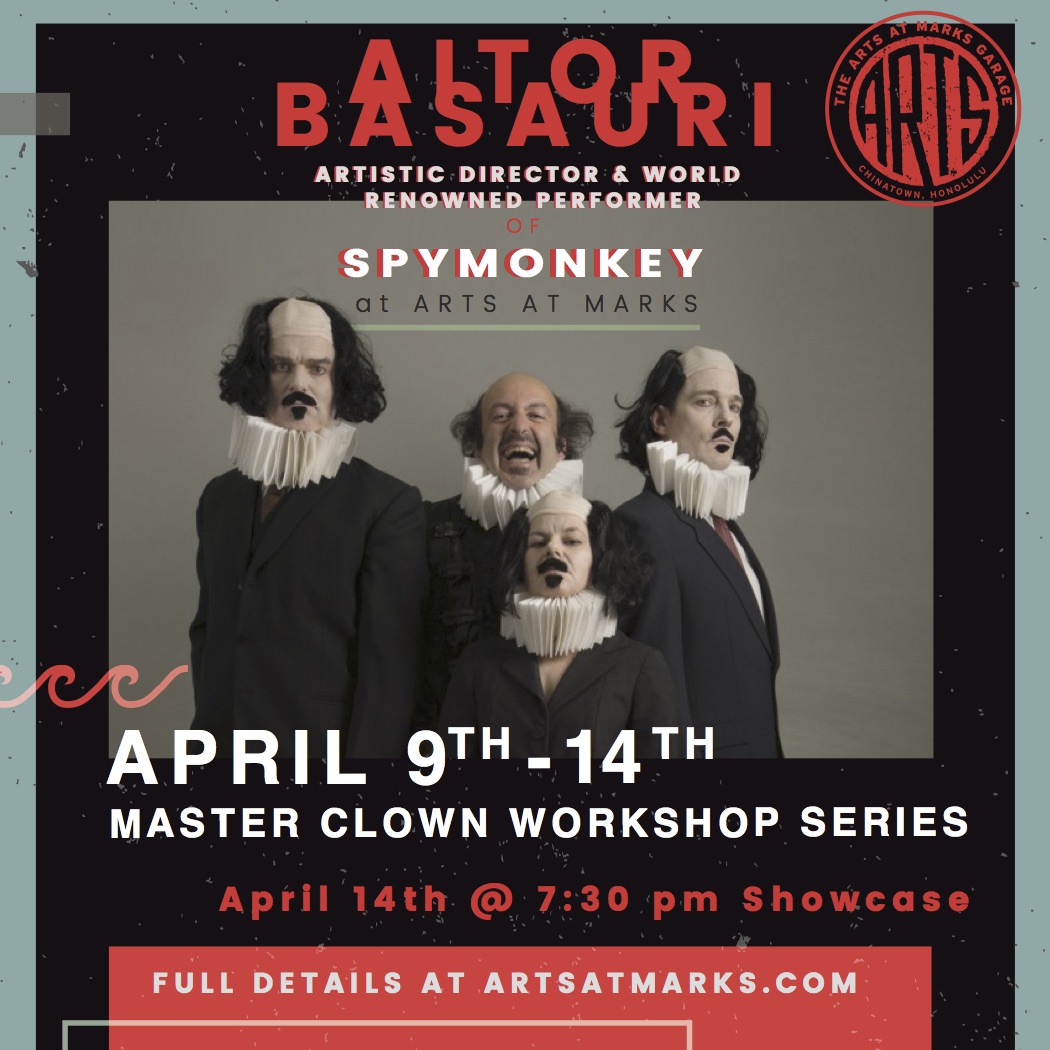 Master Clown Workshop Series
Spanish Artist Aitor Basauri, co-founder of Spymonkey
April 9-14
Basauri is a world renowned physical comedy master and has devised and performed with Cirque de Soleil.
Meant to bring the funny out of you! Find pleasure in their own ridiculousness, to stay optimistic, discover comedic gold, and laugh until their face hurts.
Scholarships available - Please inquire! 10% discount code using: CLOWN onEventbriteand visit theFacebook event page.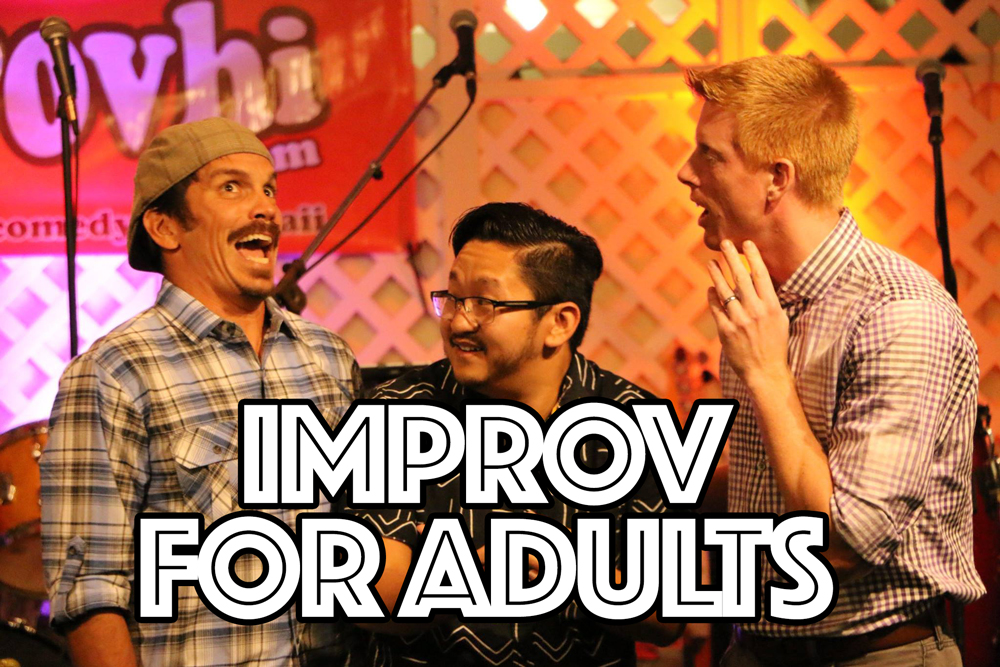 Beginning Improv Classes
improvHI,Instructors:Ryan Okinaka and Jose Ver
Mondays, 6:30-7:30PM
$15 Drop Ins, $125 For All Classes, Space is limited.
Ever watch shows like "Whose Line Is It Anyway" and think, "Hey..I wanna try that!" Well, now you can! Let improvHI introduce you to the AWESOME world of improv! No experience required.
To register:http://improvhi.com/featured/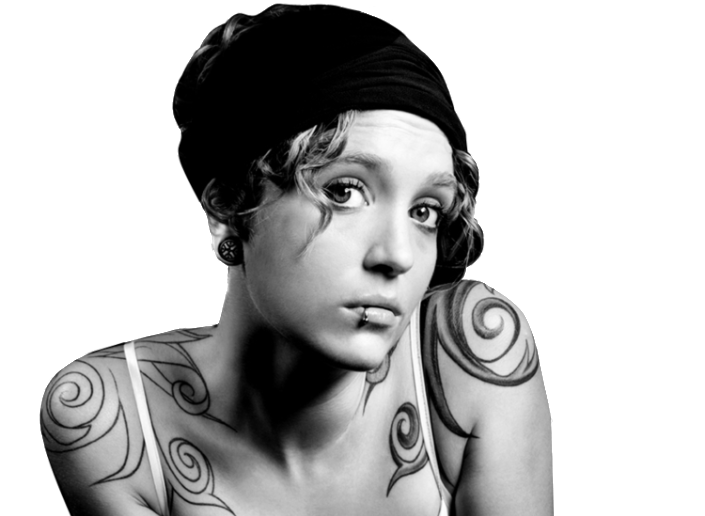 The Acting Studio
COJODA Productions
Tuesdays, 5:30-7PM
Single Point Acting for actors of all ages and levels. It's a simplified process created by Consulina Wong derived from the classic techniques of Stanislavski, Stella Adler, Sanford Meisner and Lee Strasberg. Learn acting skills from a veteran actress. For more info and to join, call: Consulina Wong at(808) 223 6338.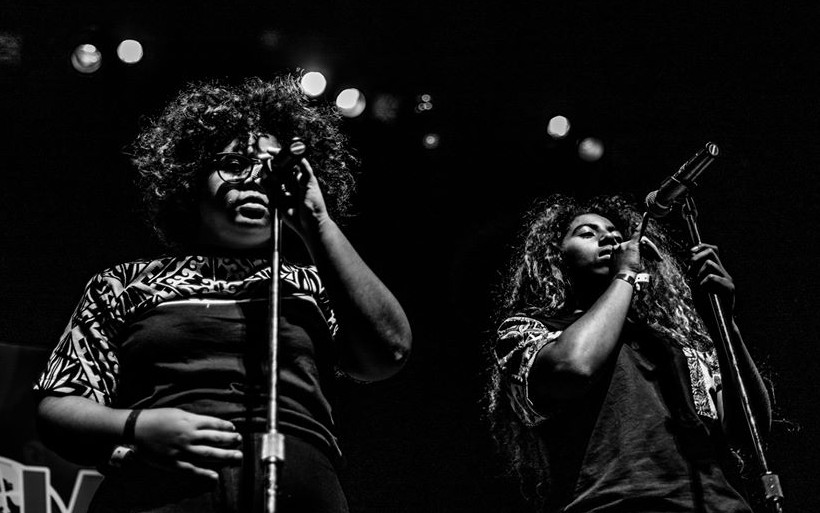 Teen Slam Poetry
Pacific Tongues / Youth Speaks Hawaii
Every Wednesday, 4:30-6PM
Free teen slam poetry writing and performance workshops.
COMING SOON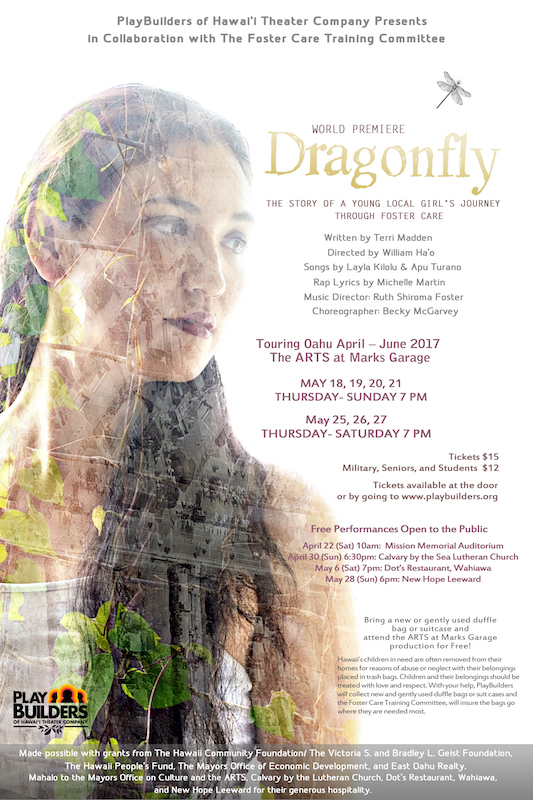 Dragonfly
PlayBuilders of Hawaii
May 18-21 & 25-27
The World Premiere ofDragonfly, the Story of a Young Local Girlʻs Journey Through Foster Carewrittenby Terri Madden in collaboration with The Foster Care Training Committee. Directed by William Haʻo. Songs by former foster youths, Apu Turanao and Layla Kilolu.
ARTFUL PARTNERS IN THE COMMUNITY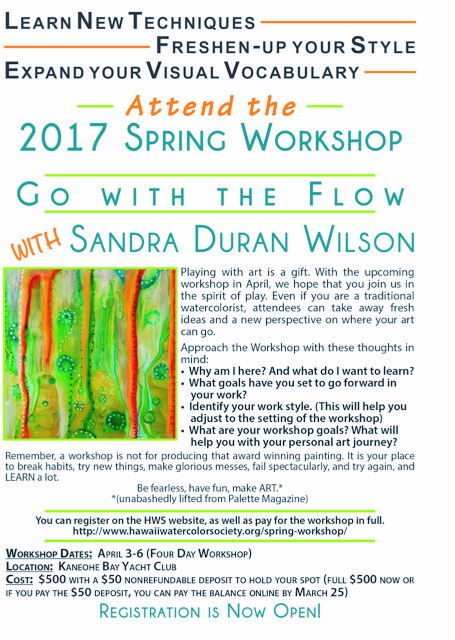 Free Demowith Sandra Duran
Hawaii Watercolor Society
April 2,1-3PM
Free demoandpreview of the "Art Meets Science" Workshop in Kaneohe.
Go With The Flow
Hawaii Watercolor Society
April 3-6
Register on the HWS Websitefor this 4-day workshop in the spirit of play. Attendees can take away fresh ideas and a new perspective on where your art can go!
OUR PARTNERS
Honolulu Culture & Arts District
COJODA Productions
Pacific Tongues/Youth Speaks Hawai'i
T-RX/Hallowballoo Music + Arts Festival
A sincere thank you to Kona Brewing Company, Hawaii State Foundation on Culture and the Arts, Colliers International, Spire Accountants - Advisors, Mayor's Office on Culture and the Arts, Group 70 International, Andis Wines, Weissman Family Foundation, Stern Sidney Stern Memorial Trust, 1001 Friends, anonymous donors and many others for their ongoing support! Mahalo!
Rich Richardson, Executive Director
Named one of 6 People Making a Difference in Honolulu, Honolulu Magazine,Nov. 2013 rich@artsatmarks.com (808) 521-2903 1159 Nu'uanu Ave. Honolulu, HI96817
Our mailing address is:
The ARTS at Marks Garage
1159 Nu'uanu Avenue
Honolulu, HI 96817
<!#43END>
Featured Product/Service
The ARTS At Marks Garage
The ARTS at Marks Garage is a community arts center with a 1,000 sq. ft. gallery, a 1,000 sq. ft. theater, and a 1,000 sq. ft. office space founded in 2001. Marks is home to 13 performing and visual arts businesses including Youth Speaks Hawaii and Hawaii Shakespeare Festival. 45,000 visitors attend 13 exhibits and 150 performances each year.
1159 Nuuanu Ave., Honolulu, HI (View Map)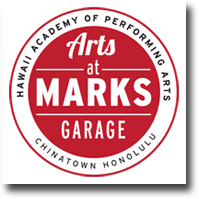 <!998Template_start>
<!998Template_end>
---
Please send questions about this website to