Community website by MBC/Ernest Abrams. Call 808-739-9797 for advertising/sponsorship.
First Friday Hawaii
News Item

Downtown Neighborhood Board No. 13 Minutes Posted for THURSDAY, MARCH 2, 2017 Meeting
With Permission / Courtesy of
: City and County of Honolulu Neighborhood Commission Office
<!#450IMAGESTART>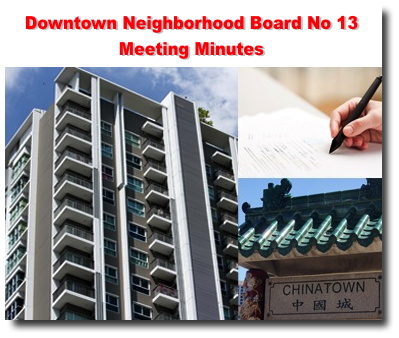 <!#450IMAGEEND>
<!#43START>
DOWNTOWN NEIGHBORHOOD BOARD NO 13

DRAFT REGULAR MEETING MINUTES
THURSDAY, MARCH 2, 2017
ALOHA TOWERS, MULTI PURPOSE ROOM 2
CALL TO ORDER -- Chair Alvin Au called the meeting to order at 7:03 p.m., with a quorum of five (5) members present. Note: This nine (9) member Board requires five (5) members to establish a quorum and to take official Board action.
Board Members Present -- Alvin Au, Anthony Chang, Dolores Mollring, Chu Lan Shubert-Kwock, Bob Tom and Stanford Yuen (arrived at 7:19 p.m.).
Board Members Absent -- Jasmine Mancos, Jonathan Saupe and Tom Smyth.
Guests -- Acting Captain Russell Youth (Honolulu Fire Department); Lieutenant James Ferrell, Sergeant Deric Valoroso and Corporal Dana Paikai (Honolulu Police Department); Laurel Johnston (Governor Ige's Representative); Councilmember Carol Fukunaga; Pat Lee and Chris Wong (Honolulu Authority for Rapid Transportation); Sonny Le (Senator Karl Rhoads); Greg Payton (Mental Health Kokua/Safe Haven); Lee Stack (Chinatown Improvement District); Michael Packard (Department of Transportation Services); Melissa White (SSFM International); Gabrielle Sham (Townscape Inc.); Tom Woods and Mary Ann Lentz (Hawaiian Mission Houses); Glenn Mason (Mason Architect); Nancy Ortiz, Kevin Lye, Ronald Higa, Marni Ramirez and Kalawai'a Goo; David Amodo (videographer); and Sharon Baillie (Neighborhood Commission Office).
INTRODUCTION OF BOARD MEMBERS -- Chair Au and the Board members introduced themselves at this time.
PUBLIC SAFETY REPORTS
Honolulu Fire Department (HFD) -- Acting Captain Russell Youth reported the following:
• February 2017 Fire Statistics -- There was 1 wildland/brush fire, 6 nuisance fires, 1 cooking fire and 7 activated alarms. There were 116 medical emergencies, 4 motor vehicle collisions with a pedestrian, 29 motor vehicle crashes/collisions and 1 ocean rescue.
• Fire Safety Tip -- Home Fire Sprinklers:
o Fire sprinklers respond quickly and effectively to fire, often extinguishing the fire prior to the fire department's arrival.
o Fire sprinklers can save lives and property from fire.
 In 2014, the National Fire Protection Association (NFPA) found that sprinklers reduced fire deaths by 83%.
 A 2014 NFPA report found that sprinklers reduced property loss in homes by 69%.
o Common fire sprinkler myths:
 Myth: All fire sprinklers will go off at once.
 Fact: Systems are designed so the closest sprinkler head to the fire is activated.
 Myth: They cause a lot of water damage.
 Fact: Typically, sprinklers utilize 13 to 18 gallons of water per minute. Fire fighting hoses flow at least ten times that of a sprinkler.
o Having fire sprinklers in your home is like having a fire fighter in your home 24 hours a day and ready to extinguish a fire!
Honolulu Police Department (HPD) -- Lieutenant James Ferrell reported the following:
• February 2017 Crime Statistics -- There were 9 motor vehicle thefts, 4 burglaries, 54 thefts, 15 unauthorized entries into a motor vehicle (UEMV's), 16 assaults, 4 graffiti incidents and 7 drug offenses. A total of 2,073 calls were placed for service.
• Safety Tip -- Robbery Prevention:
o To avoid becoming a victim of a robbery or worse, members of the public are urged to arrange meetings with online vendors in public places that are well lit, such as local police departments. When you report a robbery it is seen as a potentially life threatening incident and will get the highest priority. Personal robbery prevention can be summed up by a list of common sense tips:
 Stay tuned in to your surroundings and be aware of what is happening around you.
 Walk briskly and confidently. Give an appearance of "don't mess with me".
 Avoid going to ATM machines after dark.
 Don't flash large sums of cash, jewelry or other expensive items. They attract unwanted attention and may give a potential robber his or her target.
 Avoid isolated areas, short cuts and deserted parking lots.
 Don't be afraid to call the police if you suspect you are being followed. It could be the prelude to a robbery.
 If you are the victim of a robbery follow the instructions of the robber. Do not argue or attempt to fight with your assailant.
 Try to remember what the robber looks like, what he/she was wearing and call the police as quickly as possible.
 As always, if you have been a victim of a robbery please call 911 for police assistance.
• Lusitana Gardens -- District one (1) (Central Honolulu) officers made checks of the Lusitana Gardens area and towed two (2) trucks for Delinquent Vehicle Tax and Expired Safety Check. Four (4) other vehicles in the area were issued citations for illegal parking. In addition, no drug use or drinking of alcohol was observed. Officers will continue to monitor this area and take the appropriate enforcement action.
• Police Week -- Corporal Dana Paikai notified the board that the annual police week will be taking place in May 2017. On Tuesday, May 16, 2017 from 6:00 p.m. to 6:30 p.m., there will be a three (3) lane closure on Beretania Street for a Police Week Walk to honor fallen officers, which will start at the main police station and end at the state capitol.
Questions, comments and concerns that followed:
1. Smith Beretania Park -- Chair Au asked that HPD announce the Police Week Walk at the May 2017 meeting. Chair Au thanked HPD for their endeavors in helping clean up and keep Smith Beretania Park a clean and safe area, adding that he spoke to the Department of Parks and Recreation (DPR) and they do not foresee changing the park hours.
2. Police Week Walk -- Mollring noted attending several of the memorial walks in honor of the fallen officers and encouraged others to attend.
3. Improvements -- Shubert-Kwock thanked Major Calvin Tong for HPD's hard work with the arrests on illegal gambling establishments and drug arrests. Shubert-Kwock would like to see Major Allan Nagata walk around the community with residents and asked that he assign someone to monitor the 26 cameras that are in Downtown-Chinatown, adding that the cameras are an underutilized resource. Lieutenant Ferrell noted that as of today 21 of the cameras are in working order and that both Majors have made themselves available at previous neighborhood board meetings and will continue to be available to the public.
Neighborhood Citizen's Patrol (NCP) -- Dolores Mollring reported the following: Weather -- The NCP has been unable to walk due to the inclement weather.
Board member Yuen arrived to the meeting at 7:19 p.m.; Six (6) board members present.
Public Concerns -- Bills -- Higa noted attending a meeting of Ala Moana-Kaka'ako Neighborhood Board No. 11 and highlighted several Senate Bills (SB) and House Bills (HB) pertaining to mopeds, vehicle inspections and helmets.
NEW BUSINESS
State of Hawaii Harbor Division Proposed Increase in Harbor Fees -- Darrell Young, Deputy Director of the Department of Transportation (DOT) Harbors Division reported the following:
• Port Hawaii -- The "hub and spoke" harbor system reaches six (6) islands. Every resident relies on the necessities that arrive through the harbors. Hawaii imports 80% of its goods, 98.6% of which move through Port Hawaii.
• Act 200 (2008) -- Origin of the Harbors Modernization Plan (HMP), "Hawaii's aging commercial harbor system has not kept pace with our growing economy."
• Outcomes -- Demolition of existing, inefficient structures. New cargo container terminals, piers. Land acquisitions for expanded facilities. Maximization of operational efficiencies.
• Kapalama Container Terminal -- Phase One (1) -- Landslide: New 84-acre cargo yard. Phase Two (2) -- Waterside: New wharf, 1,800 feet of new berth space. Cost is at $448 million, and the timeline is Fall 2017 to 2022. Status is that Phase one (1) is currently out to bid.
• Phase One (1) Landside Improvements -- Removal and Demolition: Buildings, pavement, old drainage and utility systems. New Construction: Drainage and utility systems. Elevated two (2)-foot grade retaining wall and security fencing. Interior roadways and energy efficient lighting.
• HMP and Financing -- Since 2010, DOT Harbors has transformed management of the system's finances: Grew cash reserves for emergencies, refinanced old bonds with cash reserves to save $2 million annually, achieved strong bond ratings (AA-, A+, A2), and have been able to finance future projects at lower costs and interest rates.
• HMP and Financing -- Revenues: $130,126,000. Services: $105,975,000. Rentals: $23,327,000. Other Revenues: $824,000. Service charges will be increased to finance the Kapalama Container Terminal: Charges to be increased include wharfage, dockage, port entry and passenger fees.
• HMP and Financing -- 2017-2019 wharfage rate increases. Wednesday, February 1, 2017 -- 17%. Sunday, October 1, 2017 -- 15%. Sunday, July 1, 2018 -- 15%. Monday, July 1, 2019 -- 3% or consumer price index (CPI). Projected wharfage revenue - $100. 6 million fiscal year (FY) 2017, $117.9 million FY 2018.
Questions, comments and concerns that followed:
1. Importance -- Chair Au thanked Deputy Director Young for the presentation, noting the importance of improving the Harbor system in Hawaii.
2. Relocation -- Yuen inquired and Deputy Director Young answered that some relocation of buildings DOT Harbors paid for and others they did not. DOT Harbors paid for the relocation of the University of Hawaii (UH) building from Stock Harbor to Pier 35.
3. Costs to Consumers -- Lye inquired and Deputy Director Young answered that the increase in fees are passed to the shippers, giving an example that a 40 foot container from the United States (US) mainland to Maui would go from $179 to $208. Deputy Director Young highlighted a signup sheet available to anyone who would like to receive project updates.
Primary Urban Center (PUC) Watershed Management Plan (WMP) -- Gabrielle Sham reported the following:
• Project Context: The BWS is developing the PUC WMP, which will be part of the City Water Use and development Plan under the State of Hawaii Water Code and City and County of Honolulu ordinance. Almost half of Oahu's population resides within the boundaries of the PUC. Additionally, the PUC is a designated growth area that requires planning to meet the demands of a growing population.
• Overall Goal: The overall goal of the project is to formulate an environmentally holistic, community based and economically viable watershed management plan that will provide a balance between the preservation and management of Oahu's watershed, sustainable ground water and surface water use, and development to serve present users and future generations.
• Further Updates: The project is in the early stage and updates will be provided throughout the process of development over a three (3) year period. For more information contact Barry Usagawa of the BWS at 748-5900 or email at busagawa@hbws.org. Bruce Tsuchida from Townscape, Incorporated is also available at 536-6999 or by email bruce@townscapeinc.com.
Questions, comments and concerns that followed: Water -- Au thanked Sham for the report noting the importance of water to the island. Yuen raised concerns about the possibility of the water table declining and the difficulty to raise it up again. Sham noted that they will be working with State and City agencies to ensure that the water resources are not depleted, adding that the PUC is built up and the projected growth is not as high as other parts of the island.
Installation of Traffic Signals at the Intersection of North Vineyard Boulevard and River Street for Pedestrian Crossing -- Chair Au informed the board that Steven Yoshida from DOT Highways Division would be unable to attend the meeting and noted that this project was funded through the legislature.
Questions, comments and concerns that followed:
1. Crosswalk -- Sonny Le from Senator Rhoads office reported that the crosswalk installation was requested by the Chinatown community members. The crosswalk will benefit resident and visitors in the area. The crosswalk will be pedestrian activated, so it should not affect traffic unless someone is trying to cross the street.
2. History -- Mollring noted that the request for this crosswalk was brought up in 1996 at the Neighborhood Board to address the safety of seniors who would cross the street without using marked crosswalks.
3. Thanks -- Chang noted working for Senator Rhoads in the past and believes this is a great step in the right direction for pedestrian safety. Shubert-Kwock thanked Senator Chun Oakland and Senator Rhoads for pushing the funding through for the crosswalk.
City Complete Streets Program -- Michael Packard, Administrator of the Complete Streets Program at the Department of Transportation Services (DTS) reported the following:
• History -- In 2009, State Legislation requires Counties to set Complete Streets policy. 2012 -- Complete Streets Ordinance 12-16 adopted by City Council. 2013 -- Complete Streets Implementation Study, Age Friendly City Initiative, and State Pedestrian Master Plan. 2016 -- City and County Complete Streets Design Manual Finalized and Complete Streets Program Administrator hired.
• The Opportunity -- Honolulu is transforming: Rail, Transit Oriented Development (TOD), Housing Crisis, Increased Density, Infrastructure Improvements, and Bike Share.
• The Need -- Who benefits? Complete Streets supports: Public Health, Transportation Equity, Smart Growth, Economic Development, and Safety and Accessibility.
• Project Overview -- Coordinated with planned roadway rehabilitation efforts. All improvements within the existing travel-way. Consistent with TOP planned efforts: Chinatown Action Plan and Downtown TOD Plan. Timing for construction: 2018-2020. Currently undergoing feasibility analysis: Data collection, traffic analysis/modeling, community input and engineering analysis.
• Public Outreach -- Six (6) pop-up events (four (4) weekday and two (2) weekend). Six (6) lunch and learn events (four (4) public, two (2) for stakeholders). Demonstrations, tours and community engagement (bulbout demonstrations, project area bike tour, mapping travel). Stakeholder meetings: Business and community associations, landowners and tenants and Civic Associations and Rotary Clubs. Two (2) Neighborhood Board presentations, Meetings with agencies and elected officials.
• Promotions -- Two (2) media releases. Three (3) television news stories. Two (2) radio interviews. Dedicated City and County of Honolulu Complete Streets Facebook page. Updated City and County of Honolulu Complete Streets webpage. E-mail blasts, partner e-mail blasts and social media, Facebook ads and event listings and street team visited businesses and posted flyers in storefronts.
• Proposed Improvements -- Bike routes, sidewalk midblock bulbout, protected intersection, bike lanes, all-way pedestrian crossing, two (2) way protected bikelane, and sidewalk corner bulbout. Proposed to take place at River Street, Maunakea Street, Smith Street, Nuuanu Avenue, Bethel Street, Pauahi Street and Hotel Street.
• All-Way Pedestrian Crossing -- Existing: Kekaulike Street and King Street. Proposed: King Street at Alakea Street and King Street at Bishop Street.
• Two (2)-Way Protected Bike Lane -- Proposed: Bishop Street.
• Protected Intersection -- Proposed: Bishop Street at Queen Street.
• Bike Lane -- Proposed: Richards Street (makai of Hotel Street), Bethel Street (makai of Hotel Street), Queen Street (Nimitz Highway to Punchbowl) and Nuuanu Avenue (mauka of Beretania Street).
• Bike Routes -- Exisitng: Nuuanu Avenue and Hotel Street. Proposed: Bethel Street (mauka of Hotel Street) and River Street.
• Save The Date -- Wednesday, March 15, 2017 -- Community Symposium and Complete Streets Expo. Laniakea YWCA from 5:00 p.m. to 8:00 p.m.
• Contact -- For any concerns or for more information, please contact Michael Packard at michael.packard@honolulu.gov or 768-8326.
Questions, comments and concerns that followed:
1. Streets -- Chair Au noted that these Complete Street concepts will enhance the community and bring a better quality of life to the residents. Chair Au noted that there may be some inconveniences during the construction phase, but it is for the betterment of the community. Chair Au inquired and Packard answered that funding for these projects comes from existing funding of the Rehabilitation of Streets Program and that DTS is working with the Honolulu Authority for Rapid Transportation (HART) to ensure collaboration while construction of both complete streets and rail are taking place.
2. Crosswalk -- Mollring noted that the King Street and Bishop Street crosswalk is known as her crosswalk and that she saved it from being taken away years ago by DTS. Mollring notes that cars and bicyclists speed to make a left-turn lane and almost hit pedestrians. Packard will go out to the intersection and take a look at the everyday occurrences and noted that the feasibility of all-way pedestrian crossings as well as two (2)-way protected bike lanes at this particular intersection are being considered so that bicycles and pedestrians are traveling parallel.
3. Sidewalks -- Shubert-Kwock raised concerns about the potential for businesses to extend out onto public sidewalks to sell goods and liquor when the sidewalks are already narrow enough. Shubert-Kwock added that there is no proper signage or rules to inform bicyclists of where they are allowed to ride their bikes. Packard noted that current laws do not allow for businesses to extend out onto public sidewalk, however noting that the idea was brought up last meeting and is being considered by some individuals in the future. Packard added that there needs to be an increase in education for bicyclists and others pertaining to rules of the roadway.
4. Good Luck -- Tom wished Packard luck in his endeavors for the complete streets in Downtown-Chinatown. Tom raised concerns about the lack of testing bicyclists have to take compared with car drivers as well as helmet laws. Packard noted his wishes that people ages eight (8) to 80 feel comfortable using the streets in any capacity and the only current law requiring helmet use is for individuals 13 of age and under.
5. Bulbout -- Yuen noted that there is no need for bulbout setbacks, and therefore could add three (3) parking spaces at each proposed bulbout area, creating upwards of 18 parking spaces. Packard acknowledged Yuen's ideas and will take them back.
6. Community -- Chang suggested that Packard join Mollring and the NCP on one (1) of their routine walks to get a better idea of the foot traffic that takes place at night in various areas of the community. Chang added that traffic has been getting worse over the years even though there has been a huge effort to try and remediate it.
7. Parking -- Shubert-Kwock suggested that there be some consideration for an additional 40 to 50 spaces of parking placed at A'ala Park in order to gain some revenue as well as free up congestion in the area. Shubert-Kwock noted a need for storefronts such as on Kekaulike Street to have commercial loading zones readily available.
8. Signage -- Higa noted that Best Buy in Pearl City has signage that notifies vehicles, bicyclists and moped riders when they are not allowed to traverse a certain area.
Yuen moved and Shubert-Kwock seconded to support the Downtown-Chinatown Complete Streets Program. The motion passed by UNANIMOUS CONSENT, 6-0-0. (AYE: Au, Chang, Mollring, Shubert-Kwock, Tom and Yuen; Nay: none; Abstain: none).
Discussion Followed:
1. Reservations -- Tom wanted to clarify that he voted in favor of the Complete Streets Program with reservations.
2. Additional Parking -- Yuen wanted a guarantee from Packard that he will champion for more parking stalls to be placed at bulbout areas in the Downtown-Chinatown community. Packard will take back the suggestions to create more parking.
Reproduction Hawaiian Hale on the grounds of Hawaiian Mission Houses Historic Site and Archives -- Tom Woods reported the following: Hawaiian Hale -- Woods gave a brief overview of the history of the Hawaiian Mission Houses and Historic Site and Archives and noted the intent to build a reproduction Hawaiian Hale for educational purposes. The Hawaiian Hale will be 13 feet wide, 22 feet in length and 12 feet in height. The structure will be 286 square feet in total. Hawaiian Mission Houses is a pearl located in the middle of the city and offers open green space. There are over 30 programs offered and daily tours. Over 4,000 school children visit yearly. Hawaiian Mission Houses is a 501(c)(3) non-profit. Two (2) of the oldest houses in Hawaii reside on the property.
Questions, comments and concerns that followed: Preservation -- Chair Au thanked Woods and the Hawaiian Mission Houses for all they do in preserving the history and culture of Hawaii. Au inquired and Woods answered that they would like the Board's support at their upcoming hearing on Wednesday, April 5, 2017 with the Hawaii Community Development Authority (HCDA) pertaining to the reproduction Hawaiian Hale.
Shubert-Kwock moved and Mollring seconded to support the Hawaiian Mission Houses Reproduction Hawaiian Hale. The motion passed by UNANIMOUS CONSENT, 6-0-0. (AYE: Au, Chang, Mollring, Shubert-Kwock, Tom and Yuen; Nay: none; Abstain: none).
COMMUNITY CONCERNS
Hawaii Pacific University (HPU) -- Chair Au informed the community that Sam Moku was unable to attend the meeting and reported the following: Inauguration -- Friday, March 3, 2017, HPU President John Gotanga will be inaugurated at Iolani Palace. Ceremonies start at 4:00 p.m.
Safe Haven -- Greg Payton reported the following:
• Placement -- 23 individuals have been placed into permanent housing for the first two (2) months of 2017.
• Safe Haven -- Is Mental Health Kokua's (MHK) 25-bed, permanent housing program.
• Pauahi Hale -- MHK manages Pauahi Hale for the City and County of Honolulu as a low-income housing project. MHK will relocate Safe Haven later in 2017. The Hygiene Center services about 60 homeless individuals a day.
• Homelessness 101 -- Payton highlighted an information sheet giving a brief overview of the homeless population from Partners In Care - a coalition of 30 non-profit providers, government agencies and other stakeholders whose collective mission is to end homelessness.
Questions, comments and concerns that followed:
1. Helping Hands Hawaii -- Chair Au thanked Payton for his informative presentation and voiced his pleasure in knowing that Helping Hands Hawaii is involved in helping house homeless with the Pathways placement.
2. Donations -- Mollring noted that shortly she will have a lot of donations for MHK and its clients. Shubert-Kwock added that people traveling should gather up the travel items given at hotels and take to Pauahi Hale, so that individuals may have hygiene products to use while using the facilities. Payton added that if anyone has donations to please call him and he can try to arrange someone to pick up the donations. Payton added that when sending people to housing they often have nothing and any donation to help set them up on the right path is appreciated.
Honolulu Authority for Rapid Transportation (HART) -- Pat Lee reported the following:
• Compliance -- Many handicapped and physically challenged people depend on public transportation because they cannot drive themselves. There have been several questions asked about accommodations for passengers with disabilities using the train. Honolulu's rail system will be fully compliant with the Americans with Disabilities Act (ADA) which is federal law.
• Accessibility -- Each station will provide an unobstructed, accessible route from TheHandi-Van drop off area, through the gates and station concourse to the boarding platforms for passengers in wheelchairs, those using walkers or have other disabilities. There will be texture changes on flooring to assist the handicapped and visually impaired.
• Vending Machines -- Each station entrance will provide ADA compliant ticket vending machines, fare gate entries, information maps and passenger assistance telephones. The ticket vending machines will have audio assistance and be at wheelchair height.
• Phones -- Emergency phones will be ADA compliant, with braille labelling, and two (2) way communication.
• Elevators -- Access to the boarding platforms will be via hospital grade elevators, six (6) feet by nine (9) feet which can hold 25 to 30 passengers. Most stations will have two (2) elevators. The elevators will be glass walled for security and visibility.
• Restrooms -- Restrooms will be ADA compliant. Boarding platforms will have a textured warning track at the platform screen safety gates.
• Seating -- There will be designated wheelchair and priority seating for the handicapped on each train, as well as audio announcements, braille labelling at call boxes and signage.
• Project Status -- Regarding the current project status, HART and the City and County of Honolulu are seeking an extension of the half percent general excise tax (GET) surcharge from the State Legislature to obtain more funds to complete the 20-mile, 21 station rail project as planned. The current budget only has enough funds to build the first three (3) legs of the rail line, from East Kapolei to Middle Street. An extension of the GET is needed to finish the full project as planned, which would include the "City Center" segment from Middle Street to Ala Moana, including all of the stations in Kalihi, Chinatown, Downtown as well as the guideway and stations through Kakaako to Ala Moana Center.
• Shop and Dine -- Just a reminder about the Shop and Dine on the Line program to assist businesses along the rail alignment during construction. The website is: www.shopanddineontheline.com for more details and a list of the participating businesses.
• Information -- For general project information, traffic updates, meeting notices and more information, please visit the website www.honolulutransit.org, call the project hotline at 566-2299 or email a question at info@honolulutransit.org.
Questions, comments and concerns that followed: Completion of Rail -- Chair Au inquired and Lee responded that there is a possibility that the rail station in Chinatown will be deleted and instead go right to Aloha Towers if the GET is not extended in order to complete the full 20-mile, 21 station guideway. The Federal Transit Administration (FTA) with the $1.55 billion provided in the Full-Funding Grant Agreement (FFGA) sent a letter to the Mayor and HART on Wednesday, December 6, 2016 which detailed that a recovery plan needed to be put in place to get the rail project back on track. If the GET is not extended then an option B will be warranted which will cut out almost all projects for which contracts have not been issued. The rail station would go from Middle Street to Aloha Towers, skipping Honolulu Community College (HCC) and Chinatown rail stations as well as delete an important 1,600 space parking lot at Pearl Highlands.
Chinatown Business and Community Association (CBCA) -- Shubert-Kwock reported the following:
• Meeting -- The CBCA monthly Dim Sum Meeting at Empress Restaurant was held on Tuesday, February 14, 2017. Items discussed were:
o Complete Streets -- from DTS Michael Packard and Melissa White.
o Rail tax -- Testimony to Legislature.
o Attendance at the TeoChew Association Annual Spring Banquet -- VIPs included AG Douglas Chin and Roy Amemiya.
o CBCA support for SB1129 on assisted death by doctor as well as SB1054 on Common law marriages.
o CBCA is hopeful Chinatown will get the attention it deserves to reduce crime and improve the business climate with the addition of Major Allan Nagata and Major Calvin Tong.
• Support -- CBCA supports several Chinese organizations such as the United Chinese Society, Associated Chinese University Women, Hawaii Chinese Civil Association and the Chinese Chamber of Commerce in their various activities.
• Park Cleaning -- CBCA supported the recent Park Cleaning organized by the Chinatown Improvement District (CID), Suzanne Chun Oakland and American Savings Bank which had its groundbreaking two (2) weeks ago.
• Policing -- CBCA is asking for police patrol 24 hours a day in Chinatown and hopes the Chinatown substation will fund a position for an officer to monitor the 26 cameras believing that this is important to reduce crimes in Chinatown.
• Next Meeting -- The next CBCA meeting is on Tuesday, March 14, 2017 at Empress Restaurant.
Chinatown Improvement District (CID) -- Lee Stack reported the following:
• Park Cleanup -- Stack thanked Baillie, Chang and Mollring on the board for coming and participating in the park cleanup on Saturday, February 18, 2017. The park cleanup was a success with the HPD community policing team participating, Councilmember Fukunaga donating bentos, CBCA donating money towards water as well as Robert Yue for donating snacks. The park is in a lot better shape than the past and thanks DPR for helping maintain the park as well.
• Taste of Chinatown -- The Taste of Chinatown event will be taking place in Summer 2017, if anyone is interested in volunteering please go to www.chinatownhawaii.org.
Questions, comments and concerns that followed:
1. Thanks -- Chair Au thanked Stack and her organization for all they do in the community and noted that DPR is getting more involved with the maintenance of Smith Beretania Park.
2. Sidewalks -- Shubert-Kwock highlighted that the sidewalks from Maunakea Street to Nuuanu Avenue have all been fixed.
Arts Culture Merchants Etcetera (ACME) -- No representative was present; a report was not provided.
ELECTED OFFICIALS
Mayor Kirk Caldwell's Representative -- Megan Muramatsu of the Managing Directors Office (MDO) was unable to attend the meeting. A memo for the record was provided. Chair Au reported the following:
• Lusitana Gardens Concerns
o The Department of Facility Maintenance (DFM) noted in regards to the area at the corner of Lusitana Street, Miller Street and Captain Cook Avenue that has become an illegal dumping ground, investigation of the area revealed that it also involves a portion of the Vineyard Boulevard off ramp from the west bound H-1 freeway. The photos that were provided depict what appears to be improperly set out bulky items along both sides of the fence that divide Captain Cook Avenue and Vineyard Boulevard and trash along the fence. The fence and the grassed portion between the fence and Vineyard Boulevard is maintained by State DOT through a maintenance contract. State DOT will be installing No Dumping signs along the State's fence. The jurisdiction of the intersection is being investigated as well as the portion of grass between the Captain Cook Avenue pavement to the fence. The Department of Environmental Services (ENV) Refuse Division will be sending out an investigator to determine if the bulky items set out along Captain Cook Avenue are being generated by the residential properties in the vicinity because the proper location for setting out bulky items is fronting the residential properties rather than the fence adjacent to Captain Cook Avenue.
o The Department of Planning and Permitting (DPP) investigation of 1402 Lusitania (Tax Map Key: 2-1-022: 01) revealed the Shop No. 2 in the basement area has been converted into an apartment rental unit. A Notice of Violation No. 2017/NOV-02-181 was issued on Tuesday, February 28, 2017.
• Mayor's Memorial Day 2017 Poster Contest -- Open to all students, kindergarten to 12th grade, in public, private, charter school, or homeschooled. Drawing needs to be on a nine (9)-inch by 12-inch paper and the use of pen, pencil, ink, pastels, and paints are allowed. No computer enhancements or cut-outs, paste-ons, or stickers are allowed. Drawing could depict scenes of lei sewing activities, Punchbowl memorial activities, or military appreciation. This year marks the 50th Commemorative Year of the Vietnam War, and we are hoping for a great public show of support. More information is available through children's schools, on the Department of Parks and Recreation (DPR) website, email at parks@honolulu.gov, or call at 768-3003.
• 28th Annual Hawaii Food Drive -- The Neighborhood Commission Office (NCO) is participating in the 28th Annual Food Drive with the Hawaii Foodbank. Now through Saturday, April 15, 2017, the NCO will be accepting food or monetary donations towards this worthy cause. The top five (5) most needed foods are canned proteins (meat, tuna, chicken), canned meals (stew, spaghetti, chili); canned vegetables; canned fruits; and rice. Please make checks payable to: The Hawaii Foodbank. Donations may be given to the Neighborhood Assistant at the board meetings or delivered to the NCO at 925 Dillingham Boulevard, Suite 160. Donation receipts are available upon request. For more information on how you can help, please contact the NCO at 768-3710 or nco@honolulu.gov.
Councilmember Carol Fukunaga -- Councilmember Fukunaga reported the following:
• Hawaii State Library -- Councilmember Fukunaga attended a photo exhibit earlier in the day at the Hawaii State Library featuring Chinese-American women entitled "HerStory -- Chinese American Women, 65 Years of Struggle and Success," this exhibit will be featured in the main branch lobby.
• Affordable Housing -- Councilmember Fukunaga received a call from a neighborhood board member regarding the proposed affordable housing project at the vacant Queen Emma Building located at 1270 Queen Emma Street. The Ahe Group headed by Makani Maeva, is in the process of trying to secure financing for the project and has applied for a nine (9) % low income tax credit. If Ahe Group is able to get financing for the project, it will determine if they can redevelop the building into affordable housing. The Ahe Group has worked on several affordable housing projects in the community including the River Pauahi Apartments.
Governor David Ige's Representative -- Laurel Johnston, Deputy Director of the Department of Budget and Finance reported the following:
• Tax System Modernization (TSM) -- Johnston noted that there has been some glitches with the new TSM but that they are being worked out.
• Governor's Conference -- Governor Ige has just returned from the National Governors Association meeting in Washington D.C. where he met the President and several cabinet members. Governor Ige let the President and Cabinet Members know that Hawaii is willing to work with them.
Questions, comments and concerns that followed:
1. Taxes -- Mollring stated that she voted on the taxes for the rail project, and not for the State to take out money from those funds to put into a general fund. Deputy Director Johnston will take back these concerns.
2. Good Gesture -- Shubert-Kwock stated that she is pleased Senator Jill Tokuda and others want to give back funds taken from the City rail project towards the State's general fund.
Governor David Ige's Representative (continued)
• Homeless -- Deputy Director Johnston added that the Governor has introduced trespassing bills in order to deter homeless from inhabiting certain State properties.
Senator Karl Rhoads -- Sonny Le reported the following:
• Loading Zone -- A request was received to install a loading zone in front of 545 Queen Street. This request was forwarded to DTS.
• Bus Stop -- A request was received to add back the bus stop at Queen Street and South Street. The request was forwarded to DTS.
• Ash -- A complaint was received regarding thick ash coming from the Borthwick Mortuary incinerator. The issue was forwarded to the Hawaii Department of Health (DOH).
Representative Daniel Holt -- No representative was present; a report was provided.
APPROVAL OF FEBRUARY 2, 2017 REGULAR MEETING MINUTES -- The Board approved the February 2, 2017 regular meeting minutes by UNANIMOUS CONSENT, as amended 6-0-0. (AYE: Au, Chang, Mollring, Shubert-Kwock, Tom and Yuen; Nay: none; Abstain: none).
1. PAGE 5: Under Confiscation, change "take a way" to "take away".
2. PAGE 5: Under Voting, change "poles" to "polls".
3. PAGE 5: Under St. Patrick's Day Event, change "St' Patrick's" to "St. Patrick's".
4. PAGE 6: Under Great Aloha Run, should read "Mollring moved and Saupe seconded to support the 33rd Annual Great Aloha Run."
BOARD BUISNESS AND REPORTS
Chair's Report -- Chair Au noted the great applicant pool for the 2017 Neighborhood Board Elections. Chair Au encouraged everyone to vote for who they want on the board during the voting period of Friday, April 28 through Friday, May 19, 2017.
Hearings For Liquor License Applications
• Thursday, March 16, 2017. Sin Lounge, 1111 Nuuanu Avenue, Suite 112-113. Category three (3). Shubert-Kwock noted that she would like to see these applicants come to the meeting and introduce themselves.
Future Agenda Items -- At the next regular meeting of the Downtown-Chinatown Neighborhood Board No. 13, topics of discussion will include: The redevelopment of the Queen Emma Building, Launch of Bikeshare Hawaii, American Savings Bank -- new building, and the upcoming Cinco de Mayo event.
Treasurer's Report -- Treasurer Mollring reported a remaining balance of $174.42 for February 2017. The report was filed.
Oahu Metropolitan Planning Organization (OahuMPO) -- Chair Au disclosed that he is now the Executive Director of OahuMPO.
ANNOUNCEMENTS
Next Meeting -- The next Downtown-Chinatown Neighborhood Board No 13 meeting is scheduled for Thursday, April 6, 2017 at the Hawaii Pacific University, One Aloha Tower Drive, Multi-Purpose Room 2 at 7:00 p.m.
ADJOURNMENT -- The meeting adjourned at 9:27 p.m.
Submitted by: Sharon Baillie, Neighborhood Assistant I
Reviewed by: Dylan Whitsell, Neighborhood Assistant I
Final Review by: Chair Alvin Au and Vice Chair Tom
<!#43END>
Featured Product/Service
<!998Template_start>
<!998Template_end>
---
Please send questions about this website to