Community website by MBC/Ernest Abrams. Call 808-739-9797 for advertising/sponsorship.
First Friday Hawaii
News Item

Hawai'i Watercolor Society's - Ho'omaluhia Gardens Art Show
<!******* 1 TAB NAVIGATION START******>
Back to the top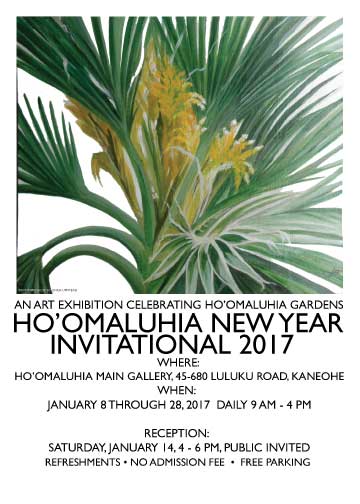 <!******* 2 TAB NAVIGATION START******>
Back to the top
<!#43START>
THE HO'OMALUHIA NEW YEAR 2017 INVITATIONAL EXHIBITION
HO'OMALUHIA GARDENS in Kaneohe, Oahu is one of the most splendid painting environments on earth. This exhibition is inspired by the beauty of the park and gardens and is dedicated to THE STAFF which maintains this enormous complex day in and day out all year long, making it the perfect artist's workspace.
SHOW DATES: Sunday, January 8 through Saturday, January 28, 2017 EXHIBIT HOURS: 9 AM until 4 PM daily and weekends
OPENING RECEPTION: Saturday, January 14, 2017 from 4:00 until 6:00 PM. Refreshments will be served. Free parking.
TAKE-IN DAY: Saturday, January 7, 2017 from 9:30 through 10:30 AM. Main Gallery of the Gardens behind the Visitor Center. Please note that the park opens at 9:00 AM.
LOCATION: Ho'omaluhia Gardens Visitor Center Main Gallery, 45-680 Luluku Road, Kanoehe, HI. CURATOR/SHOW CHAIR: Linda Umstead JUROR: TBD 3 AWARDS: 1xt, 2nd, 3rd place
SUBMISSION PROCEDURE: Submit images online to lindaumsteadillustrations@gmail.com including title, artist's name, size, medium, and price, by December 1, 2016. Selected artists will be notified of acceptance during the first week of December.
ENTRY FEES: No fee for online submission of works for consideration. Selected works:
$10 per painting or 3 for $25. No more than three (3) paintings will be accepted for each artist. All fees are nonrefundable.
PARKING: Free; ample parking on the premises.
END OF SHOW AND PICK UP OF ARTWORK: Sunday, January 29, 2016 from 9:30 to 10:30 AM. All work must be picked up by 11:00 AM at the latest. No works will be stored. Make arrangements if you cannot be there to take your work back. Unclaimed works will be donated.
ELIGIBILITY: This is an invitational show. All members of the Association of Hawaii Artists (AHA) and the Hawaii Watercolor Society (HWS) may submit works for consideration. The Curator may eleminate paitings if there is insufficient display space. A maximum of 75 paintings may be shown but the number will not be finalized until the works are selected.
COMMISSIONS: 15% commission payable to the Show Chair upon confirmation of sale at end of show.
DISPLAY RULES: Works must be properly framed and matted for display to their best advantage. Works must be properly wired for hanging; no sawtooth hangers or hooks. This is a public gallery so all works must be appropriate for general viewing. All works must reflect the beauty of the park and gardens, be painted on site or insprired by Ho'omaluhia Gardens. City and County regulations require that prices will only be shown on a price sheet or program and not on the wall tags.
LIABILITY: The Curator and the City and County of Honolulu and Ho'omauhia Gardens assume no responsibility for theft, loss or damage of any kind. Liability insurance is the responsibility of the artist.
OTHER CONDITIONS: Prepare your titles with care. Submit title, artist's name, size, medium, and price upon request after the selection process is complete and artists are notified of their acceptance. Write clearly and legibly. Your tag will reflect exactly what you have written.
<!#43END>
<!******* 3 TAB NAVIGATION START******>
Back to the top
ABOUT
View Hawaii Watercolor Society Calendar

The Hawaii Watercolor Society is open to anyone interested in the art of watercolor. Our mission is to nurture and stimulate interest in water media through education, exhibitions, and collaboration with other organizations, associations, and individuals.
All HWS members receive a monthly newsletter in the mail. The HWS Newsletter is a great source of information for shows, watercolor workshops, paint outs, and exhibitions.
MEMBERSHIP
Annual membership dues are $40 dollars a year. To join us, please
download membership application
form print out, fill in and mail with enclosed check.
HISTORY

The Hawaii Watercolor Society was founded in 1962 by Hon Chew Hee. He was honored as Artist of the Year by the Hawaii State Legislature in 1986. In 1987, the Society dedicated it's 25th Silver Jubilee Exhibition to him. Given Honorary Life Membership in recognition of his service to the society, Hon Chew Hee passed away in 1993. In his memory, a Best in Show award is given at the biannual Hawaii Watercolor Society's shows.
In 1991, in recognition of their long service to our organization, HWS gave Honorary Life Membership status to Karin Latham and Jeanne Robertson.
In 2004, in recognition of their long service as Workshop Chairs, HWS gave Honorary Life Membership status to Helen C. Iaea and Rita J. Gustie.
To contact the Hawaii Watercolor Society for further questions, visit:
http:www.hawaiiwatercolorsociety.org
Featured Product/Service
Hawaii Watercolor Society
To nurture and stimulate interest in water media through education, exhibitions, and collaboration with other organizations, associations, and individuals. Hawai'i Watercolor Society Annual Open Exhibition at Marks Garage 10/3/2014
1159 Nuuanu Avenue, Honolulu, HI (View Map)
<!998Template_start>
<!998Template_end>
---
Please send questions about this website to