Community website by MBC/Ernest Abrams. Call 808-739-9797 for advertising/sponsorship.
First Friday Hawaii
News Item

In Nichols' Music, Medicine & Mother Nature booth exhibit with Michelle Coltrane and the artist, Nichols
<!#43START>
The artist, John Nichols with Michelle Coltrane after her performance at the National Medical Centers Platinum Ballroom in the Markeplace, Los Angeles on August 1, 2016 She's holding the indigo blue chin colle limited edition numbered etching by Nichols of Karma Coltrane A Love Supreme which depicts both of her parents John & Alice.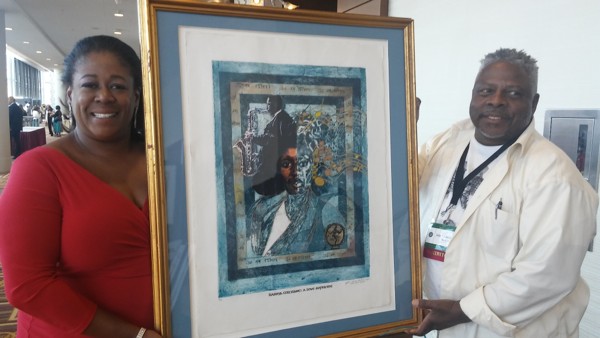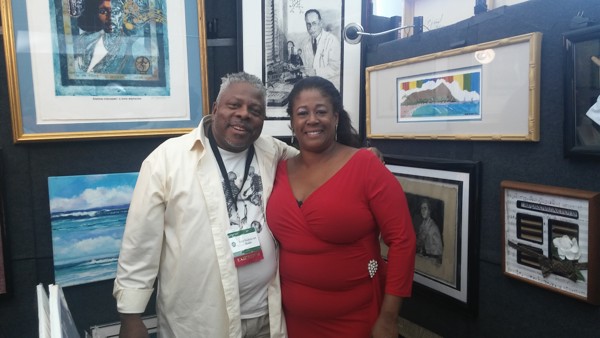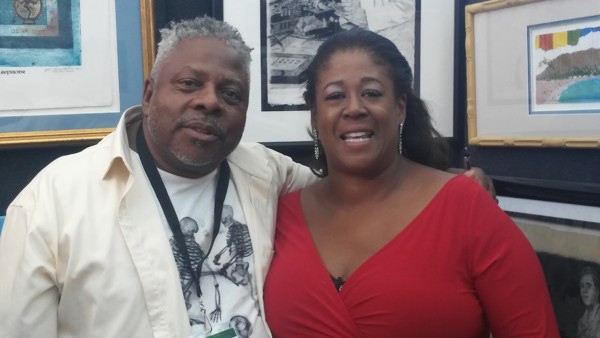 <!#43END>
About John Henry Nichols
Check out John's Artwork at the
Aloha Tower Marketplace - Art Gallery #2 11/5/2010
.
Work in progress project at Aloha Tower Marketplace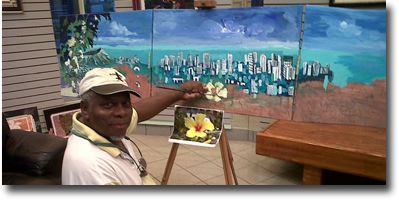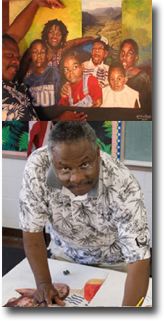 What you are about to enjoy is the result of almost 50 years of jazz life (view video below), wide travels, inspirations from meeting many of my musical heros such as [Sonny Rollins, Dianna Krall, Miles Davis, Tony Bennett, Dave Brubeck, Sarah Vaughn and Oscar Peterson, The Manhatten Transfer, etc.] who in most cases gave me some insight into what made them and hipped me to some good advice that I've tried to follow.
Recent artwork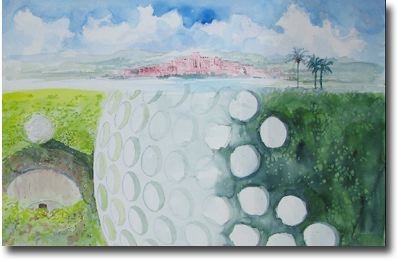 I do enjoy being collected by a small galaxy of stars, the likes of which include: [Phineas Newborn Jr., Dr. Calvin McLarin MD, Iman(Mrs. David Bowie), Shirley Horn, Toshiko Akioshi, Maya Soetoro Ng (President Obamas sister), Morgan Freeman, Clint Eastwood, Wynton Marsalis]. My career would not have been the same if not for the meeting and guidance that these luminaries provided me. Visual jazz images that I've done cover the range of oil on canvas, watercolor on paper, etchings on paper, woodblock on paper, sculptures. Museum quality materials are used in every instance. Will a full atelier education, I've learned and adheared to the principle of using only the highest quality materials which is very much in the French classical tradition.
Having traveled extensively in these United States with close to 100 one-man art shows and exhibitions, appearances at jazz festivals in Europe, on several occassions, you might say that I'm pretty well-travelled. Still I look forward to additional touring, meeting jazz lovers old and new and am always available for commissioned portraiture if so desired.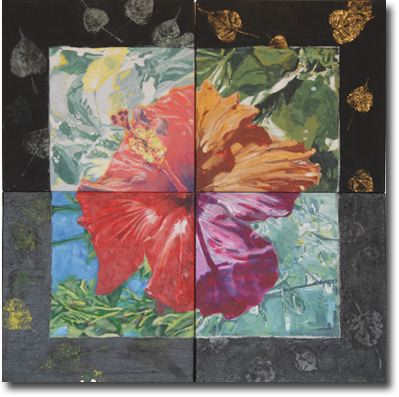 The Four Seasons of Love - a celebration of passion and romance....

The four seasons of love is inspired by romance, passion, fertility and renewal in all of its wonderful phases. the official flower of Hawaii, the stately hibiscus is surely one of the most sensuous and spectacular blossoms to be seen in this tropical paradise. Long a symbol worn in Polynesia behind the right ear to show availability and desire and tradition dictates worn behind the left ear indicates fulfillment, satisfaction and commitment to ones' kuuipo (sweetheart).
VIEW YOU TUBE VIDEOEducation
Earned a BA in Liberal Arts from Syracuse University in 1972.

Earned a Masters of Arts and Sciences Graduate Degree from Fisk University and Meharry Medical College in Nashville Tennessee in Clinical Psychology in 1977

Earned a Masters in Public Health Degree from the University of Hawaii at Manoa in Health Services Administration in 1979.
Art Accomplishments
John is an accomplished artist

John has exhibited his original paintings, etchings, and drawings in over 55 colleges and universities throughout the United States and Canada.

He also exhibited his art in Europe including The Hague, Netherlands; and Paris, France

In 1996 Presented Evander Holyfield with an original portrait of himself as an Olympic tribute during the Atlanta Olympics.

In 1999 John was commissioned to do a portrait of the Surgeon General.

One of 39 artists chosen to exhibit and the only Hawaiian artist chosen to exhibit at " The New York Artist Response to Sept. 11th" in New York City.

Received the Honolulu Mayors Award for his "Living Harmony" Exhibit at Honolulu Hale in 2001.

Private Art Collectors of some of his original pieces include: Private Art Collectors of my originals: Dr. Bill Cosby, Tony Bennett, David Bowie, Diana Kraal, Wynton Marsalis Miles Davis; Manhattan Transfer; Dave Brubeck.
Awards & Other Accomplishments
He was awarded the Jewish War Veterans Brotherhood Award from the Massachusetts Chapter for academics and community service.

He once instituted a lecture series with the tenured professors from MIT and Harvard College at the Rindge Technical High School. (Visiting lectures included Mr. Land, CEO of Polaroid Corp. and Mr. Edgerton CEO of the Electronics Corporation of America).

John has always tutored youth in his spare time for the last 35 years.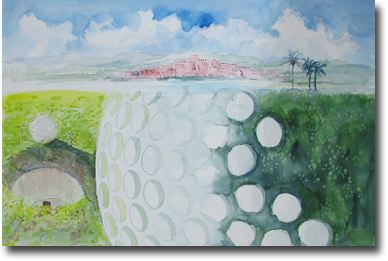 Featured Product/Service
John Henry Nichols
Enjoy is the result of almost 50 years of jazz life, wide travels, inspirations from meeting many of my musical heros. Has coupon!!
<!998Template_start>
<!998Template_end>
---
Please send questions about this website to