Community website by MBC/Ernest Abrams. Call 808-739-9797 for advertising/sponsorship.
First Friday Hawaii
News Item

Hawaii Quilt Guild - 2014 Annual Show - March 28 - April 6, 2014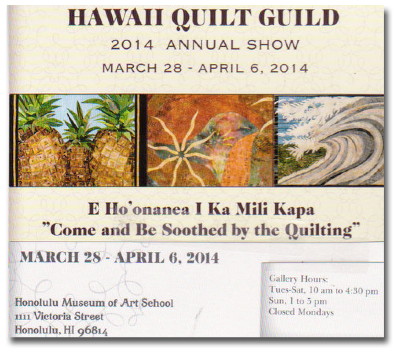 Charlene Hughes will be there every day that the exhibit is open, from 10 AM to 12 noon, to docent the show. We will talk about the quilts and about art and I will answer any questions they may have.
My phone number: 595-3416
Fond aloha,
Charlene Hughes
About Charlene Hughes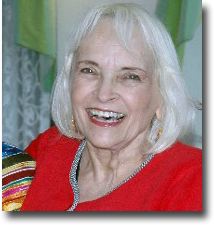 ABOUT CHARLENE HUGHES
Hughes remedied the lack of quilting resources on Maui by founding the Maui Quilt Guild in 1995. Forty members attended the first meeting. Today the membership numbers 160. Hughes has actively taught for the Maui Quilt Guild, the Hawaii Quilt Guild, the Hawaii Quilt Research Group and Quilt Hawaii. residents of retirement. During her life as a quilter, Hughes has been honored by the State Foundation on Culture and the Arts purchase of three art quilts; other of her quilts have been purchased for collections on the mainland and in Hawaii.
She has been an invited artist in a broad array of local and national shows, as well as a juried contributor to the state's most prestigious Artists of Hawaii exhibition at the Honolulu Academy of Art. (X 3). The quilt Manako O' Maui was invited to be hung in the National Quilt Museum in Paducah, Kentucky. (2008) Other of Hughes' quilts have been featured in books, magazines and college catalogs. She has been invited to submit quilts at the Inaugural Exhibit for Barack Obama, in Washington D.C.,Jan. 2009.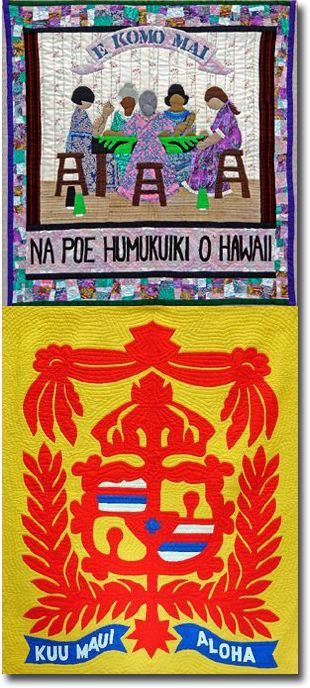 Never at a loss for concepts and inspiration, Hughes says she has, " Ten quilts in my head right now, just bubbling to get out. I do not think that this is unusual and most quilters will say the very same thing. For me, the true test of my artistry is to translate the ideas in my brain and make them come out through my fingers--many times this is an impossible task. I have also been fortunate in having what I call happy accidents happen to my quilts as they are being made. I run out of fabric and have to use another, I accidentally abut two clashing colors, a full idea pops into my brain, unaccountably. I cannot take credit for these things. Most times they work wonderfully and I am as astonished as can be.
ARTIST STATEMENT
A quilt is a magical textile.
My goals are never to bewilder or daze the viewer, nor to make them wonder what is going on in this art work. I want them to enjoy themselves and to let the quilt speak to them ---of sheer joy and pleasure. My quilt is my canvas. I turn to fabric for expression; the colors, textures and combination of patterns delight me. I am completely at home with fabric in a way that I have never been with paint and canvas. ~C. Hughes
DONATIONS TO:
Honolulu Advertiser (newspaper) auction, fund raiser , Woman's Legal Association, fund raiser, Women Helping Women (domestic abuse shelters), Maui Animal Refuge, , Honolulu Humane Society, hospitalized Veterans of Wars, Hawaii Kai Retirement Home, Aids Foundation Honolulu and Maui, Behavioral Medicine,Kaiser, Honolulu, Honolulu Zoo, fund raiser, Generational Association, Washington DC, Breast Cancer Research, Mayo Clinic, Minn., Hawaii Medical Association, Joey's Feline Friends Honolulu no-kill cat shelter, Heifer Inc.
GALLERIES:
Was the Featured Quilter for the Honolulu Quilt Guild's Exhibit in 2005.(Retrospective)
Have had quilts exhibited in the Cedar Street Gallery, the Koa Gallery, Venter's Gallery, Studio 1, the Aloha gallery, the Gallery on the Pali, Pauahi Gallery, Honolulu Hale(mayor's office) The Art Center Honolulu, Honolulu Country Club, Maui Arts and Culture Center, Kula Sanitarium, Mayor's Office (Maui), Lahaina Cannery Mall, Kaahumanu Mall, the Honolulu Academy of Art, Blaisdell Center, Arts at Mark's garage (gallery), Pacific Traditions (gallery), Kona Quilt Festival (Big Island), Pan Pacific Exhibit, On the Mainland: Houston International Show Houston TX, San Jose CA. Quilt Museum, LaConner WA. Quilt Museum ,Chicago Contemporary Show at McCormick Place, Shaeffer Gallery, Maui Arts and Culture Center, The National Quilt Museum, Paducah, Kentucky and The Quilters Hall of Fame, Muncie, Indiana.
My quilt images have been used on covers of college catalogs, made into Xmas cards, made into business cards (for someone else, with my permission),in published books and magazines and in tourist booklets.
MY PROFESSIONAL ORGANIZATIONS:
Hawaii Quilt Guild, Maui Quilt Guild, Association of Hawaii Artists, Hawaii Craftsmen, Hawaii Quilt Research Group
Photo Credits Roy Okano of Association of Hawaii Artist
Featured Product/Service
<!998Template_start>
<!998Template_end>
---
Please send questions about this website to