Community website by MBC/Ernest Abrams. Call 808-739-9797 for advertising/sponsorship.
First Friday Hawaii
News Item

Hawaii Craftsmen - Raku Hoolaulea Date Set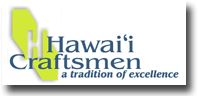 <!#43START>
Raku Ho"olaule"a Date Set for May 24-27
Community Kiln, Tea Ceremony, Workshops
Hawaii Craftsmen"s annual Raku Ho"olaule"a 2013 will be held May 24-27, 2013, at the beach at Camp Mokule"ia from noon Friday until noon Monday. Participants bring their pre-made ceramic artworks to the campgrounds to be raku-fired in portable kilns, with firings ending in a dramatic transfer of the red-hot object into cooling chamber filled with combustible materials. The public is invited to visit and watch firings all weekend and participate in the community kiln on Saturday, May 25, from 10 a.m. until 5 p.m. Jurying of the artwork for the annual exhibition takes place at the beach on the Monday morning prior to striking camp. Camp Mokule"ia admission is $5 per person per day for non-registered/non-camping participants.
Those artists camping participating in the firings and camping must register as part of a group and pay a required registration fees. Friends and family camping overnight are welcome and must also pay a fee. For registration information, contact rakuhoolaulea@hawaiicraftsmen.org, or call (808) 521-3282. A complete prospectus and registration form is available for downloading at www.hawaiicraftsmen.org. Registration forms and fees are due to the Hawaii Craftsmen office at 1159 Nuuanu, Honolulu, HI 96817 by the May 17, 2013, deadline.
This year"s juror and guest artist is Jerome Heck who lives and works in the hills of Pupukea. Heck"s self-designed impression tools made from wood or clay give his ceramic slab work its signature look. Heck will present a free Slide Lecture about his textural methods and tool making techniques at 6 p.m. May 22 in the Art Department, Room 101, at the University of Hawaii at Manoa (UH). A wet clay and tool making demonstration will follow at 7 p.m. in the UH Ceramics Studio. Heck will also be participating and demonstrating his techniques at the beachside firings throughout the Raku Ho"olaule"a weekend.
Artist Bryce Myers is designing a T-shirt, which can be ordered prior to May 1. Order forms will be available at www.hawaiicraftsmen.org.
Pre-made bisque pieces made and glazed by entrants are eligible for entry in the Raku Ho"olaule"a 2013 Exhibition at the Arts at Marks Garage Gallery June 4 through 29, 2013. Gallery hours are Tuesday through Saturday, noon to 5 p.m. Admission is free to view the exhibition. The Urasenke Foundation will present a traditional participatory Japanese tea ceremony at the public exhibition opening Thursday, June 6, from 5:30 until 8 p.m.
On First Friday, June 7, from 6 until 9 p.m., Hawaii Craftsmen will also sponsor wheel throwing and hand building demonstrations at the exhibition site. A Silent Auction runs through the duration of the exhibition and the public is invited to bid on selected items featured in the exhibition. Tea bowls and sake cups will also be available for purchase, while supplies last.
Raku Ho"olaule"a is funded by Hawaii Craftsmen membership dues, entry and camping fees, the community kiln tea bowl and sake cup sales, and other fundraising efforts, as well as individual donations and grants from The McInerny Foundation and the Hawaii State Foundation on Culture and the Arts.
Other events associated with this community event include a free Carved Tea Bowl Workshop with ceramic artist Ed Higa from 9 a.m. until 3 p.m. on Saturday, April 27, at Makua Ali"i Senior Center at 1541 Kalakaua Avenue in Honolulu. Participants should register with Higa at (808) 429-7152. Artists interested in membership in Hawaii Craftsmen will find information online at the organization"s web site, www.hawaiicraftsmen.org.
-pau-
<!#43END>
---

About Hawaii Craftsmen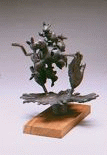 PRIMARY LINKS

MISSION
Hawai'i Craftsmen's celebrates fine craft as a vital and enriching part of contemporary life and supports the creative growth of our member artists.
We achieve our mission through:
increasing public awareness and appreciation of fine craft;

providing opportunities for continuing education and regular exhibition of member work;

sustaining a statewide community of craft artists;

promoting the organization and its members nationally as well as statewide.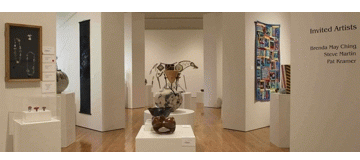 In 2000 Hawai`i Craftsmen was designated the lead partner and on-site manager for The ARTS at Marks Garage -an arts enterprise project in downtown Honolulu. This opportunity allowed us to increase our presence in the community and to offer expanded programming to our membership and the public. The location and collaborative nature of this venture also furthers our goals of increasing our exposure to new communities, thus increasing our membership and our base of financial support. Hawai`i Craftsmen (together with the partner organizations) brings over 30 years of experience and community relationships to the development of this long awaited endeavor.
The importance and quality of our work has won us State Foundation on Culture and the Arts support since our inception. Our members include Ron Kent, whose work is in the White House Crafts Collection, Francis Pickens, represented in the Renwick Gallery of the Smithsonian Institution, life members Toshiko Takaezu, Claude Horan, Ruthadell Anderson, Lucille Copper, and other illustrious artists. Many of our 400 members, one third being neighbor islanders, have works in the SFCA Art in Public Places collection.
Many teach art in Hawai'i's public and private schools passing on to their students new techniques they learn through us, especially through `Aha Hana Lima.
Described by former Honolulu Academy of Arts director George Ellis as "one of the most professional and active organizations of its kind in the nation," our "distinguished record of service" through juried exhibitions, lectures, demonstrations, and workshops, which have drawn between 1500 and 9000 attendees, has "been instrumental to the creation of public appreciation, perception, and awareness of the visual arts."
Living in paradise provides unique programming challenges: five islands separated by miles of ocean. Hawai'i Craftsmen increases membership involvement by sending jurors to neighbor islands, shipping neighbor islanders' work to exhibits in Honolulu, giving scholarships to Neighbor islanders for Honolulu workshops, and contracting out-of-state jurors and guest artists. Our website, redesigned and updated in 2002, features our organization, programs and member artists and is a resource for artists and those interested in crafts and the arts. We work hard to reach art educators in all levels of education so that they may take what they have learned back to their students. We network with neighbor island organizations to provide opportunities for the guest artists to reach an even larger part of our state through presenting workshops and slide lectures outside of Honolulu.
Many of our programs are co-sponsored or produced with the help of The Honolulu Academy of Art, The Contemporary Museum, The University of Hawai`i, The State Foundation on Culture and the Arts, The Mayor's Office on Culture and Art, East West Center, and other arts and culture organizations and facilities throughout the state. All of these programs are available and promoted to neighbor islanders. Receptions, exhibits and raku beach side firings are free to the public; fees are charged to participating artists at workshops, exhibits and the raku firing.
Featured Product/Service
Hawaii Craftsmen
A tradition of excellence. Hawai'i Craftsmen support high standards of quality among member craftsmen who work in clay, fiber, glass metal, mixed media and wood. Increasing awareness of fine crafts since 1966. Featured at Small Kine Show 2009
<!998Template_start>
<!998Template_end>
---
Please send questions about this website to