Community website by MBC/Ernest Abrams. Call 808-739-9797 for advertising/sponsorship.
First Friday Hawaii
News Item

Bar 35 March 2012 Events


Contact: Miki Lee
808.779.7235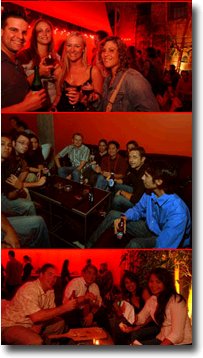 March Events at Bar 35 – Live Music, DJs, Beer Tasting, and More
(All events 21 and over)
Wednesday House of Brews. Taste eight different beers and learn 6:00 p.m. about the wide world of beer and brewing from local suds advocate, Andy Baker. Themes change weekly. $20 includes fusion pizza from Chef Valentini. This month:
March 7 ........ Meet the Brewer! Deschutes Brewery Vists (Complementary commemorative glasses for early arrivals!) March 14 ....... Little Bit o' Irish - A Whole Lot o' Stout March 21 ....... Early Spring Beers March 28 ....... Ides of March
9:00 p.m. - DJ Rhombus. No cover. Closing
March 1 James McCarthy's SPUDGUMBO. Featuring rhythmic, real-time 9:00 p.m. – mash ups of Celtic, N'awlins and original tunes. Band Closing veterans Babatunji Heath and Geoffrey Red lay out solid multi-style grooves, while James McCarthy adds vocals and guitar inventions. A Bar 35 debut! No cover.
March 2 First Friday. A monthly festival celebrating the areas 9:00 p.m. – galleries, lounges, restaurants and shops. DJs Rhombus, 2:00 a.m. Jami and Anarch spinning the tunes.
March 3 DownTowne. An event for women who love women. (The gents 9:00 p.m. - are welcome too, of course.) It's a very special 5-year anniversary party this night. LA DJs Amara and Josh Peace will be spinning. Be sure to wear a black tie ensemble comfortable enough to dance the night away. RSVP in advance at www.downetowne.com/guestlist for a reduced cover charge of $8. Otherwise, it's $10 at the door.
March 8 Jessie Savio. Guitar and vocals. No cover. 9:00 p.m.
March 9 DJs Rhombus and KTM. No cover. 9:00 p.m.
March 10 A Room of House. Presenting "Awakened" spinning an array 9:00 p.m. - of house and electro-pop. $5 before 10:00 p.m.; $10 2:00 a.m. after.
March 15 VeJJ. An independent, Honolulu-based rock band. Performing 9:00 p.m. a mix of original blues, rock and rhythm and blues. Imagine a blend of Stevie Ray and Stevie Wonder with a dash of Jimi Hendrix! No cover. Hawaii Speed Dating. Presented the third Thursday of the month. A chance for singles to find their connection in a fast, fun, and friendly way. This session is for singles in their mid-20s to mid-30s. RSVP in advance required (hispeedating.com). Cover/fee.
March 16 DesignU. Every third Friday of the month. A gathering of 10:00 p.m. – designers, hair and make-up professionals, and models to 2:00 a.m. network, inspire, and show and share! No cover.
March 17 St Patrick's Day. No green beer here. Just 180+ different 4:00 p.m. - bottled and draught beers to choose. House DJs. No cover. 2:00 a.m.
March 18 CASA. Known for its unrelenting devotion to deep and 9:00 pm. - soulful House Music. Casa's fiercely loyal following is a 2:00 a.m. testament to the vibe they create every Sunday. Dancers keep the dance floor blazin' while socialites and rhythm aficionados keep it chill. Resident and headliner DJs deliver a soulful goodness. Free before 10:00 p.m.; $10 after.
March 22 Venus Vibe Trap. A whole different kind of open-mic, more 9:00 p.m. like an open jam session. Creator Jason Tabosa and his band mates start the beat, creating space for other musicians to join in on the group groove. No cover.
March 23 DJs Rhombus and Logoe. No cover. 9:00 p.m.
March 29 HiRiZ. A blend of reggae, alternative and rock. 8:00 p.m. - Featuring Kaimi Hananoeau (lead vocals and guitar), 1:00 a.m. Shannon Tanudra (lead vocals and rhythm guitar, Steven Keola (bass) and Kainoa Ah Chong (drums). No cover. www.hirizmusic.com.
March 30 Crush. Featuring DJs Technique and 720, winners of the Mai 9:00 p.m. - Tai DJ Spin Off. No cover. Close
March 31 80s Pop MUZIK. One of Bar 35's most popular monthly 9:00 p.m. events, presented by DJ Nocturna. Cover. # # # #
Featured Product/Service
<!998Template_start>
<!998Template_end>
---
Please send questions about this website to