Community website by MBC/Ernest Abrams. Call 808-739-9797 for advertising/sponsorship.
First Friday Hawaii
News Item

First Thursdays: 7th Anniversary Grand Slam FINALS! April 1, 2010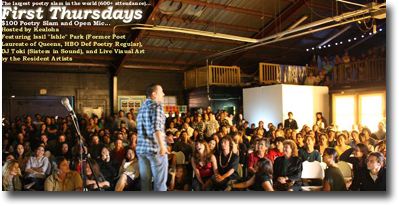 PRESS RELEASE:
We're 7 years old, and we're celebrating with our annual Grand Slam FINALS show!! After an exciting season of qualifier rounds at First Thursdays, HawaiiSlam is ready to select the seventh team to represent Hawai`i at the National Poetry Slam (NPS), which will be held in Saint Paul, MN this year. The 12 best poets from the 2009-2010 HawaiiSlam season will battle it out in a three round elimination competition to determine the 4-member team that will fly up to the NPS. The poets will undoubtedly bring their best pieces to the stage in what will be the greatest slam poetry show of the year!!! The proceeds from this annual show/fundraiser will fund the HawaiiSlam Team's trip up to the NPS.
The super special feature for the show is legendary poet Mike Mcgee, a National Poetry Slam Champion, Individual World Poetry Slam Champion, and HBO Def Poet!! His feature performance on HBO's Def Poetry Jam was one of the highest ranked in popularity for 2005, and his humor has made him a household name in the poetry slam community. Even more amazing, Mcgee was born with the birth defect Spina Bifida (
www.sbaa.org), and is very lucky to be walking, talking, thinking and breathing.

We will also have a pre-show musical set by the Genie, the creator of a unique live-looping method called 'scratch guitar' as well as a unique brand of live-remixing called 'g-mixing'. Bringing together a hybrid of genres, including jazz, dubstep, latin, reggae, hip hop, blues, middle-eastern, Indian and electronica, he utilizes unconventional slide techniques while manipulating knobs on his pedals with his toes.

The 12 poets in the competition are Ittai Wong, TravisT, Jocelyn Ng, Son Da One, Tui-Z, Sterling Higa, Kealoha, Forgotten Artform, Bridget Gray, Jonra, Jess Kroll, and Harrison Ines.

The Grand Slam FINALS show will be held at Fresh Cafe, one of Hawaii's newest venues. First Thursdays is the largest registered poetry slam in the world (attendance of 600+). The Grand Slam FINALS event is on Thursday, April 1st. Doors open at 7:30pm, and the show starts at 8:30pm. Tickets are $15, and are available Online at www.HawaiiSlam.com and at various retail stores (listed on the website) including Fresh Cafe, Jelly's, Rainbow Books, Hungry Ear, UH, and more. For more info, check out the website at www.HawaiiSlam.com, send an email to info@HawaiiSlam.com, or call 387-9664.

About NPS: The National Poetry Slam (NPS), which is often dubbed as the superbowl of slam poetry, is an annual competition that will draw in roughly 76 poetry teams from around the world. The lineup of competitors at the NPS is loaded with professional touring poets and poets from HBO's Def Poetry Jam. For more information, check out www.poetryslam.com

____________________________________

NEW LOCATION: FRESH CAFE
831 Queen Street (between Ward Avenue and Cooke Street)
Phone: (808) 387-9664
Email: info@HawaiiSlam.com
Website: www.HawaiiSlam.com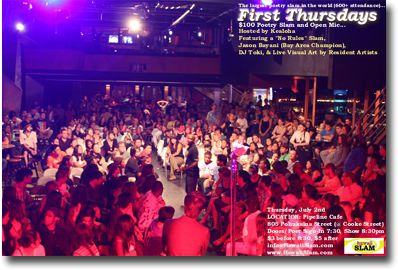 First Thursdays is the largest registered poetry slam in the world (600+ in attendance)!! HawaiiSlam has official 501(c)(3) non-profit status through Poetry Slam Inc. Please forward to anybody who may be interested...

Poets/performers: you will only need one piece to compete, as we will only be doing one round of performances. The three-minute rule is still in effect. You do not have to break the rules to get up on the mic, but just know that you can (poet selection will be primarily random as usual). There will be 4 microphones, a DJ with his/her equipment, and one 1/4" cord to plug in basic instruments. If you have more sound requirements, bring your own equipment to make it happen. That being said, you have 30 seconds to set up... do not make us wait for you!! You can be in more than one piece if you are helping someone else out with theirs.

Doors open at 7:30pm, and the show starts at 8:30pm. Admission is $3 before 8:30pm and $5 after. For more info, check out the website at www.HawaiiSlam.com, send an email to info@HawaiiSlam.com, or call 387-9664.

Kealoha
(808) 387-9664
www.KealohaPoetry.com
www.HawaiiSlam.com
www.myspace.com/KealohaPoetry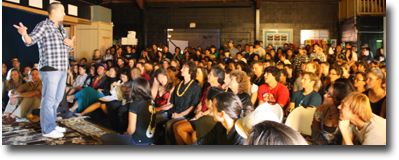 Featured Product/Service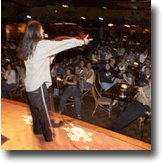 <!998Template_start>
<!998Template_end>
---
Please send questions about this website to