Community website by MBC/Ernest Abrams. Call 808-739-9797 for advertising/sponsorship.
Web Site:
http://gyotaku.com
<!PDF LINK>
Description/Comments:
Hawaiian Fish Print originals and reproductions and hand crafted solid koa wood frames. custom furniture, surf boards, clothing item.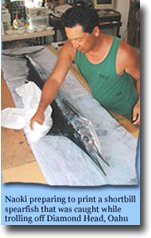 About Gyotaku
Gyotaku [gyo meaning "fish" and taku meaning "rubbing" or "impression"] was discovered over a century ago by fishers in Japan. Fishers were able to accurately depict the size of their prized catch before serving it as part of a delicious dinner. Gyotaku is a simple art created by pressing rice paper onto a fish. Naoki uses acrylic paint and shoji paper in order to preserve the ocean's beauty for many generations to come.
Naoki uses his experiences as an avid fisher and diver when creating his artwork. This love and passion for the ocean is reflected in the true life-like appearance of his creations. When asked about his unique style, he often responds by encouraging others to expose them self to the ocean's true beauty. In addition, Naoki suggests getting familiar with the fish and its behavior within their natural environment.
Naoki enjoys preparing meals from all of his catches and is able to relive the excitement of the lucky outing through his own personal collection of gyotaku. In order for the fishing community to be able to experience this excitement he offers a custom printing service. Please contact Naoki for more information if you are fortunate enough to land your own prized catch.
Our Respect for Nature
We are very friendly to the environment and have a lot of respect for the nature. No life is taken from the ocean unless it is consumed as food. We do not catch fish to make art, we catch fish because we enjoy eating them!
About Naoki Hayashi
Artist Naoki Hayashi began making Gyotaku prints at age 11. Since then he has refined and mastered his unique Gyotaku process. Each of Naoki's Gyotaku art works is created using non-toxic acrylic paints and Japanese shoji paper.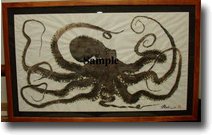 Naoki makes his own frames from native Hawaiian solid koa wood. He carefully selects the koa wood for each piece to complement and enhance the image.
Naoki is an avid diver and fisher. Each of his Gyotaku is a window into the underwater world he sees when diving in Hawaii's beautiful ocean waters. In each Gyotaku print, he replicates a scene from one of his many dives. His art features fish in true-life color and in compositions that reflect how they are found in nature.
Naoki has a deep respect for the ocean and its creatures. Thus, he will only create Gyotaku art from fish that will be eaten. Each of his Gyotaku pieces is both a record of a fish, and a record of a meal shared with friends and family.
Naoki has a wide selection of original pieces and reproductions available and also creates custom Gyotaku art. He creates custom furnishings including original artwork, lamps, and shoji screens for wide variety of interior and exterior designs.

ref no:1102
Featured Product/Service
No Coupon
Available
<!998Template_start>
<!998Template_end>
---
Please send questions about this website to