Community website by MBC/Ernest Abrams. Call 808-739-9797 for advertising/sponsorship.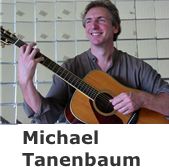 Location / Contact:
Honolulu, HI 96813
Phone: (808)373-8925
Contact:
Michael Tanenbaum
View Map
Web Site:
http://www.michaeltmusic.com
<!PDF LINK>
Description/Comments:
The atmospheric guitar work of Michael Tanenbaum weaves intricate melodies and harmonies while taking you on an inspired journey through the many styles of World Music.
Visit Michael Tanenbaum Website:
www.michaeltmusic.com
www.sonicbids.com/michaeltanenbaum
BIO
Michael Tanenbaum is a Celtic inspired instrumental guitarist based in Honolulu, Hawaii. Originally from Toronto, Canada, he moved to Hawaii in 1991. His music flourished in new ways inspired by the power of the land, light and ocean waters of the islands. Although he missed the Irish, Scottish & British Isles music of Canada, he found a new sound in the island's Hawaiian Slack Key guitar music that resonated within him and was inspired to re-explore the guitar after 25 years at the piano. In time, he incorporated his northern music roots with the tranquility and beauty of his new home in a fusion of what he now calls locally, "Celtic Slack Key".
Michael experiments extensively with alternate guitar tunings and uses a "fingerstyle" technique - a right hand discipline similar to classical guitar. Using a percussive tap/slapping technique, he expands the meaning of rhythm guitar. He writes original music that is a fusion of jazz, celtic, bluegrass, and Hawaiian slack key music. His years of piano improvisation prior to revisiting the guitar has left its mark on his current composing style.
Michael has a passion for performing live and is most at home with an audience, connecting with them. He's an innovative composer/guitarist of instrumental music that can be described as visual "Guitar Tapestries" - music you can SEE. Storytelling for him takes the form of acoustic journeys through changing landscapes, atmospheres and ocean waters. It's thoughtful, deeply felt music with changing moods that take you places, much like film music. But it has an edge - a big sound, deep grooves & an upbeat lyrical feel that pushes the possibilities of acoustic guitar playing. Original & dynamic, this Celtic infused & Hawaii inspired music is the living dream of a one man band with 6 strings.
Acknowledging that it takes a village to raise an artist, Michael feels fortunate to be standing on the shoulders of great artists who have helped shape his sound. His major guitar influences include: Bruce Cockburn / Michael Hedges / Leo Kotke / Don Ross /Alex De Grassi / Pat Metheny / Franco Morone/ Richard Peikoff & Makana. Michael has collaborated extensively with other musicians in an effort to expand the solo possibilities of the acoustic guitar into the realm of a guitar orchestra.
His music was recently scored in the 2009 documentary film called "Hawaii: Long Story Short" which explores Hawaii's geological emergence from the ocean floor. He has composed music for film and modern dance extensively.
In 2003 Michael won a silver medal for original composition in the World Championships of the Performing Arts in Los Angeles - an Olympic style competition among musicians from around the world.
Michael graduated from Brown University where he was first introduced to computer and electronic music. Since then, his fascination with all things acoustic and all things digital has led him to bring those two worlds together in a variety of engaging ways. From live performance art to intricate studio work, the elegant union of these different worlds is his life work.
Instrumentation
Michael Tanenbaum - acoustic guitars
Discography
In the Garden - 2002 (film music compilation: multi-instrumental)
First Sketch - 2003 (solo acoustic guitar instrumentals)
Take Two - 2010 (Electroacoustic duets w/ Nick Gertsson)
Songs For The Cure '10 - 2010 (Compilation cd which includes my track "To Dance With You" - Live duet w/Stephen Inglis)
All Thumbs - 2010 (solo & duo instrumentals)
HOURS
Anytime - day or night wherever music is needed to enhance a setting or an occasion.
ref no:7142
Featured Product/Service
No Coupon
Available
<!998Template_start>
<!998Template_end>
---
Please send questions about this website to