Community website by MBC/Ernest Abrams. Call 808-739-9797 for advertising/sponsorship.
Web Site:
http://www.guaoocreativestudio.com
<!PDF LINK>
Description/Comments:
<!******* 1 TAB NAVIGATION START******>
Back to the top
Art Featured at At Madre Chocolate May 5, 2017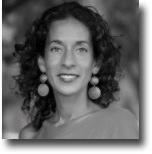 <!#43START>
Fe Bailey is an independent filmmaker and artist. Born and raised in Caracas, Venezuela, she lived 7 years in San Francisco and the Bay Area and then moved to Oahu where she has lived for the last 6 years. Fe has been immersed in the film industry for over 15 years with a successful trajectory that began in her mother land and continues in the Pacific. Fe's projects range from tv commercials to feature films, short films, documentaries, corporate videos and more.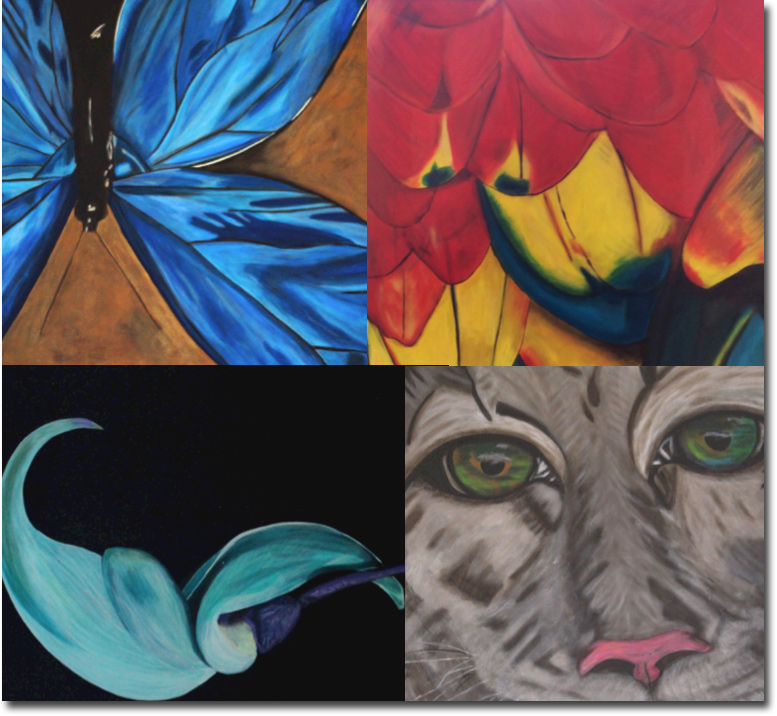 Throughout her life, Fe has also developed a unique acrylic on canvas style, adding layer over layer over layer, allowing the frequency of the colors to build on the painting. Further, Fe loves the flexibility that acrylics embrace. Smitten by Hawaii's beauty, Fe explored watercolors, engaging the viewer with the vibration of color to blush emotions. Her favorite technique is wet over wet, because of the action and courage that is felt through the creative process - as Matisse would say-, and total surrender by letting the pigment take life and express itself.
Fe Bailey's greatest inspirations come from nature, insights and visions. "There is power in beauty and I was called to create beauty" she often shares. She draws upon experiences collected during her travels in the Americas, Europe, and the Pacific. Painting is an active form of meditation, and audiences perceive that. Whether acrylic or watercolor, each stroke holds total presence.

Fe's art has been shown at the Hawai'i State Capitol for three consecutive years (2012-2014). Additionally, it has also been shown at the 'Iolani Gallery in Kaneohe. Puma and Angel, two of her outstanding pieces inspired by Venezuelan mythology, have been part of the repertoire of printed art work at the inauguration of Pueo Press, a literature and art journal from Windward Community College in 2016.
You can further explore Fe Bailey's work at www.guaoocreativestudio.com and reach her at 808-721-9555.
<!******* 2 TAB NAVIGATION START******> Back to the top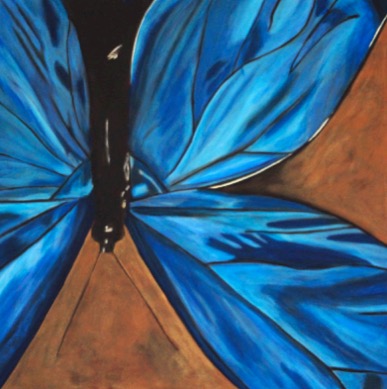 Mariposa Azul, (Blue Butterfly) is one of the many expressions of Yara and one of her favorite shapes. It is a reminder that transformation takes us to the lightness of the present moment consciously chosen.
A caterpillar may be more comfortable staying in the contentment of its warm little cocoon, safe and asleep, however the butterfly it is to become fiercely destroys its form in order to emerge with a new freedom. The discomfort we all feel is akin to the caterpillar who can sense that there is no going back. The only way is through to the other side.
#1 Mariposa Azul
Acrylic on canvas
18" x 18"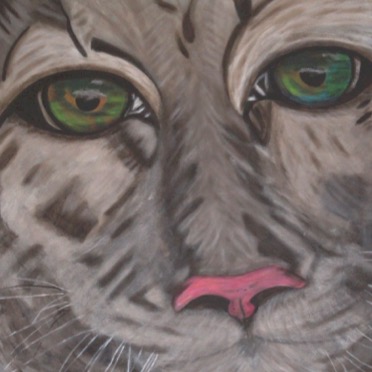 Puma, another favorite figure embraced by the goddess which posses a powerful and protective presence. It is a symbol of courage, bravery and potential. The Puma is also associated with the sun and its vitality. It is capable of neutralizing the dark side and guide us towards our interior self.
All humans embrace light and shadow. As Puma remind us we have the ability to neutralize our darkness and strengthen the shine of our light, wisdom and love.
Puma, has been published at the premier of Pueo, a literature and art journal from Windward Community College, Hawai'i. 2016.
#2 Puma
Acrylic on canvas
18" x 18"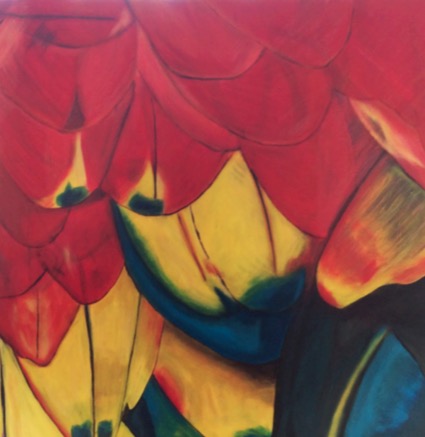 Plumas de Colores, (Feathers of Color), Yara holds many qualities of the feathers. She has been consecrated for several cultures, Yara is one of the main characters present in Venezuelan rituals. She has been considered intermediary between heaven and earth and she carries and delivers messages. Yara carries qualities to shoot towards the highest the intelligence and soul. The feathers create a tie with vegetation, represent the flight and the air element, so does Yara.
#3 Plumas de Colores
Acrílico sobre canvas
18" x 18"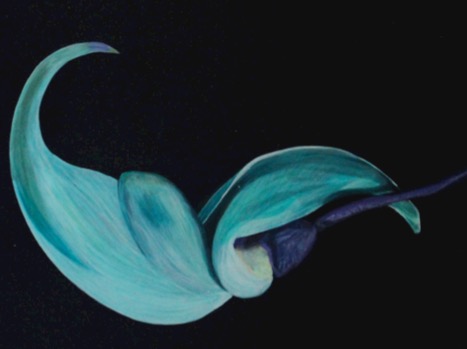 Jade Azúl. (Blue Jade) the colors of Jade Azúl represents skies and oceans' hues. It's calmness is contagious, this flower needs space to grow and the production of her flowers is generous. All these are properties of Yara.
#4 Jade Azul
Acrílico sobre canvas
16 x 20"
Fe Bailey Copyright 2016, 5
<!#43END>
ref no:28713
Featured Product/Service
No Coupon
Available
<!998Template_start>
<!998Template_end>
---
Please send questions about this website to