Community website by MBC/Ernest Abrams. Call 808-739-9797 for advertising/sponsorship.
Dennis Mathewson of Cosmic Airbrush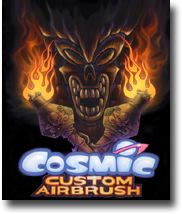 Location / Contact:
818 Iwilei road suite F
honolulu, hI 96817
Phone: 808 531-8833
View Map
Web Site:
http://www.cosmicairbrush.com
<!PDF LINK>
Description/Comments: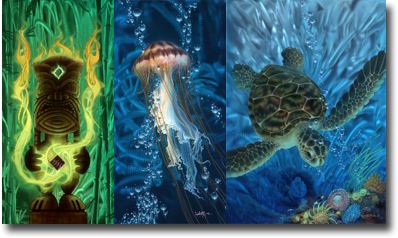 Dennis Mathewson creates unique fine art paintings with industrial finishes his work is featured in all Pictures plus locations and fine art galleries like Thor in Waikiki and Diamond head gallery in Lahaina on Maui. He also run his busy studio in located in Iwilei downtown where he custom paints outrageous custom motorcycle and autos that are works of art all to themselves seen all over Hawaii.
About Dennis Mathewson
About Cosmic Airbrush
Dennis also instructs and holds workshops and seminars for airbrush and paint manufactures world wide. Mathewson is also journalist for several art and airbrush trade magazines. Dennis Mathewson has shared his island style art through teaching all over the mainland US as well as Japan & Europe .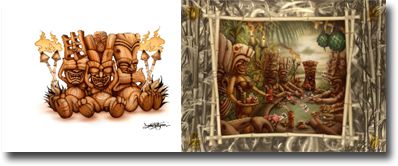 ABOUT DENNIS MATHEWSON
Back to the top
Dennis is truly one of the pioneers of Kustom painting and airbrushing. As a naturally artistic kid, back in the 70's he started out with his first airbrush. After a few years he went to work airbrushing shirts at the Rat's Hole for the late Karl Smith, founder of the famous Rat's Hole Chopper Show in Daytona Beach Florida. After leaving the "Rat Pack" Dennis opened up his own shop and continued airbrushing as well as becoming very adept with the spraygun and applying kustom finishes. From bare metal surfaces right up to goldleaf application, pinstriping and brush lettering, Dennis Mathewson is a certified PPG MASTER Painter. Over the years, having fine tuned his natural artistic abilities and multifaceted talents to "create more than imitate". He has gained fame worldwide for his unique island inspired artwork style, knowledge and vibrant use of color and highly desired custom mixed colors which led him to design a complete signature series line of paint called, "Hawaiian Hues" manufactured by The ALSA Corp.
Dennis has also been a master instructor for over 20 years, sharing his knowledge of airbrushing and kustom painting, filling classes and workshops with students eager to learn and be inspired by Dennis.
He has held private airbrush and custom painting workshops and has toured and taught for Aset Iwata in the U.S. and in Japan at the Iwata factory in Yokohama as well as the ALSA corportion traveling workshops worldwide. Making numerous appearances at shows and events globally and keeping up on the latest trends and custom finishes in the industry. When he is not traveling or painting his brains out at his busy Cosmic Airbrush shop in Honolulu, he is writing monthly articles and informative step by stories of his work that are published in magazines like; Auto Art,AutoGraphics, Airbrush Action, AB magazine, P&K graphics Airbrush Art & Action (Europe) and locally in Hawaii, Hawaiian Choppers Magazine.
As the founder and CEO of Cosmic Airbrush, he and his talented staff keep their hands full of constant work. You will see Dennis working long hours to keep up with the workload and to keep things running smoothly, but in this spare time, if there is any, he will make time for his family and carving tikis at his carving station he has set up at home. Nothing makes him happier than to knock out a 4 foot tall tiki on a Sunday afternoon.
ABOUT COSMIC AIRBRUSH
Back to the top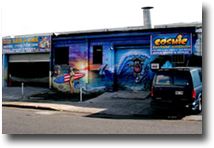 Cosmic Airbrush has been in business in Hawaii since the early 80's and in operation at its current location near downtown Honolulu for over 14 years. The Cosmic Airbrush facility is a busy full scale commercial art studio as well as housing a commercial spray booth and the equipment necessary for complete automotive/motorcycle painting. Custom motorcycle painting is 85% of the work performed in the shop, we paint complete Harleys, street choppers, sport bikes and helmets from bare metal and surface up as well as repair work to damaged parts. We service the dealerships and out of state clients in addition to our loyal old and new local clientele. With a highly experienced, talented and well rounded in-house staff, Cosmic Airbrush is your "one stop shop" besides flawless eye-catching custom finishes unlike no other, we are also known for our unbelievably creative artwork, lettering, gold leaf and pin striping. With our proud reputation for quality show winning paintwork, we personally go that extra mile to insure customer satisfaction.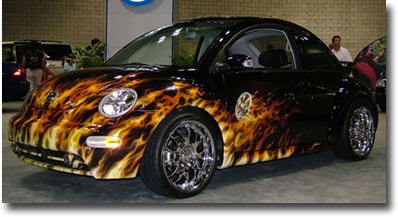 Being involved in the airbrush and custom painting field for numerous years, we also offer retail supplies to assist the experienced painter as well as the beginner. We represent the Iwata line of airbrushes and spray guns, Artool stencils and Iwata Medea water based paints and airbrush related accessories and replacement parts. As experienced custom painters we sell what we believe in and what we have found works the best for us.
We house a custom paint-mixing bench and paint our finishes with PPG and Alsa paints to insure our customers a quality and long lasting paint job.
HOURS
Monday - Friday 10:00 A.M. -5:30 P.M.
Closed weekends and all major holidays
ref no:6854
Featured Product/Service
No Coupon
Available
<!998Template_start>
<!998Template_end>
---
Please send questions about this website to