Community website by MBC/Ernest Abrams. Call 808-739-9797 for advertising/sponsorship.
Web Site:
http://www.alhoguetheartist.com/
<!PDF LINK>
Description/Comments:

ABOUT AL HOGUE
My painting technique, and my philosophy, can be described in one word - light. The Old Renaissance Masters, like Da Vinci and Rembrandt, recognized that light is the reflection of nature, of life itself. Their paintings are masterful portraits of life.
I have spent the last ten years studying their technique. I want viewers of my artwork to feel as if the painting were glowing and radiating its own light source. Light is everything in my paintings: Light is both my primary technique and the symbol of God's life-giving, healing nature. Light from the moon or the sun washes across all my paintings. Light represents Life - the essence of all living things, the spirit of nature.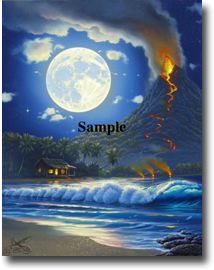 I began drawing and painting as a way of giving life to my own soothing daydreams of nature. Because I suffered from severe dyslexia, learning to read and write was excruciatingly painful. School was constantly a source of never-ending stress. I was unable to communicate with words, so art became my way of sharing with others from my earliest childhood. I always wanted to draw my own secret world of peace and tranquility, free from the stresses of life.
Even as a child, I knew art improved my life. But, it wasn't until I was an adult, that I recognized art also has the power to heal the mind and body of others. Art can rejuvenate the human imagination and re-energize a wilting human spirit. My father and I painted the tranquility of nature together as he battled two separate life-threatening attacks of cancer. He recovered completely. He credits his recovery to the healing power of rendering nature in art. It was only later that I discovered that many research studies have proven that art can, and does, promote healing.
My art was included in a research study, testing the healing effect of art on hospital patients. Previous research has established that Alpha brain waves stimulate physiological healing. The test determined that my art induced the largest measurable quantity of Alpha brain waves in test patients shown images from hundreds of different artists. Because of the result of that study, my art now decorates hundreds of patients' rooms in U.S. hospitals.
When I paint I travel to the peaceful places of my imagination. I grow more serene. My heart rate appears to slow down. My breathing becomes slow and rhythmic. The responsibilities of modern life are put in perspective: they become much easier to accept. I am reminded of what is important: family and the beautiful grace of God's nature. When communing with nature on the canvas, peace and tranquility flow through me.
I am closer to my family and more in tune with the heartbeat of the Earth, when I am painting nature's perfect harmony. I feel calmer and think more clearly. Peaceful memories come flooding back, like, moonlit walks on the beach with my wife.
Art has the power to improve your life. Allow the Light of nature, of life, to wash over your body and soul.
ref no:1033
Featured Product/Service
No Coupon
Available
RELATED LINKS
Showroom
View our showroom with link to all of Al Hogue Images
---
Limited Edition Prints
View Al Hogue limited editions prints that you can purchase as Lithograph or Giclee on Canvas.
---
Available Originals
View Al Hogue available originals.
---
About Al Hogue
Learn about Al Hogue... Modern Master of Light
---
Testimonials
View a large list of testimonials from Happy Al Hogue clients.
---
Commission Art
Commission art is an painting personally created by Al Hogue for a collector. Find our how you can have your own commission oil from Al Hogue.
---
Photo Gallery
View photo galleries of Al Hogue and happy clients from all over the world!
---
<!998Template_start>
<!998Template_end>
---
Please send questions about this website to