Community website by MBC/Ernest Abrams. Call 808-739-9797 for advertising/sponsorship.
Ongoing Events
First Friday Hawaii
Event Calendar Item

Ong King: 1st Friday - Dog Days of First Friday

Type:

Entertainment/Art/Exhibit


Date:

Friday - 8/3/2018


Time:

7:30pm - 2am


Location:


Ong King's First Friday
1154 Fort Street Mall
Honolulu, Hawaii 96817


View Map


Cost:

Cost: 10$ (art opening free)
<!******* 1 TAB NAVIGATION START******>
Back to the top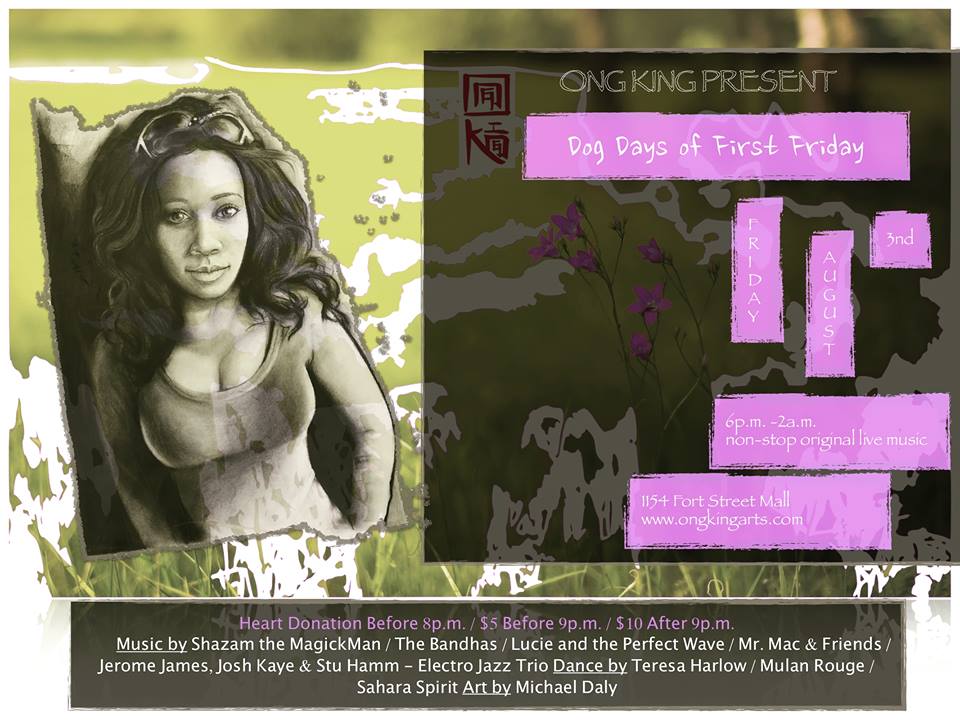 <!#43START>
Ong King - Dog Days of First Friday
The heat of the summer is in full swing, so why not make it better by coming to ihe coolest event in town... We have fresh, crisp art to tantalize your visual cortex, And musical sounds to get you into the groove, and dancing through the night... come on down to embrace locally sourced, 100% organic, art, performance, music and dance...
Only at Ong King!
Music by:
Shazam the MagickMan
Spiritual Professional Percussionists & Multi-Instrumentalist for over 20 years. Psychic-Spiritualist & Reki Master Marcus ":Shazam" Jamieson is The Rainbow Tulku. Exploring the neither regions of the human collective sub-consciousness seeking the creation rhythms and ways to use sonic influences to open and align the 12 strands of DNA that all humans have. Trying to become A AWAKEN BEING and not drifting in and out of sleep.
https://www.reverbnation.com/shazamjamiesonshakanation
The Bandhas
Honolulu's hard-rockin spiritualists, and Hoku award nominee. Tthese guys will rock your world while bringing the energy up your chakras...
Lucie and the Perfect Wave
Lucie & The Perfect Wave fuses delicious slack-key soundscapes,searing electric guitar riffs and intricately textured drum & basslines with Lucie's powerful vocals to transport audiences to cosmic dimensions.
http://www.lucieandtheperfectwave.com/
Mr. Mac & Friends
Mr. Mac combines cherished yet disparate elements of his musical subconscious into a jambalaya of rock, folk and neo-psychedelia. He is joined by a cadre of inspired musicians on bass, drums, guitar, cello, violin, harmonica, and keyboards. Mr. Mac's lyrics flow from ethereal realms to the sawdust of the Honky-Tonk. Here to present a melodious and eclectic journey that reflects the kaleidoscopic cultural influences that shaped Mr. Mac's sensibilities.
Jerome James, Josh Kaye & Stu Hamm - Electro Jazz Trio
A threesome of virtuosos, with two visiting masters, and Oahu's own Jerome James - Featuring a fusion of electro jazz... from the witching hour until the wee morning.
Art by Michael Daly
In his school days in Toowoomba he set the task to widen artistic freedom generally. With the encouragment of his Brisbane art mentors he rejected the modern emphasis on artists fixed into their marketable 'style' and 'periods'.
He replicated and indulged in genres randomly from work to work and became intrigued with conceptualism. At about 15 he decided to call his art mission universalism.
But it was to envelope his whole-of-life experience and understanding, and persists today in the blurring edges of political, spiritual, cultural and community grounds.
Dance by:
Teresa Harlow
Teresa believes that Dancing frees the heart and strengthens the spirit. You can join her Belly Dance Class Sunday Nights at 5:30pm, at Waipahu Yoga Loft Hawaii.
Sahara Spirit
American Tribal Style (ATS) belly dance is a celebration of feminine and evocative movements that are rooted in the earth. It has been designed to bring out the best in people of all ages, shapes and sizes, combining movement from folkloric, modern and ancient dance techniques from North India, the Middle East, Spain and Africa. Studio director Dayl Workman is working on building an ATS community on Oahu, Hawaii in which women and men are invited to connect with others, dance, create and inspire one another through this beautiful art form.
Mulan Rouge
She started her aerial burlesque dream in the magical land of "HoKoLulu" (Hong Kong plus Honolulu) in 2011. After consistently working with local burlesque troupes in Hawaii and featured as a guest performer in many prominent local burlesque shows, Mulan Rouge decided to pursue her own destiny and make her dreams come true by forming her own aerial burlesque troupe. Mulan Rouge may be the tiniest Asian aerial burlesque performer you have ever seen, but never underestimate what this petite vixen can do!
www.lesmusesaerialburlesque.com
<!#43END>
<!******* 2 TAB NAVIGATION START******>
Back to the top
ABOUT ONG KING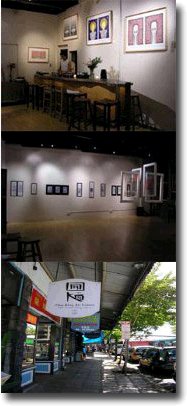 oNg kINg is a safe space to open up and create.
Each person who enters has the opportunity to exit having gained learning, freedom and truth within themselves.
This for those on quest toward creative freedom, and artistic mastery.
View Honolulu Advertiser Article
Community Site:
http://www.ongkingarts.com
Ongoing Events
Featured Product/Service
Powered by MBC CalendarMaker

Events subject to change without notice
onG-kinG artS centeR
Ong King is a safe space to open up and create featuring artwork, classes, workshops,entertainment and more. Has coupon!!
1154 Fort Street Mall, Honolulu, HI (View Map)
<!998Template_start>
<!998Template_end>
---
Please send questions about this website to