Community website by MBC/Ernest Abrams. Call 808-739-9797 for advertising/sponsorship.
Ongoing Events
First Friday Hawaii
Event Calendar Item

Ong King: 1st Friday -The Spirits Gather - First Friday Phantasmagora

Type:

Entertainment/Art/Exhibit


Date:

Friday - 7/6/2018


Time:

7:30pm - 2am


Location:


Ong King's First Friday
1154 Fort Street Mall
Honolulu, Hawaii 96817


View Map


Cost:

Cost: 10$ (art opening free)
<!******* 1 TAB NAVIGATION START******>
Back to the top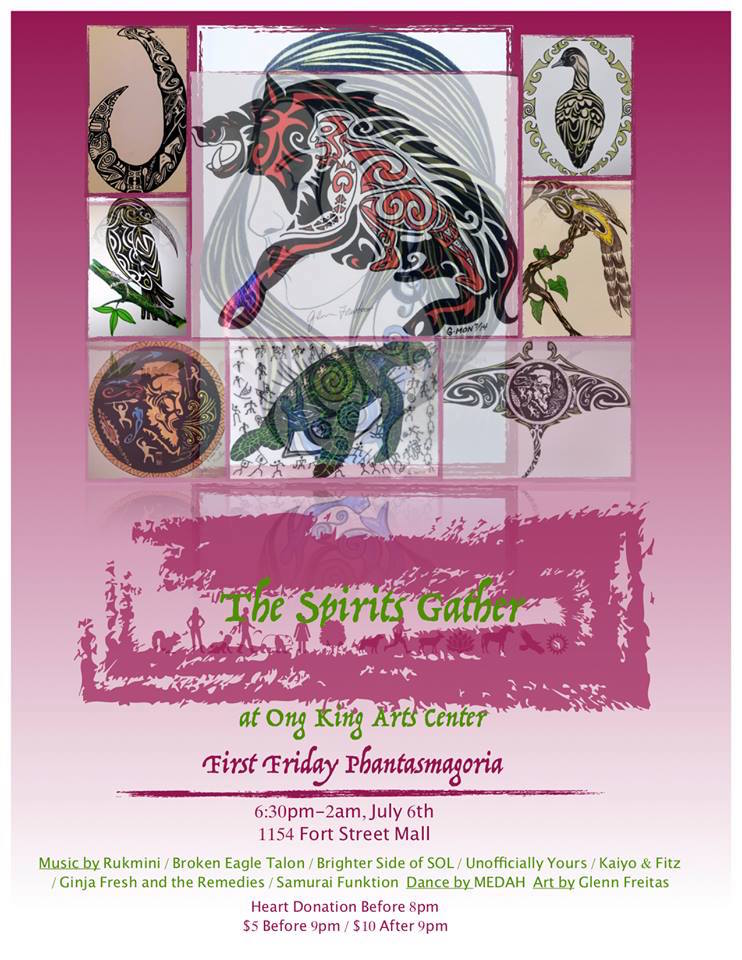 <!#43START>
The Spirits Gather - First Friday Phantasmagora

First Friday is here once again, and we are grateful to announce the following line up of amazing aritists, musicans, and dancers. Our visual art this month will feature Glenn Freitas, combining the stories of ancient Hawaii with the medimum that modern art provides. With dances and music inspired from across the globe, but with a home grown roots feel, this is definately one event you won't wnat to miss....
Come on down, and share memories with friends... achieve 'peak' experiences, and help support making this world a more beautiful and authentic place.
Musical Line up:
Rukmini - A journey into sacred Vedic chants - a chance to start the night off on a blessed note, and to harmonize with ourselves and spirit before dancing the night away,
Broken Eagle Talon
The Sacred Sounds of the Native American flute will bring you to another realm, and return you to the wind of your breath.
Brighter Side of SOL (BSOS)
Coming back from their first tour in Malayasis, BSOS is an incredible collaboration of Music from different areas of the globe. Featuring Guitar and Sitar by the amazing Shree Sadagopan, Latin inspired polyrhythmic ecstatic beats by Jaycob Sierra, and deep bass lines to stir your body and soul by James Harmon.
Unofficially Yours
- A powerhouse band combining stirring vocals, entrancing guitars, on point percussion, and much more. Featuring Dhevhan Keith, Raymond Brown, Jaycob Sierra, David Clarke, and Cathrine Ritter. A treat for everyone.
Ginja Fresh and the Remedies
Honolulu's pakalolo troubadour band is back, providing the skills and rhythms to make you feel irie from just skankin to the beat. Come hear the sounds of the Big Island meets Oahu, with just a touch of Troublemaking thrown in.
Kaiyo & Fritz
Kainoa Makua uses the power of poetry and music to heal, discover, and express herself. Lighting the silenced aspects of her spirit, listening to it, and passing it a microphone. Accompanied with best friend Austin Fitzmaurice, who shreds the guitar. Poetic Hip hop with a flare of gypsy, the two spotlight the dance between darkness and light. They hope their words and melodies will uplift, and empower those that hear.
Samurai Funktion
A collective of premiere freestyle daredevils maneuvering HipHop/Rap, Progressive, Rock, Funk, Roots, Groove & more.
Led by MC/lyricist Pak on the mic, the collective boasts James HarmonTek on bass, Grant the BoomBap on drums, and a rotating lineup of electric guitarists, saxist, singers and artists for an original sound.
See for yourself! Connect, Trek and Come Funk Wit' Us.
https://www.facebook.com/pg/samuraifunktion/
Dance by
MEDAH (Middle East Dance Association of Hawaii)
-A japanese duo of delicate oriental- middle eastern style by Seiko --and Yuri.
- From the steppes of Siberia... a gypsy middle eastern journey with Miss Helenka
Art by Glenn Freitas:
"It's our destiny to do wonderful things to inspire others, we are all born with a gift from THEE MOST HIGH.... not all may find there gift, cause of negative energy, but the ones who dwells in the light will surely receive POSITIVE ENERGY CALLED MANA.
I BELIEVE UR ONE OF THE CHOSEN FEW, FOR UR ORA IS GLOWING FROM WITHIN. STAR CHILD. ANCIENT HAWAIIAN BELIEVED WE WERE SEEDED BY "IO" THE HAWK THAT CAME FROM PO SPACE AND GAVE BIRTH TO HER SON.. KANE AND NAWAHINE HER DAUGHTER. AND WHEN "IO" SAW ALL WAS IN BALANCE "IO" RETURNED TO THE STARS IN A BALL OF LIGHT."
<!#43END>
<!******* 2 TAB NAVIGATION START******>
Back to the top
ABOUT ONG KING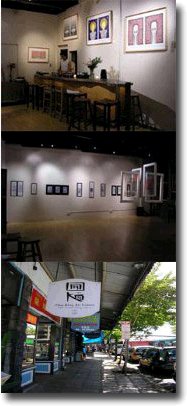 oNg kINg is a safe space to open up and create.
Each person who enters has the opportunity to exit having gained learning, freedom and truth within themselves.
This for those on quest toward creative freedom, and artistic mastery.
View Honolulu Advertiser Article
Community Site:
http://www.ongkingarts.com
Ongoing Events
Featured Product/Service
Powered by MBC CalendarMaker

Events subject to change without notice
onG-kinG artS centeR
Ong King is a safe space to open up and create featuring artwork, classes, workshops,entertainment and more. Has coupon!!
1154 Fort Street Mall, Honolulu, HI (View Map)
<!998Template_start>
<!998Template_end>
---
Please send questions about this website to