Community website by MBC/Ernest Abrams. Call 808-739-9797 for advertising/sponsorship.
Ongoing Events
First Friday Hawaii
Event Calendar Item

Ravizza Brownfield Gallery - Exhibit: "OP ART" EXTENDED TO MID-JUNE

Type:

Art Exhibit Opening


Date:

Friday - 6/1/2018


Time:

6:00 PM


Location:


Ravizza Brownfield Gallery
1109 Nuuanu Ave
Honolulu, HI 96817


View Map


Cost:

FREE
<!******* 1 TAB NAVIGATION START******>
Back to the top
EXTENDED TO MID-JUNE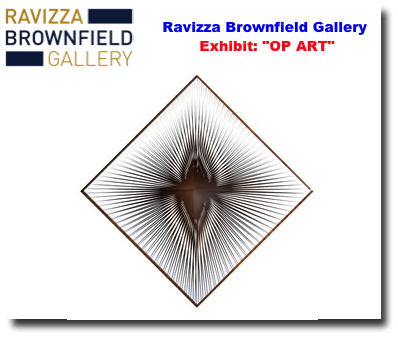 <!#43START>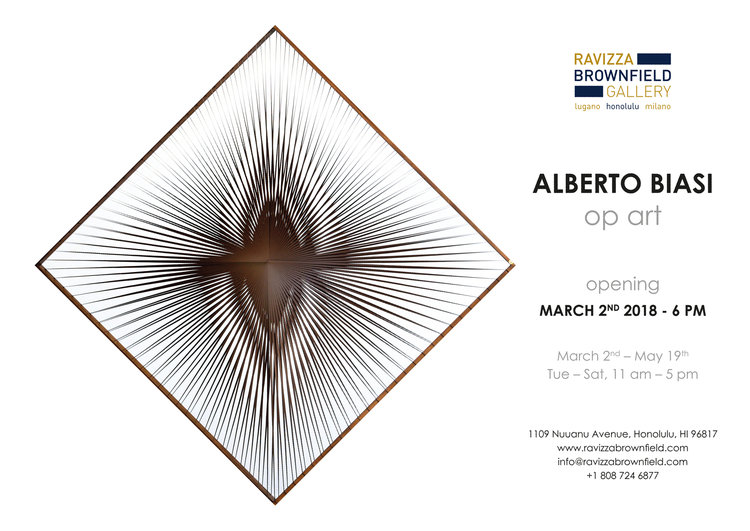 Ravizza Brownfield Gallery is pleased to announce the first kinetic art exhibit in Hawaii; a solo show of works by Alberto Biasi, titled "OP ART" which will open March 2, 2018. Alberto Biasi, born in Padua, Italy in 1937, has always been at the forefront of post-war Italian art. Today he is Internationally recognized as the most coherent and authoritative artist of the genre known as Optical Art (Op Art).
The name Op Art itself was coined in 1964 by a TIME magazine journalist who, speaking about a work by Alberto BIasi, then a member of Gruppo N, defined this new art trend as "Optical." This was shortened into Op Art, a name that summed up new ideas that at the time were being propounded about the perception of art and movement.
Kinetic art first appeared after World War II, with its popularity increasing in the 1960s. It was a new language artists were looking for after they felt Lyrical Abstraction had exhausted its possibilities. A new relationship took place between the artwork, the artist, and the viewer. The study of movement became crucial for this new avant-garde, whether real movement with the use of mechanisms, or illusory or optical movement as in the case of the work by Alberto Biasi.
Each Op Art work takes careful planning to make it function; using its surrounding light to collaborate with the artwork in a dialogue that is fundamental for the success of kinetic thought. However, it is the viewer who is essential to bringing the work to life. His intervention and interaction with a kinetic work is the basis of the ideas behind this genre, and this puts the artist himself into a secondary role for the work's total success.
These were times when experimental use of materials ran deep in order to play with light in new ways. Alternative materials such as plastic, metal, paper, glass, and mirrors allowed for a search for an aesthetic based on rationality and cyclic movements, and that also exploited the objective perception of each active spectator in front of the artwork.
Many exhibitions were held across Europe and the US throughout the 1960s and 70s which were crucial for the development of this genre. In 1965, the Museum of Modern Art in New York City catapulted Op Art's worldwide interest with its incredibly successful show The Responsive Eye, which had some 180,000 visitors. Biasi along with other Gruppo N members, participated in the 4th annual San Marino Biennale in 1963 where Biasi was awarded first prize.
Throughout these exhibits Biasi experimented and delved into what became lifelong research into movement, specifically the passive sense of a purely perceptive motion. The superimpositions of slender ribbon-like structures, laid out according to rigorously calculated geometries, play with the contrasting and varied colors of the canvas to spark off the perception of movement in the viewers eye, who thus become jointly responsible for the visual event that comprises the work as a whole.
For the current exhibition, created specifically for Hawaii, Biasi turns to his favorite themes of movement and light, however working in a new, large scale format, as well as playing with transparency and medium.
Biasi will travel from Italy to Hawaii to spend three weeks at Ravizza Brownfield Gallery, creating additional art work on site, and will be available for lectures, artist talks, and other teaching programs for both youth and adults.
Alberto Biasi's works can be found in prestigious collections around the world, including the Museum of Modern Art in New York; the Hermitage, Saint Petersburg; the Museum of Modern Art, Rome; the Peggy Guggenheim Collection, Venice; and the museums of Belgrade, Bratislava, Buenos Aires, Prague, San Francisco, Tokyo, Turin, Ulm, Wroclaw, and Zagreb.
<!#43END>
<!******* 2 TAB NAVIGATION START******>
Back to the top
About Ravizza Brownfield Gallery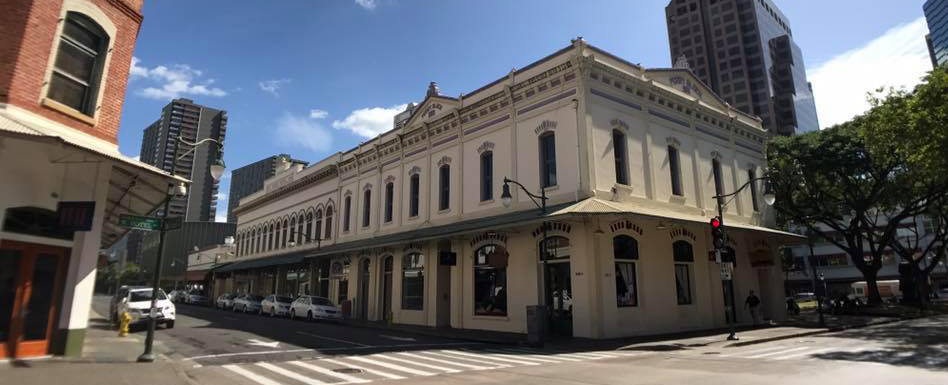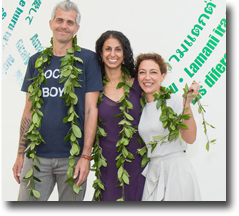 <!#43666START>
ABOUT
Modern & contemporary Art Gallery located in Downtown Honolulu, Hawaii
The gallery, initiated by Allegra Ravizza and Shari Brownfield, along with partner Cristiano Cairati, aims to create a cultural presence to promote European art in Hawaii, as well as being a venue that cultivates an exchange of ideas to promote local creative research. The gallery intends to be a cultural crossroads where artists can be pioneers of a new world situated between America and Asia.
<!#43EfffND>
RECENT VIDEO
'FEEDING THE IMMORTALS' OPENING FOOD OFFERING PERFORMANCE
A sculpture formed "shrine" get carefully perched atop a performance alter. The audience is engaged through story or song after the food offering gets placed. A loved one lives on.
HOURS
Tuesday - Saturday
11:00 AM - 5:00 PM
Ongoing Events
Featured Product/Service
Powered by MBC CalendarMaker

Events subject to change without notice
Ravizza Brownfield Gallery (NEW ART GALLERY!)
that aims to create a cultural presence to promote European art in Hawaii, as well as being a venue that cultivates an exchange of ideas to promote local creative research. The gallery intends to be a cultural crossroads where artists can be pioneers of a new world situated between America and Asia.
1109 Nu'uanu Ave, Honolulu, HI (View Map)
---
Please send questions about this website to