Community website by MBC/Ernest Abrams. Call 808-739-9797 for advertising/sponsorship.
Ongoing Events
First Friday Hawaii
Event Calendar Item

Ong King: 1st Friday - Feelin Free 1st Friday!

Type:

Entertainment/Art/Exhibit


Date:

Friday - 3/2/2018


Time:

7:30pm - 2am


Location:


Ong King's First Friday
1154 Fort Street Mall
Honolulu, Hawaii 96817


View Map


Cost:

Cost: 10$ (art opening free)
<!******* 1 TAB NAVIGATION START******>
Back to the top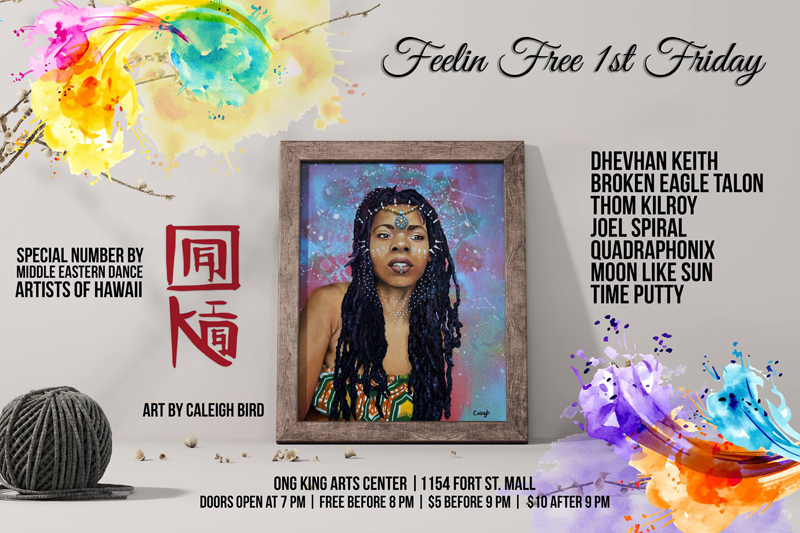 <!#43START>
Feelin Free 1st Friday!
Ong King is back this 1st Friday, celebrating growth with gyrations, & great Music! This March we are celebrating the coming of spring by sharing amazing music, delicious art, and the history of downtown Honolulu. Come on down, and share the vibes, dance your booty off, and see artistic expression covering the walls...
Music:
Kiana Luna
Born and raised in the mountains of Japan to a Japanese father and American mother, Kiana and her two older siblings were home-schooled at the foot of Mt. Fuji, until she moved to her mother's homeland of Hawaii in 1999.
"My hope is that as an Artist, I am able to continue growing and challenging myself towards expressing my deepest truths in a way that more fully embodies my spirit, character, and life experiences. "
https://www.facebook.com/KianaLunaMusic/
Dhevhan Keith
Some write poems, I write songs. When words are not enough - music is what feelings sounds like. A mix of ballads, bluesy, and feel good island tunes.
Broken Eagle Talon -
The Sacred Sounds of the Native American flute will bring you to another realm, and return you to the wind of your breath.
Thom Kilroy
Thom fuses his passion for song with a love of life. Based on the lush island of Kaua'i, Thom's expressive lyric and intimate vocals have a feel-good ambiance that draw from his island lifestyle, world travels, and good willed sensibility. With native LA roots, he left behind a thriving urban livelihood to chase his true calling--music. His debut album, Release, reflects a poetically universal collection of songs that stretch beyond his island days.
Joel Spiral
"These words, spoken and read, resonate with resolve to rescue the light from within. There … now we're on to something. A beat, a tempo, a rhythm … building, blossoming, marshaling the light … a charged thrust through the darkness. I know the way. My music is an expression of that connection through hip-hop. It's an offensive against the darkness that we too often succumb to in our earthly lives. And most of all, it will put you in strong positive motion, to find your light and shed your burden."
Quadraphonix
Music from all around the world is as inter-related as people and cultures of this world are. We specialize in improvisational music that takes form as we play it live. Our music is based on the theory of free form jazz, which is freedom of musical expression. Within this expression, we showcase cultural music from our live experiences and our ancestry. Fusing Indian, Malaysian, Middle Eastern and Latin music with Western styles of Jazz, Blues and Funk is what we do best.
Moon Like Sun - Rock and Roll to shake your soul, get your feet moving, and blow your mind. Honolulu's newest Psychaledlic prog rock pop band, come to expose you to new forms of emotion, dance, and spirituality. It will change your world, while honoring the glowing orbs in the sky.
https://www.facebook.com/moonlikesunband/
Time Putty -
Down home Psychadelic Funk... these guys will navigate your journey to the infinite mind with bossa nova colors, surging hard drive bass and psychedelic whispers caressing the edge of galaxies.
Dance:
MEDAH, is devoted to creating and supporting the educational, cultural and entertainment aspects of Middle Eastern dance, music, related cultures and arts.We welcome all interested in celebrating and learning about Middle Eastern dance and music.
Shakti Dance Movement has grown into a very motivated group of women who wish to share their love of dance with others.
Art by Caleigh Bird
Caleigh Bird is a figurative artist living in Hawai'i whose blend of contemporary and classical realism serves to depict her modern subjects in true-to-life bold character, while still being rendered as carefully as the traditionally trained masters she has spent her life studying in the US and abroad. Behind Caleigh's work is her desire to help foster an inclusive atmosphere in the fine art world by portraying a culturally rich group of subjects. She believes that the modern art scene in general, from its exhibiting artists to its muses, should be ever more representational of all the unique citizens of this earth, so she uses her work to lovingly highlight the beauty and character in everyday people from all over the world.
http://www.caleighbirdart.com/
Free - before 8
$5 8-9
$10 After 9
<!#43END>
<!******* 2 TAB NAVIGATION START******>
Back to the top
ABOUT ONG KING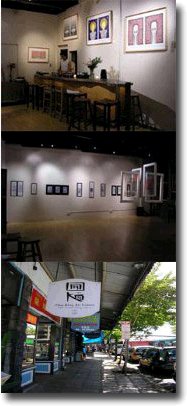 oNg kINg is a safe space to open up and create.
Each person who enters has the opportunity to exit having gained learning, freedom and truth within themselves.
This for those on quest toward creative freedom, and artistic mastery.
View Honolulu Advertiser Article
Community Site:
http://www.ongkingarts.com
Ongoing Events
Featured Product/Service
Powered by MBC CalendarMaker

Events subject to change without notice
onG-kinG artS centeR
Ong King is a safe space to open up and create featuring artwork, classes, workshops,entertainment and more. Has coupon!!
184 N. King St. , Honolulu, HI (View Map)
<!998Template_start>
<!998Template_end>
---
Please send questions about this website to