Community website by MBC/Ernest Abrams. Call 808-739-9797 for advertising/sponsorship.
Ongoing Events
First Friday Hawaii
Event Calendar Item

Mark N. Brown Chinatown Plein Air Art at Louis Pohl

Type:

Exhibit


Date:

Friday - 11/4/2016


Time:

5pm - 9pm


Location:


Louis Pohl Gallery
1142 Bethel Street
Honolulu, Hawaii 96817
Phone: 808-521-1812


View Map


Cost:
<!******* 1 TAB NAVIGATION START******>
Back to the top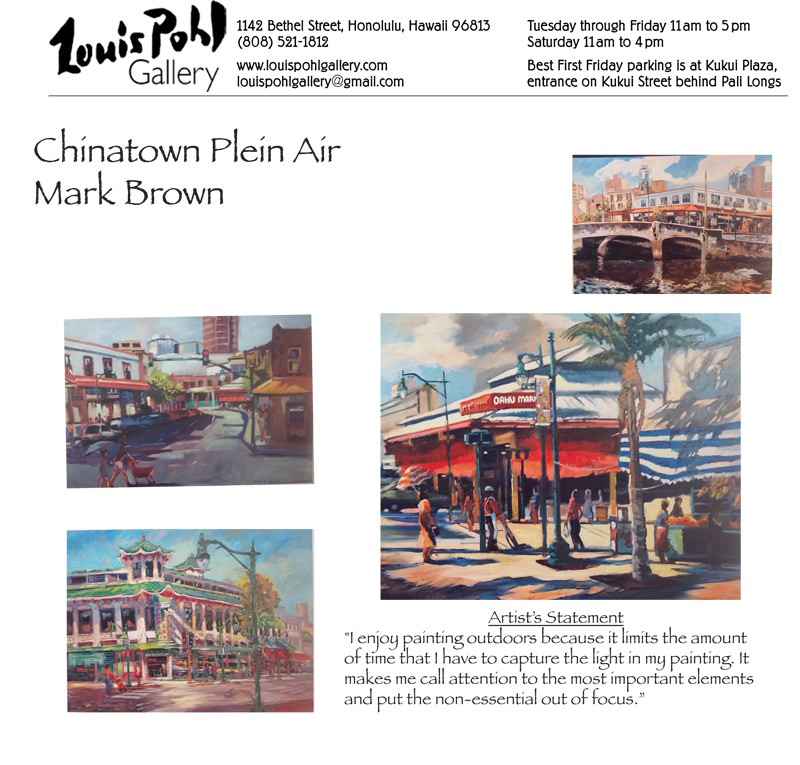 <!#43START>
Chinatown Plein Air Mark Brown
At Louis Pohl Gallery
ARTIST'S STATEMENT
"I enjoy painting outdoors because it limits the amount of time that I have to capture the light in my painting. It makes me call attention to the most important elements and put the non-essential out of focus."
<!******* 2 TAB NAVIGATION START******> Back to the top
THE ARTIST BIO FOR MARK N. BROWN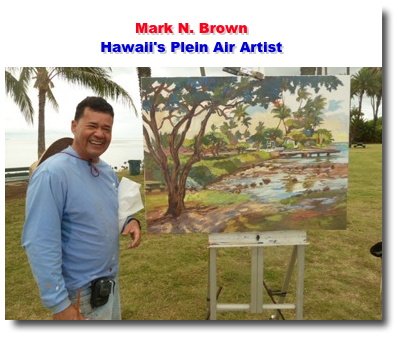 Mark N. Brown, born and raised on Oahu has been active in the Arts for the last 40 years. He has been teaching weekly plein air painting classes with the University of Hawaii at Manoa Outreach college since 1999 and running a uninstructed life drawing class since 1988,and continues with a similar one with the Honolulu Museum school of art.
After starting his own graphic design business in 1984 he used that business knowledge to paint full time in 1998, and between painting for galleries, commissions ,staged home painting rentals, and murals, it keeps his palate always loaded.
In October of 2015 , Mark and his team of 4 fellow artist was hired by Kamehameha Schools to complete a 9 week 35' x 350' wall mural For the Nishimoto Trading company.
Mark has represented Oahu for the last 11 years in the Maui Plein Air Painting invitational and he has won 5 awards judged by Jean Stern of the Irvin Museum.
His Easel has traveled with him to Germany, Italy, France Tahiti , New Mexico, Vermont, Maine, Massetuchettes, New York, Nevada ,Seattle and California
Brown taught a 5 day/4 night plein air workshop at Camp Mokuleia in March 2016 , and will be seen in Chinatown with his easel as he gears up for a show with the Louis Pohl gallery on March 27th to June 24th , 2016 .
HAWAII ARTIST FACTS
Mark N. Brown is one of

Hawaii's premier Landscape Artist

.

He is a Plein Air Art Teacher at the University of Hawaii art department.
He gives back to Hawaii in a

variety of ways

.

His art is featured in Hawaii Art Galleries all over the islands.

He offers

commissioned art.

He is a well known Hawaiian artist.

He has completed

multiple murals in Hawaii

.

He does outdoor oil paintings of Hawaiian Scenery.

He is one of Hawaii's Artists.
He has over 100 Scenic Hawaiian Paintings
ACCOMPLISHMENTS
1995-

attends uninstructed life drawing group on Sundays at U. of H. while a sophomore at Castle High school

1977 - masthead design winner / Castle High school

1979- 1983, accepted drawing /painting entries for Printmakers assoc, Hawaii watercolor show, Easter art show,
AHA show .
1984 - 1998- starts Signs & Graphics by Mark , a dba that specializes in Hand lettering , silk screening , and graphic design , clients include . CS Wo HomeWorld, Meadow Gold daries, Triple Crown of Surfing

1988 - 2011 , heads up a uninstructed life drawing group once a week at Chamanade university

,
1988 - 5- 15' x 15'

portraits completed for National Hula Bowl Halftime performance , of the late Elison Onizuka, John A. Burns , Alfred Apaka , Duke Kahanamoku, King Kamehmeha.

1988 - awarded temporary signage contract by Media 5

For the renovation work for Ala Moana Hotel ,
1988 - Travel to Italy for self study of art , 30 days

1993 - 1999 attends painting on location class with the U. of H. outreach college , Florence Ko instructor

1995 - takes plein air workshop with East Coast instructor Tm Nicholas
1996 - Mural created for Waikiki ,Duty Free Shop

1997 - 6'x 4' oil painting "Humble Beginings" selected for cover of Music CD : HomeGrown , Ron Jacobs , producer
1998 - show at Leeward Community College of original plein air and figurative oil paintings , show was purchased by Robyn Buntin galleries to start Oceanic gallery on Beretania st.

1998 - to current , featured artist for Punahou Schools annual Art carnival exhibit

1998 - 2008 exhibits paintings seasonally with the Pacific Handcrafters Guild
1998 - hired as subcontractor by Brandy Signs to dress the Duty Free Shop with a graphic curtain 60' high , by 250' x 250' square ,

1999 - to current - participates in annual Haleiwa Art Festival

1999 - painting chosen for cover of music CD for KINE

Radio station

2000 - City & County of Honolulu culture and the Arts Purchase of 3 paintings for Mayor's office./ Peter Redulivik

2000 - American Savings Bank , selects 13 paintings for year 75th anniversary calendar .
2000 - to current ,

becomes instructor for U. of H. Outreach College, painting on Location class

2002 - travel to France and Italy for independent art study

2002 - original painting " a lazy day in Haleiwa" chosen for the Haleiwa arts festival poster and T-shirt

2003 - #12 original paintings purchased by Bob Armstrong of Armstrong builders , to dress the model homes of Ka Lani At Ko'olina, starts the home staging business /rental
2003 - 4' x 32' mural of " History of Surfing commissioned by The Honu Group for the restaurant " All Star Café" with advisory assistance from Triple Crown director Randy Rarick
2003 - paintings selected by Woody Kirtley of Kirtley designs For reproduction in the rooms and suites of Hilton Hawaiian village , Tapa tower , Diamond head tower , and Rainbow tower

2004 -2008,

#55 paintings are purchased by HTH corp/ Pacific beach hotel for their collections

2004 - attends plein air painting workshop in Kauai taught by Kevin Macphearson

2004 - 2006 becomes partners in gallery Atelier 4 on Queen st

As the downtown gallery walk hits it's stride, gallery later becomes Bethel st. gallery

2004 -

invited to San Louis Obispo for Plein air painting competition

2004 - attends plein air painting workshop with the late Ken Auster

2005 to 2016 -- invited to the Maui Plein air painting competition invitational and wins the Quick Draw competition in 2005 representing Oahu ( painting completed in 2 hours) Wins 4 other awards judged by Jean Stern of the Irvine Museum
2006 - paintings selected by Outrigger hotels, Marimar, and Sheraton for reproduction for their properties.

2007 - one person shows at Gallery Bibelot , Kapiolani community college fine dining room, Roy's Restaurant Hawaii Kai .
2008 - takes workshop with national portrait painter Daniel Green

2008 - starts a weekly uninstructed portrait group with costumed models

2009 - current

, yearly plein air trips to New Mexico, Mass. Ca. Maine, etc for learning

2009 -

teaching plein air

workshop at Hui Noeau , Makawao ,Maui

2011 - commissioned by City & County on Cultural in the Arts for Public mural for 15' x 15' Waipio Gentry Aquatic park
2011- heads up a uninstructed life drawing group at the Honolulu Museum school of art. to replace Chamanade group that had to relocate due to renovation.

2011 - to current : paintings rented for every season as backdrops for Hawaii 5-0 staging

2012 - painting selected for Haleiwa art festival poster

2013 - 2014- hired by Rehab hospital of the Pacific to Be in charge of art program

2014 - art show in Bon Germany , to show alongside

Deceased student Brigite Tidge , sponsored by surviving husband Boy Ludge .
2015 - 35' x 350' mural completed for kamehameha schools

On the Nishimoto trading company building , Goto construction , contractor

2016 -- Camp Mokuliea painting workshop
<!#43END>
<!******* 3 TAB NAVIGATION START******>
Back to the top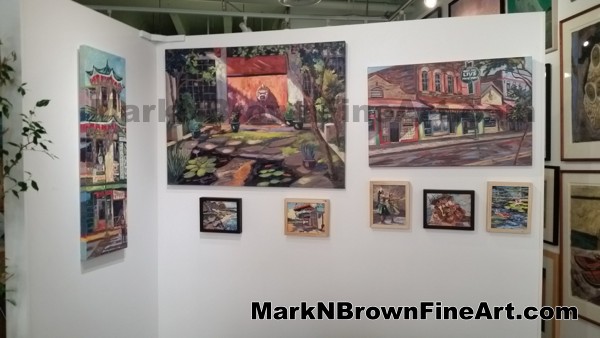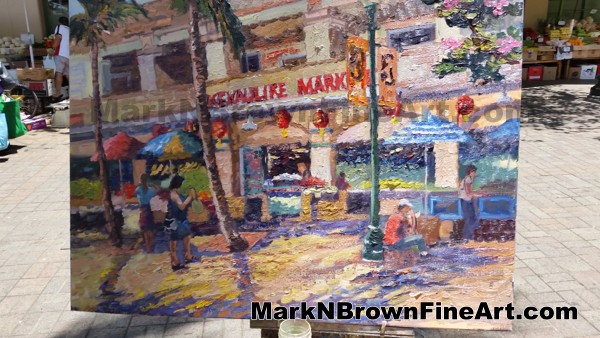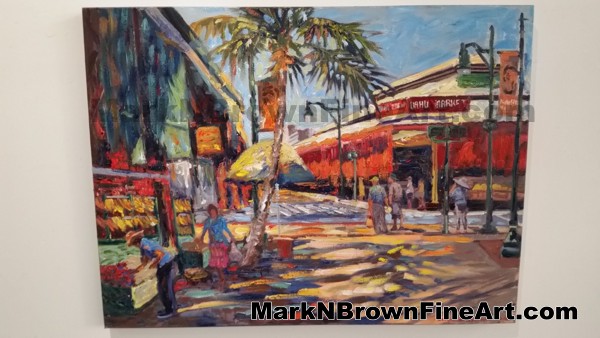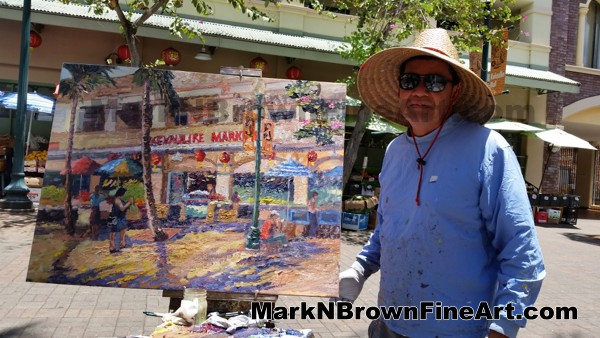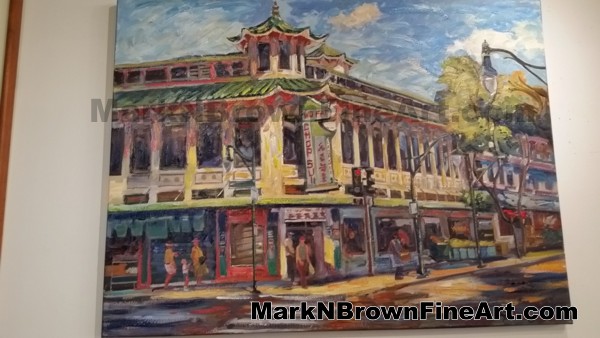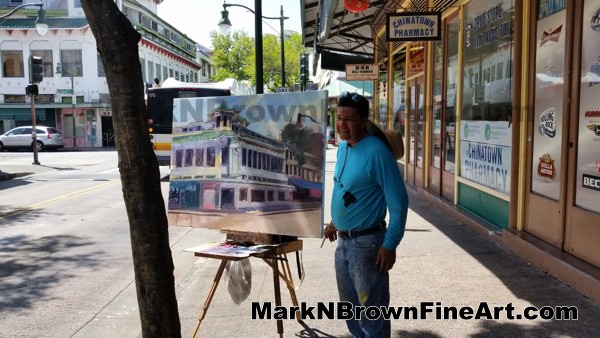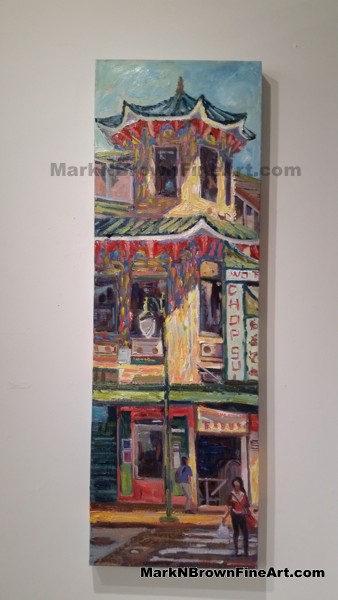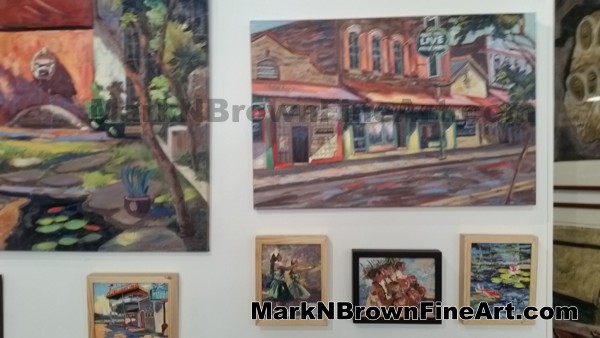 <!******* 5 TAB NAVIGATION START******>
Back to the top
The Louis Pohl Gallery is dedicated to featuring Hawaii artists whose works reflect the standards of excellence, creativity, and inventive spirit for which its namesake was known during his lifetime.
<!#43START><!#43END>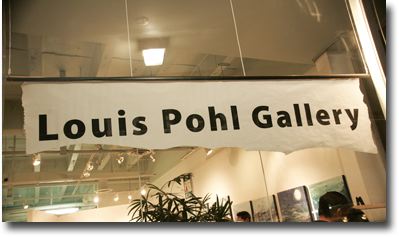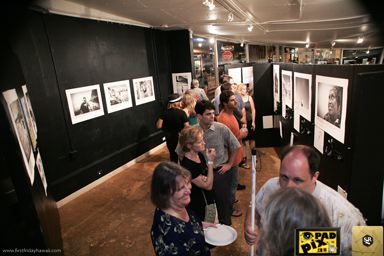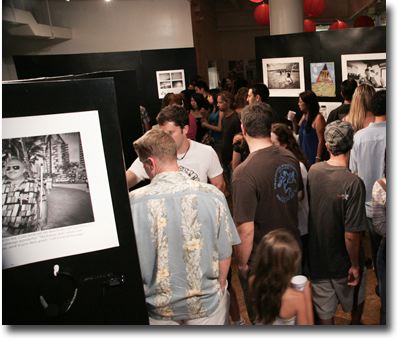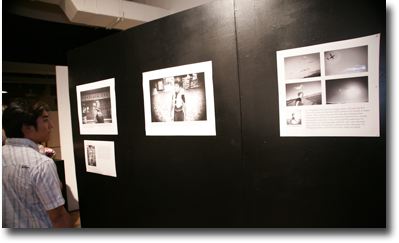 Photo Credits:
Slater Robinson Photography
Ongoing Events
Featured Product/Service
Powered by MBC CalendarMaker

Events subject to change without notice
Louis Pohl Gallery
The Louis Pohl Gallery is dedicated to featuring Hawaii artists whose works reflect the standards of excellence, creativity, and inventive spirit for which its namesake was known during his lifetime.
1142 Bethel Street, Honolulu, HI (View Map)
<!998Template_start>
<!998Template_end>
---
Please send questions about this website to