Community website by MBC/Ernest Abrams. Call 808-739-9797 for advertising/sponsorship.
Ongoing Events
First Friday Hawaii
Event Calendar Item

The Arts At Marks Garage First Friday - Current Exhibit - Maka Hā: New works by Carl F.K. Pao, K pa a Hee, Cory Taum and Nicole Naone

Type:

Entertainment/Art/Exhibit


Date:

Friday - 11/4/2016


Time:

5-10pm


Location:


The Arts at Marks Garage
1159 Nuuanu Avenue
Honolulu, Hawaii 96817


View Map


Cost:

Free
<!******* 1 TAB NAVIGATION START******>
Back to the top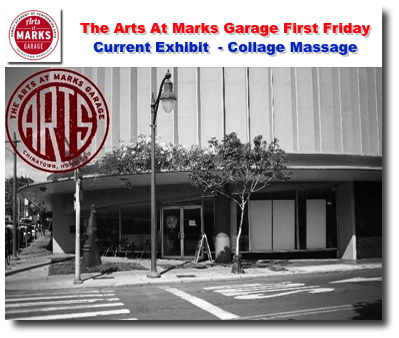 <!#43START>
FIRST FRIDAY FEATURED EXHIBIT
Maka Hā: New works by Carl F.K. Pao, Kūpaʻa Hee, Cory Taum and Nicole Naone
November 1-26, 2016
Maka Hā is the fourth in a series of exhibitions dedicated to the Makahiki and ancient Hawaiian New Year. It will feature reinterpretations of indigenous symbolism for vision or Maka with a new group member, and the breath of life or Hā. The exhibition will showcase paintings and sculptures inspired by the relationship between teacher/kumu and student or "mimicry", which largely defines ancient teaching and learning methods. As the works develop, the pieces and forms have been bouncing off of each other. The four artists will be working together in the studio. The students learning from the teacher and the teacher learning from the students. Maka Hā - Four views.
This new work is based on the theme on the theme of Maka with the addition of Ha… Kūpaʻa and Nicole will do sculptures. Carl and Cory will work with paintings and prints. Each provides powerful and beautiful indigenous symbolism re-interpreted for new audiences. TheMakahikiseason was theancient HawaiianNew Year festival, in honor of the godLono. Many religious ceremonies happened during this period. War was kapu (forbidden) and people stopped work, threw away their cell phones, made offerings, and spent time practicing sports, feasting, dancing and having a good time.
Carl Pao is a Contemporary Hawaiian Artist/Educator born, raised, living and working in the city of Honolulu. He earned a Bachelor's of Fine Arts from the University of Hawaiʻi at Mānoa ('94) and a Master's of Fine Arts (w/ First Class Honours) from the Elam School of Fine Arts, University of Auckland ('99). Carl has been teaching full-time at the Kamehameha Schools Kapālama High School since 2000. Carl will present at least 10 pieces ranging in size from 48"h x 48"wto 60"h x 40"w to 74"h x 56"w.
Kūpaʻa Hee is a former student of Carl's who has since shown at several important exhibit's including a solo show at ii Gallery. As a modern Hawaiian, brought up in Eastern, Western and Pacific traditions, he gravitates towards historical events and people who have successfully found ways to meld multiple cultures in hopes that he may do so within himself: leaning on the past to inform the future. Kūpaʻa will have approximately 10 pieces for the show.
Cory Taum is a young Hawaiian artist that has a studio in Kakaako and practices a contemporary urban Hawaiian approach to art making including painting on drainage ditches, water tanks, freeway pillars, and abandoned military bunkers. He was a featured artists in the MAMo 2014 exhibition "Aloha my name is." Reclamation of contested histories is a recurring theme in his work. Cory will have several large scale paintings in the show.
Nicole Naone received a Bachelor of Fine Arts with a concentration in Sculpture from the University of Hawai'i. She is a POW! WOW! alum inspired by beauty and its self-destruction and is working with black and white drawings and sculptures for this exhibit.
This show is curated by The ARTS at Marks Garage curator and Hawaii Academy of Performing Arts Executive Director, Rich Richardson. We are an independent, non-profit, sanctuary for collaboration, freedom of expression, and the arts. This year The ARTS at Marks Garage attracted over 40,000 people for lectures, workshops, screenings, exhibits and performances. Over the past 14 years we have served the equivalent of nearly every single person in the City of Honolulu.
Gallery Hours: Noon to 5pm, Tuesday through Saturday. Our sales are split 60% artist/40% gallery.
<!#43END>
<!******* 2 TAB NAVIGATION START******>
Back to the top
ABOUT THE ARTS AT MARKS GARAGE
<!#997MultiTitleStart>
<!#997MultiTitleEnd>
<!#997MultiTableStart>
The ARTS At Marks Garage
The ARTS at Marks Garage is a community arts center with a 1,000 sq. ft. gallery, a 1,000 sq. ft. theater, and a 1,000 sq. ft. office space founded in 2001. Marks is home to 13 performing and visual arts businesses including Youth Speaks Hawaii and Hawaii Shakespeare Festival. 45,000 visitors attend 13 exhibits and 150 performances each year.
1159 Nuuanu Ave., Honolulu, HI (View Map)
<!#997MultiTableEnd>
Ongoing Events
Featured Product/Service
Powered by MBC CalendarMaker

Events subject to change without notice
The ARTS At Marks Garage
The ARTS at Marks Garage is a community arts center with a 1,000 sq. ft. gallery, a 1,000 sq. ft. theater, and a 1,000 sq. ft. office space founded in 2001. Marks is home to 13 performing and visual arts businesses including Youth Speaks Hawaii and Hawaii Shakespeare Festival. 45,000 visitors attend 13 exhibits and 150 performances each year.
1159 Nuuanu Ave., Honolulu, HI (View Map)
<!998Template_start>
<!998Template_end>
---
Please send questions about this website to