Community website by MBC/Ernest Abrams. Call 808-739-9797 for advertising/sponsorship.
Ongoing Events
First Friday Hawaii
Event Calendar Item

ART music BEER at Chinatown Courtyard

Type:

Entertainment/Art/Exhibit


Date:

Friday - 12/6/2013


Time:

5:30pm - 10:00pm


Location:


Mendonca Building Courtyard
1126 Smith Street
#11 on the Gallery
Walk Guide
(Other Venues)


View Map


Cost:

Free


BECOME A VENDOR!
Get the details to become a vendor.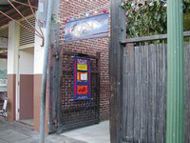 Privacy - We value our relationship with YOU!. Your Email address is not shared with anyone except First FridayHawaii.com. You will be added to the "once a month" Kaimuki, Hawaii Email newsletter to keep you current and informed. If you would like to be removed, just reply to the Email confirmation with "DISCONTINUE" in the subject line.
Learn more about the integrity of the owner of this website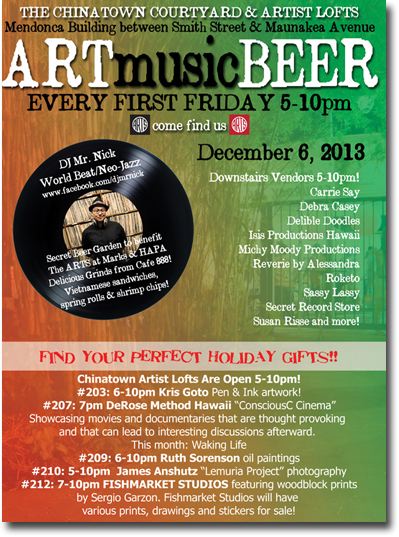 <!#43START>
First Friday ARTmusicBEER December 6, 2013 at the Chinatown Courtyard
(Mendonca Building, 1126 Smith Street) 5-10pm

The ARTS at Marks Garage and Shop Bop & Grind presents...
ARTmusicBEER

The Chinatown Courtyard will be transformed into a Secret Beer Garden benefiting The ARTS at Marks. (www.artsatmarks.com). Shop Bop & Grind takes over the downstairs walkway with music by DJ Mr. Nick that'll make you bop while you shop, delicious grinds by CafŽ 888 - 1123 Maunakea Street (Vietnamese sandwiches, spring rolls, & shrimp chips) and local goods (www.shopbopgrind.posterous.com).

DJ Mr. Nick brings you intimate world dance party inspired DJ sets between 6-9pm (www.facebook.com/DJMrNick). The Chinatown Artist Loft inhabitants will open their galleries to the public between 5-10pm.

So drink in the art with your eyes, drink in the music with your ears and drink in the libations through your mouth and experience First Friday like never before and stay a while.

December 6, 2013 FIRST FRIDAY VENDORS
Carrie Say - Our business is mother and daughter run. We carry assorted gift accessories including unique jewelry from all parts of the world such as Australia, China and Thailand. We like to find rare items and create and construct handmade products such as crystal bracelets, bead earrings, handbags, and bonnets, so that our collection is full of uniquely different treasures.
Debra Casey - Nature photography, prints, postcards, magnets and piercing jewelry. Debra Casey was born in Hollywood, CA and moved to Maui, HI in 1996 and over to Oahu in June of 2013. She is a vegan, surfer, photographer and a tattooed body piercer with a unique perspective. She hopes you will enjoy her images. www.imagesbydebracasey.com

Delible Doodles - Design and apply henna tattos at First Friday event in Chinatown. Group rates available for girls night in, baby showers, birthday's, etc.
Isis Productions Hawaii - Belly dance productions, performance, instruction & costuming by Suzanne Hamdi Keyser. Vending original oil paintings, vintage clothing & jewelry as well as unique treasures from world travels. www.bellydancebysuzanne.com
Michy Moody Productions - Artwork by Michelle Jericho Poppler- Quirky Renaissance woman Michelle Jericho Poppler will be drawing life at Art Music Beer every First Friday - portraits to whatever is walking by. Suggested donation for on the spot drawings $5-$20. Michelle is a Hawaii grown artist, graphic designer, animator, dancer and filmmaker. Michy Moody Productions is the catalyst for all of her eclectic art projects. Keep tabs on her Synergism Blog http://michymoody.tumblr.com/ or @michymoody on instagram.
Reverie by Alessandra - Specializing in elaborately decorated, handcrafted, unique, specialized gifts called libretti ('little book' in Italian), as well as jewelry that include semi-precious stones, crystal embellishments and hand blown glass beads, among other delightful elements. Reverie is a French noun which means, 'a state of being pleasantly lost in oneÕs thoughts; a daydream.' Everyday I nurture my dreams and feel encouraged to, one step at a time, follow, realize and become my dreams. I like to encourage others to do the same. www.reveriebyalessandra.etsy.com
Roketo makes super fresh graphic tees. www.roketo.com
Sassy Lassy - Clothing, bags, jewelry and more! Email: kuuipob@gmail.com
Secret Record Store - All types of records, discount items(i.e. $1 & $2) CDs, accessories (45 spindles, etc.), a vinyl listening station, and select fan schwag. Instagram & Twitter @scrtrcrdstore. Our stock can be browsed and purchased online at Discogs.com (seller IDs "citymouse" and "Neter_Sound") any time, and in person when we do the pop-up shops. For online orders, we offer free delivery for all orders in the Honolulu metropolitan area.
Glitter Gypsy's Art & Adventures - Susan Conrad Risse is a mixed-media artist who believes that creativity is a spiritual and transformational experience, a connection to the language of one's soul. Susan feels that when she or her students agree to "peek between the veils of reality and non-ordinary experience, images begin to bubble up from the unconscious realm and then be translated into form." Much of Susan's work is drawn from both internal and external images of the Feminine Divine, the "Goddess Within." To learn more about Susan And her art, workshops and adventures, please visit www.glittergypsy.com
AND MORE!!!
UPSTAIRS AT THE CHINATOWN ARTIST LOFTS
Loft #202: 5:55-10:10pm
The Firebird Photography loft will be closed, but follow their online blog and sign-up for email notifications on photography specials! Right now, check out Cheyne Gallarde's latest project - The Mister Sister Show www.facebook.com/themistersistershow
Loft #203: 6-10pm
Pen and ink extraordinaire Kris Goto will be featuring her artwork as usual with some new holiday pieces for great gifts!
email krisgoto.aloft@gmail.com
facebook www.facebook.com/artofgoto
Loft # 205 7:30-10pm
Pandemonium Laboratories Pandemonium Laboratories will be closed this First Friday, but stay tuned to see what projects are in store!
email PandemoniumLaboratories@gmail.com
facebook www.facebook.com/PandemoniumLaboratories
Loft #206: 5:30-9pm
Truetone Studios will be closed this First Friday, but check out what James McCarthy is doing online!
Loft #207: 7pm
DeRose Method Hawaii Every First Friday at DeRose Method Hawaii we have an event called "Conscious Cinema" where we showcase movies and documentaries that are thought provoking and that can lead to interesting discussions afterward. The movie for this month is "Waking Life". Free popcorn and refreshments while it lasts.
The DeRose Method combines high performance techniques and concepts that develop strength, power, flexibility, balance, movement, breathing, concentration, relaxation, as well as good human relations, manners, and nutrition. The method's aim is to increase consciousness and self-awareness. They hold classes every week, find out more online!
call (808) 779-9712
Loft #208:
Barrio Vintage's loft will be closed but check out there location at 1160 Nuuanu Avenue. Barrio Vintage is a vintage and retro boutique located in the historic Chinatown District of Honolulu. Barrio features an eye-catching assortment of clothing and accessories for both women and men. Each item is unique to the store and is sure to spark the interest of the vintage lover and the fashion-minded alike. Barrio is also proud to showcase the works of independent and progressive artists and designers.
web
call (808) 674-7156
email Barriovintage@gmail.com
Loft #209:
Check out Ruth Sorenson's landscape oil paintings. Lot's of new work and etchings for sale!
email skywalkerstudios@gmail.com
Loft #210: 7-9pm
James Anshutz presents the Lemuria Project, where children become the characters of their imagination, along with commercial and portrait work from James Anshutz
web www.jamesaphoto.com or www.lemuriaproject.com or ww.facebook.com/LemuriaProject
Loft #212 6-10pm
FISHMARKET STUDIOS featuring woodblock prints by Sergio Garzon. Fishmarket Studios will have various prints, drawings and stickers for sale!
email urnicer@gmail.com
<!#43END>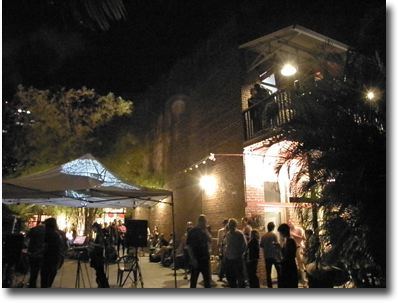 Ongoing Events
Featured Product/Service
Powered by MBC CalendarMaker

Events subject to change without notice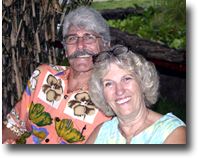 <!998Template_start>
<!998Template_end>
---
Please send questions about this website to