Community website by MBC/Ernest Abrams. Call 808-739-9797 for advertising/sponsorship.
Ongoing Events
First Friday Hawaii
Event Calendar Item

The Fix Sports Lounge And Nightclub - Honolulu Fashion Invitational

Type:

Entertainment/Art/Exhibit


Date:

Friday - 6/7/2013


Time:

6pm-9pm


Location:


The Fix
Sports Lounge And Nightclub
80 South Pauahi Street
Honolulu, HI 96813


View Map


Cost: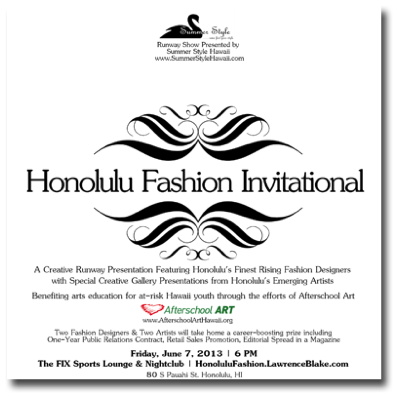 <!#43START>
Honolulu Fashion Invitational Will Feature Runway Shows Alongside Local Artists Benefiting
Afterschool Art Hawaii
On Friday, June 7th, 2013 at 6 PM the Honolulu Fashion Invitational (http://HonoluluFashion.LawrenceBlake.com) will feature exciting runway presentations from Honolulu's favorite rising fashion designers hand picked by popular wardrobe stylist Summer Style Hawaii (www.SummerStyleHawaii.com). Local artists including photographers, painters, graphic designers, and sculptors, will proudly share their recent work during creative gallery presentations. Live music performances, special speeches from fashion industry veterans, and delicious cocktails will allow guests to intimately discover the artists of Honolulu. Scheduled to take place at one of Honolulu's largest art venues, The FIX Sports Lounge and Nightclub, the Honolulu Fashion Invitational will benefit arts education programs for at-risk Hawaii youth through the efforts of Afterschool Art (www.AfterschoolArtHawaii.org).
During the event, attendees will chose two fashion designers and two artists to receive the events grand prize -- a one-year public relations contract with communications firm Lawrence Blake Group Int'l, retails sales opportunities within the Hawaiian islands and abroad, and an editorial spread in a local magazine featuring their work.
"My personal philosophy: Style isn't just what you wear, it's a reflection of who you are. I've found a love for style in the vibrancy and energy of our island city and especially in the introduction of exclusive boutiques. My affair with fashion only grew after living in trendy California, and I fawned over the sophistication and excitement of LA shopping. Now I'm back in Hawaii with over 10 years of experience in retail and buying. I seek to create and express your inner style and offer a new level of customer service to your ultimate shopping experience. I work in collaboration with a variety of premiere local designers and boutiques to provide an eclectic collection delivered to your doorstep. Enjoy the latest new arrivals, including some exclusive designs for Summer Style, hand-picked to achieve your maximum style potential." Summer Shiigi, founder Summer Style Hawaii.
Afterschool ART was founded by Dr. Bob Grossmann in 2004, after having the opportunity to be briefed by staff from the Centers for Disease Control and Prevention (CDC) and other public health agencies, when he served as a Fellow for then Secretary of Health, Donna Shalala (1995-1996). He has found that youth respond to programs that bring quality art supplies and professional artists to where the youth-at-risk live and learn. Dr. Grossmann has confirmed to speak at the 2013 Fashion Front Awards Hawaii, discussing the vitality of community support for arts education programs for Hawaii at-risk youth.
"Afterschool Art helps to ease the burden of tight budgets in elementary, middle and highschool
systems by creating and funding art programs for the students. Afterschool Art's programs create
opportunities for expression, creativity, and thoughtfulness about the world through the learning and
making of art." Travis Sasaki, University of Hawaii art student.
The Honolulu Fashion Invitational will be hosted at The FIX Sports Lounge and Nightclub, a hot-spot recognized by the community for it's commitment to Hawaii's artists. The FIX Sports Lounge and Nightclub proudly represents the miraculous and multi-faceted renaissance happening in downtown
Honolulu right now. The FIX Sports Lounge and Nightclub is located at 80 South Pauahi Street, Honolulu, HI 96813. The Honolulu Fashion Invitational begins at 6 PM and early arrival is suggested. Guests may RSVP for this event by e-mail FashionRSVP@LawrenceBlake.com. Press may RSVP by e-mailing HonoluluPress@LawrenceBlake.com. Designers, speakers, and celebrity appearances will be announced shortly.
To learn more about the Honolulu Fashion Invitational please visit http://HonoluluFashion.LawrenceBlake.com. The Honolulu Fashion Invitational is hosted by Lawrence Blake Group Int'l (www.LawrenceBlake.com), rising New York based corporate communications firm. A spokesperson from Afterschool ART, participating designers, and celebrity guest judges will be available for live interviews. For information please contact L. Blake Harvey, 646.481.8237, Fashion@LawrenceBlake.com. Follow Lawrence Blake Group Int'l on Twitter and Facebook for event updates. www.Twitter.com/LawrenceBlakePR. www.Facebook.com/LawrenceBlakeGroup.
<!#43END>
---
About The Fix Sports Lounge And NightclubThe FIX Sports Lounge and Nightclub is Downtown Honolulu's newest venue...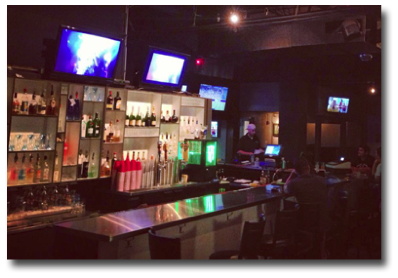 Our upscale sports lounge is fresh and clean, and comes equipped with huge TVs and projectors to help you enjoy all your favorite televised sporting events. The friendly and professional staff look forward to helping you relax or plan your next big event. Our full service kitchen and bar is responsible for the creation of some of the best valued food and drink in the area. We look forward to the opportunity to serve you, and to show you what good times are all about.
Our Venue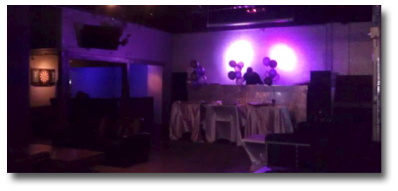 As one of the biggest venues on the island, we pride ourselves on our ability to comfortably serve a large capacity. The size of our venue makes it suitable to do large scale concerts and fashion shows. We are also available for private parties and fund raisers. Our professional staff, with over 17 years in the service industry, look forward to helping you plan your next event.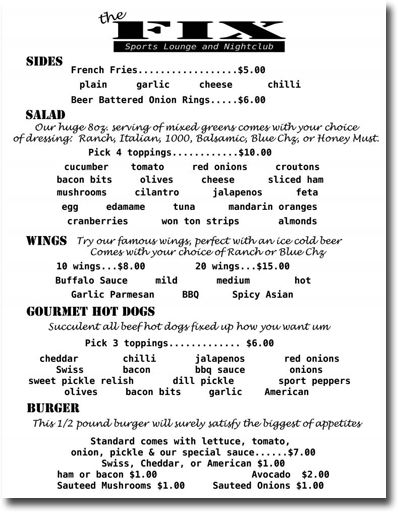 Ongoing Events
---
Please send questions about this website to