Community website by MBC/Ernest Abrams. Call 808-739-9797 for advertising/sponsorship.
Ongoing Events
First Friday Hawaii
Event Calendar Item

Hawaii State Art Museum First Friday *** DARK ***

Type:

Exhibit / Entertainment


Date:

Friday - 4/6/2012


Time:

N/A


Location:


250 South Hotel Street, 2nd Floor
Honolulu, HI 96813
Phone: (808) 586-0307 or
586-0900


View Map


Cost:

Free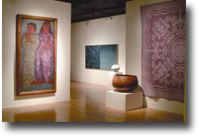 First Friday
Just a reminder for you committed First Friday attendees:
April will be dark at the Hawai'i State Art Museum. First Friday lands on Good Friday, which is observed as a State holiday, so store up your energy and put a hold on your need for art.
Join us For First Friday in May for the opening of our HiSAM Sculpture Garden! After months of anticipation, the next jewel in the HiSAM collection is opening to the public on May 4, 2012. Come for the celebration! Downtown @ the HiSAM will be open serving their delectable creations.
Following three months of relaxation at the HiSAM, February with our very successful Board Game Night, March featuring Jazz guitar with Shoji Ledward, and a break in April, we will be ramping it up in May with one of our own Teaching Artists- James McCarthy!
Accomplished singer/songwriter and troubadour James McCarthy brings his own special style of live music to HISAM sculpture lobby.
Offering material that spans the realms of art song, Tin Pan Alley, experimental folk, soul, Celtic and family songs James weaves a performance and atmosphere suited to each gathering of listeners, each audience.
James McCarthy has seven recordings to his name that span the gamut from meditative acoustic to rollicking rock and roll.
A one of a kind event that will highlight music and lyrics created by family participants at his February HISAM Second Saturday event Rhythms and Rhymes.
Come hear what you can see at HISAM First Friday.
James McCarthy - songs for us all.
Events
The Hawai'i State Art Museum would like to thank the Kailua High School Class of 2013 for holding their Junior Prom here at the Museum. It really was an exciting night of fashion, food and dance! Our Diamond Head Gallery was open and many of the attendees were anxious to view the 2012 Hawai'i Regional Scholastic Awards exhibit. The young men and women displayed exemplary behavior prior, during and after their event, even staying to help clean up. It was truly a pleasure having them here!
The Hawai'i State Art Museum - a center for the community.
ABOUT THE HAWAII STATE MUSEUM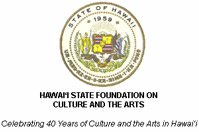 The Hawai'i State Art Museum is located in No. 1 Capitol Distric Building at 250 South Hotel Street. The building is situated in the historic Hawaii Capital Cultural District, across from 'Iolani Palace and the State Capitol. The museum is open Tuesday to Saturday from 10 a.m. to 4 p.m. Admission is free. For more information on the Hawai'i State Art Museum call (808) 586-0900 or visit
http://www.hawaii.gov/sfca
.
For more information, contact:
Phone: (808) 586-0307,Website:
www.hawaii.gov/sfca
Ongoing Events
---
Please send questions about this website to