Community website by MBC/Ernest Abrams. Call 808-739-9797 for advertising/sponsorship.
Ongoing Events
First Friday Hawaii
Event Calendar Item

The Venue

Date:

Friday - 1/7/2011


Time:

6pm - 2am


Location:


1146 Bethel Street
Honolulu, HI 96813
Phone: 808.528.1144


View Map


Cost:
Featuring theVenue's house DJs Kitty Lee, Vegas Mike, and Nick spin all night long. Music starts at 6:00 p.m. No cover. 21+
The Venue Happy hour till 8 pm with select $3 and $4 beer bottles. $3.50 martinis and $3.50 wells (skyy vodka, gordon's gin, cruzan rum, tequilla, jim beam, grants scotch) 9-close $5.00 sex on the beach, and $5 select beers (guinness, amstel light, heineken, heineken light, corona, red stripe, pabst blue ribbon, mickeys, newcastle)
About the Venue:

Imagine a brand new performance/club space built with the audience in mind. That's what theVenue is. Amenities include an elevated stage, green room, and quality sound and lighting system. theVenue also has VIP seating and full bar service. Depending on the seating configuration, anywhere from 100 to 200, comfortably.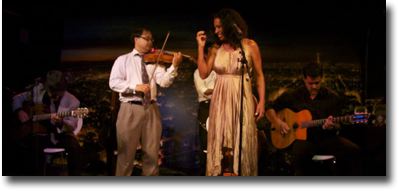 Bands and performers interested in booking space at theVenue should contact Sabrina at ARTS at Marks Garage by email at sabrina@artsatmarks.com or by phone at 808-521-2903.
NOVEMBER SCHEDULE
Contact: Sabrina Sanchez
Tel: 808.521.2903
November Events
Weekly + Recurring Events
Mondays | November 1, 8, 15, 22 + 29
Monday Movie Cafe. A weekly showcase of the most current, and often hard-to-find
documentaries, Indie and art house films. All films start at 7:00pm. $10 at the door. For
more information contact Don Brown at 223.0130.
November 1: Yes Men Fix the World!
A hit at Sundance in 2009, this film begins with the Yes Men's famous 2004
impersonation of a Dow Chemical spokesperson on BBC World News, in which
they took responsibility for the largest industrial accident in history – the Bhopal
disaster. The film also shows the Yes Men posing as Exxon and Halliburton
representatives, presenting shocking and ridiculous solutions to climate change
to industry audiences. Besides covering their daring hoaxes, this film challenges
the blind worship of the free market that has led so many corporations and
government agencies to put profits before people.
November 8: Wayfinders: A Pacific Odyssey - A Tribute to Mau Piailug
As European influence grew in Hawaii, the art of "wayfinding" – navigating
without instruments – was nearly lost. This film documents the Hokulea and its
crew and Micronesian navigator Mau Piailug learning the lost art of sailing long
distances using only the signs of nature, such as the stars, the moon, the sun
and the ocean swells.
November 15: No-Impact Man
With Kokua Hawaii Foundation. Imagine going a year without TV, coffee, a
refrigerator and even toilet paper!
2 of 4
1146 Bethel Street, Honolulu, HI 96813 | 808.528.1144
Manhattan-ite Colin Beavan, wife Michele, their 2-year-old daughter, and even
their dog embarked on a yearlong crusade to drastically reduce their carbon
footprint. The result is "No Impact Man", a breezy, funny and informative
chronicle of the family's adventure.
November 22: Ghostbird
With the Sierra Club of Hawaii. This film follows the search and controversy
surrounding the elusive ivory-billed woodpecker, last observed in the 1930s and
widely believed to be extinct. Set in a small town in Arkansas, this film shows
why the best birders of the world are unable to locate even one bird even after
numerous observations and announced rediscovery. The woodpecker always
remains out of reach and the movie also throws light on the importance of hope,
faith and certainty during the quest.
November 29: Hookele Waa: Turning the Canoe
2010 Maui Film Festival Audience Award Winner. What does the future hold for
Maui? Is the continued depletion of Maui's natural resources inevitable or do we
have an opportunity to change course? This film illuminates the importance of
protecting Maui's resources and making Maui more sustainable. Includes
interviews from those leading the effort to protect Maui's environment and neverbefore-
seen footage of some of Maui's unique natural resources.
The Venue and Brasserie Du Vin are partnering to present a specially priced movie and
dinner package. Enjoy Du Vin's Monday night 3-course dinner for $45 (normally $49),
available before or after the movie. The movie and dinner package also gets you VIP
movie seating. Advanced reservations required. Call Du Vin at 545.1115.
Tuesdays | November 2, 9, 16, 23
In Yo Face: Improv at theVenue. Think Whose Line Is It Anyway – Hawaii style.
Includes short form games, creating stories and songs based on audience suggestions.
Hosted by Chris Riel and Shawn Thomsen. Starts at 7:00pm. Think you've got he
comedy gene? Show off your stuff during the open mic segment. $5 cover. 21+
Special + One Time Events
Wednesday | November 3
Cheeky! Celebrating sophisticated, smart and savvy women. This promises to be a
huge night with new clothes and accessories from Jessica's Traveling Boutique, free
beauty services from Beauty Elements and Bella Torre Academy, sushi from Primo
Sushi, and Little Black Dress wine tasting. And back by popular demand, DJ Silvana,
spinning deep lounge and house. 6:00pm. Free. 21+
Saturday | November 6
A Positive Vibe Movement. Live music by Ghost Ride and The Whip. Also featuring a
rare appearance by singer and songwriter Eddie Quan and DJs Rayne and Maris Moon.
Starts at 8:00pm. $5 cover. 21+
Wednesday | November 10
7th Annual GirlFest Opening Night Party. GiRL FeST kicks off its festival with "Girls
Night Out" – a conscious concert for a great cause and a great time. Emi Hart and Hope
Mayo start the show with Shopping List following with their unique sound. Simple Souls,
one of our island's favorite, perform with friends and seasoned sister musicians Tiffa
Garza, Carly Smith and Lei Melket. Special appearance by award-winning poets Mindy
Nettifee and Natasha "T" Miller. Doors open at 7:30 pm. $10 cover. 21+. For more
information visit: girlfesthawaii.org.
Thursday | November 11
Po Lailai. Sit back, relax and enjoy Hawaiian music. Tonight it's we present the very
popular and talented Na Palapalai. Music starts at 9:00pm. No cover. 21+
Saturday | November 13
World Can't Wait Fundraiser Concert. World Can't Wait organizes people in the U.S.
to take responsibility to stop the whole disastrous course led by the Bush administration.
Tonight's fundraiser includes music by Peabody Mabel and Black Square. Doors open
at 7:30pm. $8 presale, $10 at the door. 21+. For information call 267.0281.
Wednesday | November 17
Rule the Runway: A Fundraiser for the Bella Project. The Bella Project is a nonprofit
organization that provides formal dresses and accessories to high school women
in Hawaii who are unable to purchase their own prom attire. This event brings local
designers together to transform formal dresses deemed "un-wearable" into something
divine. Redesigned items will be shown on a runway fashion show. $20. Program starts
at 7:00pm.
Thursday | November 18
Po Lailai. Sit back, relax and enjoy Hawaiian music. Tonight it's we present the very
popular and talented Na Palapalai. Music starts at 9:00pm. No cover. 21+
Saturday + Sunday | November 20 + 21
Convergence Dance Theatre: Converging Works. The Collaborative Dance
Foundation presents a contemporary dance performance by Converging Works.
November 20 at 8:00pm and November 21 at 2:00pm. $18 (student and seniors receive
a $2 discount).
Wednesday | November 24
Soul Night. Soul music with DJ Bennie James. In addition to the music, you can enjoy
delicious soul food from the Soul Patrol, which will be right outside the doors starting at
5:00pm. Music starts at 9:00p. 21+
Friday, Saturday + Sunday | November 26, 27 + 28
Closer. All the World's a Stage Theatre Company presents the play Closer, by Patrick
Marber, directed by R. Kevin Doyle. Closer won the Laurence Olivier Award and was
nominated for a Tony Award for Best Play in 1999. A 2004 film adaptation was a cult
favorite starring Julia Roberts, Jude Law, Natalie Portman and Clive Owen.
Closer is about the intricate relationships between four people: Anna, Alice, Dan and
Larry. Ostensibly, the title implies that the play would be about things that bring people
closer together. "Not always so," says Hannah Schauer Galli, All the World's a Stage
Associate Artistic Director, who also plays Anna.
This production includes adult language and situations and is not suitable for young
audiences. Friday and Saturday show times 8:00pm and Sunday at 2:00pm. $18
general, $15 seniors and $10 students. Sunday admission is "pay what you can" on a
space available basis, with advance tickets at regular prices. Tickets available at the
door or online at awstheatre.org. For more information, call 927.7150.
November 26 and 27 performances followed by musical performance by "Onward, Etc.
Rosco Wuestewald".
# # # #
Ongoing Events
Featured Product/Service
Powered by MBC CalendarMaker

Events subject to change without notice
The Venue - CLOSED
A chill performance space located in Downtown Honolulu, presenting live music, theatre, dance and fashion.
<!998Template_start>
<!998Template_end>
---
Please send questions about this website to