Community website by MBC/Ernest Abrams. Call 808-739-9797 for advertising/sponsorship.
Ongoing Events
First Friday Hawaii
Event Calendar Item

Shop Bop & Grind! First Friday!

Type:

Shopping


Date:

Friday - 1/7/2011


Time:

6-9pm


Location:


Corner of Bethel St. &
Chaplain Lane
Honolulu, Hawaii 96813


View Map


Cost: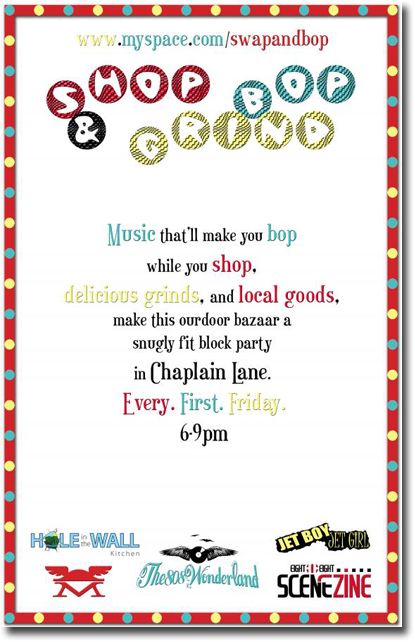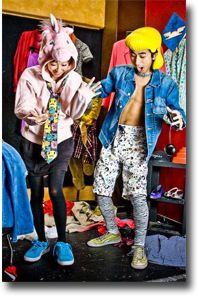 Shop, Bop, & Grind!
Every First Friday in Chaplain Lane!
(corner of Bethel St. & Chaplain Ln.)
6-9pm
Music that'll make you bop while you shop, delicious grinds and local goods make this outdoor bazaar a snugly fit block party in Chaplain Lane.
the808wonderland and Jet Boy/Jet Girl proudly team up with Mercury Bar and Hole In The Wall to present Shop Bop & Grind every First Friday!
January 7th Vendors!
Hawaii Pacific Roller Derby- Hawaii's own roller derby team! Selling merchandise! Please support their SK808 Fundraiser! 
www.pacificrollerderby.com
Sassy Lassy - Fannypacks, dresses, jewelry and more! 
Email: kuuipob@gmail.com
Long Lost Treasures - an individual ran hand crafted jewelry and cards business based out of Oahu, Hawaii.
Katharine Rita Designs 'b2c jewelry' -an eclectic styling of beautiful jewelry from Beach 2 City  
http://www.facebook.com/pages/b2c-jewelry/94862572675
 or  
www.etsy.com/shop/4b2c
JoZo! Prints - fuses life with art, and music is the start. 
jozoprints.blogspot.com
Kisa Kosmos - Women's and Men's clothing and accessories. Designed and printed in hawaii. 
www.kisa-kosmos.com
Ostara - Unique accessories incorperating magical aromatherapy oil blends, and one of a kind vintage pieces. Hand crafted in Hawaii.
www.ostarahawaii.com
Free Art Movement - selling some items made completely of duct tape: bags, wallets, ipod cases...;crochet/knit items: headbands, beanies, scarves; and hand-painted wooden key chains, small trinket boxes, and accessories. 
Also live art and free art. The basis of the free art movement is to promote the arts by freeing it from the gallery system. Art shouldn't be for just the elite, it should be for everyone...without a cost.  
http://freeartmovement.blogspot.com/2010/02/all-given-away-for-free.html
Hard Koa - t-shirts and original oil paintings & original/printed graphite on paper artwork
www.hardkoa.com
Artisan of SoHo
Catwings Couture - Dangerously Cute Hair Accessories! Barrettes, clips, hats, fascinators and more! Decorated with flowers, feathers, ribbon, skulls, skeleton hands and made with love.
Let Them Eat Cupcakes -  Started by Nick Gervais and Kawehi Haug, former Honolulu Advertiser employees who lost their jobs, and found their calling: making killer cupcakes. Gourmet cupcakes made in small batches, real ingredients, with a lot of class and a little bit of attitude. 
http://www.letthemeatcupcakes808.com/
Music by
 DJ Jet Boy 
Food by: 
Hole In The Wall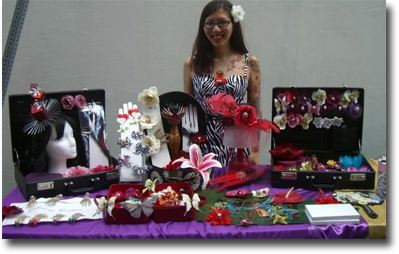 Ongoing Events
---
Please send questions about this website to