PRESS RELEASE
STREET FESTIVAL FOR CINCO DE MAYO
(Honolulu, Hawaii 2-24-11 IMMEDIATE RELEASE)
On Thursday, May 5, 2011 from 6:00pm to 10:00pm, the Arts District Merchants Association with Hispanic Center of Hawaii will present the annual Cinco de Mayo Street Festival, produced by Tim Bostock Productions. This celebration will showcase Latino culture in Hawaii and includes music, dance, cuisine and the arts.
 
Cinco de Mayo Street Festival specifically highlights Honolulu's connection to all the beautiful colors, cuisine, arts, music and folklore of Mexico. Local Mexican restaurants including El Palenque, Cha Cha Cha Salsaria, Xtreme Tacos and Taco Shogunai will feature seasonal specialties, along with local favorites Murphy's Bar and Grill, Indigo Restaurant, JJ Dolans, Otto Cakes and Brasserie du Vin. Expect Nachos, spicy Chilli Conqueso, Tamales and Horchata, Elotes and Pasteles alongside Chicken Mole and Green Rice, Mexican Pizza, cheesecake and even Hungarian chimney cake!
The streets will be covered with Fiesta decorations and Mexican flower girls will entice the crowds to join in the spectacle. Boricua's Ballet Folklorico will perform, as will Los Amigos (the best Puerto Rican kachi-kachi music in town), and Espiritu Libre, known for their Latin rhythms from salsa to samba to Caribbean beats. Street performances from Sewa Fare African dance and drum, Isla Tango and Dancers Unlimited.
Live music will run from 6pm to 10pm on the main stage with Son Caribe Salsa Band, guitarist George Garcia and the Santana Tribute Band. Headlining the event is Son Caribe, Honolulu's premiere Latin band. This dynamite combo is led by Eddie Ortiz (trumpeter, vocalist, and arranger), and the group plays a wide variety of musical styles including salsa, merengue and bachata. Featured vocalist Cynthia Romero's sultry and silky smooth voice complements a solid rhythm and horn section in the eight piece ensemble. Salsa master Greg the SalsaMan will be leading dance lessons on the street!
The Santana Tribute Band features Roshan capturing the soul & fire of Santana's guitar magic while maintaining his own musical personality. If you love Santana and his music then you already know what this band is about.
A special appearance as well by KWAI/K-108's popular & longest running Hispanic Radio Show in Hawaii - Alma Latina's 808 DJs Dalion of Judah and Jose joining forces as DJ duo El Control, spinning the best in Latin music all night long on the corner of Nuuanu and Pauahi Streets. Favorite KTUH DJs including Mr. Nick, Maynard G and DJ Crystal will hold it down at the KTUH tent, alongside the astonishing Mechanical Riding Bull and the Shark Energy crew on Hotel Street. Dozens of Lowriders will be on display along Hotel Street near Chinatown Gateway Park.
Cinco De Mayo Street Festival 2011 is free to all. Over 21s will be carded and $3 wristbands required for enjoying alcoholic beverages. An $8 wristband is also available, that also provides entry to eight nightclubs in the district, running live band s and DJs from 10pm to 2am as Chinatown Getdown, organized by Double-O Spot, Tantriq and Vertical Junkies.
The Festival is presented by the Arts District Merchants Association, in collaboration with the Hispanic Center of Hawaii. Sponsored by Tequila Cazadores, 42 Below Vodka, Bacardi, Corona, Shark Energy, KPOI 105.9, Yelp and Chinatown. Produced by Tim Bostock Productions.
ENDS
<!#998MultiTitleStart>RELATED LINKS<!#998MultiTitleEnd>

<!#998MultiTableStart>

Cinco de Mayo 2011 Photo Gallery
Cinco de Mayo Street Festival specifically highlights Honolulu's connection to all the beautiful colors, cuisine, arts, music and folklore of Mexico.
---

Midas Oil Change Plus, Tire Rotation, Safety Check Combo Certificate $46.00!
Save $$$ - Buy Online - Includes up to 5 quarts of 5W30 Oil and a new Oil Filter, a free tire rotation, visual brake inspection and a Hawaii state safety check inspection good for up to 1 year. $46.00! (normally $72.69).
---

Old Waikiki Gateway - First Friday
Get the best hotel prices in Waikiki. Premium Standard Room, parking and internet access for as low as $70.00/night! Know someone coming to Hawaii? Get them a great deal on a Waikiki hotel.
---

First Friday Hawaii Art Walk Newsletter - January 2011
Newsletter goes out via Email the day before each First Friday. Join the Email List. Special offers, art news, Downtown/Chinatown news and more More...
---
Maps - First Friday Honolulu Gallery Walk Interactive Maps
NEW - check out our new interactive maps of events, art galleries, restaurants, parking More...
---
First Friday Facebook
View/Join First Friday Facebook fan page.
---
First Friday Twitter
Our mission is to tweet you hot tips and money savers related to First Friday Art Gallery Walk and the art community. Populated By MBC Website Tools.
---
HELP THE FIRST FRIDAY ART COMMUNITY
Refer someone who purchases the MBC Web Site Solution and we will donate $250 per referral on your behalf to a fristfridayhawaii.com charity, nonprofit or association of your choice (click on link for approved list. Yes, you can refer yourself. More...
---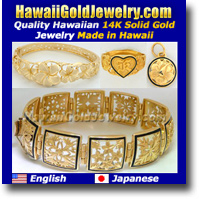 HawaiiGoldJewelry.com
Top quality jewelry at GREAT PRICES.
English Site / 日本語版/Japanese Site
---
First Friday Featured Pages
Artist, gallerias, maps, parking, shopping, restaurants and much more. More...
---
Free Giveaways, Sweepstakes and Specials
Visit this page to view our current free givaaways and sweepstakes. More...
---
Free Posting
Get exposure for your business or event for FREE More...
---

Advertise On First Friday Hawaii.com And Reach Thousands!
Become a sponsor on First Friday Hawaii.Com and get your message across, loud and clear! Call 808-739-9797. Reach thousands! More...
---
<!#998MultiTableEnd>