| | |
| --- | --- |
| Featured Item This Hour | First Friday News - Monday, 9/22/2014 |
107 Downtown - Chinatown Condos for Sale Map and Listings - 96813 Zip code - Honolulu Real Estate - Updated 9/6/2014


Downtown / Chinatown condos for sale. View interactive geographical map of condos for sale in Downtown / Chinatown - Honolulu, Hawaii. Photos, description, and much more.
Next hourly featured item update scheduled at: 9/22/2014 - 6:23am
Hawaii Heritage Center September Newsletter & Hidden Chinatown Treasures Discovery tour on Sept. 20th, 2014


Featuring: Games of Chance, Fortune Telling, Live Music, Wishing Tree, Heavy Pupus, Wine Tastings, Burlesque, and more! Proceeds from this benefit fund the projects and programs of the Chinatown Improvement District a 501(c)3 charitable organization.
FIRST FRIDAY DETAILS - OCTOBER 2014 FIRST FRIDAY HONOLULU ART WALK - CALENDAR - 6pm - 9pm


FIRST FRIDAY SEPTEMBER 2014 DETAILS
<!#43START>
Monthly updates are finalized/published 2 days before each First Friday (8pm-11pm).
FOLLOW US TO GET NOTIFIED - Announcements goes out day before First Friday. - Email / Facebook / Twitter / Text
<!#43END>
Hawaii State Foundation On Culture and The Arts SEPTEMBER 2014 Newsletter


There is an article on the New exhibition "Image & Imagination"; features on the "First Friday" event with the United States Air Force Band of the Pacific -- Hawai'i, Papana Group on Friday, September 5th; the "Second Saturday" event "Adventures in Craft!" on Saturday, September 13th; and the "Art Lunch" lecture "First, You Must Dream It" with David Smith on Tuesday, September 30th.
Mayor's Office of Culture & the Arts Honolulu (MOCA) - SEPTEMBER 2014 Newsletter


The mission of MOCA is to promote the value of arts and culture throughout communities in the City and County of Honolulu. MOCA's objectives are to attain per-eminence in culture and the arts; to perpetuate the artistic and cultural heritages of its entire people; to promote a community environment, which provides equal and abundant opportunity for exposure to culture and the arts in all its forms; and to encourage and provide equal opportunity for the development of culture and the artistic talents of the people of Honolulu.
Honolulu Hale September Exhibits - Korean Artists Association Of Hawaii Presents Their Annual ChildrenÕs Contest Exhibit & MembersÕ Exhibit


Honolulu Hale (originally called the Honolulu Municipal Building), located on 530 South King Street in downtown Honolulu in the City & County of Honolulu, Hawaii
9th Annual Mayor's Remembrance Walk - Sunday, September 7, 2014 5pm


The procession begins with a short ceremony at the Honolulu PoliceDepartment on Beretania and continues down Alapai to South Street. It turns right on Halekauwila and up Punchbowl, ending at Honolulu Hale. Along the way there will be a short service at the Honolulu Fire Department on South Street.
The Love Festival 2014 Event in Kakaako Waterfront Park Announced - Saturday - 9/27/2014


The Love Festival Hawaii is an electronic dance music party offering multiple stages featuring international DJ talent, Music Bands and other performers. It is best described as a spectacle with high tech multi-media presentations, performance art, and electronic music.
This will be the 16th year for the Love Festival in Hawaii. This event will be the third at Kaka'ako Waterfront Park. The event has been professionally managed and has gone on without major incident or citation.
Next Door 1 Year Anniversary Party - September 6, 2014


NEXTDOOR is a nightclub and art venue in Honolulu, Hawaii's Chinatown.
Hawaii State Art Museum - NEW EXHIBITION - IMAGE & IMAGINATION


Image & Imagination is an exhibition of 38 curiosity-inspiring artworks in a variety of media. Drawn from the Art in Public Places Collection, these pieces were selected to act as a catalyst for response in museum visitors.
9/5/2014 - Hawaii State Art Museum First Friday Featuring United States Air Force Band of the Pacific - Hawaii, Papana Group - 6:00pm - 9:00pm


The United States Air Force Band of the Pacific -- Hawai'i, Papana Group! The Band of the Pacific's Papana features seven of the Air Force's most talented musicians performing America's original music, jazz.
Mark N. Brown Launches New Chinatown Art Collection Featuring Art Scenes From Chinatown - Honolulu, Hawaii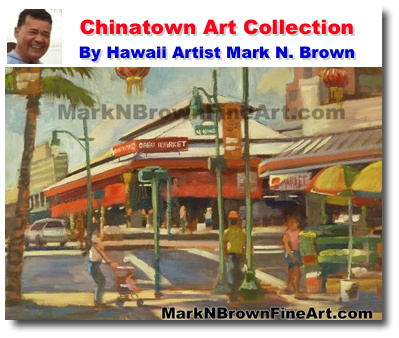 Here you can see all of Mark N. Brown's artwork featuring scenes from the Chinatown area in Honolulu, Hawaii.
9/5/2014 - HASR Bistro First Friday Feature EMKE & TRK - 4:00 pm - 11:30pm


Happy hour entertainment and special dinner menu... reservations recommended. As always, you can purchase a HASR Logo glass for $5. See you there!
9/5/2014 - First Friday Red Lantern (Kukui 'Ula) & Micro-Galleries Light-Up Hotel Street @ Chinatown Courtyard by The ARTS at Marks Garage - 5:30pm - 10:00pm


First Friday Red Lantern (Kukui 'Ula) at the Chinatown Courtyard(Mendonca Building, 1126 Smith Street) 5-11pmThe ARTS at Marks Garage presents Red Lantern (Kukui 'Ula) secret beer garden, happening every First Friday.
9/5/2014 - Next Door First Friday - House Of Lion - Capturing The Moment - Live Photo Booth - 7:00pm - 2:00am


Art show featuring House of Lion photography and art and a LIVE photo booth! After rager 10pm-2am. - NEXTDOOR is a nightclub and art venue in Honolulu, Hawaii's Chinatown. Music by resident DJs Tittahbyte, Super CW, and Revise.
9/5/2014 - Soul De Cuba Cafe - First Friday - CUBAN SALSA NIGHT - 5:00 pm - 2am


Soul de Cuba Cafe offers a unique dining experience combining exquisite traditional Cuban dishes and specialty drinks in a fun, entertaining, service oriented atmosphere.
- Happy Hour 4p-7p: 1/2 selected pupus & signature cocktals
- 1st Friday Dinner Specials till 11pm
- Monthly Artist Exhibit Showcase
- LIVE Latin Music 7 Dancing 10p-2a with Afro-Criollo Sound
9/5/2014 - La Muse Boutique - Featuring Alohi Kai Jewelry And Designer Shera Mercer - 5:00 pm - 9pm


We are happy to welcome Alohi Kai jewelry trunks show this first Friday 6-9 pm. Local guest designer Shera Mercer will be showcasing her oceans inspired creations and much more...We have clothes, shoes, and accessories for up to 50% off.
9/5/2014 - Downbeat Diner and Lounge - First Friday - 5-2am


American diner food favorites with vegetarian options on everything. Come on down to the Downbeat Lounge this First Friday. Located right next door to Chinatown's favorite little Diner. Joe Agogo of Jet Setter Productions proudly presents Club Underground with DJ Ross Jackson, DJ TIMO and DJ Monkey spinning on the decks.
9/5/2014 - HASR Wine Co. Wine Tasting - 5:00 PM - 9:00 PM


It's that time again...First Friday and the Chinatown Artwalk is on... Please stop in and taste great wines.
9/5/2014 - Dragon Upstairs- Big Trouble in Little Chinatown Featuring the Hydrolites - 10 - 2am


First Friday party!
NEW WEBSITE - Hawaii Plein Air Artist Mark N. Brown Launches New Website


Mark has earned numerous awards and has been the recipient of many honors. His work can be seen all throughout the Hawaiian Islands in private collections, as well as numerous Art Galleries, Fine Retail Shops and Government facilities.
MacBusiness Consulting / Ernest Abrams - Launches New FREE community Website KAKAAKOHAWAII.COM


New free community website by Ernest Abrams/MacBusiness Consulting. Owner of FirstFridayHawaii.com, KaimukiHawaii.com, aikikiGetDown.com View Kakaako featured events, news, businesses and primary links .
Launched 7/28/14
2500+ web pages
1500+ businesses
60+ maps and guides
If you know someone who owns a business/non-profit, etc in Kakaako.. tell them to contact Ernest Abrams at 808-739-9797 for free profiles/promotion of their business.
Profiles Of The Month - SEPTEMBER 2014


View profiles of the month and previous profiles of the month on First Friday Hawaii.Com.
Hawaii State Art Museum
HASR Wine
Double-O-Spot (00Spot) - The Promoter / DJ
DigiToons Hawaii - Digital Cartoon Drawings
Soul De Cuba Cafe - Honolulu Hawaii
The Fix Sports Lounge And Nightclub - Downtown Chinatown - Honolulu
---
Map of First Friday Art Walk Event Calendar - September 5th, 2014


(last update: 9/3/2014 Interactive map of event calendar.
---
First Friday News


Keep up with the latest news from the First Friday community - special events, calendars, Downtown/Chinatown news, art news and much more!
---
Hawaiian Electric (HECO) Donation Supports Honolulu Museum of Art


Hawaiian Electric has contributed $15,000 to the Honolulu Museum of Art in support of the exhibition Inquiring Finds, which connects science and art, currently on display at the museumÕs Spalding House location in Makiki Heights.
First Friday Featured Pages


Artist, galleries, maps, parking, shopping, restaurants and much more.
More...
---
Honolulu Real Estate New Listings and Updates - Updated Every Hour


SPONSOR
- Honolulu real estate expert, Keahi Pelayo, offers FREE online hourly updates on home and condo property listings that can really help you
buy Honolulu real estate at a lower price
. Premiere resource for buying and selling Honolulu real estate - Honolulu - Oahu - Hawaii.
---
Transportation - Car - Bus - Taxi Cab to First Friday


Great resources to get to First Friday Hawaii Art Walk via bus, car, taxi
More...
---
First Friday Text Message Alert (SMS) Subscription


Get on our occasional Text Alert (SMS Text Message) list.
We're 100% spam-proof.
Opportunities to
SIGNIFICANTLY
benefit you!
Event VIP access
, free offers, discounts and more.
More...
---
First Friday Honolulu #3 Photo Gallery


Great photos of First Friday Honolulu August 2011.
---
MacBusiness Consulting / Ernest Abrams - Database, Website, Advertising Testimonials


See what our satisfied customers are sayings about MacBusiness Consulting/Ernest Abrams's database, website and advertising solutions. Our most recent testimonial comes from
2014 Small Business Person Of The Year awarded by Hawaii Business Magazine
.If you are looking for new website/database solution and/or would like to advertise to the local Hawaii community, feel free reply to this email or call me at 808-739-9797.
110 Downtown - Chinatown Condos for Sale Map and Listings - 96813 Zip code - Honolulu Real Estate - Updated 9/20/2014


Downtown / Chinatown condos for sale. View interactive geographical map of condos for sale in Downtown / Chinatown - Honolulu, Hawaii. Photos, description, and much more.
View more First Friday Art Walk events...