| | |
| --- | --- |
| Featured Item This Hour | First Friday News - Friday, 10/31/2014 |
Hawaiian Electric Launches MAKA - A Super Energy Saver Guide


New energy guide for children offers fun activities to stop energy waste in the home.
Next hourly featured item update scheduled at: 10/31/2014 - 4:32pm
Mayor's Office Of Culture & The Arts Honolulu (MOCA) - CALL TO ARTISTS AND CULTURE AND ARTS ORGANIZATIONS!


The Mayor's Office of Culture and the Arts is requesting proposals for their production and operating grants, and commissions for their Art in City Buildings Program.
Hawaii State Foundation On Culture and The Arts OCTOBER 2014 Newsletter


There is an article on a new sculpture by Randall Shiroma at Ka'u High & Pahala Elementary School; another article on the fourth world conference on hula; features on the "First Friday" event with Dayton Watanabe on Friday, October 3rd; the "Second Saturday" event "Doodle Dangles, Cording and More!" on Saturday, October 11th; and the "Art Lunch" lecture "Inspiration Through Introspection" with Joey Chiarello on Tuesday, October 28th.
FIRST FRIDAY DETAILS - NOVEMBER 2014 FIRST FRIDAY HONOLULU ART WALK - CALENDAR - 6pm - 9pm


FIRST FRIDAY DETAILS
<!#43START>
Monthly updates are finalized/published 2 days before each First Friday (8pm-11pm).
FOLLOW US TO GET NOTIFIED - Announcements goes out day before First Friday. - Email / Facebook / Twitter / Text
<!#43END>
MacBusiness Consulting / Ernest Abrams - Launches New FREE community Website KAKAAKOHAWAII.COM


New free community website by Ernest Abrams/MacBusiness Consulting. Owner of FirstFridayHawaii.com, KaimukiHawaii.com, aikikiGetDown.com View Kakaako featured events, news, businesses and primary links .
Launched 7/28/14
2500+ web pages
1500+ businesses
60+ maps and guides
If you know someone who owns a business/non-profit, etc in Kakaako.. tell them to contact Ernest Abrams at 808-739-9797 for free profiles/promotion of their business.
Eleven44 Nightclub And Lounge Video!


eleven44, Honolulu's newest nightclub and lounge, is pleased to present some of Honolulu's favorite DJs, Thursday through Saturday.
NEW WEBSITE - Hawaii Plein Air Artist Mark N. Brown Launches New Website


Mark has earned numerous awards and has been the recipient of many honors. His work can be seen all throughout the Hawaiian Islands in private collections, as well as numerous Art Galleries, Fine Retail Shops and Government facilities.
Hawaii Artist Patrick Ching Latest Newsletter - FALL 2014


Patrick Ching's Hawaii art newsletter featuring art tip, new KAI Ocean Art Show (Waikiki) image collection release, Honu and Hina Hawaii Art Book crowdfunding fundraiser, photo galleries, new art classes and schedule, Patrick's favorite photos and much more...
10/3/2014 - Hawaii State Art Museum First Friday Exhibit IMAGE & IMAGINATION - 6:00pm - 9:00pm


Image & Imagination is an exhibition of 38 curiosity-inspiring artworks in a variety of media. Drawn from the Art in Public Places Collection, these pieces were selected to act as a catalyst for response in museum visitors.
Profiles Of The Month - OCTOBER 2014


View profiles of the month and previous profiles of the month on First Friday Hawaii.Com.
Louis Pohl Gallery
Kan Zaman - Moroccan & Lebanese Restaurant
Hawaii Watercolor Society
Watercolors by Linda Bachrach
eleven44 Lounge and Nightclub
Smith's Union Bar
---
Downbeat Diner and Lounge Present... COMING OCTOBER 2014 EVENTS


View flyers of coming events at Downbeat Diner and Lounge
10/3/2014 - Hawaii State Art Museum First Friday Featuring Dayton Watanabe - 6:00pm - 9:00pm


Relaxing sounds of the acoustic guitar will fill the HiSAM Sculpture lobby once again for First Friday on October 3, 2014. Dayton Watanabe will be demonstrating his mastery of his instrument playing both Hawaiian slack key classics and contemporary favorites.
Mayor's Office of Culture & the Arts Honolulu (MOCA) - OCTOBER 2014 Newsletter


The mission of MOCA is to promote the value of arts and culture throughout communities in the City and County of Honolulu. MOCA's objectives are to attain per-eminence in culture and the arts; to perpetuate the artistic and cultural heritages of its entire people; to promote a community environment, which provides equal and abundant opportunity for exposure to culture and the arts in all its forms; and to encourage and provide equal opportunity for the development of culture and the artistic talents of the people of Honolulu.
10/3/2014 - Hawai'i Watercolor Society Annual Open Exhibition - 5pm - 9pm


Sponsored by the Hawaii Watercolor Society, this year's Open Exhibition showcases the best in watercolor from traditional to contemporary with over sixty impressive works from artists throughout the United States.
Eleven44 Nightclub And Lounge Video!


eleven44, Honolulu's newest nightclub and lounge, is pleased to present some of Honolulu's favorite DJs, Thursday through Saturday.
Mark N. Brown Launches New Chinatown Art Collection Featuring Art Scenes From Chinatown - Honolulu, Hawaii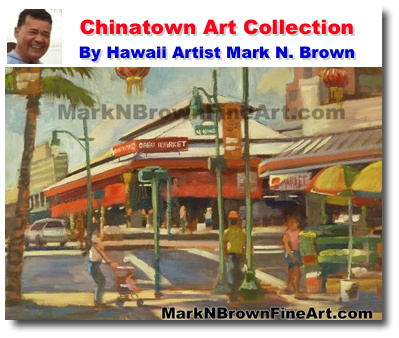 Here you can see all of Mark N. Brown's artwork featuring scenes from the Chinatown area in Honolulu, Hawaii.
10/3/2014 - First Friday @ Ong King - A Frightening First Friday - 5pm-2AM


Ong King is a safe space to open up and create featuring artwork, classes, workshops,entertainment and more.
10/3/2014 - Mezz 127 - Lounge Bar - First Friday Kool Nights Entertainment - 6:00pm - 1:00am


A friendly bar, offering tasy tapas menus, comfortable areas for socializing and a sports room with pool table and dart boards. The main lounge has excellent acoustics for our live music venue nights. Happy hour from 4pm to 7pm, late night from 10pm-close. Daily drink specials all week long
10/3/2014 - Red Door Artz Studios and Gallery - 5:00 pm - 9pm


4 artists, 4 studios, 1 gallery. Shyrl Matias, Carol Moore, Stacy Cheng-Suzuki, and Patty Lentz.
10/3/2014 - Soul De Cuba Cafe - First Friday - LIVE LATIN MUSIC with Eddie Ortiz & The Son Caribe Band - 5:00 pm - 2am


Soul de Cuba Cafe offers a unique dining experience combining exquisite traditional Cuban dishes and specialty drinks in a fun, entertaining, service oriented atmosphere.
- Happy Hour 4p-7p: 1/2 selected pupus & signature cocktals
- 1st Friday Dinner Specials till 11pm
- Monthly Artist Exhibit Showcase
- LIVE Latin Music 7 Dancing 10p-2a with Afro-Criollo Sound
10/3/2014 - Next Door First Friday - Scary Marys - 7:00pm - 2:00am


Nextdoor Hnl is officially BACK!!
- NEXTDOOR is a nightclub and art venue in Honolulu, Hawaii's Chinatown.
9/5/2014 - Downbeat Diner and Lounge - First Friday - 5-2am


American diner food favorites with vegetarian options on everything. Come on down to the Downbeat Lounge this First Friday. Located right next door to Chinatown's favorite little Diner. Joe Agogo of Jet Setter Productions proudly presents Club Underground with DJ Ross Jackson, DJ TIMO and DJ Monkey spinning on the decks.
10/4/2014 - Hawaiian Electric's Clean Energy Fair - Kahala Mall, near Macy's - 10 a.m. to 3 p.m.


The event is a kick-off for Energy Awareness Month in October and celebrates the efforts and accomplishments by many organizations across the state to pursue a sustainable, clean energy future for Hawaii.
Map of First Friday Art Walk Event Calendar - OCTOBER 3rd, 2014


(last update: 10/1/2014 Interactive map of event calendar.
---
First Friday News


Keep up with the latest news from the First Friday community - special events, calendars, Downtown/Chinatown news, art news and much more!
---
First Friday Featured Pages


Artist, galleries, maps, parking, shopping, restaurants and much more.
More...
---
Honolulu Real Estate New Listings and Updates - Updated Every Hour


SPONSOR
- Honolulu real estate expert, Keahi Pelayo, offers FREE online hourly updates on home and condo property listings that can really help you
buy Honolulu real estate at a lower price
. Premiere resource for buying and selling Honolulu real estate - Honolulu - Oahu - Hawaii.
---
Transportation - Car - Bus - Taxi Cab to First Friday


Great resources to get to First Friday Hawaii Art Walk via bus, car, taxi
More...
---
First Friday Text Message Alert (SMS) Subscription


Get on our occasional Text Alert (SMS Text Message) list.
We're 100% spam-proof.
Opportunities to
SIGNIFICANTLY
benefit you!
Event VIP access
, free offers, discounts and more.
More...
---
First Friday Honolulu #3 Photo Gallery


Great photos of First Friday Honolulu August 2011.
---
MacBusiness Consulting / Ernest Abrams - Database, Website, Advertising Testimonials


See what our satisfied customers are sayings about MacBusiness Consulting/Ernest Abrams's database, website and advertising solutions. Our most recent testimonial comes from
2014 Small Business Person Of The Year awarded by Hawaii Business Magazine
.If you are looking for new website/database solution and/or would like to advertise to the local Hawaii community, feel free reply to this email or call me at 808-739-9797.
102 Downtown - Chinatown Condos for Sale Map and Listings - 96813 Zip code - Honolulu Real Estate - Updated 10/25/2014


Downtown / Chinatown condos for sale. View interactive geographical map of condos for sale in Downtown / Chinatown - Honolulu, Hawaii. Photos, description, and much more.
View more First Friday Art Walk events...