| | |
| --- | --- |
| Featured Item This Hour | First Friday Event |
7/3/2015 - HASR Bistro First Friday Feature EMKE - 4:00 pm - 11:30pm


Happy hour entertainment and special dinner menu... reservations recommended. As always, you can purchase a HASR Logo glass for $5. See you there!
Next hourly featured item update scheduled at: 7/6/2015 - 8:05pm
7/3/2015 - Hawaii State Art Museum First Friday: Featuring FINE ART at HISAM - 6:00pm - 9:00pm


On Friday, July 3 from 5-9 p.m., the Hawaii State Art Museum will play host to FIND ART at HiSAM, an Art+Flea arts and music festival on the lawn and museum grounds.
7/3/2015 - Hawai'i Watercolor Society - "The Little Picture Show" @ Arts at Marks Garage EXHIBIT - 5-10pm


Hawaii Watercolor Society's 100 Tiny Treasures of Watercolor Wonders!
Mayor's Office Of Culture & The Arts Honolulu (MOCA) Newsletters JULY 2015


The mission of MOCA is to promote the value of arts and culture throughout communities in the City and County of Honolulu. MOCA's objectives are to attain per-eminence in culture and the arts; to perpetuate the artistic and cultural heritages of its entire people; to promote a community environment, which provides equal and abundant opportunity for exposure to culture and the arts in all its forms; and to encourage and provide equal opportunity for the development of culture and the artistic talents of the people of Honolulu.
7/3/2015 - Soul De Cuba Cafe - First Friday Featuring Eddie Ortiz & the Son Caribe Band - 5:00 pm - 2am


Soul de Cuba Cafe offers a unique dining experience combining exquisite traditional Cuban dishes and specialty drinks in a fun, entertaining, service oriented atmosphere.
- Happy Hour 4p-7p: 1/2 selected pupus & signature cocktals
- 1st Friday Dinner Specials till 11pm
- Monthly Artist Exhibit Showcase
- LIVE Latin Music 7 Dancing 10p-2a with Afro-Criollo Sound
7/3/2015 - First Friday At Madre Chocolate - Sweet Smooth Rhythms From Around The World - 6:00pm - 11:00pm


Time has come once again to celebrate diverse flavors and sounds that the world has to offer. In additon to a bunch of new flavors/products, Madre is pleased to present South Asian Fusion in our musicians this month.
7/3/2015 - Downbeat Diner and Lounge - First Friday - 5-2am


American diner food favorites with vegetarian options on everything. Come on down to the Downbeat Lounge this First Friday. Located right next door to Chinatown's favorite little Diner. Joe Agogo of Jet Setter Productions proudly presents Club Underground with DJ Ross Jackson, DJ TIMO and DJ Monkey spinning on the decks.
Chinatown Improvement District - Sustaining Chinatown Summer Series


Please join us for our three part lunch-break preservation series over the months of June, July and August. The Chinatown Improvement District, a 501(c3) non-profit, is set to launch a photo contest which will coincide with the annual Chinese Lunar New Years celebrations. Chinatown is a National and State Historic Commercial District steeped in history and culture.
7/3/2015 - eleven44 Lounge and Nightclub - Foundation First Friday - 4pm - 2am


Be part of the first-ever First Friday event for eleven44, Honolulu's new, fresh nightclub. See how the renovations have converted this once casual space into a dynamic, upscale nightclub. And be sure to check out some of Honolulu's favorite DJs: Happy hour from 4-7PM. ItÕs Foundation First Friday with HonoluluÕs favorite House DJs, including Ramit, Jimmy Lee, Loic, and others. $5 cover after 9PM.
6/5/2015 - HASR Bistro First Friday Feature EMKE - 4:00 pm - 11:30pm


Happy hour entertainment and special dinner menu... reservations recommended. As always, you can purchase a HASR Logo glass for $5. See you there!
7/3/2015 - Hound and Quail - OUTPOST - 5pm - 9pm


Vintage shop and gallery. Hound and Quail. Started in early 2011 by Mark Pei and Travis Flazer. We are the former owners of Area, a mid-century furniture shop in Honolulu's chinatown. H & Q is a place where we collect vintage and unusual items from Hawaii, the mainland, and around the world.
7/3/2015 - Owens & Co.


10% OFF SPECIAL!
Owens & Co. is a unique boutique located in the Chinatown Arts district of Honolulu. Owens & Co. offers a fantastic collection of home accessories, gifts, as well as vintage items. Please stop by to check out the shop.
Hawaii State Foundation On Culture and The Arts JULY 2015 Newsletter


There are articles on the FIND ART Pop Up Market at HiSAM on First Friday, July 3rd; features on the "Second Saturday" event "Art Explorations: Intuition Meets Intellect" on Saturday, July 11th; and the "Art Lunch" lecture "Artists of Hawaii Film Series" on Tuesday, July 28th
Hawaii Artist Patrick Ching Latest Newsletter - SUMMER 2015


Art tips, favorite photos, KAI Ocean Art Show (WAIKIKI), new images, awards, class schedule and much more.
Hawaii State Art Museum Current Exhibitions and Collections


Current listing of exhibitions and collections at HSAM. The Hawai'i State Art Museum is dedicated to presenting the largest and finest collection of works by Hawai'i artists that celebrate the diverse artistic and cultural legacy of Hawai'i.
Profiles Of The Month - JULY 2015


View profiles of the month and previous profiles of the month on First Friday Hawaii.Com.
Hawaii Watercolor Society
Downbeat Diner and Lounge
Louis Pohl Gallery
Art by Winette
Tea at 1024
Laura Isola - Namanaloa
---
Advertise To The First Friday Art Walk Community - Honolulu Hawaii Community Marketing Tip - FirstFridayHawaii.com


Learn how to better connect with the First Friday - Honolulu, Hawaii community! All to often we see businesses spending thousands of dollars annually on advertising and not spending a penny to reach their immediate local/neighborhood market which we consider to be the best prospects for new/repeat business.
Call to Artists! - Honolulu Japanese Chamber of Commerce Sponsors 37th Annual "Commitment to Excellence" Art Exhibition


We welcome all interested local artists to submit entries to this art exhibit. As a Hawaii artist, this is your opportunity to showcase your creativity and talent.
First Friday News


Keep up with the latest news from the First Friday community - special events, calendars, Downtown/Chinatown news, art news and much more!
---
MacBusiness Consulting (MBC) Launches Website Solution 2.0


"A Web site is what the people ask for... and a solution is what they actually need." Only pay for website services when it generates "direct/trackable" revenue for you!
Map of First Friday Art Walk Event Calendar - July 3rd, 2015


(last update: 7/2/2015 Interactive map of event calendar.
---
Latest Hawaii Art News from Plein Air Artist Mark N. Brown


See what Hawaii's premier plein air artist is up to.
Multiple new "Miniature" originals, November/December Paint Out Photo Gallery, Punahou School Paint Out Photos, new collections and much more.
First Friday Featured Pages


Artist, galleries, maps, parking, shopping, restaurants and much more.
More...
---
Eleven44 Nightclub And Lounge Video!


eleven44, Honolulu's newest nightclub and lounge, is pleased to present some of HonoluluÕs favorite DJs, Thursday through Saturday.
MacBusiness Consulting / Ernest Abrams - Launches New FREE community Website KAKAAKOHAWAII.COM


New free community website by Ernest Abrams/MacBusiness Consulting. Owner of FirstFridayHawaii.com, KaimukiHawaii.com, aikikiGetDown.com View Kakaako featured events, news, businesses and primary links .
Launched 7/28/14
2500+ web pages
1500+ businesses
60+ maps and guides
If you know someone who owns a business/non-profit, etc in Kakaako.. tell them to contact Ernest Abrams at 808-739-9797 for free profiles/promotion of their business.
Mark N. Brown Launches New Chinatown Art Collection Featuring Art Scenes From Chinatown - Honolulu, Hawaii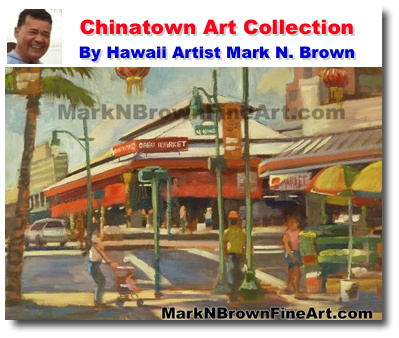 Here you can see all of Mark N. Brown's artwork featuring scenes from the Chinatown area in Honolulu, Hawaii.
Honolulu Real Estate New Listings and Updates - Updated Every Hour


SPONSOR
- Honolulu real estate expert, Keahi Pelayo, offers FREE online hourly updates on home and condo property listings that can really help you
buy Honolulu real estate at a lower price
. Premiere resource for buying and selling Honolulu real estate - Honolulu - Oahu - Hawaii.
---
First Friday Honolulu #3 Photo Gallery


Great photos of First Friday Honolulu August 2011.
---
146 Downtown - Chinatown Condos for Sale Map and Listings - 96813 Zip code - Honolulu Real Estate - Updated 7/4/2015


Downtown / Chinatown condos for sale. View interactive geographical map of condos for sale in Downtown / Chinatown - Honolulu, Hawaii. Photos, description, and much more.
View more First Friday Art Walk events...